Editor Rating

Rated 4 stars

Excellent
---
Reviewed by:

Published on:

Last modified:
---
DISCLOSURE: This post may contain affiliate links, meaning when you click the links and make a purchase, we receive a commission.
Our Top Ranked #1 Web Host

Ideal for WordPress, Joomla, Drupal and eCommerce
What is TMDHosting?
TMDHosting was established in 2007. Since then it has earned the trust of customers and provides them with effective and efficient web hosting services. TMDHosting has web hosting services that are among the best available. They offer open source applications to their clients that are helpful in a variety of ways.
The system administration helps their users to maintain server stability and the overall performance of the services provided. The performance optimization checker helps the TMDHosting and their clients to check the server progress regularly. They will provide an innovative and creative web hosting atmosphere to their clients in order to stay ahead of their competitors.
They offer different web developing tools that can help the webmasters to make their own innovative site. TMDHosting is now operating all over the US and overseas with a huge number of data centers. The overseas data centers hire employees that have command over different languages so that they can handle multilingual customer support.
This TMDHosting reviews will give you an insight on the company's performance.
Details
 
Founded
2007
Server Location

London, UK
Chicago, US
Amsterdam NL
Phoenix, US
Tokyo JP
Singapore, SG
Sydney, AU

Services

PrestaShop Hosting
SocialEngine Hosting
Dolphin Hosting
Drupal Hosting
Concrete5 Hosting
osCommerce Hosting
CubeCart Hosting
X-Cart Hosting
Joomla Hosting
WordPress Hosting
SMF Hosting
Magento Hosting
Moodle Hosting
Linux Shared Hosting
Windows Shared Hosting
Windows VPS Hosting
WHM Reseller Hosting
CMS Hosting
Ecommerce Hosting
Blog Hosting
Social Network Hosting
Email Hosting
Dedicated Hosting
Reseller Hosting
Cloud Hosting

Unlimited Website
Yes, Available With Business and Professional Hosting Plans
Unlimited Storage and Bandwidth
Yes
Domain Hosting
Yes, Available With All Hosting Plans
Linux Hosting
Yes
Windows Hosting
Yes
WordPress
Optimized
Joomla
Optimized
Drupal
Optimized
Magento
Optimized
PHP Hosting
Optimized
e-Commerce Hosting
Optimized
Email Hosting
Yes
SSL Support

Free Let's Encrypt SSL
Wildcard SSL
EV SSL

Dedicated IP
Yes, Available At $25/Yr
Free Site Migration
Yes
Free Domain
Yes
Domain Privacy Protected
Yes, Available At $9.99/Yr
Money Back Guarantee
60 Days
24/7 Support

Email
Tickets
Telephone
Live Chat
Inquiry Form

Control Panel
Customized
One-Click Installation
Softaculous
Website Builder
Drag & Drop (Weebly Builder)
Automated Backup
Yes
Content Delivery Network (CDN)
CloudFlare
Security Features

Comodo Firewall
File System Enhancements
Security Software Updated Daily

Payment Methods

Paypal
Visa
Master Card
American Express
Discover

Endurance International Group Network (EIG)
No
Social Profile
TMDHosting Reviews on Hosting Plans and Domain Services
Every web hosting company must have a certain range of hosting plans and pricing that will help their customers to purchase the kind of plan they need. TMDHosting offers many different web hosting plans from which the customers can choose according to their needs and desire. The description of some of these plans is as follows:
For shared hosting plan, TMDHosting operates the entire server management for you. TMDHosting shared plan provides good web hosting experience for their users. They provide their clients with complete protection, reliability, security, and exceptional speed. This helps them to build a trustworthy relationship with their customers.
The SSD shared hosting plan starts at $2.85 per month, which is very economical.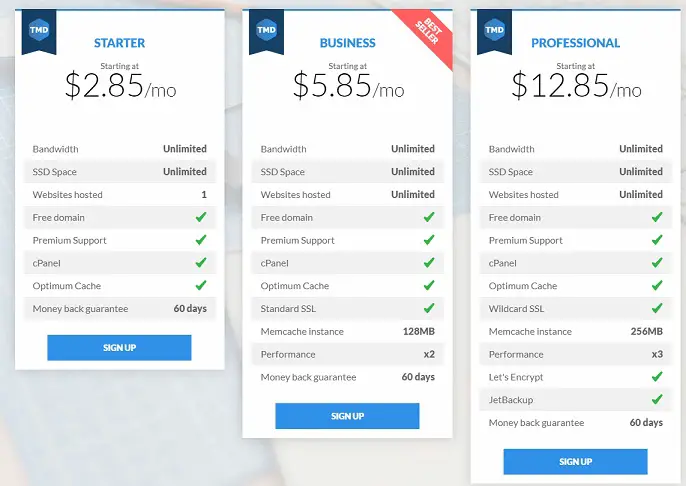 TMDHosting Reviews on VPS Hosting Plan
VPS stands for Virtual Private Server. For the VPS plan, TMDHosting provides a semi-dedicated server to the users so that they can have more server resources. The TMDHosting VPS plan is quite affordable for individual or business organization. They provide an excellent server setup and a brilliant customer support.
Moreover, TMDHosting offers technical assistance and a backup setup for business entities.

TMDHosting Reviews on Cloud Hosting Plan
Cloud hosting refers to cloud storage and online data storage. Some of the unique features of the TMDHosting cloud hosting plan include unlimited space on the cloud devices, unlimited bandwidth for the clients, a free domain, and unlimited spam protection. In addition to these features, they provide a wide variety of caching engines and a faster server internet connection.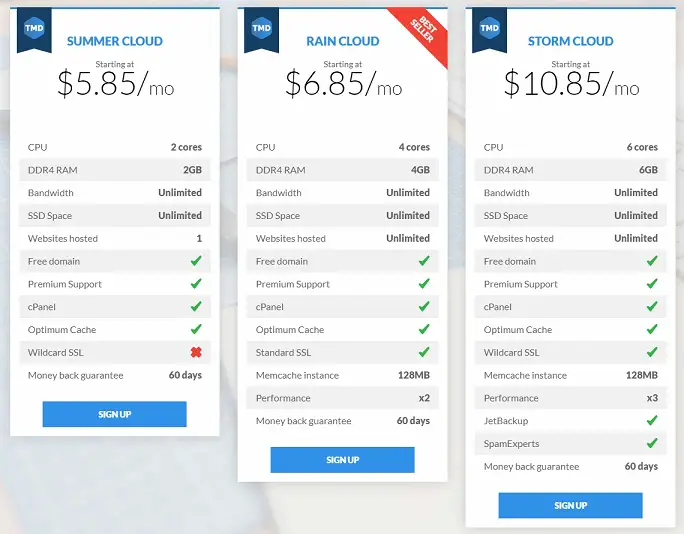 TMDHosting Reviews on Dedicated Hosting Plan
The TMDHosting dedicated plan provides its clients with 24/7/365 customer service for better support and resolving any query as soon as possible. This is a high-level hosting plan and users can have their own server and greater freedom on installing software they need. The most basic dedicated server plan starts at $199 per month, with 10TB of bandwidth included.

TMDHosting Reviews on Reseller Hosting Plan
TMDHosting reseller hosting plans are meant to provide their platform to the entrepreneur to start their own web hosting business. You can choose either WHM or cPanel as the control panel and unlimited domain is included in all TMDHosting reseller packages.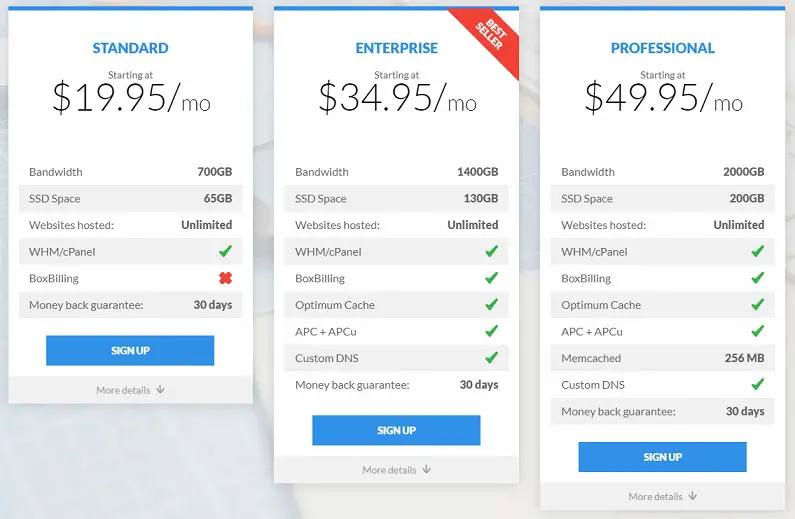 TMDHosting Reviews on Domain Services
Free domain is included in shared TMDHosting plan. This domain will remain free as long as you have an active subscription on TMDHosting. Besides, TMDHosting also offers domain privacy protection service at $9.99 per year to protect your identity and information being revealed from the WHOIS check.
If you have any third party hosted domain, it is also possible to transfer it to TMDHosting and TMDHosting will manage it for you.
TMDHosting Reviews on WordPress Hosting
WordPress is a free online open source content management system (CMS). Using this CMS, you can build your own website without many efforts. TMDHosting WordPress is an optimized WordPress hosting plan that aims to make WordPress performs better. TMDHosting WordPress is an incredible plan that can be utilized to boost your WordPress site, along with the co-operative client support.
It will help the webmasters at each stage of building the website, including the primary phase of WordPress installation. The one click WordPress installation helps users to install WordPress effortlessly on TMDHosting platform. Optimized WordPress speed and consistent quality are the valuable part in TMDHosting WordPress service.
TMDHosting Reviews on Email Hosting
TMDHosting also offers email access to its clients through various email services. The TMDHosting email service allows the user to setup many email accounts for their needs. Every individual and business organization needs at least an email database to communicate and have essential "Black and White" records. These records must be kept safe and secured.
TMDHosting secured email services allow you to safeguard your emails and other cloud storage data to keep your business running smoothly. TMDHosting email service has also implemented advanced and up to date technology for their clients. TMDHosting utilizes the POP3 and SMTP email technology, which is not only faster but also more reliable.
TMDHosting webmail client software provides its clients with various services. Roundcube and SquirrelMail are the installed open source webmail software, which provides the good and reliable user experience.
TMDHosting Reviews on Support and Customer Service
Customer support plays a major role in the growth of any organization. Prompt and effective customer service is the essence of a successful business entity. TMDHosting is compelled to have a well-developed and well-structured customer support services department that can take queries of the clients and resolve them as soon as possible.
In this regard, TMDHosting has been able to provide effective and efficient customer support. The TMDHosting customer service is considered as one of the best customer support in the industry. They follow a 24/7/365 customer service plan, which provides a prompt and compliant service to their clients. 
The validity and reliability of this TMDHosting customer support reviews are validated through other TMDHosting feedbacks. There are various methods that are adopted by the employees at the TMDHosting help center to advise the clients in order to resolve their queries. They provide a live chat session, which offers prompt solutions to customers.
Besides, through ticket support, the clients can submit their query which is answered in detail after a stipulated timeline. For foreign clients outside the US, TMDHosting customer services have hired employees that have command over many languages, which has made TMDHosting a multilingual customer support provider.
Below are my personal experiences with their customer support.
#Trial 1 Excellent Live Chat Support from TMDHosting
In order to clarify TMDHosting WordPress optimized plan and test the quality of their customer support, I have contacted them via the Live Chat. Initially, I was expecting to wait for few minutes before getting their response. However, I was impressed by the efficiency of support provided by one of their customer support staff.
Surprisingly, I was entertained in only a few seconds. More precisely, it took only 2.53 seconds. I asked some questions regarding their WordPress hosting plan, and the TMDHosting staff was able to answer all the questions professionally and honestly. Besides, the customer support staff was very polite and I enjoyed chatting with him.
Before closing the chat box, I rated their live chat support as "Good".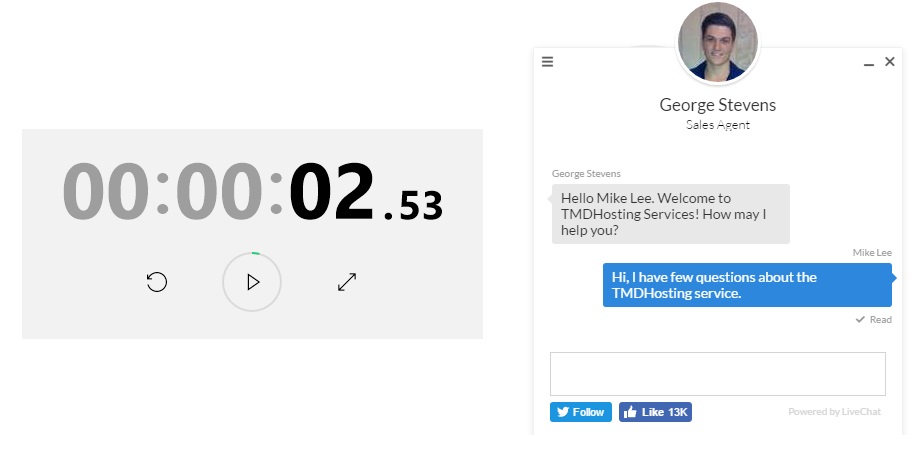 #Trial 2 Professional Live Chat Support
I conducted another test for their live chat support and this time their customer support representative Alex Stone assisted me. He responded my query in just 2.59 seconds and I was amazed to get a quick reply. I asked a few questions from him and he answered me promptly. I am satisfied with the customer support service of TMDHosting.
Their live support staff was quite good as well as well-versed. All of his answers were in detail that's why I am pleased. I gave Alex Stone 5 stars for his remarkable response.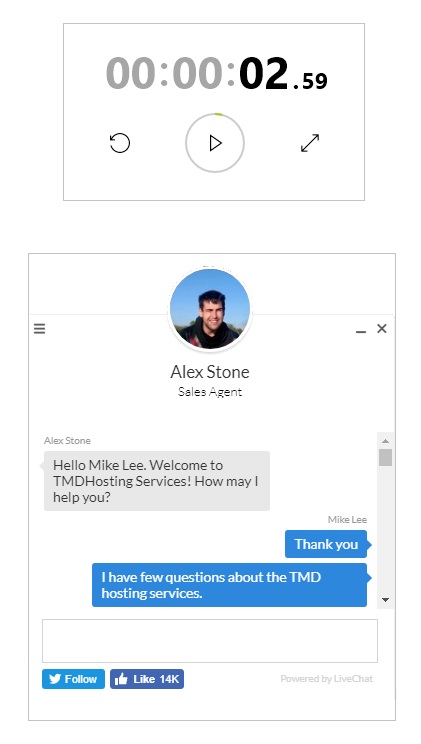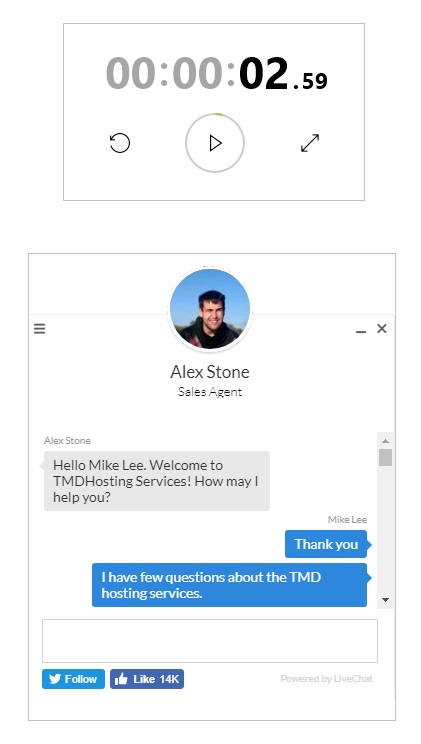 Here is the full conversation:
Alex Stone: Hello Mike Lee, Welcome to TMDHosting Services! How may I help you?
Mike Lee: Thank you.
Mike Lee: I have few questions about the TMD hosting services.
Alex Stone: Sure!
Alex Stone: How can I assist you?
Mike Lee: Does TMDHosting offer Domain Privacy Protected service?
Alex Stone: You can get domain ID protection as an additional service with us at a price of 9.99$ per year per domain.
Mike Lee: So your company is providing Dedicated IPs as well? 
Alex Stone: This is an additional service that you can get with us. You can get it at a price of 25$ per year.
Mike Lee: Alright. What are the security features of TMDHosting?
Alex Stone: We have made file system enhancements which make it very difficult for intruders to break the security. We have also made various application specific security enhancements to the Apache web server and the PHP scripting language so no one from the existing users can interfere with other information than his own. We employ the Comodo firewall and security software on all of our servers. It is updated daily for the latest threats.
Mike Lee: Does TMDHosting has any One-Click Installation service? Via Softaculous, QuickInstall or other platforms?
Alex Stone: Yes, we do have the Softaculous app installed in all of our cPanels.
Mike Lee: Great. What control panel is being used for Linux hosting? cPanel or other customized?
Alex Stone: We employ cPanel in our services.
Mike Lee: Is TMDHosting part of Endurance International Group (EIG)?
Alex Stone: No, we are an independent hosting company.
Mike Lee: Alright. Any Website Builder offered?
Alex Stone: Yes, you can use the Weebly builder with our services.
Mike Lee: What about Drag &Drop?
Alex Stone: It is a drang&drop builder. Super easy to use.
Mike Lee: Okay. Any CDN included? What type of CDN, CloudFlare? SiteLock True Speed CDN?
Alex Stone: Yes, we will integrate the CloudFlare services with your site, completely free of charge. That would be the free CloudFlare version we can provide you with. If you want any paid CDN you would need to purchase it with it's provider. As I have not received a reply from you in a while, I would just like to ask, are you still here on the chat with me?
Mike Lee: No, Thank You.
Alex Stone: Glad I was able to be of assistance.
Featured Services of TMDHosting SSL, SSH, Website Builder and Control Panel
Following is a description of some of the featured services that TMDHosting provides to its clients. You can get more information about these services by going through several of the TMDHosting reviews.
TMDHosting SSL
The protected security layer provided by TMDHosting is perfect for protecting your web programs. TMDHosting SSL furnishes you with protected and secure associations. In addition, the mechanized association provides you with higher security levels. The secure connections help you to protect your data and all other records.
The 256bit Let's Encrypt SSL plan for small size websites is free of cost, with strong encryption to protect business transaction on your website.
TMDHosting SSH
SSH is the abbreviation for Secure Shell. To keep the site safe from viral programmers and different viruses, TMDHosting SSH provides a full complement of security for your site. The encrypted message makes your website more secure, and shell system is considered to be one of the most popular and reliable systems.
TMDHosting Website Builder
TMDHosting offers free instruments and website builder that are very helpful. TMDHosting website builder aids the webmasters to build their website easily. This easy to use website builder is ideal for all those webmasters who lack technical knowledge. For more information, please read TMDHosting website builder.
TMDHosting cPanel
cPanel is included in TMDHosting packages. This popular control panel makes users manage their files, databases, and email accounts easily. Many webmasters consider cPanel as one of the important factors before choosing any web host. Besides, script installation is made easier with Softaculous available on the TMDHosting cPanel interface.
TMDHosting Reviews on Uptime and Server Status
Uptime Stats
One of the most important features of the web hosting companies is the guaranteed uptime that they have to provide to their customers. The uptime and speed performance of the web hosting company is one thing that keeps the market competitive. The organizers and the entrepreneurs opt for those web hosting companies that provides them steadfast and stable internet connectivity.
TMDHosting provides its customers with a 99.99% uptime guarantee. The internet connectivity is fairly stable, but there are chances of downtime failures, and it did happen frequently in 2016. In 2017, they improved a lot. They try to provide stable server internet connection so that the clients would not suffer from the server down issue frequently.

Uptime Stats – Target: 99.99%
June 2017 – 100%
May 2017 – 99.93%
April 2017 – 100%
March 2017 – 99.97%
February 2017 – 99.45%
January 2017 – 99.99%
December 2016 – 99.49%
November 2016 – 98.18%
October 2016 – 99.33%
September 2016 – 99.96%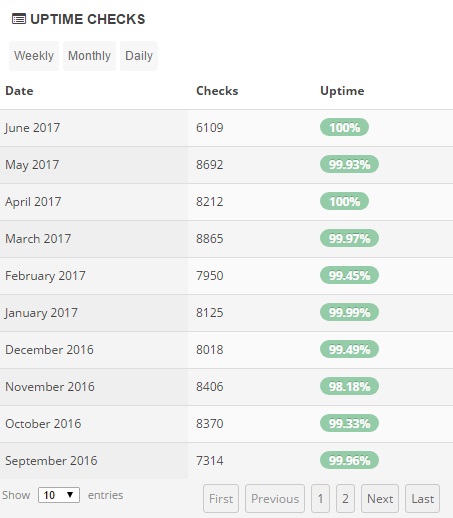 I have tested uptime performance of TMDHosting by using my site that is hosted on their server. This hosting company aims to provide 99.99% uptime. Its uptime stats has been identified for last 10 months. The target uptime performance of TMDHosting was achieved in June, April and January whereas the company could not achieve it in the remaining 7 months.
The average uptime of TMDHosting is 99.73%, as they did not perform well in 2016. I could see their uptime performance has been improved in 2017. They also succeed in providing 100% uptime to their customers in the month of June and April 2017.
Note: I will update the TMDHosting uptime stats on regular basis, so keep visiting this page for getting the latest figures.
Server Response Speed Test
Not only the uptime performance of TMDHosting is improved but they also claim to provide excellent server speed. Your client will become exhausted if your website speed is not good. No doubt, speed of a website plays crucial role in building long term customer relationship that's why the website owners always try to choose the speedy web hosting company.
I have recently carried out the speed test of TMDHosting by pinging my site from eight diverse locations. Their server response pace is found to be extraordinary good and they also got A+ rating. CloudFlare CDN is also offered by TMDHosting that assists in speeding up the website.

Good and Bad of TMDHosting
Good
Cheap shared web hosting service available at only $2.85 per month
Lifetime free domain is included. The clients don't have to pay extra for the registration of the domain.
The TMDHosting uptime performance is better than many other web hosting companies.
Low-cost reseller hosting services
Unlimited SSD cloud storage space included in their cloud hosting plan
Bad
Windows based platform is only available in Chicago datacenter.
Summary of TMDHosting
In short, the TMDHosting services are one of the leading web hosting services. They offer the web hosting plans at fairly competitive rates. They offer a variety of web hosting plans from which the organizers and entrepreneurs can choose the plan that best suits their needs and financial capabilities. Utilizing the services of TMDHosting can be a good option for you.
They provide a guaranteed uptime of 99.99% and reliable server internet connectivity for your website. As a conclusion, TMDHosting is one of the excellent web hosting service providers and I would recommend you to try it.
Compare TMDHosting With Our Top Ranked Web Hosts!
SiteGround vs HostGator vs TMDHosting

SiteGround

HostGator

TMDHosting
Rating

Rated 4.5 stars

Rated 4.5 stars

Rated 4 stars

Price

$3.95/month

$3.95/month

$2.85/month

Criteria