Editor Rating

Rated 3 stars

Good
---
Reviewed by:

Published on:

Last modified:
---
Our Top Ranked #1 Web Host

Note: This website ReviewPlan.com is hosted on SiteGround
Latest Uptime Stats (Real Records):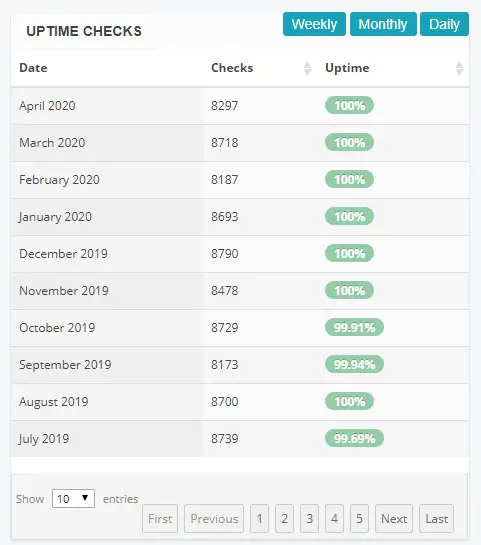 Server Response Speed Test Scored A+: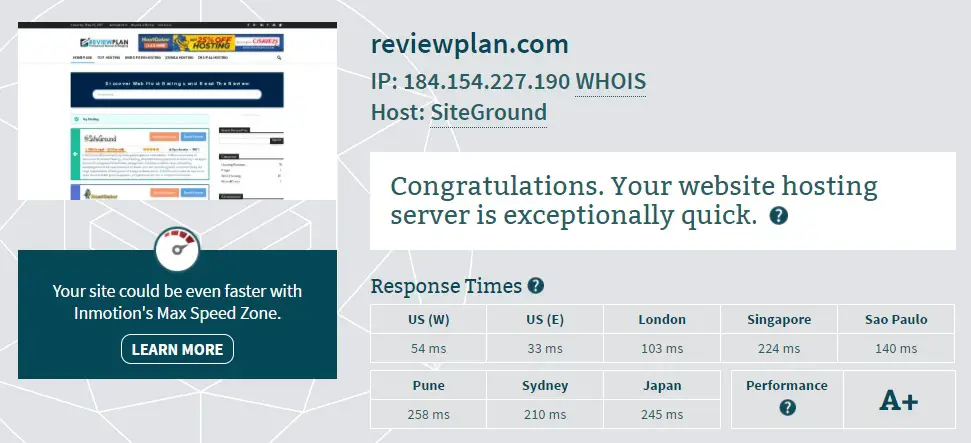 What is Verio Hosting?
Verio aims to provide cutting-edge web hosting services to customers in the lower and mid-range of the budget spectrum. The company offers advanced hosting solutions while still keeping a fair share of options for people new to web hosting and web development in general.
This is evident in the number of extraneous services that the company offers, such as a built-in website builder tool that has drag and drop support, content management systems, e-commerce platforms, search engine optimisation, etc.
By offering such a diverse amount of services at one place, Verio aims to offer beginners a fully featured hosting solution that encompasses everything that a new web venture might need. But are its hosting services solid? Read the full review to find out.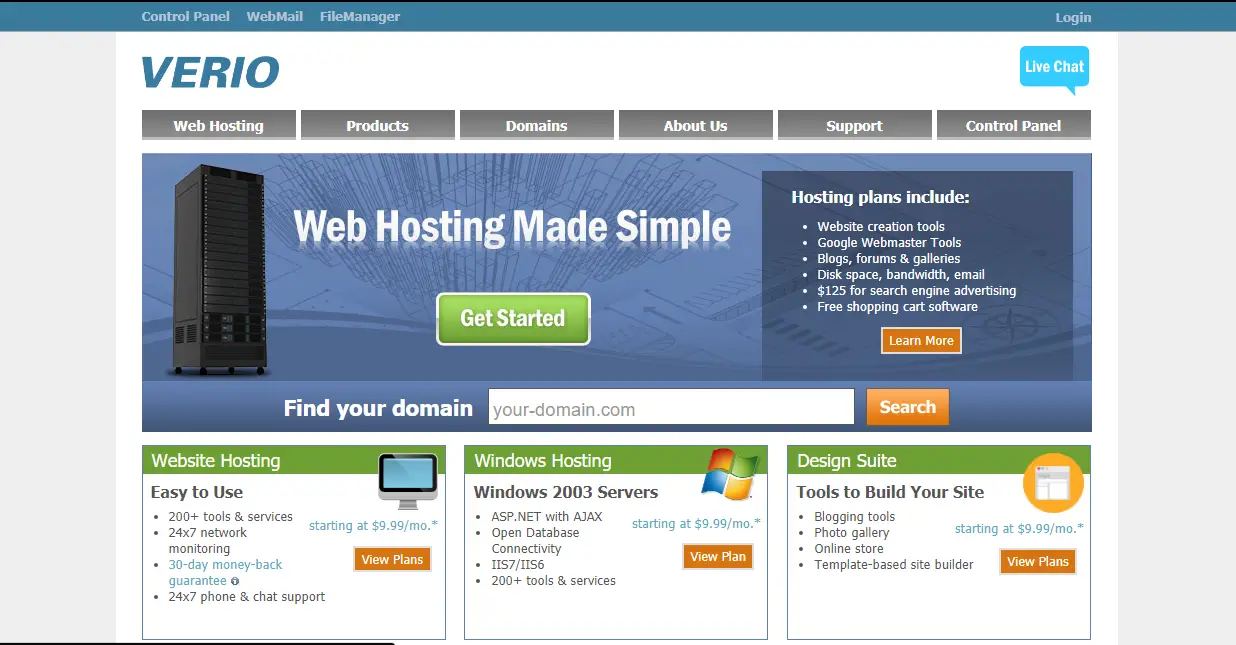 Verio Reviews on Hosting Plans and Services
Verio makes a late start out of the gate. The company offers only simple shared hosting services. There are no options for more advanced hosting options like dedicated servers or VPS hosting.
At the get-go, this is not a good choice to face. Even if you are targeting customers at the lower mid-range of the budget spectrum, it is always advisable to offer at least one level of step up services for customers who can afford it and might be interested in upgrading services without necessarily having to change hosting service provider. Sadly, though, that is not the case here.
Verio offers two tiers of its shared hosting service. The Basic plan costs USD 10.99 per month if paid annual and USD 9.99 per month if paid for 24 months. For your money, you get access to unlimited storage space and scalable transfer bandwidth. You also get a maximum of 1 domains and support for 1 MySQL database.
This is pretty barebones and even at this stage, we can say that no amount of superior services can possibly make this a worthy purchase. Unlike other hosting service providers, Verio differentiates its shared hosting plans not via hosting resources but by restricting access to its extraneous options like site builder tools.
The Basic plan gets the Basic version of the Weebly site builder tool and supports a maximum of 6 website crater pages, 1 email account, and no e-commerce features. This is where the Enhanced plan comes in.
Costing USD 19.99 per month if paid annually and USD 18.99 per month if paid for 24 months in advance, it comes with the same level of hosting services but gets a free domain name for 1 year, unlimited number of domains, support for a maximum of 50 MySQL databases.
The starter version of the ShopSite Shopping Cart add-on that supports a maximum of 15 products, Premium Weebly site builder tool with an unlimited number of website creator pages, unlimited number of email accounts, and comes included with other e-commerce tools like osCommerce shopping cart, AgoraCart shopping cart, and PayPal Shopping Cart Integration. Both the Enhanced and Basic version of the shared hosting plans come with shared SSL for some semblance of security.
From the get-go we can definitively say that the price alone makes Verio shared hosting uncompetitive. At the prices, they are charging, you can get a wider selection of services from competing hosting service providers. Even so, the prices are not even on a truly monthly basis but are "discounted" rates if purchased for a year or more in advance.
What makes the situation worse is that the company resorts to the dreaded "unlimited" tag for the actual hosting resources. If you do not already know, "unlimited" does not really mean unlimited when it comes to the domain of web hosting.
What it really means is that when you cross a certain usage threshold, the quality and speed of services is so severely restricted that it becomes almost unusable. Verio is certainly not the only company to use this misleading terminology; almost every hosting service provider, especially in the budget sector, uses this term. However, the insidious usage of this term is pricking especially in this case when the actual hosting services are so under specced.
Verio Reviews on Windows Hosting Plan
Strangely enough, the company also hosts an additional "Windows Hosting" plan on its website that is almost identical to its shared hosting plans in every respect with the only discernible difference being that the hosting platform runs on the Windows Server operating system.
If you have any specific hosting needs that require IIS, ASP.NET, or other proprietary Microsoft tools, this plan might be of use to you. However, at the very low end of the spectrum, this specialisation makes absolutely no sense to us. Even the pricing is identical to the Basic shared hosting plan.
Verio Reviews on WordPress Hosting
Verio does not specify any dedicated WordPress hosting plan on its website. However, it has mentioned WordPress is supported by its shared hosting plans we are inclined to take the company at its word.
WordPress is one of the most popular CMSs in use today, powering some of the largest and busiest websites in the world. So if you have chosen to go with WordPress as the backend of your website, you can probably rest assured that your website will work as intended.
Verio Reviews on Support and Customer Service
Customer service can be reached by the telephone, email, or IM at all times of the day. Customer service is relatively well specced with no major complaints or issues noted. Tickets raised are resolved with a decent amount of expeditiousness and that is all that can be expected at this stage.
Verio Reviews on Uptime Performance and Server Status
Verio servers have posted decent uptime records for the time being. There have been no major incidents that might have sparked any service outages or downtime. Speeds are fairly consistent round the clock.
Good and Bad of Verio
Good
Great performance for the money
Wide range of services at one location
Good reliability
9% service level agreement for peace of mind
Money Back guarantee on all hosting plans
Bad
Plans targeted towards business users exclusively
Domain registration fees a bit expensive
Summary of Verio
Verio does not offer people with any significant reason to switch high demand website to its services. Anyway, you can consider them if you want to start a new website with fewer resources needed.
Compare Verio With Our Top Ranked Web Hosts!
SiteGround vs HostGator vs Verio

SiteGround

HostGator

Verio
Rating

Rated 5 stars

Rated 4.5 stars

Rated 3 stars

Price

$3.95/month

$3.95/month

$9.99/month

Criteria