Editor Rating

Rated 4.5 stars

Outstanding
---
Reviewed by:

Published on:

Last modified:
---
DISCLOSURE: This post may contain affiliate links, meaning when you click the links and make a purchase, we receive a commission.
Table of Contents
What is Voxility
Voxility is one of the leading infrastructure-as-a-service (IAAS) companies oriented to work with cloud service providers, data centers, telcos and large websites. In this article, we are going to leave you to discover its features and pricing policy as well as compared it with other traditional hosting providers.
Voxility is not a traditional hosting provider. It is an infrastructure-as-a-service (IAAS) company which provides custom-built equipment, internet and security services to meet specific customers demands. And they do not provide traditional packages with a preset amount of services but the client can choose what they exactly need.
The company offers premium services such as Dedicated Servers, Colocation, the best DDoS protection in the world, IP transit, etc. Additionally, corporate customers can choose the own infrastructure configuration to meet the specific requirements.
The company consists of highly professional team members which worked for many years to build a superior reputation and the highest respect among different customers. The company is partnering with international operators such as Telehouse North, Equinix, Interxion, Coresite and many others.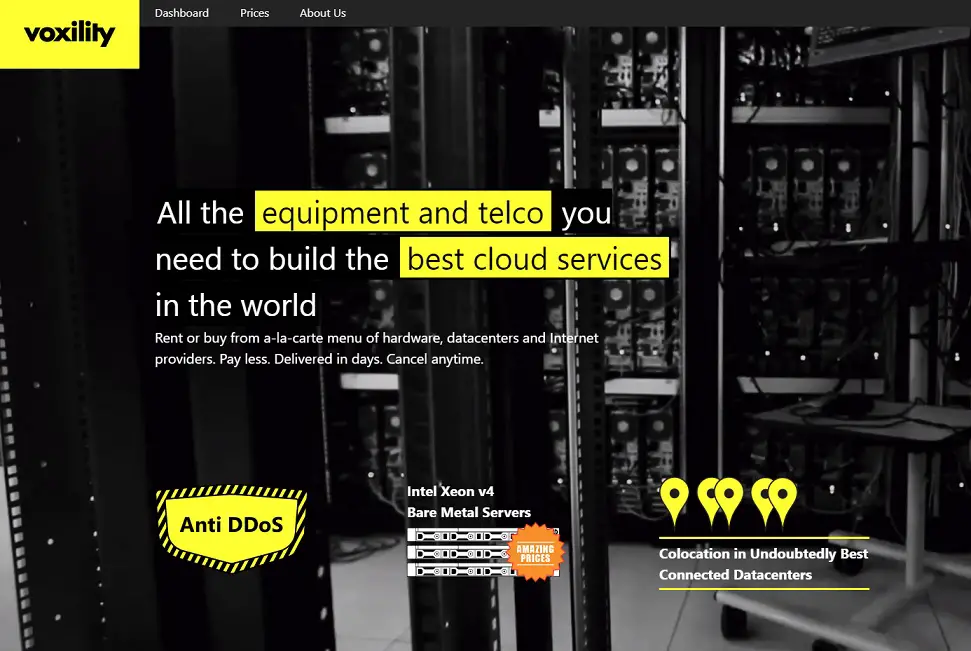 Features and services
The most powerful and reliable anti-DDoS protection
Distributed denial-of-service attacks, also known as DDoS attacks, threaten the business all over the world. Under this kind of online attacks, the company resources are becoming unavailable and the company loses money and customers. And besides unavailability, some massive attacks can even damage the hardware. So it is vital to protect your infrastructure from this kind of online threats.
The DDoS attacks are becoming are more and more frequent and powerful, much more sophisticated and harder to detect and protect. Attackers invent new methods and use more powerful bot networks to attack the certain resources.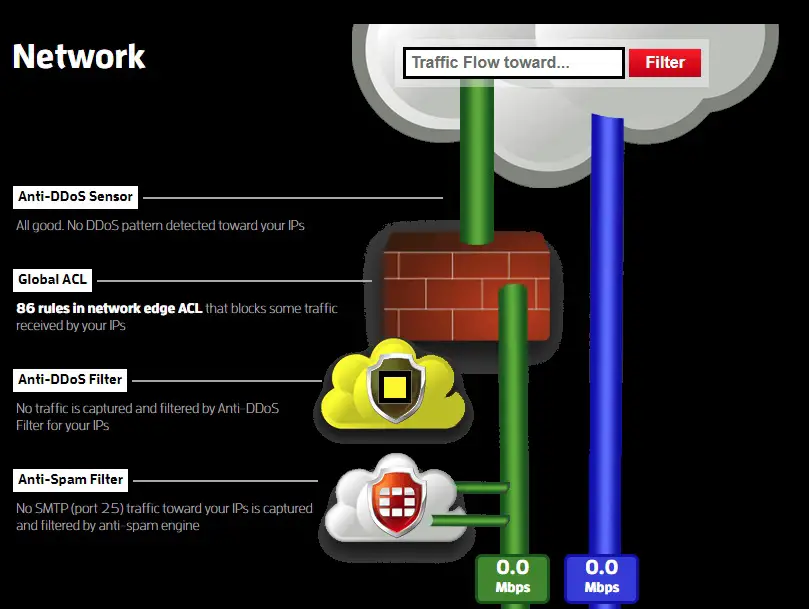 Most companies and their risk use a multilevel defense Solutions. Even if one level will fail, then another one will protect. Voxility helps internet service providers, hosting and cloud companies, gaming and streaming services, as well as a large enterprise be reliably protected from various DDoS attacks including UDP floods, SYN floods, volumetric attacks, DNS amplification, and many others. The company solution is developed and designed to protect any kind of threat. In addition, the company can customize the service according to its needs.
Besides, Voxility provides a sensor to monitor if there is any DDoS pattern detected toward your IPs. This really helpful if your server is under the DDoS attack. Below is the screenshot of the Anti-DDoS sensor alerts monitor.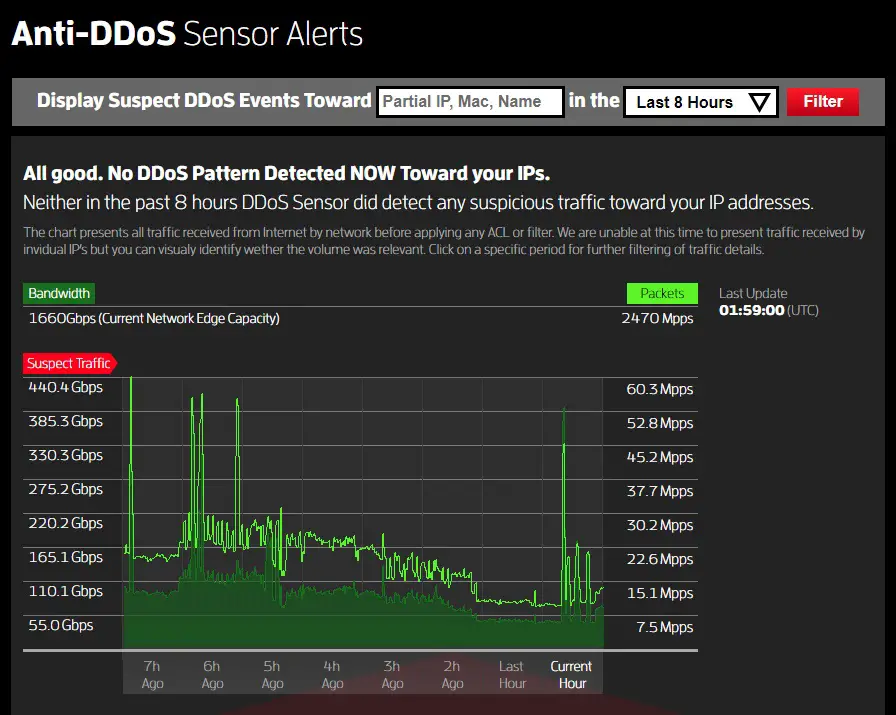 Premium Dedicated Server Hardware
Voxility it's not the same as most other hosting providers. The company offers dedicated servers which all are HPE. That's a smart decision.
With those servers, the customers are able to fully control the API, and drop setup everything very fast and easy. The guaranteed bandwidth is up to 40 Gbps, and there is an option of hourly payment.
Interconnected Colocation
Voxility offers ultimate class Colocation service with affordable and reasonable prices. By placing the equipment in the datacenter the most appropriate location, you will be able to boost the business. The Voxility servers can be located in 17 largest data centers, where you can connect to other internet providers at the highest speed. The data centers are used by many leading market players.
Any customer can configure the Colocation for half or full cabinets, 10U and many other cloud and internet service providers.
17 data centers all around the globe
Voxility does not rent any data centers, they have their own network of 17 locations all over the world. All of them are configured to provide the services of the highest quality for even the most demanding clients.
You will be able to install the equipment in each location and get premium all day round support, DDoS protection and the widest bandwidth.
Buy or rent an equipment
Any customers able to buy the necessary equipment and customize it according to his needs. However, if you do not want to buy the equipment, there is an option to rent it. you will sign a contract. It is possible to choose from 1 month to 3 years. It is a great solution both for clients and the company.
Faster Network Services
The provider offers a variety of network services with low ping in any part of the world. It is possible that you to the wide network of data centers. Any large company can benefit high connection speed as it is really important for them not to lose customers.
Premium customer support
When you have any issues or questions, contact the customer support. The team answers not later than in several minutes. In most cases, they solve the problem almost immediately.
For support and sales issue, you can contact them via email and telephone. At the time of writing this, we do not see any live chat option available, we hope to see the live chat available in future. Below is the contact details of their Network Operations Center.
Pricing policy
The pricing policy of Voxility significantly different from other traditional hosting providers. They do not have preset plans, but rather offer a list of dedicated equipment (bare metal servers, switches, and routers, network cards, firewalls, etc.). However, they provide several prebuilt server models that can be instant-activated.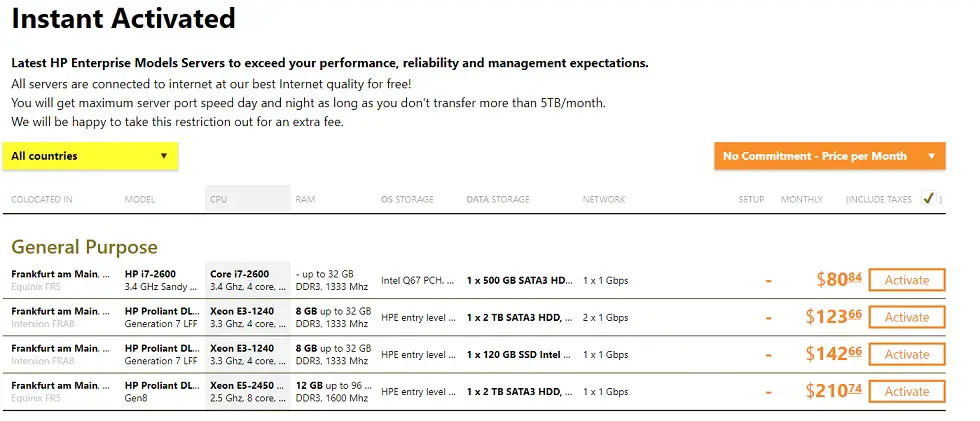 Besides, if the predefined server configuration does not meet your expectation, you can choose your own configuration by ordering the "custom server". Please take note it might take time for them to deploy this type of custom server, it is not instantly activated.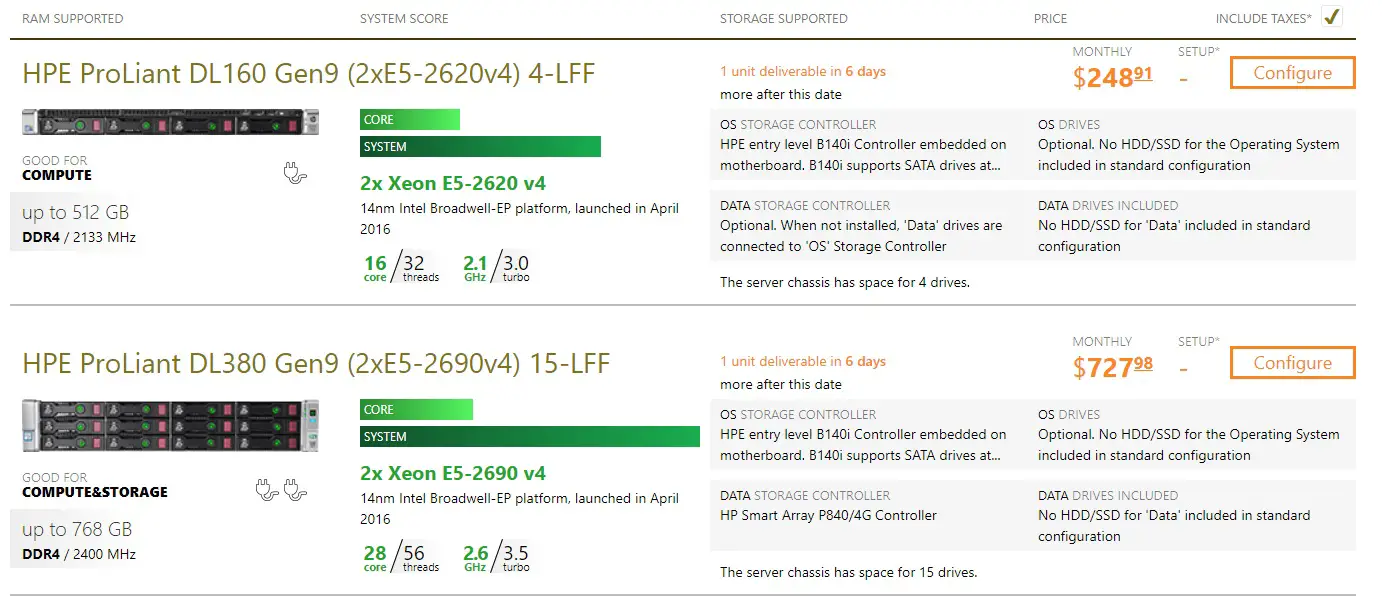 Pros and cons
Pros
Extremely reliable ultimate hardware solutions.
All day round highly professional customer support.
User-friendly intuitive dashboard.
DDoS protection up to 1,7 Tbps.
Cons
Is not suitable for small companies and individuals.
Summary of Voxility
Voxility is really a great solution for large companies such as cloud providers or internet service providers. It offers the equipment and services of the highest quality. However, this company is not for small business and individuals who want to buy some hosting plan to create a personal page.
Compare Voxility With Our Top Ranked Web Hosts!
Voxility vs SiteGround vs HostGator

SiteGround

HostGator

Voxility
Rating

Rated 4.5 stars

Rated 4.5 stars

Rated 4.5 stars

Price

$3.95/month

$3.95/month

$80.84/month

Criteria