Editor Rating

Rated 4.5 stars

Outstanding
---
Reviewed by:

Published on:

Last modified:
---
DISCLOSURE: This post may contain affiliate links, meaning when you click the links and make a purchase, we receive a commission.
Our Top Ranked #1 Web Host

Ideal for WordPress, Joomla, Drupal and eCommerce
 What is Web Hosting Hub?
Web Hosting Hub is a well-known firm started in Virginia and has been established since 2010. In the beginning, it had been operated by 'InMotion Hosting'. However, the company has branched out on its own to emerge as one of the most popular web hosts across the globe.
Many Web Hosting Hub reviews show that the company has driven its focus towards newbies and beginners. Therefore, the shared packages offered by the company are very reliable and economical for these types of users. The hosting plans offered by Web Hosting Hub are inexpensive but do not compromise when it comes to quality.
These Web Hosting Hub reviews will give you an insight on the company's performance. Customers are never charged for extra fees or commissions for the services provided. Web Hosting Hub is only a few years old, but they performed well as compared to other established web hosting providers.
This company has been established as a small start-up. However, it is providing tough competition to many other web hosting firms in the industry.
Details
 
Founded
2010
Server Location

Outside Los Angeles
Outside Washington DC

Services

Linux Hosting
cPanel Hosting
Web Development
Joomla Hosting
BoldGrid Hosting
WordPress Hosting
e-Commerce Hosting
Concrete5 Hosting
Drupal Hosting
PrestaShop Hosting
OpenCart Hosting
Magento

Unlimited Website
Available With Nitro and Dynamo Plans
Unlimited Storage and Bandwidth
Available With Nitro and Dynamo Plans
Domain Hosting
Yes
Linux Hosting
Yes
Windows Hosting
No
WordPress
Optimized
Joomla
Optimized
Drupal
Optimized
Magento
Optimized
PHP Hosting
Optimized
e-Commerce Hosting
Optimized
Email Hosting
Unlimited Account Available With All Three Hosting Plans
SSL Support

Paid SSL Available Starting For $99.99/Yr

Dedicated IP
Yes, But Paid For $2.95/mo
Free Site Migration
Yes
Free Domain
Yes
Domain Privacy Protected
Paid Starting At $9.99/yr
Money Back Guarantee
90 Days
24/7 Support
Selected Methods Only


Phone
Chat
Tickets
Skype
Community Q&A
Online Tutorial

Control Panel
One-Click Installation
Softaculous
Website Builder
Drag & Drop Website Builder
Automated Backup
Available For Three Plans

Spark Starting At $1/mo
Nitro Starting At $1/mo
Dynamo Starting At $1/mo

Content Delivery Network (CDN)
No
Security Features

PHP Encryption
Custom APF Firewalls
Multiple Virus
Malware Prevention Suites
anti-DDoS System

Payment Methods

Visa
MasterCard
American Express
PayPal
Discover

Endurance International Group Network (EIG)
No
Social Profile
Web Hosting Hub Reviews on Hosting Plans and Domain Services
Web Hosting Hub only offers shared hosting plans. Its shared hosting options are available in three different packages: Spark, Nitro, and Dynamo. You can buy a Spark plan with $1.95 for first three months, purchase the Nitro plan for $6.99 and acquire Dynamo for $10.99.
All newbie bloggers and web developers can easily rely on the Spark package. It offers decent features for such an affordable price range. Meanwhile, the Web Hosting Hub Ecommerce plan is also available for Ecommerce sites.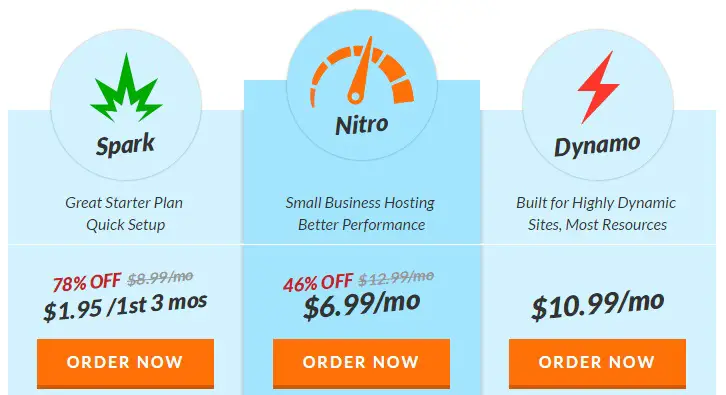 Web Hosting Hub Reviews on Domain Services
The Web Hosting Hub domain is included free of cost with Dynamo and Nitro plans. The limit of parked domains for the Spark package is 5 and unlimited with other two packages. Besides, up to 25 subdomains are available for the Spark package while unlimited for Dynamo and Nitro.
This web host is highly recommended as the features provided by the company are developed with advanced technology and sold at competitive prices. No matter you are running a small or medium-sized website, the hosting plan offered by Web Hosting Hub might suit you.
Web Hosting Hub Reviews on WordPress Hosting
The WordPress hosting plan offered by Web Hosting Hub is available at a discounted monthly fee. Many optimized features and options are provided in the Web Hosting Hub WordPress plan.
Just a handful of these includes zero-downtime WordPress transfers, free customizable themes, pre-installed WordPress, a free domain or free domain transfer service. The Web Hosting Hub WordPress plan is compatible with all types of operating systems.
Customers who choose this plan will receive a 90-days money back guarantee. Many amateur web designers find WordPress an easy-to-learn platform. Therefore, they may look for a web hosting service that optimized for WordPress.
There is no doubt that Web Hosting Hub makes WordPress hosting simple for these beginners. Meanwhile, webmasters and experienced site owners can benefit from the most advanced features available to make their sites truly unique. Web Hosting Hub WordPress plan is an ideal choice for WordPress powered site and currently, it is trusted by many people.
Web Hosting Hub Reviews on Joomla Hosting
There is good news for many Joomla users as Web Hosting Hub service is also optimized for Joomla. The Web Hosting Hub Joomla service has plenty of great features for the webmasters and amateur bloggers. These include free customizable themes, free domain transfer, zero downtime Joomla transfers and one-click installation.
The monthly fee for this plan cost only $4.99. Furthermore, it offers a 90-days money back guarantee. This plan works perfectly with all leading operating systems. You can be assured of a great Joomla hosting service with this plan. The Joomla optimized plan works brilliantly with many features and tools specifically designed to create a flexible user experience.
As many existing Joomla users still loving it, there are absolutely no concerns about its compatibility. Joomla is not easy to handle as it is more complex than WordPress. The Web Hosting Hub Joomla plan makes Joomla hosting easier. The Joomla hosting plan is specially designed and optimized for Joomla performance.
Web Hosting Hub Reviews on Drupal Hosting
The Web Hosting Hub Drupal hosting service is being offered at an amazingly affordable price of just $4.99 per month. It is one of the preferred choices. The main features offered with the Drupal plan include fully customizable themes, zero-downtime, one click installation and free domain transfer.
It also comes with 24/7 customer support. All you need to do is to sign up a Drupal hosting account and login to access it. Powerful internet applications and websites can be built by using Drupal. One-click Drupal installations make the first phase of website development easier.
It allows developers and web designers to create sites for their clients through a flexible module-based framework. Overall, users are guaranteed a worry-free experience with Drupal installation. The Web Hosting Hub Drupal optimized plan is ideal for Drupal powered websites.
Web Hosting Hub Reviews on Email Hosting
The email hosting offered by Web Hosting Hub is recommended for many reasons. First of all, it's easy to use. The hosting plans come with unlimited email accounts. Through Web Hosting Hub email services, it is possible to send the daily newsletter to subscribers with no server resource limitation concern.
The Web Hosting Hub email set-up is identical to many other web hosting email platforms that make it more familiar and straightforward. The Web Hosting Hub email settings are also simple to configure. SMTP, POP3, and IMAP are the technologies used in Web Hosting Hub email services.
The webmail client software used are Squirrelmail, Horde, and Roundcube. Before choosing any web hosting service, it is important to check the email feature included. Overall, many other Web Hosting Hub reviews also show positive feedbacks from users about its email services.
Web Hosting Hub Reviews on Support and Customer Service
The Web Hosting Hub customer support is available at 24/7. These supports come in the form of live chat, Skype, telephone assistance, and more. Customers can easily contact a representative anytime to get instant solutions to their queries. The Web Hosting Hub customer service is available 365 days a year without interruption.
The fast response makes Web Hosting Hub customer support stand out from competitors. Users expect prompt replies from the web hosting firm they use. Therefore, it is important for every web hosting service provider to leave no stone unturned when it comes to developing a high standard customer support service. 
The Web Hosting Hub help center is always accessible to assist customers with their queries. This help center has developed a platform for customers to ask detailed queries. Each Web Hosting Hub staff works professionally to give customers detailed responses as quickly as possible.
Many customers switch from other web hosts to Web Hosting Hub because of the excellent customer service. Web Hosting Hub is a great alternative if you are fed up with poor customer support services of your current web hosting service provider.
#Trial 1 Professional Live Chat Support
I contacted the customer support representative of Web Hosting Hub through their Live Chat facility as I wanted to test their customer support service. I was amazed by their support service. One of their customer support staff Thomas L helped me in solving my queries.
He responded me in just 12.07 seconds and he was so helpful throughout our conversation. All his answers were in detail as well as satisfactory. Well certainly, the customer support service of Web Hosting Hub is stupendous and speedy. I rated Thomas L 10 out of 10.
Here is the full conversation:
Thomas L: Hello Mike Lee, my name is Thomas L.  Thanks for contacting Sales today!
Mike Lee: Welcome.
Thomas L: I am more than happy to assist you with any questions or concerns you have. I may also have a couple of questions of my own along the way to make sure we are getting you set up on the best hosting option for you.
Mike Lee: Does Web hosting hub offer Domain Privacy Protected service?
Thomas L: Yes, you can add domain privacy to your Free domain or hosted domain name for 9.99 per month.
Thomas L: Sorry. $9.99 per year.
Mike Lee: Okay.
Thomas L: Do you have an account with us yet?
Mike Lee: Not yet.
Mike Lee: What control panel is being used for Linux hosting? cPanel or other customized?
Thomas L: We provide a cPanel for you to manage websites, email and domain names.
Thomas L: Do you have any additional questions for me today?
Mike Lee: Does web hosting hub provides CDN? What type of CDN, CloudFlare? SiteLock True Speed CDN?
Thomas L: We do not provide CDN but you can use whatever CDN Service you want.
Mike Lee: Alright.
Mike Lee: Is Web hosting hub part of Endurance International Group(EIG)?
Thomas L: No. Web Hosting Hub is actually the sister company to InMotion Hosting.
Thomas L: We set ourselves apart with our speed, uptime, and support. We've also been an employee owned and operated company since our inception in 2001. You'll notice a higher level of dedication throughout our staff. Where most companies fall short is with the tech support and customer service they provide. Those features are actually the biggest reason behind all of the positive reviews we receive. http://www.inmotionhosting.com/premier-support
Mike Lee: One thing you said that you provide cPanel for managing sites but with which hosting? For Linux, e-commerce etc?
Thomas L: We provide Linux hosting services on which you can host any CMS or eCommerce or Custom Website application compatible.
Mike Lee: That's great.
Mike Lee: What are the security features that web hosting hub offers?
Thomas L: Every security measure we have to put in place on our servers is already in place for you. It is in our best interest, not only for our customers' sake but for our own as well to keep them as secure as possible. So this includes suPHP encryption, custom APF Firewalls, and multiple virus and malware prevention suites just to name a few for you. So from a server side standpoint, you are very secure with us. We have begun working with Patchman on our shared servers as well (http://patchman.co/)
Thomas L: We recently acquired a robust anti-DDoS system from Correro Network Security who protects our entire network against DDoS attacks, and in November 2015 all of our servers stayed online during our largest DDoS attack to date. https://www.corero.com/resources/white-papers/inmotion-hosting-delivers-a-better-web-hosting-experience-with-the-corero-smartwall-threat-defense-system/
Mike Lee: Amazed.
Thomas L: If you would like to purchase a plan now this link will enable me to activate your account immediately. https://secure.webhostinghub.com/whub/account_info.php?s_id=988d00bf6f8d0f881f71b77e8f9aa1ec&intref_id=1505
Mike Lee: Thank you 🙂
Thomas L: These are the Best Rates available at Web Hosting Hub.
 Mike Lee: Sure.
Thomas L: What additional questions do you have Mike?
Mike Lee: No more questions thank you.
Thomas L: Please use my purchase link or contact me for a new one when you are ready to order a hosting plan. These links are the only way we get credit for working with our customers and I can get you the Best Rates available at the time, bypass the verification phone call and set up your account immediately.
Thomas L: You can reach me three different ways: by email ([email protected]), by chat (putting in my name Thomas L. to the question line), or by phone (888.321.4678, option 9, extension 765). My shift is Thursday – Monday, 2:00am – 10:30am, EST.
Thomas L: Thank you for contacting Web Hosting Hub Sales today.
Mike Lee: Sure: Thank You once again.
Featured Services of Web Hosting Hub Control Panel and SSL
Web Hosting Hub Control Panel
The control panel used in Web Hosting Hub is cPanel. cPanel is a popular control panel that allows users to manage their files, databases, and email accounts easily. Have a look at the Web Hosting Hub cPanel below.
Web Hosting Hub SSL
The Web Hosting Hub SSL avoids any compromise in developing a secure layer for web protection. If your website processes any business transactions, it might need SSL certificate to be added to improve the security. At the same time, customers may also gain confidence when dealing with their website.
Please check how to purchase and install SSL certificate if you need it.
Web Hosting Hub Reviews on Uptime and Server Status
Uptime Stats
The Web Hosting Hub server uptime and speed performance are superior to many other web hosting service providers. It claims to maintain uptime of 99.90% for its clients. The Web Hosting Hub server speed is fairly good, and many users are quite satisfied with it. 
The Web Hosting Hub status about the current traffic, servers loading speed and other options are easily available online. Some Web Hosting Hub server down issues are also reported, but this is a rare case.
Uptime Stats – Target: 99.90%
June 2017 – 100%
May 2017 – 100%
April 2017 – 100%
March 2017 – 100%
February 2017 – 99.91%
January 2017 – 99.99%
December 2016 – 100%
November 2016 – 100%
October 2016 – 100%
September 2016 – 100%
I have tested the uptime stats of Web Hosting Hub and its detail is given above. As already mentioned, the company claims to provide 99.99% uptime to all of its customers. Its uptime stats for last months show that Web Hosting Hub has been successful in achieving its uptime target.
Web Hosting Hub never fails to accomplish their target and overall its uptime performance is outstanding. Its average uptime performance comes out to be 99.99%, which is better than its claimed target. Web Hosting Hub has never comprised on its uptime that's why majority of its customers are satisfied.
Note: Regularly visit this website as we will keep updating the uptime stats.
Server Response Speed Test
In order to judge the server response speed of Web Hosting Hub, I decided to test its speed in 8 different locations. I found its server speed to be extraordinary good. If your site speed is not good, then it will create a bad image among your visitors.
Keeping in view the server response times of Web Hosting Hub, it is stated that their server speed performance is remarkable. Though, you must careful in selecting the right hosting plan for your site. The speed performance of Web Hosting Hub comes out to be A+.
Good and Bad of Web Hosting Hub
Good
90 days money back guarantee
Low cost hosting
Excellent customer service
Delivers stable server uptime and speed
Bad
Lack of Windows-based servers
The $1.95 per month promotion is only valid for first three months
Sometimes users are unable to grab the $1.95 promotion as this price does not always available
Summary of Web Hosting Hub
Web Hosting Hub, the renowned Virginian web hosting firm established in 2010, has operated successfully for many years by offering amazing discounts to its customers. The customer service team responds quickly and seldom delays in helping their customers. Besides, the Web Hosting Hub server uptime and speed are also good and stable.
Overall, Web Hosting Hub provides low cost hosting with good quality of services. All the offers, pricing and discounts make it a desirable alternative. Many users compare this web hosting firm with iPage as both offers low-cost web hosting services. As a conclusion, I would say Web Hosting Hub is good and worth a try.
Compare Web Hosting Hub With Our Top Ranked Web Hosts!
SiteGround vs HostGator vs Web Hosting Hub

Web Hosting Hub

SiteGround

HostGator
Rating

Rated 4.5 stars

Rated 4.5 stars

Rated 4.5 stars

Price

$1.95/month

$3.95/month

$3.95/month

Criteria