Editor Rating

Rated 4 stars

Excellent
---
Reviewed by:

Published on:

Last modified:
---
DISCLOSURE: This post may contain affiliate links, meaning when you click the links and make a purchase, we receive a commission.
Our Top Ranked #1 Web Host

Ideal for WordPress, Joomla, Drupal and eCommerce
What is WP Engine Hosting?
Of the many web hosting companies that provide web hosting services to millions of individuals and businesses on the World Wide Web, there is one that seeks to offer this service specifically to WordPress powered sites.
Well, if you look at it closely, WordPress powered sites have some challenges and unique needs which would require most hosting companies to provide some extras to make them suitable for hosting. But one person saw it fit to have a hosting company that is made specifically for WordPress.
I think that we can safely say WP Engine stands for WordPress Engine. WP Engine was founded in 2010 with a primary goal of providing web hosting services to WordPress users. This is thus its main business in web hosting.
Since 2010, the company has grown to open offices in San Francisco (2012), San Antonio (2014) and London (2015). A look at some of the WP Engine reviews shows both good and bad reactions to the services offered by the company. A look what these services are might help gain an understanding of the overall picture.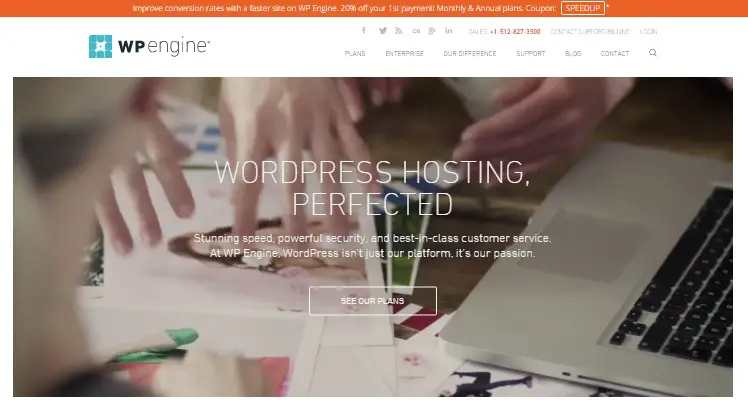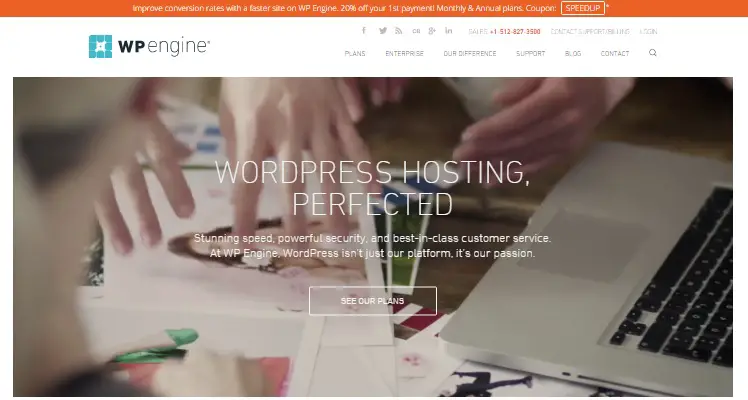 Details
 
Founded
2010
Server Location

United States
Canada
United Kingdom
Belgium
Ireland
Taiwan
Tokyo
Frankfurt
Sydney

Services

WordPress Hosting
Linux Hosting
e-Commerce Hosting

Unlimited Website
No
Unlimited Storage and Bandwidth
No
Domain Hosting
No
Linux Hosting
Yes
Windows Hosting
No
WordPress
Optimized
Joomla
No
Drupal
No
Magento
No
PHP Hosting
Optimized
e-Commerce Hosting
Optimized
Email Hosting
No
SSL Support
Available
Dedicated IP
No
Free Site Migration
Yes
Free Domain
No
Domain Privacy Protected
No
Money Back Guarantee
60 Days
24/7 Support

Live Chat Available Only To Clients
Ticket Support
Phone
Email

Control Panel
Customized
One-Click Installation
Yes
Website Builder
No
Automated Backup
Yes
Content Delivery Network (CDN)
CDN (MaxCDN)Is Free For All Plans Except Personal Plan That Cost $19.95/mo
Security Features

SSL
Malware Scans
Firewall Protection
Prevention System For Blocking DDos Attack

Payment Methods
Endurance International Group Network (EIG)
No
Social Profile
WP Engine Reviews on Hosting Plans and Domain Service
Given the company's foundation on providing hosting services with main focus on WordPress sites, it is great to look at whether the services offered are different from what other web hosting companies offer.
The personal plan offered under shared hosting is said to be suitable for those who wish to have just one site hosted. It is thus applicable to developers, marketers as well as other creative people. The plan goes for $29 per month and can be billed either annually (for $290 with two months free) or monthly.
When signing up, you are given the option of choosing two add-ons: CDN and an additional install, as well as a data center that is suitable for your client's base. Features supported in this plan include 1 WordPress Install, local storage of up to 10GB, 24/7 support, unlimited data transfers and a total of 25,000 visits per month.
This plan is ideal for those who wish to have a start in using WP Engine for their websites.
WP Engine Reviews on Professional Hosting Plan
WP Engine hosting is flexible, such that it can accommodate one site with a lot of traffic, multiple sites that are a bit small or even reseller sites. The plan has a monthly subscription for $99 and an annual subscription for $990, with two months going for free.
Features that come with this plan include 10 WordPress installs, 20GB of local storage, telephone support as well as 24/7 support. Besides, there are CDN, 100,000 site visits per month as well as the option to purchase either the WP Engine SSL certificate or a third party SSL certificate. You can also access the WordPress multisite.

WP Engine Reviews on Business Hosting Plan
This plan is for businesses that, I can say, have an enormous amount of traffic such that they need a server that is specifically set aside for them. WP Engine hosts the plan on a dedicated server that goes for $249 per month and $2490 annually, again with two free months. You also get to choose a data center location with this plan.
The plan features 25 WordPress installs, 30GB of local storage, 400,000 site visits per month, an unlimited data transfer, as well as 24/7 and telephone support. Apart from the size that distinguishes this plan from the rest, there is the added advantage of WP Engine GEO IP, which helps you locate computer's geographical location.


WP Engine Reviews on Dedicated Hosting Plan
The WP Engine Premium plan offers growing businesses high performance in uptime and speed so that they can remain visible and maintain their customer base. For a monthly fee and annual fee, you will have to contact their enterprise team to get the details.
Features supported by this plan include more than 1 million site visitors per month, between 100 and 300 GB local storage, and 150 Word Press installs. You also get an unlimited number of data transfers, Geo IP feature, and support for both third party and WP Engine SSL certificate.


WP Engine Reviews on Enterprise Hosting Plan (Enterprise Grade)
This plan is for those who need a cluster of web servers at their service. This provides a secure, scalable and reliable hosting plan (almost like a redundant server) to large businesses. For monthly and annual fees, you will need to contact their enterprise team for more information.
Features supported by this plan include 150 WordPress installs, above 5 million site visitors per month, local storage of between 400GB and 1TB as well as an unlimited number of data transfers, 24/7 ticket support, website launch assessment and an account management strategy.

WP Engine Reviews on Domain Services
Some web hosting companies offer free (sometimes even a lifetime) domain names to their clients, or the option of migrating their domain name to their web hosting company. 
Steps on how to go about this, as well as how to transfer your domain to WP Engine are also provided. Unlike other web hosting companies that offer free domain names to their clients, WP Engine does not provide this option. What you can do is to have your domain name added as a free standing domain, which will not redirect hits to your website URL.
WP Engine Reviews on WordPress Hosting
After considering the services offered by WP Engine, we can now ask whether it is indeed meeting WordPress needs in web hosting. The fact that the company solely caters for WordPress will make it right for use. A look at some of the online reviews though mixed in both negative and positives show that most people love using this company for hosting their WordPress sites.
Most of the complaints are not on the compatibility of the web host company with WordPress, so I can safely say that it is compatible with WordPress. All of their plans are, in fact, optimized for WordPress. This means that most of the features, necessary plug-ins, and other things are available even to the basic shared hosting plan.
WP Engine can, therefore, be said to be suitable for WordPress hosting.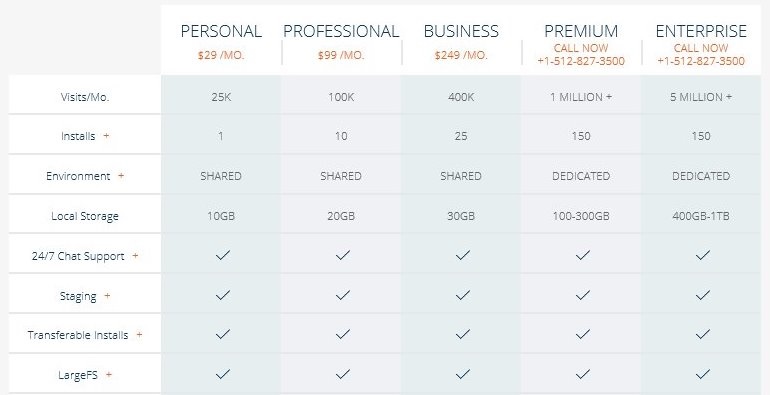 WP Engine Reviews on Email Hosting
WP Engine does not offer email services as part of its services. So, for WordPress sites that heavily requires the use of webmails for communication with their clients, what happens? Well, there is Google Apps for that. With Google apps, you can use your domain name Gmail to send emails to your site visitors.
You can easily configure the email settings when you are setting up your plugin. However, there is a fee charged for this if it is a business you are running. There is a much competitively priced Zoho mail service which many WordPress users love to use. You can also use other third-party webmail sites such as MailChimp and Constant Contact for email services.
However, you may wonder how WP Engine manages its own emails that it sends to you. The WP Engine also has its email hosting done by third parties. Thus, it can send you emails that are specifically for helping you with problems with your login details, such as the lost password.
WP Engine Reviews on Support and Customer Service
WP Engine offers support through telephone lines for their sales department and a knowledge support garage for some of the most commonly asked questions. You can also sign up to your WP Engine account and get support from the technical team once you log in. This support is offered to those who need help with their plans and other inquiries 24/7.
You can also submit a query through the contact form on their website. There have been mixed reactions to the customer service you get at WP Engine, with some reviews showing that it is not that good, almost the same as most of the support you would get from other web hosting companies.
Some reviews are also positive, citing quickly answered phone calls as great support. From this, I can say that their customer support is fair. If you are looking for a web hosting provider that has excellent support, we would recommend SiteGround.


#Trial 1 Moderate Ticket Support
I had a few questions relating to the services of WP Engine that's why I decided to contact their customer service representative. Unfortunately, they do not offer live chat support to non-customers. Therefore, I contact them via their ticket support service.
I am much disappointed with their ticket support facility. I fill up their ticket form on 25th June (02:15 AM) and their support representative replied me after 33 hours on 26th June (10:28 AM). Moreover, the representative did not answer all of my questions that's why I rate their support service 4 out of 10.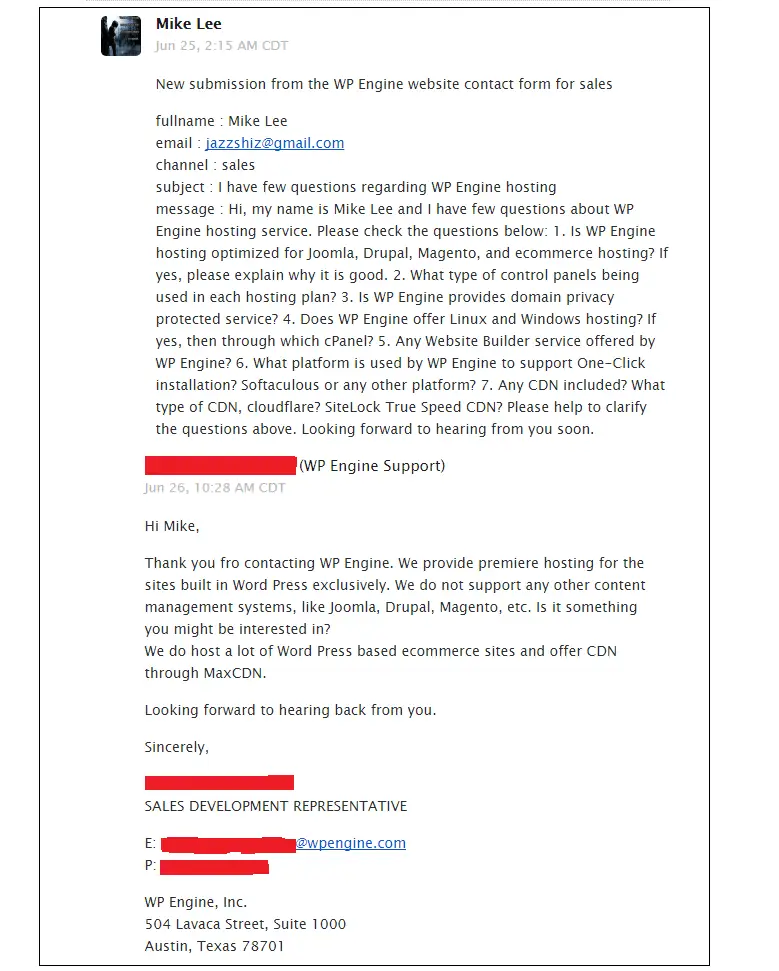 Here is my full conversation with WP Engine's ticket support.
Mike Lee: Hi, my name is Mike Lee and I have few questions about WP Engine hosting service. Please check the questions below:
Is WP Engine hosting optimized for Joomla, Drupal, Magento, and e-commerce hosting? If yes, please explain why it is good.
What type of control panels being used in each hosting plan?
Is WP Engine provides domain privacy protected service?
Does WP Engine offer Linux and Windows hosting? If yes, then through which cPanel?
Any Website Builder service offered by WP Engine?
What platform is used by WP Engine to support One-Click installation? Softaculous or any other platform?
Any CDN included? What type of CDN, CloudFlare? SiteLock True Speed CDN? Please help to clarify the questions above. Looking forward to hearing from you soon.
 WP Engine Support Reply
Hi Mike,
Thank you for contacting WP Engine. We provide premiere hosting for the sites built in Word Press exclusively. We do not support any other content management systems, like Joomla, Drupal, Magento, etc. Is it something you might be interested in?
We do host a lot of Word Press based e-commerce sites and offer CDN through MaxCDN.
Looking forward to hearing back from you.
Sincerely,
SALES DEVELOPMENT REPRESENTATIVE
WP Engine, Inc.
504 Lavaca Street, Suite 1000
Austin, Texas 78701
WP Engine Reviews on Uptime and Server Status
Uptime Stats
WP Engine boasts of a stable uptime, though we can say that some out of control downtime may have occurred, and were for a short period such that most people did not notice it. WP Engine also boasts of great speeds, which can be supported by many positive WP Engine reviews provided online.
This is possibly due to its caching practice that ensures that your site is available as quickly as possible. As of now, as I write this WP Engine reviews, the status of the site is up and running.
Uptime Stats – Target: 99.90%
June 2017 – 100%
May 2017 – 100%
April 2017 – 100%
March 2017 – 100%
February 2017 – 99.62%
January 2017 – 99.99%
December 2016 – 99.99%
November 2016 – 100%
October 2016 – 100%
September 2016 – 100%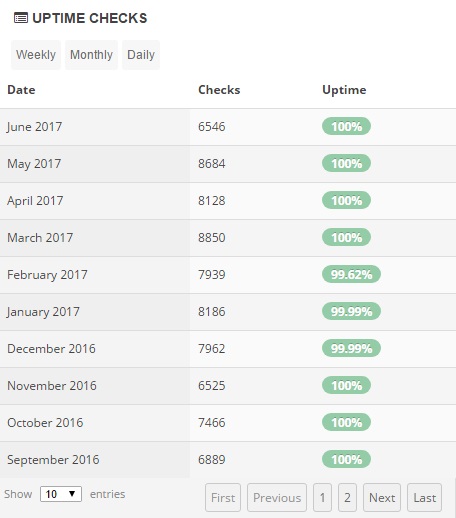 After reading both the positive and negative reviews about the uptime performance of WP Engine, I decided to test it myself. I gathered the uptime stats of this hosting company for last 10 months. I use the industry uptime standard of 99.90% as the target as I could not find any uptime guarantee from them. Their uptime stats show that the target has been achieved most of the times.
WP Engine remained successful in fulfilling its uptime claim. The average uptime of WP Engine is calculated to be 99.96%, which is excellent as compared to other web hosting sites.
Note: All latest updates regarding WP Engine uptime stats will be updated on a regular basis.
Server Response Test Speed
WP Engine also claims to offer faster server response speed. As we all know that speed is the most significant thing when it comes to customers' satisfaction. Your client will become pooped if your website takes a longer time to open or browse. That's why it is always recommended to use only those hosting companies that provide great speed.
The speed performance of WP Engine is given below. I have tested their speed from 8 different locations and the result is found to be impressive. WP Engine is rated A+ for their quick server response speed.
Good and Bad of WP Engine
Good
It is optimized for WordPress. Thus, it is suitable for use by the people it was created for, such as designers, developers, and business site owners.
The speed is unparalleled to most of the other web hosting server speeds. This makes your site readily available and fast.
The sites are secured through automated back-ups, and they work with some top security firms. Thus, they take care of any security threats as soon as they are discovered.
Migrating your site to WP Engine is easy.
Great uptime and speeds.
Great value for your money.
Bad
Some of its features are only offered at a certain price.
It is expensive compared to other web hosting sites that start at less than ten dollars.
Customer support needs improvement.
Summary of WP Engine
A look at the WP Engine reviews online as well as the above facts will help draw a conclusion on whether the company is great for WordPress. Looking at the other web hosting sites that offer WordPress support as an optimized plan; you will find that their add-ons or plugins are very versatile.
The lack of versatility with WP Engine is, therefore, disappointing. This leaves room for the company to improve on. The pricing is a little bit higher, even for the starter accounts. Features offered are great, but they are quite a few compared to what other web hosting companies offer.
Some other web hosting companies offer them either for free or as part of the paid plan. I can, however, say that its features are unique and are tailor made specifically with WordPress in mind. This is a bonus for the WordPress hosting company.
The plans are well structured, making it possible to know quite easily what to go for. Though the pricing is high, I can say that on overall, it is worth it. The speeds and uptime are also superb. In conclusion, it looks like WP Engine will work for some and not for others.
Some might find the pricing a little too high for their websites and opt to go for much cheaper hosting companies that offer almost the same, while others might find it very suitable for their needs. I can say that this web hosting company is worth trying out.
Compare WP Engine With Our Top Ranked Web Hosts!
SiteGround vs HostGator vs WP Engine

SiteGround

HostGator

WP Engine
Rating

Rated 4.5 stars

Rated 4.5 stars

Rated 4 stars

Price

$3.95/month

$3.95/month

$29/month

Criteria