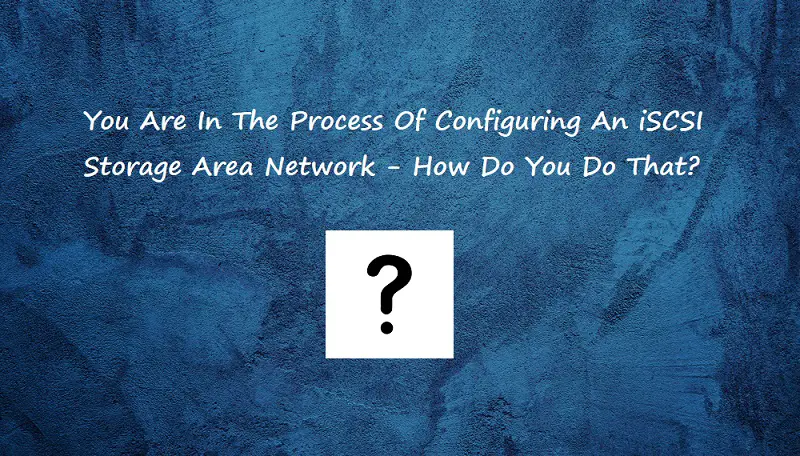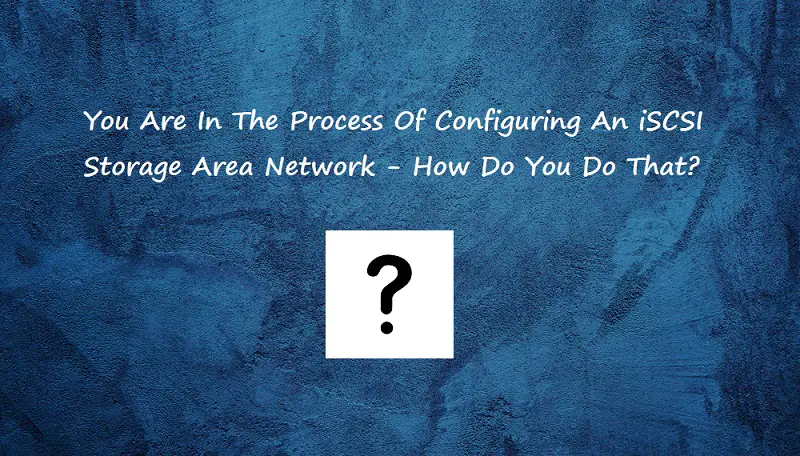 DISCLOSURE: This post may contain affiliate links, meaning when you click the links and make a purchase, we receive a commission.
There are many types of data storage solutions available out there such as NAS (Network Attached Storage), NFS (Network File System), iSCSI, etc. However, not all of them are viable options for small or medium-sized companies. If you are looking for a suitable data storage solution for your organization, you can go with the iSCSI SAN system.
This is a new storage technology. And, it also has become a new favorite system for a lot of organizations all over the world because of its versatility, cost-effectiveness, and high-speed data transfer capability.
In this post, we will give a quick rundown of the iSCSI Storage Area Network system. So that you can get familiar with this if you are in the process of configuring an iSCSI Storage Area Network or just planning on setting up one for you.
So, let's get to it…
Introduction to iSCSI Storage Area Network
First of all, you will need to know what does 'iSCSI' stands for. The full form of 'iSCSI' is 'Internet Small Computer System Interface'. And iSCSI is a storage networking system or standard that is 'IP' or 'Internet Protocol' based. This protocol is used to link data storage facilities, transfer and access the data over a TCP or IP network.
Interestingly, it offers block-level access to the storage devices that are connected to the network. That makes it a 'Storage Area Network' or 'SAN'. As a result, iSCSI storage is also called as 'iSCSI SAN' storage.
Why Should You Use iSCSI Storage Area Network?
There are many systems you can opt for your organization or company's storage system. But why should you go with iSCSI SAN instead? For your convenience, we will share a few benefits of this storage system over traditional storage area networks like FC (Fiber Channel) SAN. Here we go…
Whenever you will go to implement a new storage area network, you will need to buy new hardware for setting it up most of the time. For instance, in the case of an FC SAN system, you will have to get FC Switches, FC HBA, and more, if you haven't already.
However, it does not apply to an iSCSI Storage Area Network. Rather, you can build this with your existing networking infrastructure. Even if you have to buy any new hardware, there will be no need to buy everything from the ground up. That means it is far cost-effective compared to traditional storage networks.
When you are dealing with a large amount of data, you will want to access it as fast as possible. If your data storage facility doesn't offer faster data access or faster data transfer, then you should look for another solution. Most of the traditional data storage systems don't offer fast data accessibility.
But the iSCSI SAN offers block-level data access. That means you will be able to get faster data transfer. And the users will also be able to access the data faster whenever they require.
This storage area network can be built using typical Gigabit network hardware like a router, Ethernet switches, etc. That means you will get them for a lot cheaper and also these types of hardware are very easy to use as well. So, you will not have to be a professional to set up an iSCSI Storage Area Network. Anybody that can work with TCP/IP protocol will be able to configure or set up an iSCSI SAN.
You know that the iSCSI SAN systems use TCP/IP networking standard to transfer the data. And, these are universally available everywhere. And, most of the popular brands that are supplying data storage related hardware also manufacture TCP/IP compatible hardware. So, it will not be tough to find all the necessary hardware to set up an iSCSI storage area network.
Long Distance Storage Solution:
TCP/IP networking system is great for a long-distance storage solution. So, if you are looking for setting up a long-distance data storage facility network, you will be able to take advantage of the iSCSI Storage Area Network.
How does iSCSI Storage Area Network Work?
Simply put, there are 2 key parts of the iSCSI storage system that are iSCSI initiator and iSCSI target. Normally, the iSCSI initiator can be either a software or hardware that will be on the host computer or system. Whereas the 'iSCSI target' would be on the storage devices on the storage facility.
Typically, the iSCSI initiator would send and receive responses from the iSCSI target. Altogether, you could say that iSCSI SAN works by transmitting block-level data between the iSCSI target and the iSCSI initiator over TCP/IP network.
Tips on Setting up an iSCSI Storage Area Network
It is very easy to set up an iSCSI Storage Area Network. However, we have some tips for you to make the best while setting up your next iSCSI SAN.
First of all, the iSCSI Storage Area Network can be a great option if you are looking to transfer or store a large amount of data for your business. A lot of small to medium-sized organizations or businesses are using this system of storage all around the world.
Next, we have already told you that you can start using iSCSI SAN with your pre-existing hardware. However, we would suggest you put all the iSCSI SAN traffic to separate VLAN. Matter of fact, it is also better if you could use an entirely separate network for the iSCSI Storage facility.
Plus, you should always use enterprise-class premium switch (Gigabit Ethernet Switch) for your iSCSI SAN. Because most of the generic stitches don't support high wire-speed connections over multiple ports. As a result, you might face packet loss during data transfer. Also, you will want to future-proof your set up. So, make sure, you are using high-end hardware while setting up the network.
Last but not least, you should use MPIO (Multipath I/O) technology for creating multiple connections between your servers to the storage devices. Otherwise, your data facility might fail without any prior warning.
Closing Thoughts-Configuring An iSCSI Storage Area Network
Whenever you are choosing a new data storage solution for your company, you should consider a few factors. For example, you should look for a solution that is economically viable, fast, safe, and can be set up easily.
In that case, we think the iSCSI Storage Area Network system has an upper hand over other traditional systems. So, if you are looking for a data storage solution that is secure, comes with a disaster recovery option, and easy to manage, then you can go with iSCSI SAN.