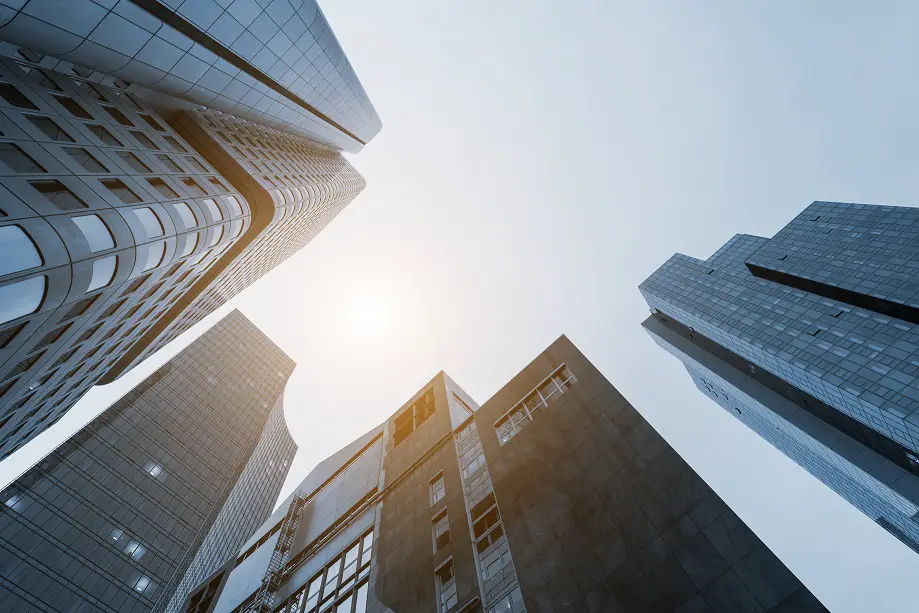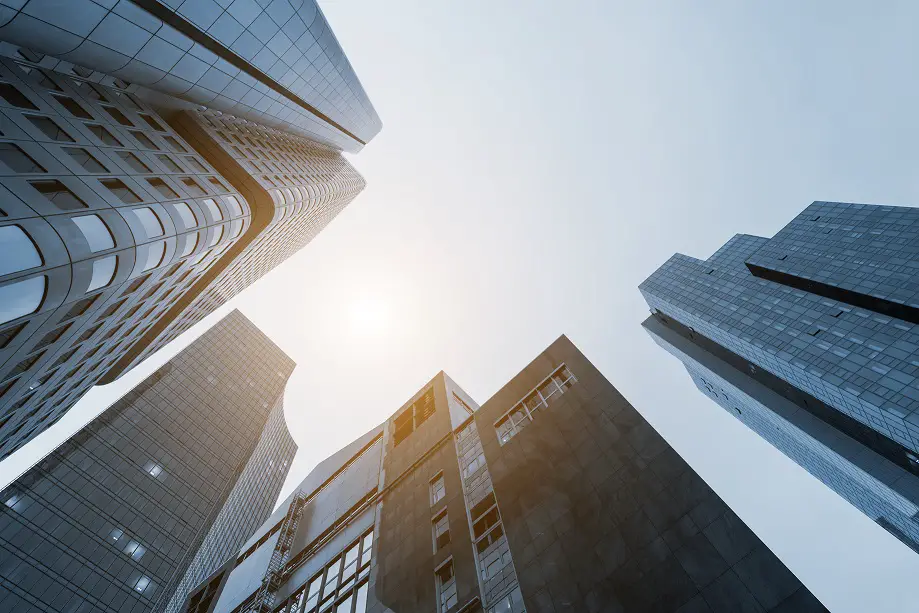 DISCLOSURE: This post may contain affiliate links, meaning when you click the links and make a purchase, we receive a commission.
SAN or Storage Area Network is a block-based storage system. For a lot of enterprises, businesses, and companies SAN can be a great choice for managing and storing their data. There are a host of SAN providers in the world. Do you want to get familiar with some of the best SAN provider companies?
For your convenience, we have jotted this post down with brief reviews of some of the most popular Storage Area Network (SAN) companies in the world. So, let's learn more about them in the next section.
List of Popular Storage Area Network (SAN) Companies in the World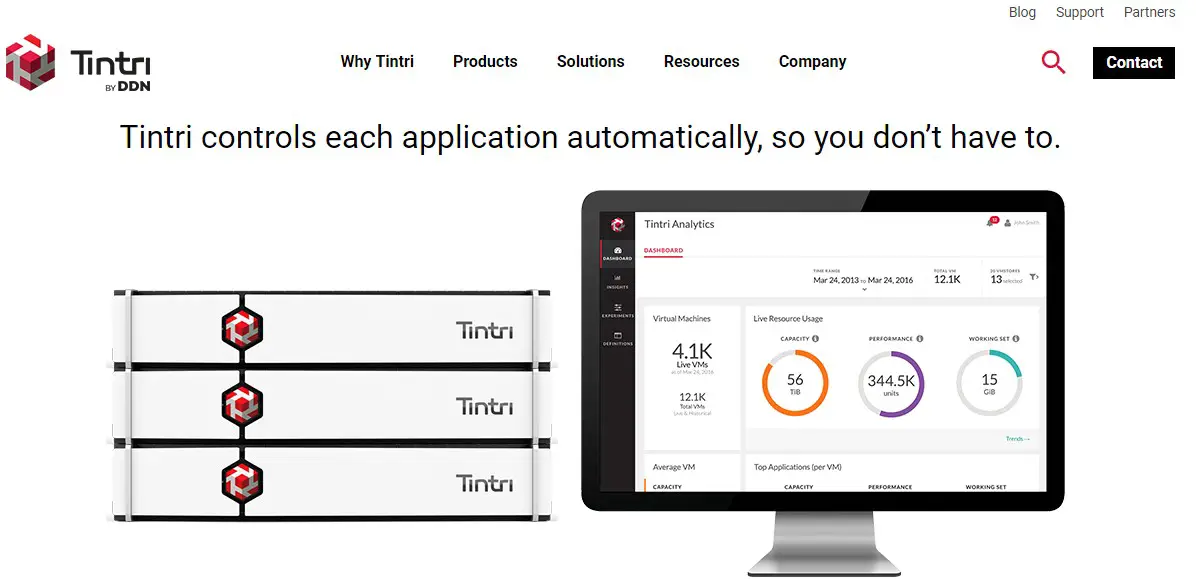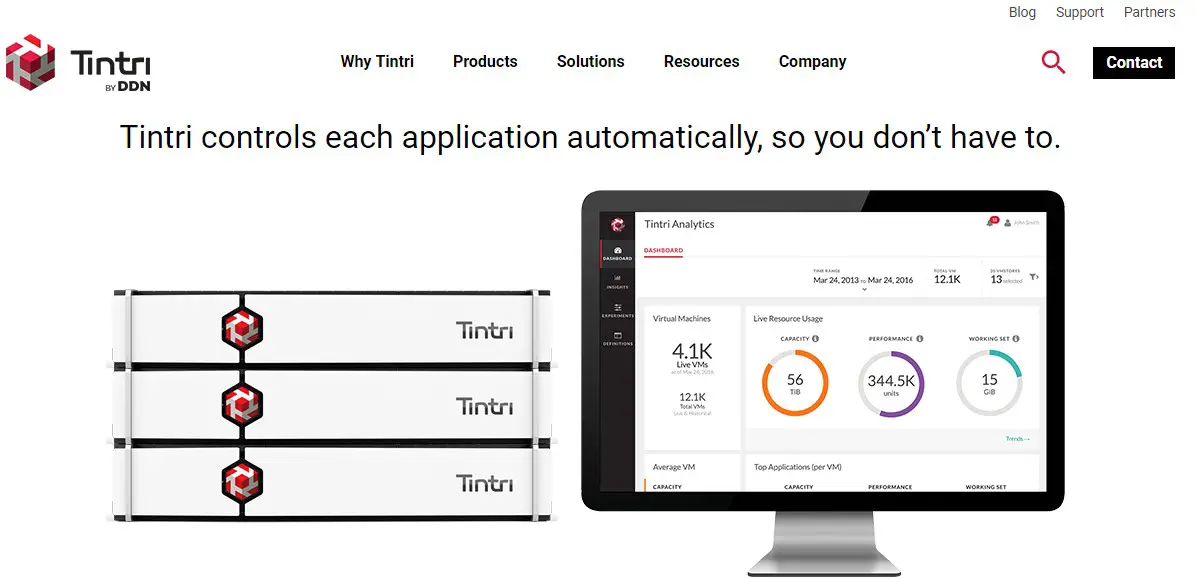 Tintri is quite new in the data storage solution industry. They are a division of Data Direct Networks (DDN). So, if you are a fan of the DDN, then you will love Tintri. The company was established in 2008. The headquarter of Tintri is located in Santa Clara, California, USA.
Unofficially, the beginning of the company was actually in 2007 when Kieran Harty started it from the ground up. Kieran Harty was the VP of the engineering department at VMware until 2006. But later, he started his own company. Tintri is famous for providing VMware storage and enterprise cloud storage. So, if you are looking for a SAN provider, they can help you out.


This is another company based in San Jose, California, USA. It was also founded in 2008 like Tintri. But they are a subsidiary of the Hewlett Packard Enterprise. Primarily, they are popular for providing their own developed 'predictive flash storage technology'.
Along with that, they offer services like Adaptive Flash Arrays, All-Flash Arrays, SmartStack reference architectures, and so on. No need to be worried about downtime as Nimble offers 99.9999% uptime availability. All of their products are highly scalable too. So, you can easily upgrade your package if you want to.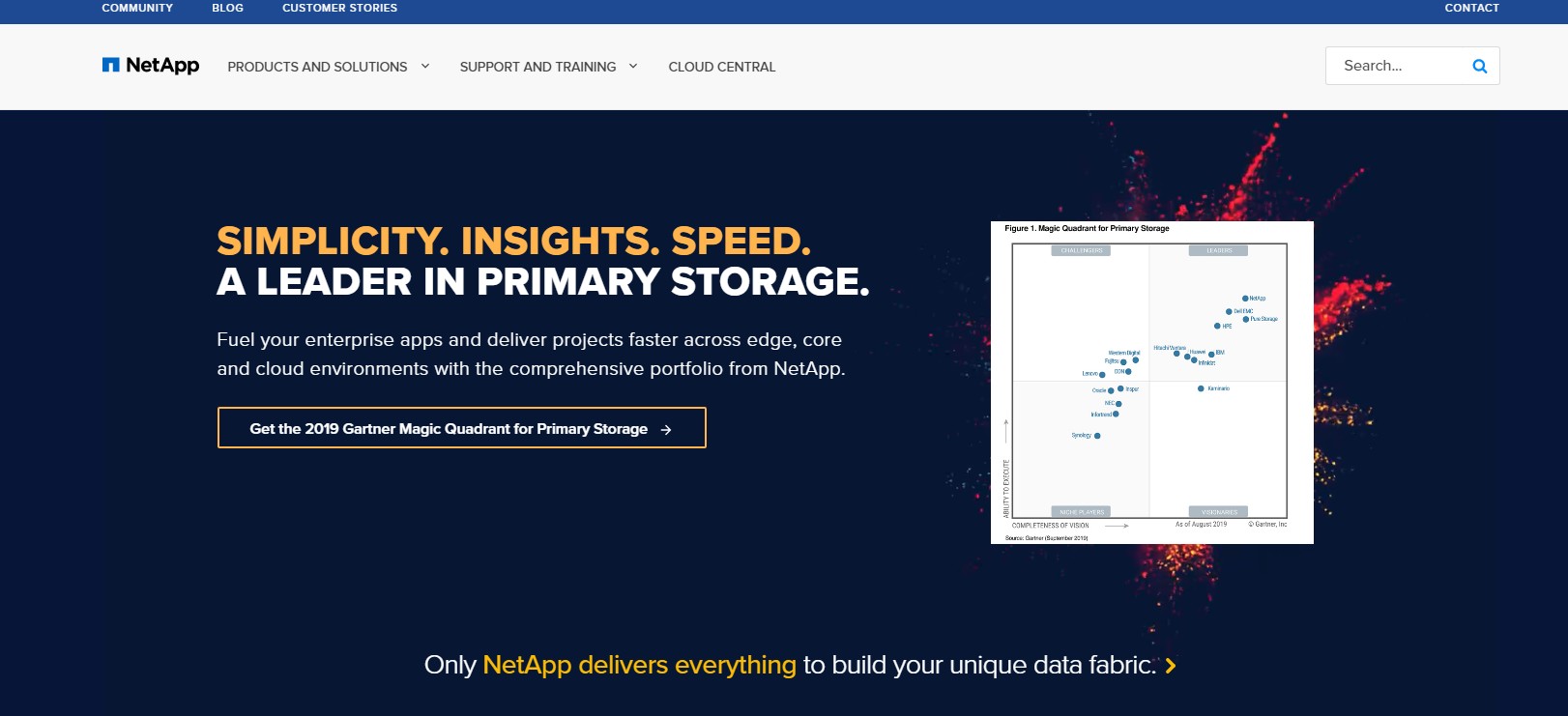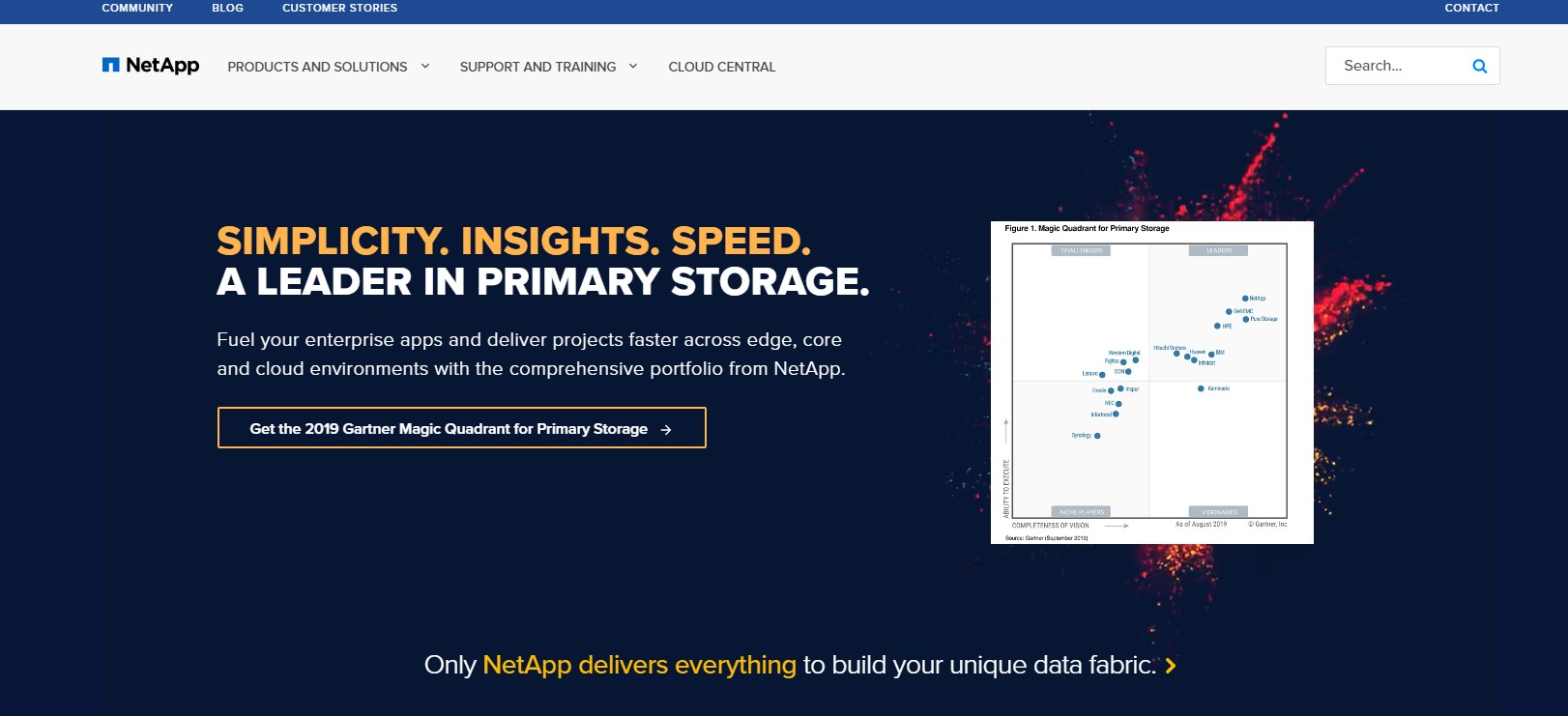 When it comes to high-end data management service, NetApp should always be on the top of the list. They are doing this since 1992. Thus, the vast experience of 27 years and counting does help them to bring out new features and functions for their customers. The headquarter of the NetApp is located in Sunnyvale, California.
NetApp offers numerous services like cloud storage, cloud backup, SAN service, private storage, Kubernetes Service, NDAS, Software Integration, SaaS Backup, Data Backup, and Data recovery, etc. They also have a partnership with Google. So, your application can be integrated with Google Cloud and NetApp. They also offer a powerful all-flash array. They are so fast that your system would be ready within just 3 minutes after you order.


You should already be familiar with the tech-giant IBM. This is one of the oldest and reputed information and Technology Company in the world. Over the course of the years, IBM has spanned its business all around the globe. At the moment, they are offering their services in 177 countries. For your information, this Armonk, New York, U.S. based company had a revenue of over 79 billion USD in 2018. So, you can guess how big they are!
Right now, they are offering so many services that we have to write a separate article just to mention all of those. Here are some services offered by IBM: Software Development, Mobile tech, cloud computing, business consulting, network services, content management, Blockcahem, IT and Data management. If you want the best of the best SAN experience, then IBM would be the best option for your Storage Area Network needs.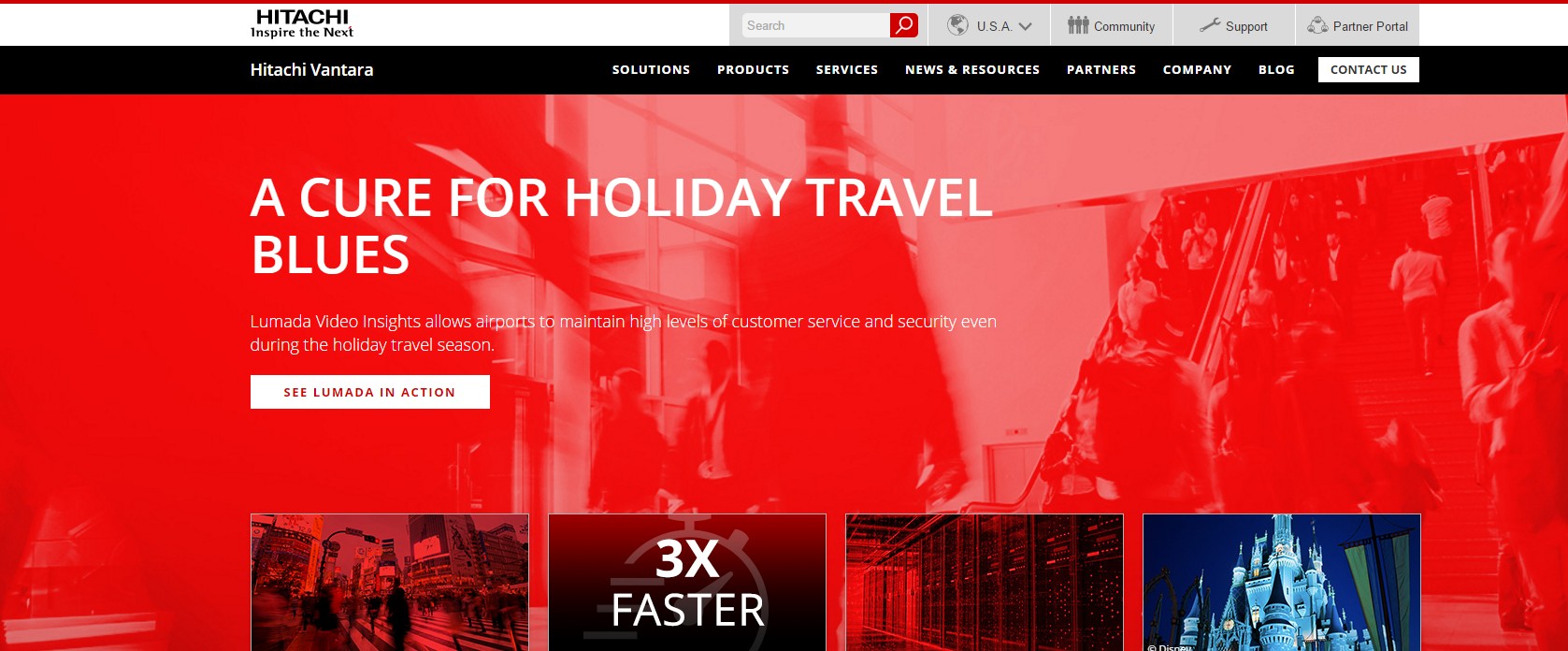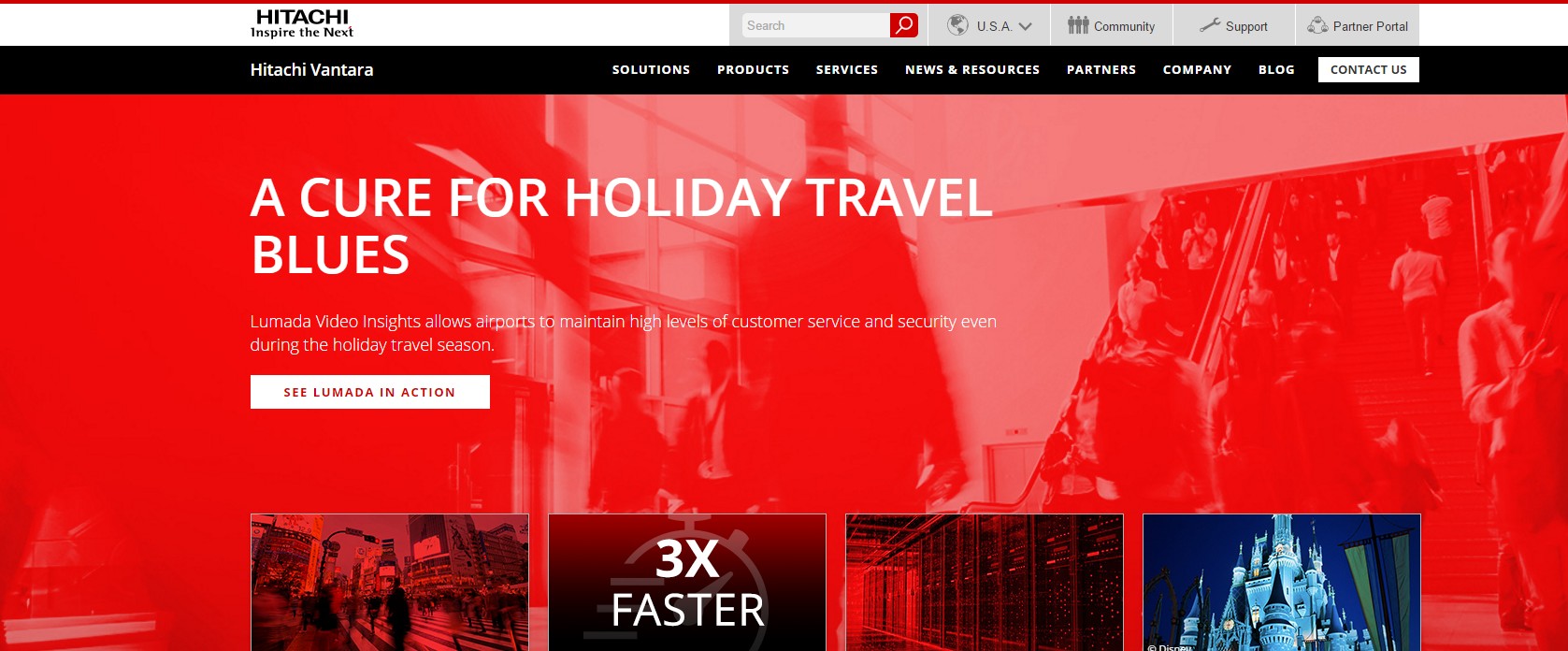 For Data management and Data operations related needs, Hitachi Data Systems can be a great choice. On 19th September 2017, Hitachi Data Systems has been integrated with Hitachi Vantara. This is a new company owned by Hitachi, Ltd. The Hitachi Company offers its services in more than 170 countries.
Hitachi Data Systems offer both software and hardware service. For instance, you will get services like IT services, IT consulting, Data storage software, object storage, NAS platform, SAN platform, virtual storage, hybrid flash storage, and more. They also work for Data protection as well. Overall, you can expect world-class service from Hitachi.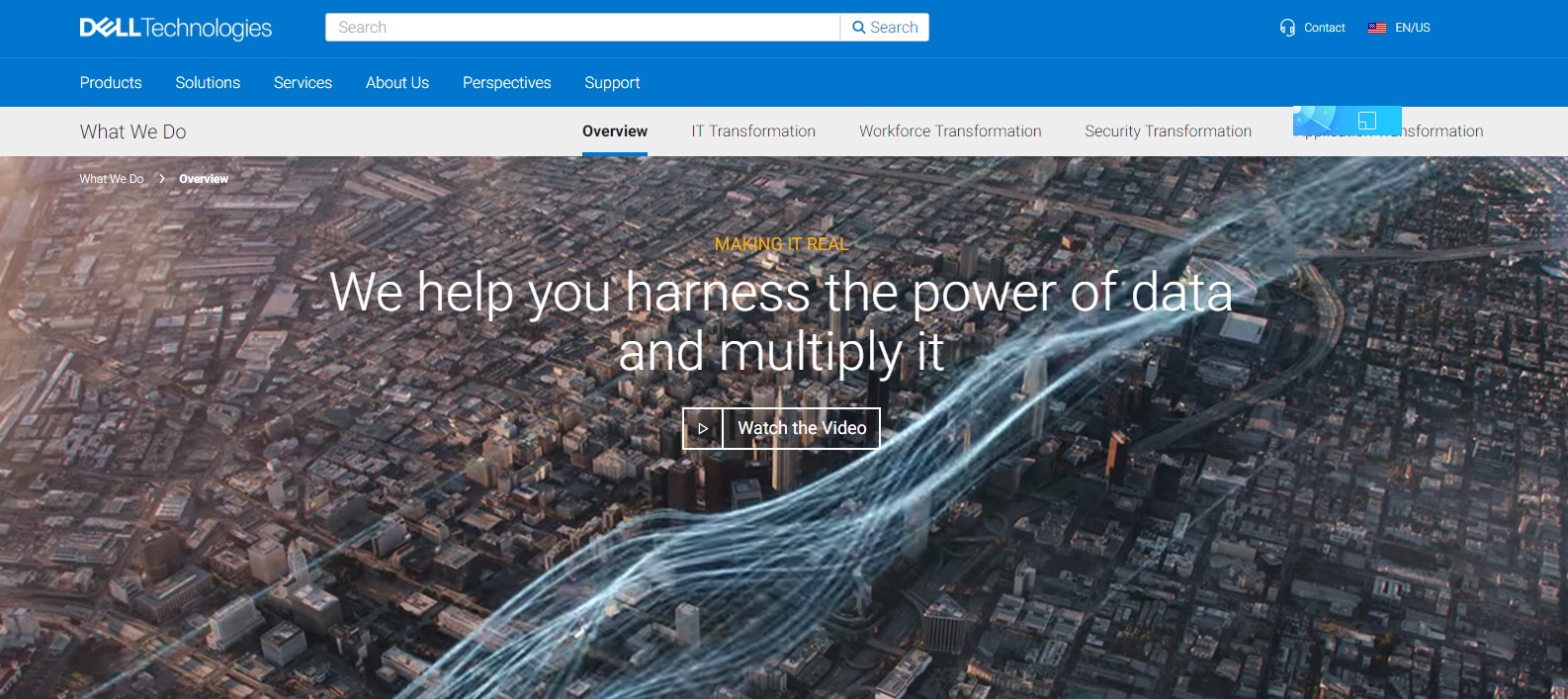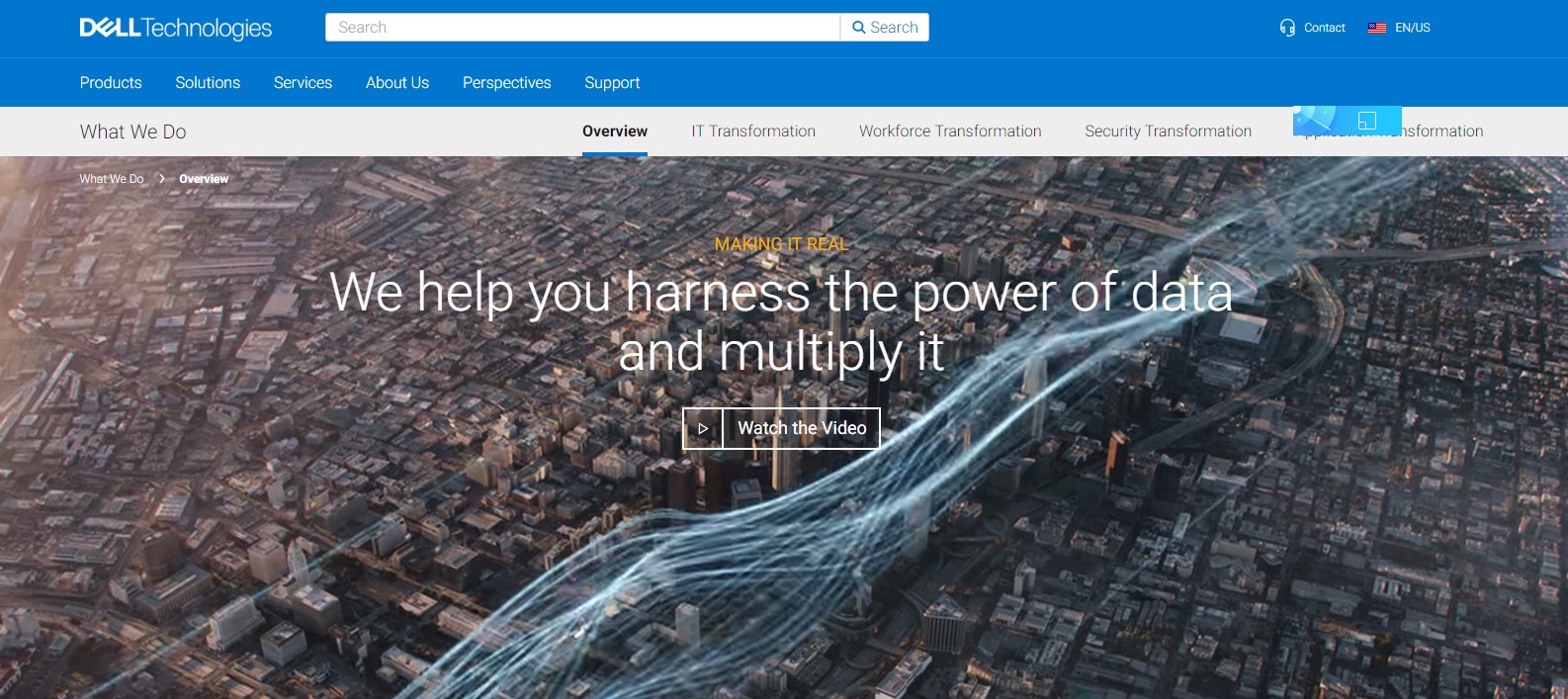 After the acquisition of the EMC Corporation by Dell, they have renamed the company to DELL EMC. The main goal of this company is to provide computer storage. Even before, the EMC Corporation was a hugely popular data management and data storage company back in the days. Due to the increasing popularity, it caught the attention of Dell. And they bought it in 2016.
And after the acquisition, their services have improved a lot. So, the Dell EMC is still one of the best Storage Area Network companies in the world. They offer their services worldwide. So, it doesn't matter where you live. You can buy their services. Some of their notable services are Information Security, cloud computing, analytics, data storage, and data virtualization.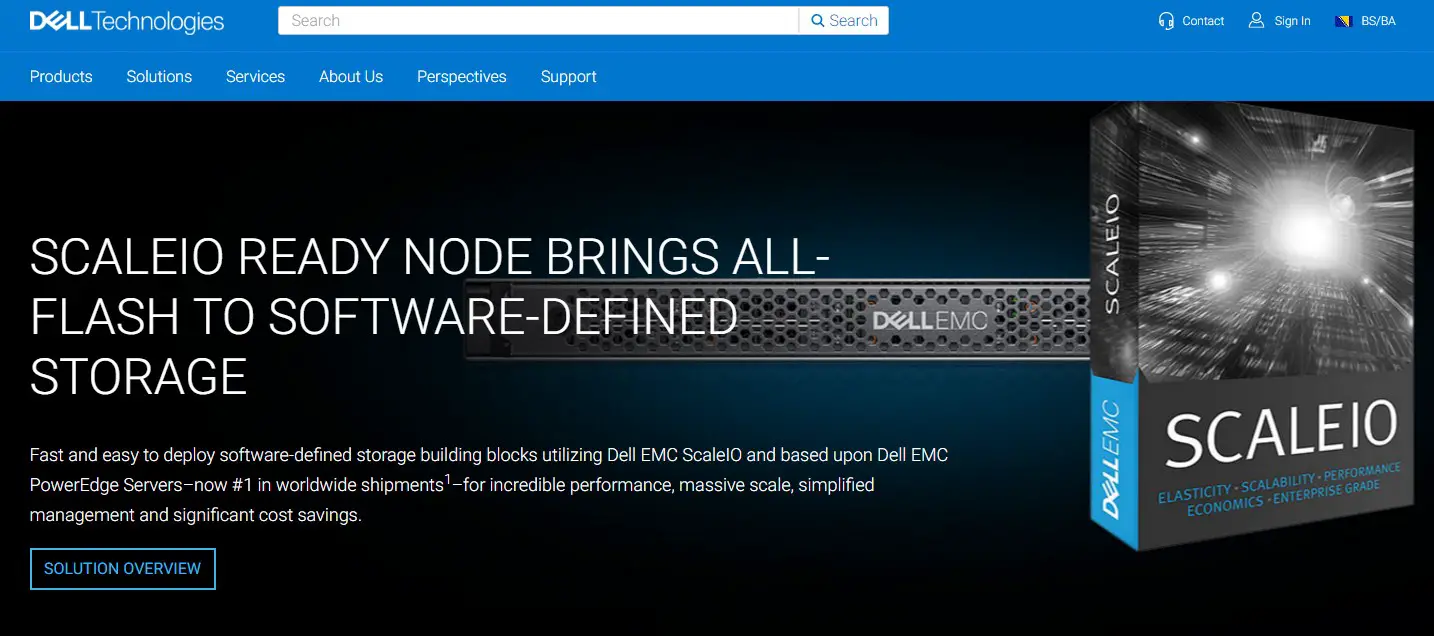 The Dell EMC ScaleIO is a software-defined storage solution for block storage needs. You can get this from Dell EMC as a separate service. As a result, we have also included it here separately. This system uses the main principles of server virtualization. So, it is both efficient and cost-effective at the same time.
It comes with the all-flash configurations. If you are thinking of running an enterprise application flawlessly, then the all-flash configuration will help you to achieve that without any issues. Remember that, this is not your usual SAN. It is more of an advanced SAN solution. It can lower the TCO up to 50% compared to a usual SAN system. So, it can be a great option for you as well, if you are looking for a SAN alternative.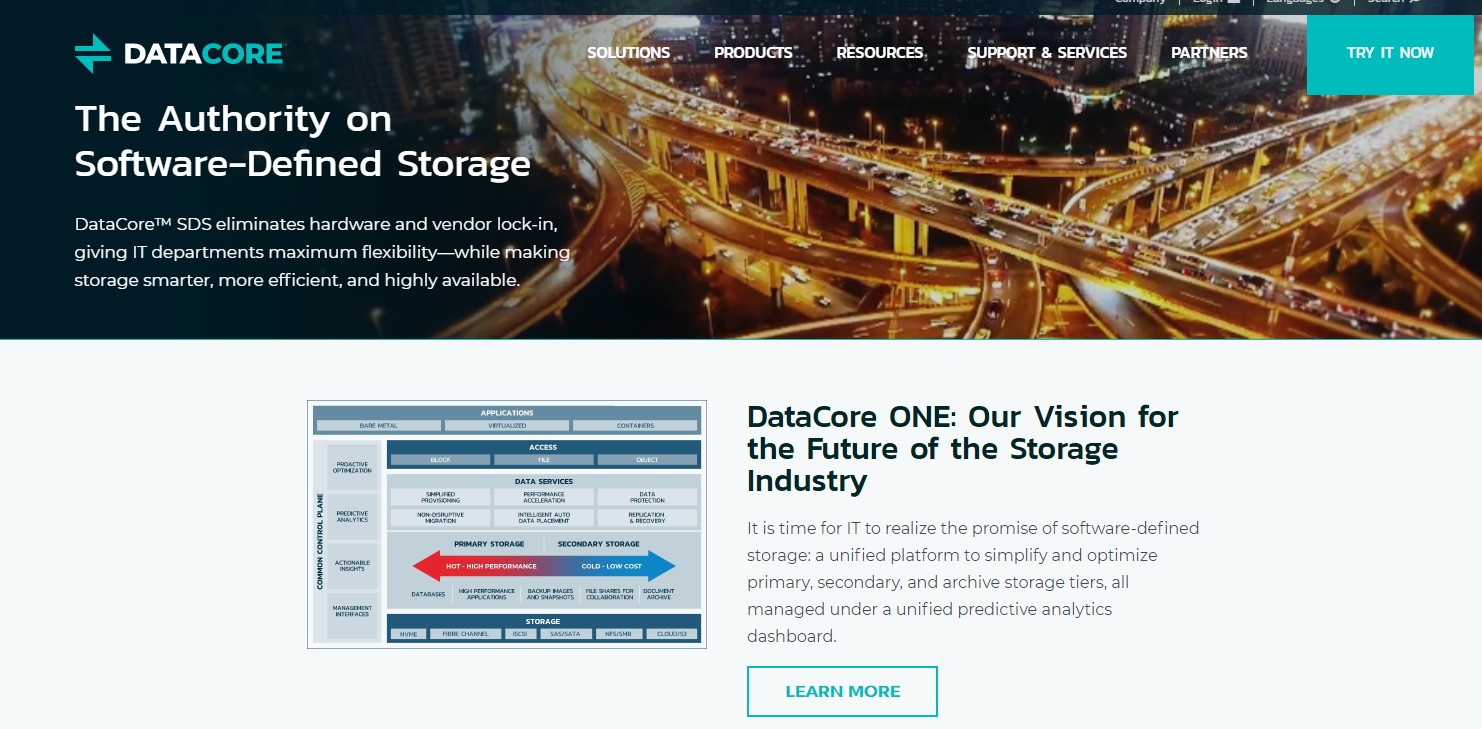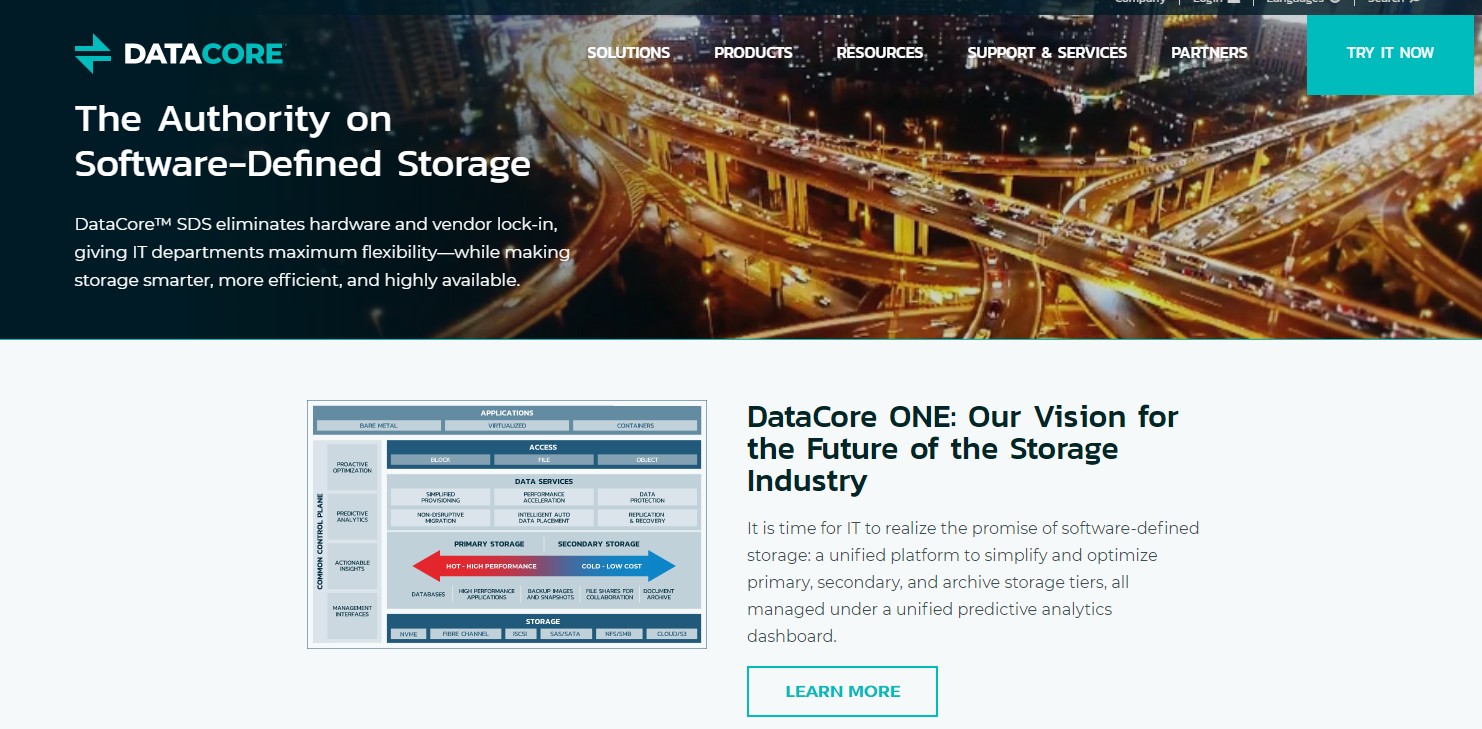 It is a privately held company based on Fort Lauderdale, Florida, USA. This company is also known as DataCore Software. DataCore was established back in 1998. Since then, they have been serving in the data management and data storage technology industry successfully. However, they are well known as one of the pioneers in developing the SAN virtualization technology.
To this day, they offer services mainly related to SAN technology. One of their special product's name is SANsymphony. This is a software-defined storage system that can guarantee a 100% uptime. There are over 10,000 customers from all around the world use the SANsymphony at the moment. So, if you are searching for a great Storage Area Network Company, then the DataCore can be an ideal choice.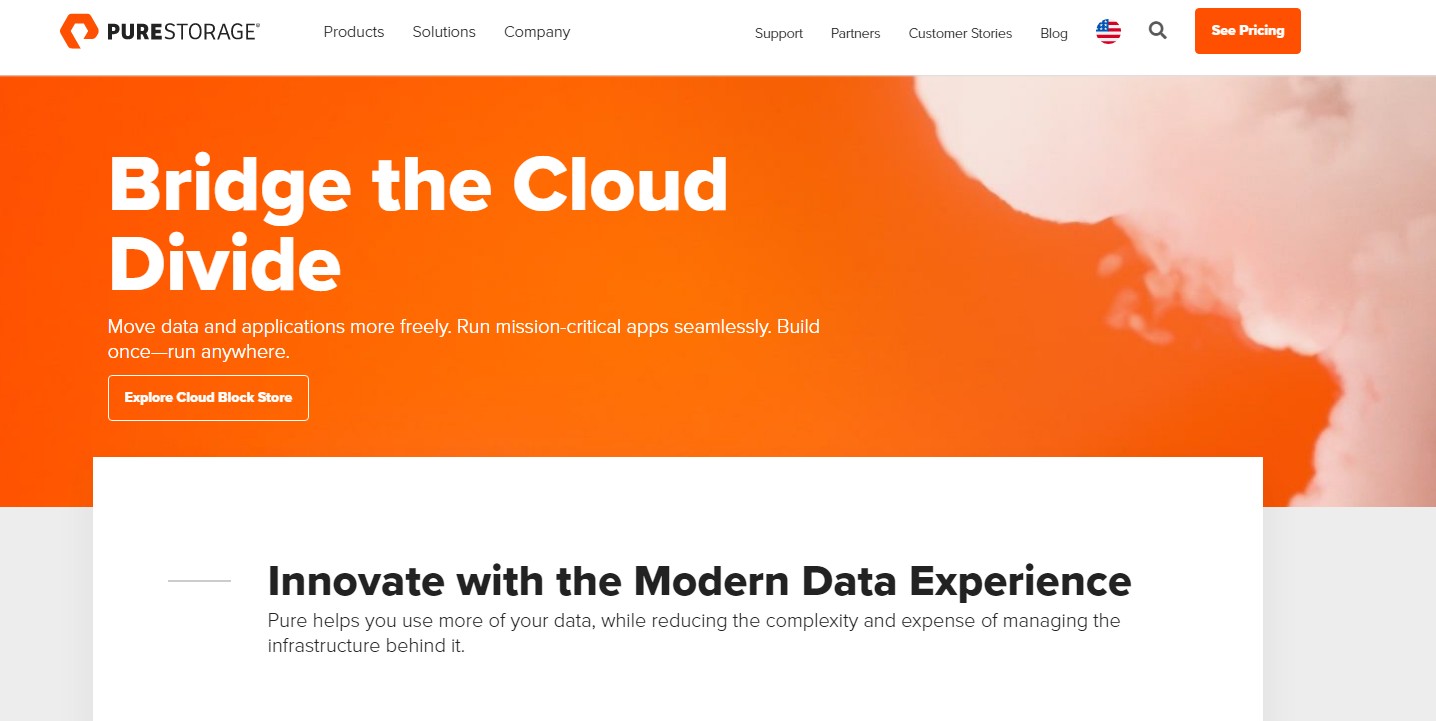 This is a company that was founded in 2009. However, they have been developing their products secretly / in stealth mode until 2011. Primarily, they offer data storage software and hardware products. At this point, they are developing products particularly for using them with AI (Artificial Intelligence) software.
Till 2015, they have developed their own flash storage hardware. Now, they offer all-flash data storage solutions. And, the revenue of this company was about 1.36 billion USD in 2019. Most of their products are integrated with AI software. So, there will be a lot of automation. That is why Pure Storage has become a popular company in a short span of time.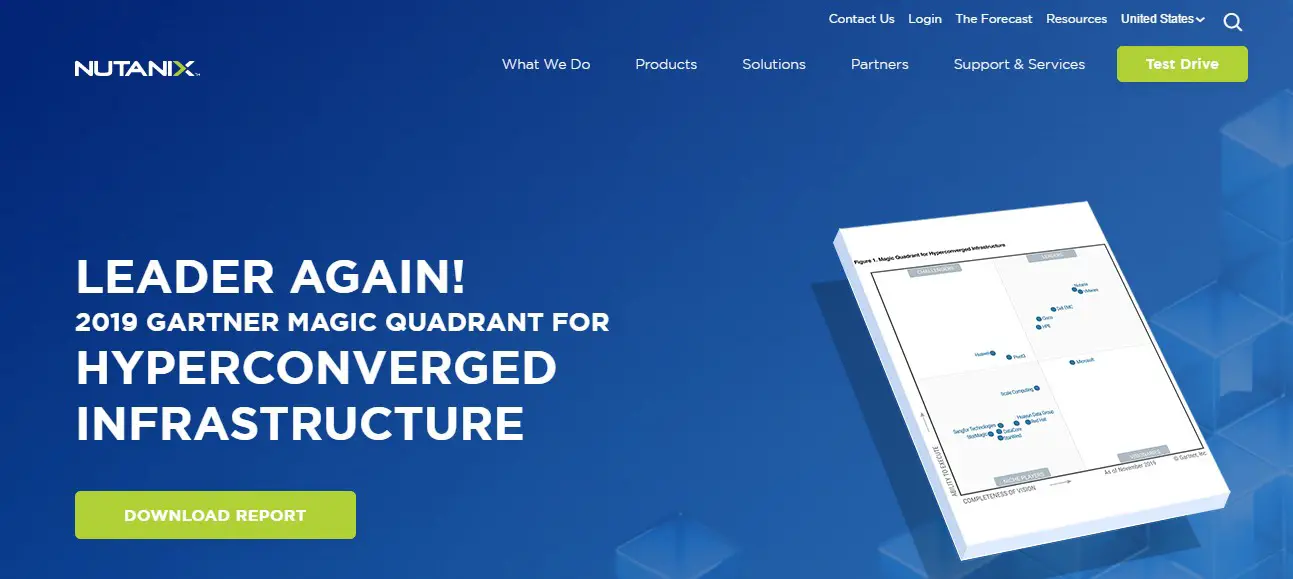 The last company on our list is Nutanix. This company was established back in 2009. In that sense, this is one of the newer companies on our list. However, that doesn't mean that they are not one of the best Storage Area Network companies in the world.
For your information, this San Jose, California, USA based company has a revenue of about $1.2 billion. They offer software-defined storage (SDS), hyper-converged infrastructure (HCI), and other storage virtualization products. Over time, this company has bought about 5 other companies. So, Nutanix can actually be a great choice.
Wrap Up
There you have it! These are some of the best Storage Area Network Companies in the world right now. So, if you are looking for a good and reputed SAN solution provider, you can choose any of these from the above list. However, you should remember that the cost will vary depending on the company and the features they offer.
So, have we missed any of your favorite SAN providers on the list? You can let us know about that in the comments section below!