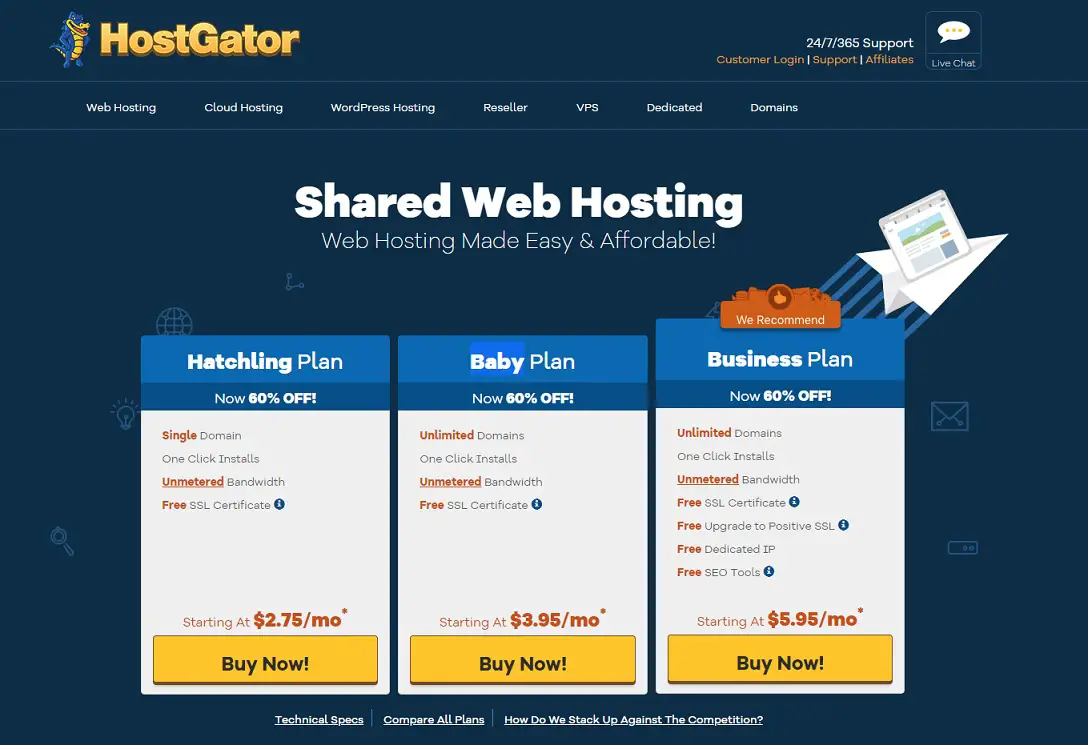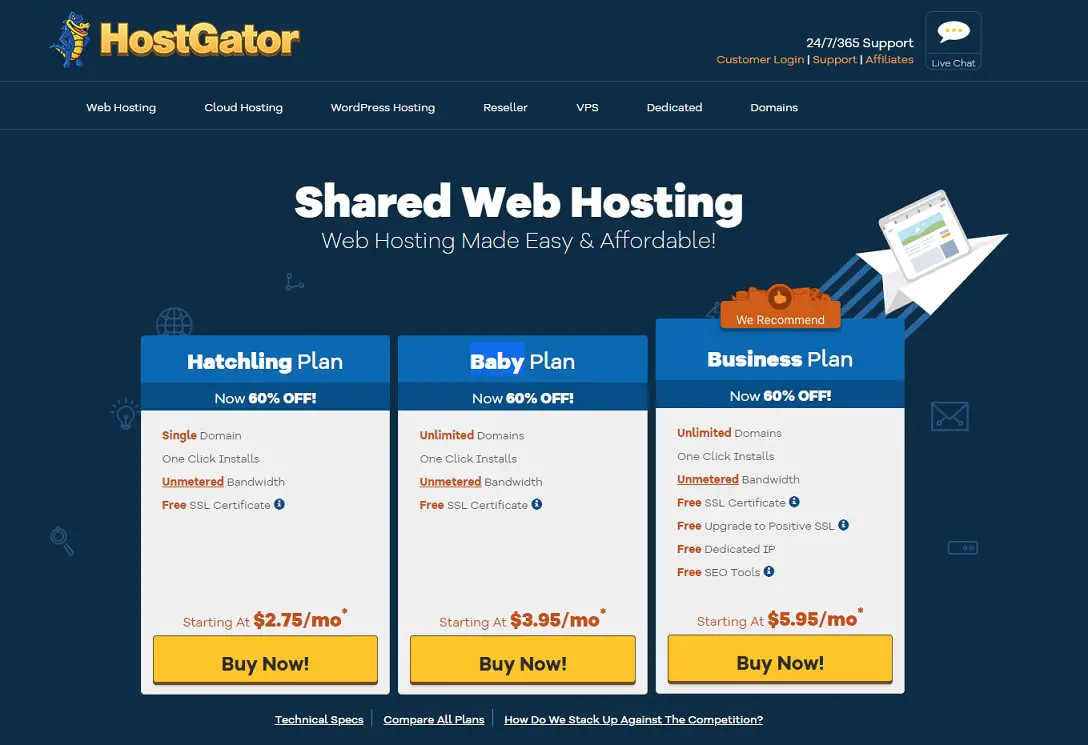 DISCLOSURE: This post may contain affiliate links, meaning when you click the links and make a purchase, we receive a commission.
HostGator was founded on 2002 by a college student named 'Brent Oxley'. Since then, the company didn't look back. They have started as a web hosting company. Later, they started to sell domain names too.
And, at this moment, they have registered approximately 9 million of domain names. If that's not an achievement then what else. You may have heard about HostGator from somewhere.
And now, you might be eager to get a shared hosting account for your websites from them. As a result, you have stumbled upon this article.
In this post, we will share our unbiased opinion and give a review of the Shared Hosting Service of HostGator. On top of that, we will be sharing some crucial information about HostGator's uptime and support system.
So, let's see how it works out for you…
Check HostGator Shared Hosting Details Here
HostGator Shared Hosting Review
What is Shared Hosting?
When you have heard about web hosting for the first time, it is likely that you have heard about shared web hosting service. Because it is the most prevalent hosting solution available out there.
When a web hosting company offers you a shared hosting service that means that your website will be hosted on a server which will be shared among a lot of other users too. If you are searching for an economical web hosting service then this is the best option for anyone. You will have all the required features of a normal hosting account but it will be affordable comparing to other services such as VPS, Dedicated, and Cloud etc.
Normally, the cost of maintaining an entire server is very high. So, on shared hosting service, the server will be allocated among many users and the cost will be also distributed to all of the customers. That way, the cost can be minimized. Additionally, most of the time, you will be able to host your site without any limitations on Bandwidth and Storage space. This is another benefit of shared hosting.
To make managing the accounts simple, all of the users will have their separate control panel. By using those, they would be able to manage their websites. All of these will be already set up. You just have to set up your website and you are ready to go.
As the server is shared among many users, when there will be high traffic on any/most of the websites hosted on a specific server, all of the websites will get slow as a consequence. This is one of the most ubiquitous drawbacks of shared hosting service.
However, if your web hosting provider is good, they will make sure that you don't suffer vastly from high traffic load. So, if you want to get a shared hosting account, you should investigate everything about a hosting company prior to getting an account with them.
Now, let's learn about the plans of HostGator shared hosting service.
HostGator Shared Hosting Plans:
HostGator keeps it straightforward when it comes to their shared hosting plans. Anybody can make their choice in a minute when they see the plans. HostGator has 3 shared hosting plans named Hatchling, Baby, and Business Plan.
We will now describe all of these plans in greater detail for you to understand simply.
If you want to start your blogging journey with just 2.75$ per month then the 'Hatchling plan' is the best option for you out there. There is only one drawback of this plan. That is you can host only 1 website using this plan. So, if you are going to host multiple websites at once then this is not suitable for you.
Although you will able to host only one website, you will have unmetered bandwidth. Along with that, you will also have all the usual but essential features included in this plan. You will also be able to use unlimited disk space on the 'Hatchling plan'.
When you need/want to start the blogging journey with multiple websites but want an affordable solution then this is will be an excellent choice. The 'Baby' shared hosting plan will cost you 3.95$ per month.
But, you will be able to host unlimited websites on your account. Added to that, you will get unlimited bandwidth and unlimited disk space as well. Because of these awesome features the 'Baby Plan' has become the most popular HostGator shared hosting plan.
So, you want the best 'shared' hosting plan of HostGator and don't have any problem with the cost. Then you will have to focus on the 'Business Plan'. This is the most cost-intensive plan. The price of this plan is 5.95$ per month.
Although it is the costliest plan, 5.95$ per month is not that high. In this pan, you will get unmetered Bandwidth, unlimited Disk Space, free Dedicated IP, Free Positive SSL Upgrade features. There are more features which will be available under this plan. However, we will cover those on the latter part of the post.
Now, you have to remember that these mentioned prices are subject to change on any given condition. And, these prices are valid on your first time buying from HostGator. These prices do not reflect the renewal price. Also, the price of each plan can vary depending on the duration you want to get your account for. For instance, if you get any plan for 3 years, then you will have the lowest possible price. But, for fewer years, the discount will also decrease.
As you have a thorough idea about the HostGator shared hosting plans, now let's see if it will be suitable for you.
Who should use the HostGator Shared Hosting Plans?
When it comes to hosting plans, then the shared hosting plans will be the first on the track. Generally, the packages of the shared hosting service tend to be affordable and also feature-rich. So, everyone seems to find their best match easily.
Indifferently, HostGator makes it easy for everybody to get into the blogging world with their cheap but very feature-rich plans. So, if you are in a tight budget but want to start blogging, then HostGator shared hosting plans have everything you need and want.
If you need a hosting account just for a single website, the 'Hatchling' plan is there for you. You will be able to use this plan for any website whether it is your personal blog or a website dedicated to other topics.
But when you want the best of all worlds then you have the option to take the 'Baby' plan. You can host multiple websites with ease on this plan. And it just cost about 1$ more than the 'Hatchling' plan. So, for people who want to begin their online blogging journey and want to own more than one blog/sites, the 'Baby' plan is there for you.
Last but not least, you have the best of the bunch. The 'Business' plan is perfect for people who have multiple websites dedicated to their business. If your websites receive a lot of visitors most of the time then you will love the 'Business' plan. Yes, it does cost much more than the other two plans. But, it is undeniably the best plan of all.
If you are a professional or have experience managing websites, web hosting accounts then you are good to go. But, for people who are new to this, HostGator has made it very easy for you.
You don't have to be techy to use any of the shared plans of HostGator. Everything will be already set for you. You just have to install your preferred CMS and you are all set. However, if you don't even know how to do that you will get help from the HostGator support, speaking of HostGator support team, we will talk about that in detail later in this post.
So, considering everything, it is very clear that if you are getting into the website/blogging then any shared hosting plans of HostGator will be perfect for you.
Great for hosting what applications?
You may have already heard of the names like WordPress, Drupal, and Joomla. They are popular CMS (Content Management System) or you might also say web applications. HostGator is very prudent about supporting all the CMS on their service.
So, they have optimized their servers intended for that. As a result, all of the popular CMS is compatible with HostGator. You can instantly install 75 free web applications with just a few clicks on your websites. On top of these, they have developed some very useful software, plugins especially for the CMS like WordPress, Drupal, Joomla, Magento, Wiki, phpBB etc.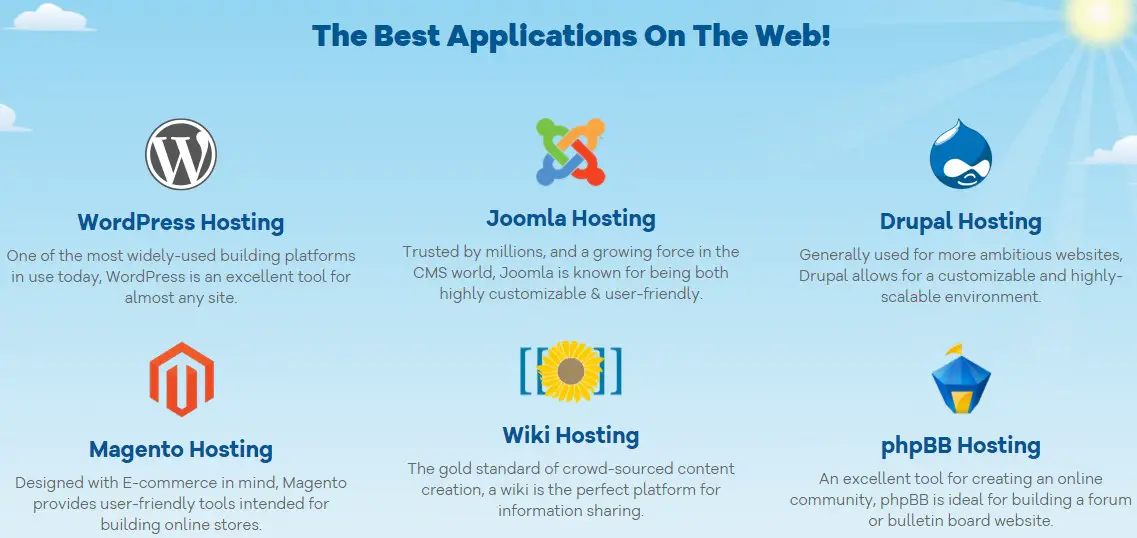 All of those tools will come pre-installed with your hosting account. So, you can use them from the start. For instance, the 'Quick Install' tool and auto-updater software will come very handy for you. With the help of 'Quick Install,' you will be able to install any CMS on your website with just a few clicks. You will also be able to access 'Soholaunch' – a website builder software which is perfect for people of all experiences.
And, with the help of the auto-updater, your currently installed CMS will be automatically updated to the latest version. You don't even have to manually do that. Believe it or not, it will save a lot of time of yours. Again, if you want more flexibility then you have special hosting for all the popular CMS such as WordPress, Joomla, Magento, Wiki etc. You can use those plans as well. All in all, we can say that HostGator is well prepared in the case of supporting all types of web applications.
Services of HostGator Shared Hosting Package:
HostGator shared hosting plans are full of useful services. We will now mention some of the noteworthy ones below.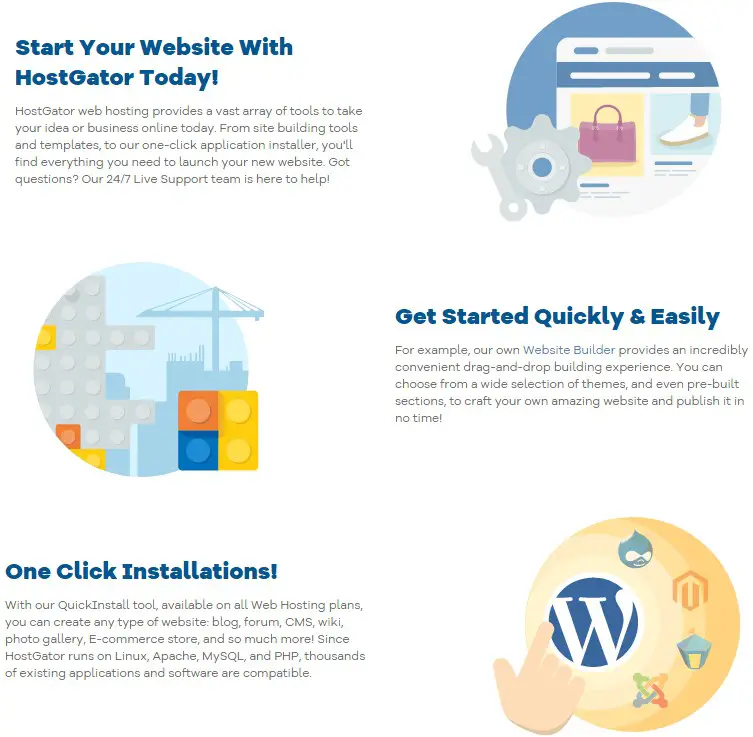 Although we are talking about shared hosting, the quality of the servers of your hosting provider can make a huge difference in the performance of your website/s. In this case, HostGator has put their best efforts on improving the quality of their servers.
They use all the latest version of the software that comes with the servers. As always, they keep everything updated. And, besides that, the hardware on the servers are also are kept on regular check. So, even though the servers are shared they offer the fastest performance possible. Believe me, that will translate into your websites' speed as well.
HostGator is very strict about their customer's security. They have all the required security tools. They run regular security check-ups on their servers. So, you can be worry-free about the security of your websites.
Besides the paid services, you will also receive some free service with HostGator shared hosting plans. First of all, you will get free SSL certificate with every domain you host on HostGator.
Next, you will get free custom emails (e.g. [email protected]). You can create as many as possible email accounts associated with your websites. You can also create unlimited FTP accounts, add unlimited subdomains on your shared account for no cost at all.
45 Day money back guarantee:
Usually, most of the hosting providers offer a 30-day money back guarantee. But HostGator takes it to the next level. If you want to cancel your account then you can do that within 45 days. And you will get your refund.
If you are own a website already and want to switch the web hosting company, then HostGator will help you move out. They will migrate your site for free. They will transfer everything from your website, domain, to MySQL Databases too. So, if you are not techy, then this can be very helpful for you.
Free Google and Bing Ads Credits:
If you represent your business through your website, then advertising your site could be a very tempting idea. To help to promote your website/s and business, HostGator offers free 100$ Bing and 100$ Google Ads Credits.
There are more services which are offered with the shared hosting plans, but to keep the post short we will not explore each and every one of them. You can know about them from the HostGator website.
Features of HostGator Shared Hosting Service:
HostGator offers plenty of features with its shared hosting plans. Let's get to know about a few of them.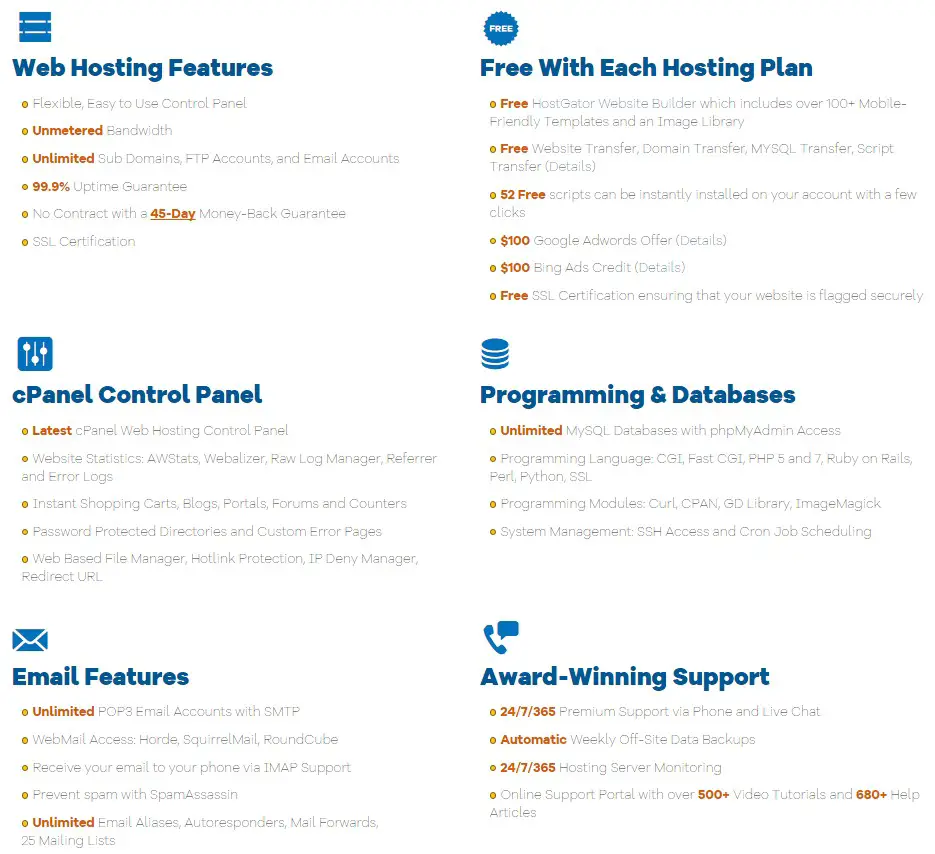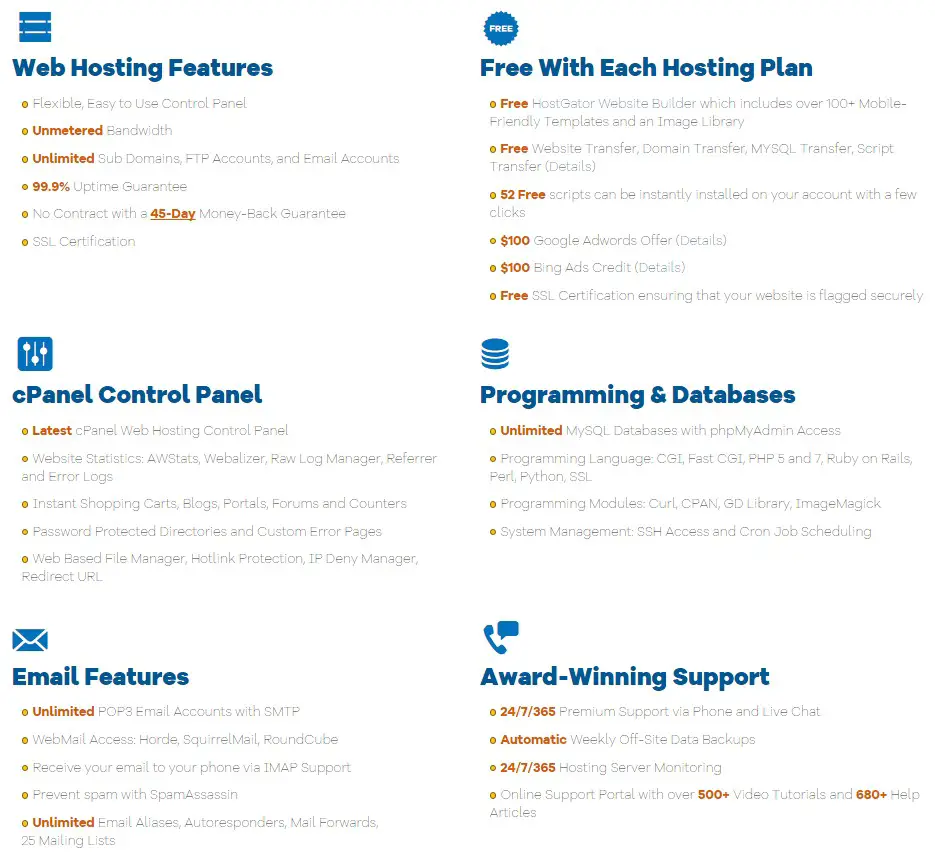 HostGator has a way to keep track of your website's statistics. You can get all the information about your sites' unique visitors. You can see from where the traffics on your site is coming. And, most importantly, all in real time.
Accidents can happen anytime. So, taking backup of your site should be one of your highest priority. To make this process simple, SiteGround takes auto backup of your site weekly. Then again, if you want to be away from risking your site's data, you can always take manual free backups of your sites anytime you need.
If you want to keep out spams of your inbox, just enable the 'SpamAssassin' feature. Since then, all the emails containing spam will be blocked and won't reach your inbox.
SSH Access and Cron Job Scheduling:
You will have the SSH (Secure Socket Shell) Access to your web server. So, you can connect to your server from anywhere remotely. And, you can also set up 'Cron Jobs' to automate any repeated tasks on your servers from the control panel.
Some additional Paid Features:
Sometimes, you need something extra. HostGator has some extra services which you have to pay for if you want to add those to your inventory. They are CodeGuard, SiteLock, and Domain Privacy. With the help of CodeGuard, your website will be protected by daily automatic backups. That way, you don't have to back up your site manually. So, if anything does go wrong, you can restore your sites' data with just a click.
The internet is full of malicious bots, malware. To make sure that you are safe from these, you can use SiteLock. With the help of using the SiteLock, your website will be scanned for malware daily. It will also block any automated bot attacks. So, your website can be out of ay hacker's reach.
If you want to hide your online identity, then you can enable the 'Domain Privacy' feature. With that, your online identity will be kept hidden from the public. So, you will be safe from identity theft or spam emails.
All of these features along with more other ones come with every shared account plans of HostGator.
Testing the website load speed of HostGator:
There are a lot of ways to find out if the web hosting provider you are going to use is any good. But, the best way to find that out is to run a speed test. So, we will run a page speed test of HostGator.
During that, we will be using the website named as Pingdom. It is a very popular and trustworthy website for conducting this type of tests.
And, as the test subject, we will be using a website which is hosted on HostGator to get the best result. So, there we go…
Pingdom test from the USA (San Francisco) server:

The result of the test:
Breaking down the result:
The test was done using a test server of Pingdom located on San Francisco, USA. And, it shows that our website has taken only 887 ms to load. This is what we wanted to see.
Because the standard load time of a general website is around 2 seconds. The lower the time the better. And, our website's load time was way lower than that. So, it tells us that HostGator has very great quality servers. Thus, the websites hosted on those servers take so less time to load.
Uptime Record of HostGator:
You need to be well aware of the uptime record of the particular web hosting company which could be your next hosting provider. The uptime record depends on the quality of the servers of the web hosting company. It also depends on the power source and backup of the data centers. If the data centers don't come equipped with multiple power backups then it is inevitable that your site will go down regularly.
And, we know what it feels when your beloved site goes down. You will lose visitors in no time. People will find an alternative very quickly. For instance, the most popular video sharing site YouTube was down for an hour or so recently. And, people actually started to use Vimeo and Dailymotion (the alternative of YouTube) even though they are not as popular as YouTube. So, when a giant site like YouTube can lose its visitors, your site is not an exception at all.
So, we wanted to give you a peek of the uptime of HostGator. Thus, we have hosted a website on their server and we have been monitoring the uptime of that particular site consistently. For your consideration, we will be sharing that information with you.
The uptime stat of that particular site hosted on HostGator.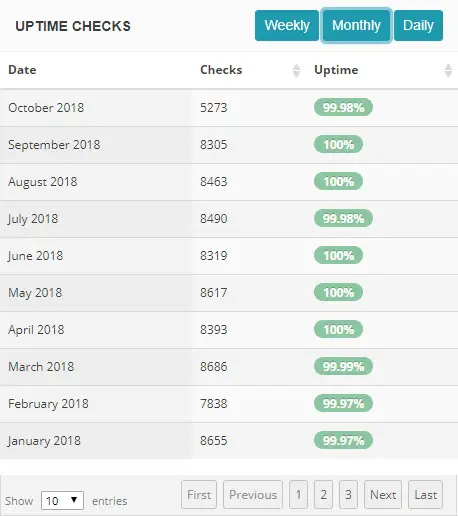 If you are a website owner then you know that the industry-standard Uptime is above 99%. When you take a look at the screenshot above it is clear that HostGator has maintained the industry standard. We cannot deny that there was some downtime too. However, those were pretty negligible. As the average uptime is actually above 99%. So, you can go with HostGator if you care about uptime.
HostGator Support:
When you are getting a new web hosting account, there's a good chance that you will have to contact their customer support from time to time. If the customer support team of that particular company is not helpful, then you should get rid of them. But, it is even better if you check their quality before finalizing the deal, isn't it?
Usually, it is difficult to assess the quality of customer service of a particular web hosting company without getting an account first. So, to solve that problem, you can learn from our experience in interacting with the customer support team of HostGator.
You will find them available 24/7/365. So, if you are from a different time zone, it won't be a problem. We have had to contact them a number of times. And, we have always got an instant response from their team, although you would have to use the live chat option to get an instant answer.
HostGator have a huge collection of guides, tutorials, and knowledge-based articles on their blog. They have over 500 video tutorials and 680+ written tutorials. If those are not enough, you can directly get in touch with them.

Contacting them is very easy, they are offering the following various methods to talk with them. Here is the list.
Live Chat
Submit a Ticket
Direct Call
Special Bill Manage Section
You have to remember that some particular problems can't be solved via Live Chat although it's the fastest way to contact them. So you will have to use the ticket system in those situations. But we can guarantee you that one way or another you will find the solution. But this is not the main point.
The main and most important thing is that HostGator is always one step ahead of their competition when it comes to customer support. All of their customer representatives are highly skilled and down to earth. They will go the extra mile if they need to help their customers. Our experience was very positive with them. We believe you will also feel the same.
Wrapping it up: Should you consider using HostGator Shared Web Hosting?
Without a hitch.
First, if you compare the price of the shared plans of HostGator then you can see that they offer the lowest price of all. But, at the same time, they are providing you with such valuable resources and features that you won't find anywhere for such a low price.
And, for more information, you can see the 'Uptime' of HostGator. We have seen that they are always keeping the uptime above 99%. Also, you will get a service fee on your account if you face any downtime on your website because of them.
The page load speed of HostGator is also very swift. On our test, it performed beyond our expectation.
In a few words, they have all the necessary features, helpful customer service, and above all very low priced plans. So, considering all these, we can tell you that you will be a satisfied website owner if you choose any of the HostGator shared hosting plans.
Check HostGator Shared Hosting Details Here