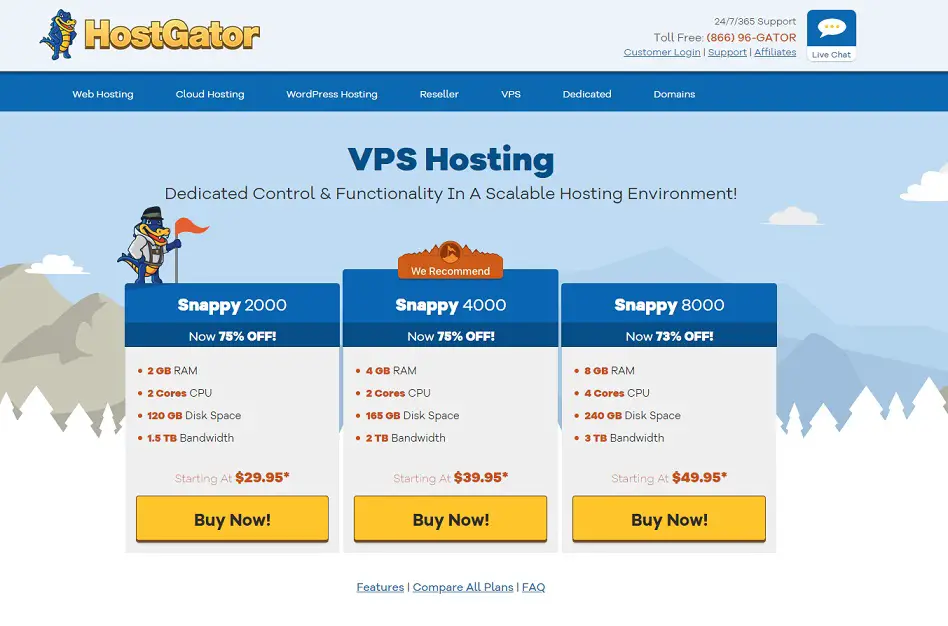 DISCLOSURE: This post may contain affiliate links, meaning when you click the links and make a purchase, we receive a commission.
It's been 16 years since HostGator launched their service. However, at that time they were not as big as today. Now, they are one of the most recommended web hosting companies on the internet. It will be very difficult to find a person who knows something about web hosting but hasn't heard the name of HostGator.
HostGator offers an array of different web hosting solutions along with domain registration facility. For this post, we'll be exploring the ins and outs of HostGator VPS hosting service. Besides that, we would also be revealing some very vital information about HostGator for you to know.
So, without dawdling more, let's get with it.
Check HostGator VPS Hosting Details Here
HostGator VPS Hosting Review
What is VPS Hosting?
It is most likely that you know what the VPS stands for. If you don't know yet, it stands for Virtual Private Server. Yes, in this particular case, the server where your website will be hosted is a virtual one.
So, from that, we can say that a VPS hosting service is a service where the web hosting providers provide the users with a virtual server to host their sites. And, that particular server is hosted with some other virtual servers on a parent server (physical) from which they draw the required resources to run the (virtual) servers.
In a way, it can be said that VPS hosting service is a blending of Dedicated and Shared hosting. Because, you will get a specific amount of resources (RAM, CPU, Disk Space etc.) allocated to your virtual server which will be drawn from a physical parent server which is shared among multiple users.
But unlike shared hosting, other users won't be able to use the resources which are specifically allocated to you. Your server will have its own operating system. And, most of the time, you will be given root access or superuser-level access to your operating system. For that reason, you can have total control over your server.
The most important criteria of a VPS hosting service is that it is always highly scalable and flexible on the functionality and customizability. This type of service is very good for people who want to get a better performance than shared hosting service but at the same time don't want to spend a lot of money.
HostGator VPS Hosting Plans:
Choosing the right VPS hosting plan of HostGator for you is very easy. HostGator has kept their VPS plans so simple. So that any user can take a look and decide in an instant. They have 3 VPS packages to choose from. They are titled as Snappy 2000, Snappy 4000, and Snappy 8000.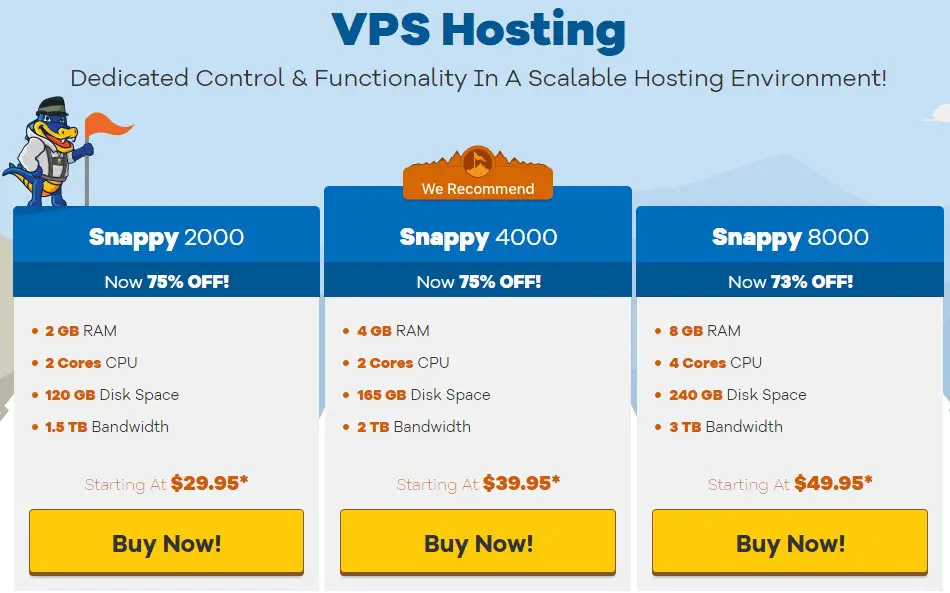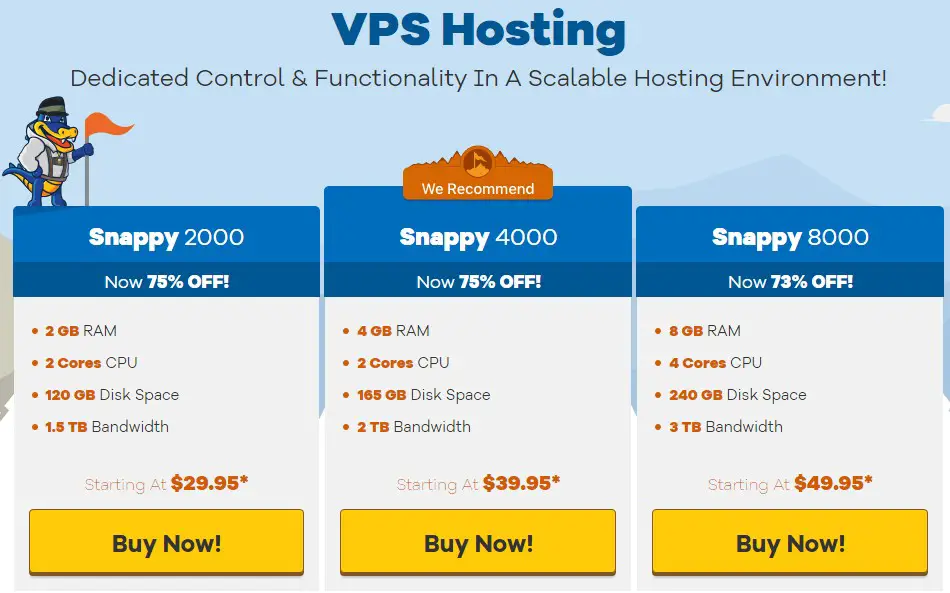 All these plans cost different and also offer different features. If you want to get a good idea about each of these, then we have got your back. You will find the explanation of these plans below.
First of all, we will explore the Snappy 2000 plan as this is the most inexpensive plan among all the plans. This package starts at only 29.95$ per month. And, with this package, you will be getting 2 GB RAM, Intel 2 cores CPU, 120 GB storage space, 1.5 TB Bandwidth, and 2 dedicated IPs.
Moreover, all the advanced VPS server-related features will also be provided by HostGator with this package. We will get into more detail about all the features in the 'Features' section for our readers.
HostGator highly recommends this plan to their customers. And, also it is their most popular VPS hosting package. It's because it comes with all the advanced features but doesn't cost very much. The price of Snappy 4000 starts at 39.95$/monthly.
For that price, you will receive 4GB RAM, Intel 2 Cores CPU, 165 GB Disk Space, 2 TB Bandwidth, and 2 dedicated IPs. This is absolutely a good deal if you are looking to use VPS hosting for your websites.
Now, we will be talking about the priciest VPS plan of HostGator. This is a plan where you will get every features and service included. You will get some important features which will not come with the other 2 mentioned plans (Snappy 2000 and Snappy 4000).
This plan is indented towards the power users. If you have multiple big websites then this is the VPS plan you are searching for. However, it will cost you the most as well. You have to pay at least 49.95$ per month for this plan. And, you are also getting the best of the best features in return. You will get Intel 4 Core CPU, 8 GB of RAM, 240 GB of Disk space, 3 TB of Bandwidth, and 2 Dedicated IPs.
There you have it. All the VPS plans of HostGator explained for you. To be noted, all of the prices mentioned here will vary from time to time. And, these are discounted price. The discount will be applicable only if you are buying the plans for the first time. If you buy the plans for 3 years at once then you will have the highest discount. But, the discount will decrease if you get the plan for 1 or 2 years. So, it is better to get the package for the highest period of time.
Who should get the VPS Hosting Plans of HostGator?
You can use any VPS plans without any problem. There are not any requirements to use it. Yet, you need to remember that if you have a small website or multiple websites which are not getting a lot of visitors then you should avoid this type of hosting packages. Because these are advanced packages only for the big websites. So, these packages are costly compared to shared hosting packages.
However, if you want to get the best out of your website and don't have any problem with the high fees then you can use VPS plans. The most important feature of any VPS hosting service is that it is highly scalable and customizable. So, it is very suitable for people who have websites which are growing at a great pace.
So, you can start small and then you can add your required amount of resources when you need it. And, HostGator VPS accounts come with very easy to use control panel. Using that, you can add more resources to your server with just a click.
Now, if you are techy then the 'Snappy 2000' plan would be a perfect suit for you. Because it does not come with a custom control panel. So, it is suitable for a user who doesn't have good knowledge about web servers and such.
But, if you want to go worry-free then you have the full-managed servers from HostGator, you will not have to manage the servers by yourself. In case, if you need to, then you will have the custom control panel with which you can customize and manage your servers the way you want. But, this will cost you more than the Snappy 2000 plan.
If you have multiple websites which are running in full-swing then you should go with the 'Snappy 8000' plan. This is best suited for power users. Although the plan cost you the most, you are getting the best features and functions out of that plan as well.
Another benefit of VPS hosting is that you are getting a specific amount of resource allocated to you. And, no other users will be able to use your resources. So, your website will always be able to keep the same performance.
With every VPS plan of HostGator, you will get root access. With that, you will be able to take control of your hosting environment. Thus you can perform custom installs and configure the server the way you desire.
So, we can conclude by saying that if you want flexibility and a scalable hosting environment then HostGator VPS plan is the best option out there for you.
Excellent for hosting which applications?
The VPS hosting plans are created for flexibility. With the help of 'Root Access', you can install any web applications you want. There is no restrictions or limitations. However, if you are not a power user and don't know how to capitalize the 'Root Access' then you have nothing to worry about.
Because HostGator has made all of their virtual servers compatible with most of the popular web applications/CMS/scripts. They offer a tool named 'QuickInstall' on your control panel pre-installed. Using this tool, you can install 75+ web applications with just a click. Added to that, you can also install 52+ advanced scripts with a few clicks.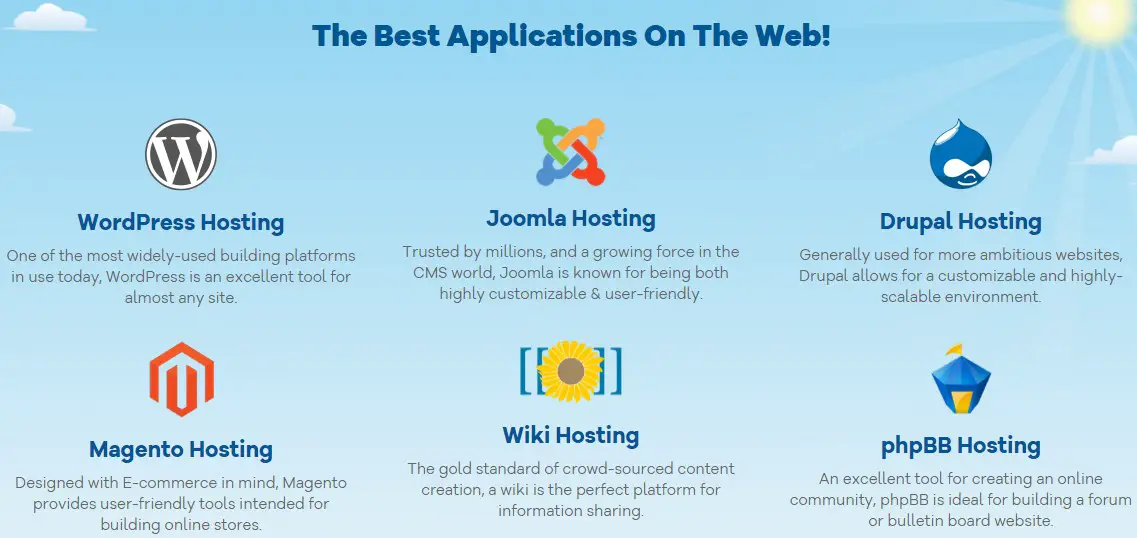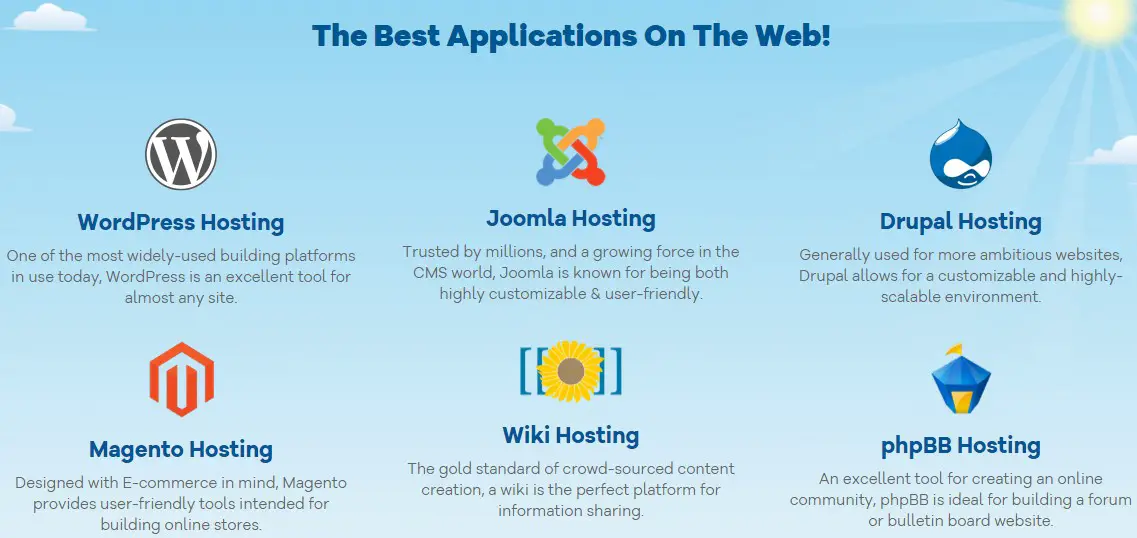 For all the popular CMS (Content Management System) like the WordPress, Joomla, Magento, and Drupal etc. they offer special software. If you use any one of the most used CMS on your website then you can get help from those softwares.
The plans also come with auto-updater. This will also come pre-installed. So, whenever a new update of your installed CMS come out, that'll be automatically updated. You may have already guessed how helpful this feature can be.
They also have teamed up with 'Soholaunch' which is a website builder tool. You can use it to create your website the way you like it. You will also have HostGator's huge collection of themes and plugins to use on your website. Depending on the CMS installed on your site you can choose your theme and plugin.
It is inevitable that you will get an awesome experience using any web applications with the VPS hosting plans of HostGator.
The services of HostGator VPS Hosting Plans:
The VPS plans of HostGator comes with plenty of services. We will give you a quick rundown about some of the most important ones here.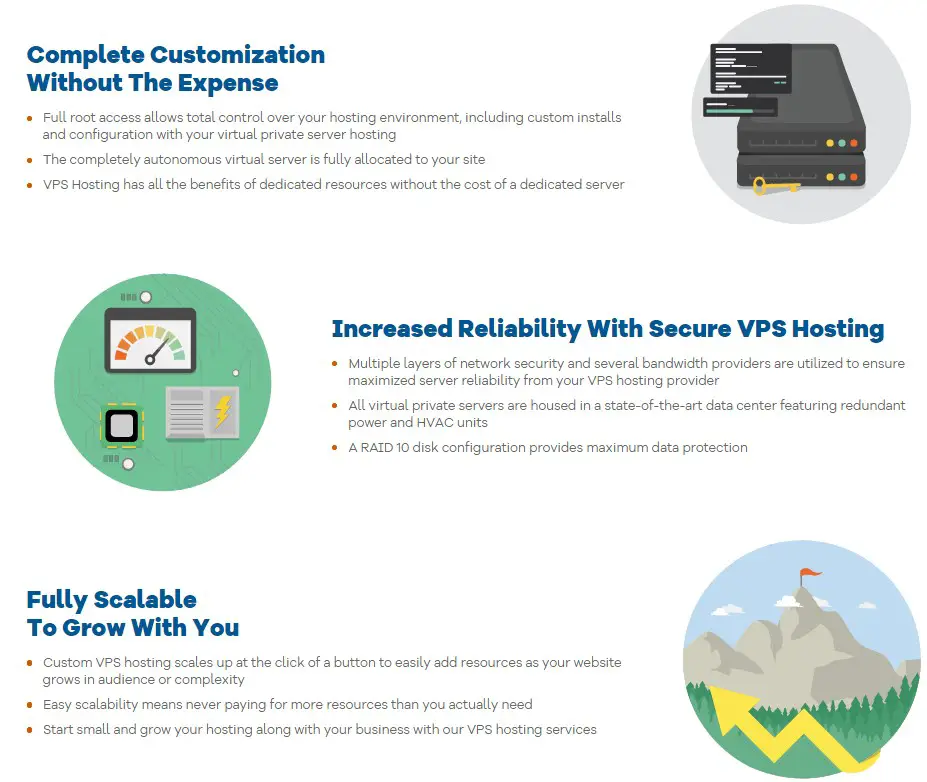 If you want customizability then you will love HostGator VPS plans. Everything is customizable here. You can install any custom scripts on your web server. You can configure the server on your preferred way. And, you will pay for the number of resources you use not more or not less. Your website won't even be down during the transition.
With each VPS plans, you will get the 'Root Access'. Thus, only you have the overall control of your virtual server. Everything of your server will be only allocated to you. So, you can create, add, remove, and delete any websites from/to your server at any given moment.
Multiple layers of security:
HostGator has taken multiple crucial measures to protect all of their virtual server users. You will have free IP Table firewall, centralized DDOS Protection, and secured VPS firewall. All of these layers of security will keep your server safe from any kind of malicious attacks from any hackers. Your websites will be free from any bots or crawlers too. They also run daily security check-ups to make sure that everything is alright.
So, you have started with the most basic VPS plan, but now your site has grown and you receive a lot of visitors that the servers can't handle the load. No need to worry at all. The user can append further resources (like Storage Space, RAM, CPU etc.) with simply some clicks the moment they require it. Everything is scalable on the VPS plans of HostGator. And, when the time comes you can also remove the extra resources from your servers to save your money.
Multiple Bandwidth Providers:
To guarantee the industry-standard uptime, HostGator uses multiple bandwidth providers. So, it doesn't matter if any of them faces any technical difficulties, your site will be up and running. They use AboveNet, ATT, Comcast, Global Crossing, Level (3), NTT etc. as their Bandwidth providers.
The Features of HostGator VPS Hosting Solution:
Now, we will be introducing you to some of the most important features of HostGator VPS Service.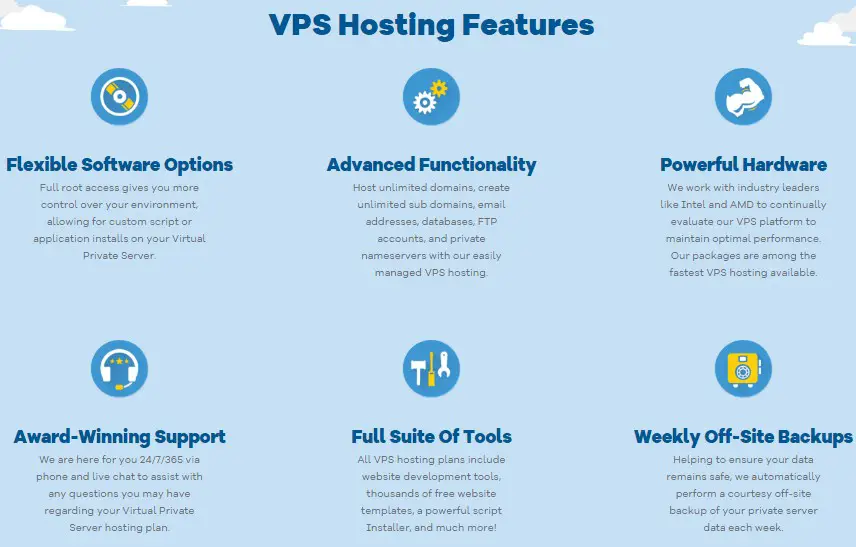 All of the VPS plans come with an unlimited hosting facility. So, you can host an unlimited number of websites, add unlimited custom emails (e.g. [email protected]), create unlimited FTP accounts, databases, and private name servers. There's nothing to worry about.
Our websites contain very important data on them. If anything goes wrong with your servers or website, you might lose everything. So, it is a wise decision to take backup of your website. But, it is also impossible to take backup on a regular basis as most of us stay busy.
HostGator is aware of that. So, they take weekly automatic backup of every website of the VPS plan users. Additionally, you can manually take backup as usual. That option is always available for you.
You will be getting optional cPanel with each account with an additional WHM (Web Host Manager) control panel. If you don't know yet, the WHM control panel is a more powerful control panel which is used to get access on the back end of the normal cPanel. So, you have the options to customize the cPanel of your websites as well.
HostGator offers free site migration. That's not all. They will do unlimited cPanel to cPanel migrations for free of cost. And, if your sites need manual migration, you are also covered by HostGator. They offer up to 90 manual migrations depending on the VPS plan you are using. So, if you don't have any technical knowledge about web hosting transfer, you can stop worrying.
Experimenting the site load speed of HostGator:
If your website is slow then you will lose visitors. Nobody likes a slow website. Nowadays your website should be faster to stay relevant to the competition. To make your website faster you can practice a lot of tips and tricks. But nothing will work if your hosting provider has bad quality servers.
So, it is better to be safe than sorry. That's why you should check on the performance of your to-be web hosting provider. To make that simple for you we will be performing a speed test on a website hosted on HostGator server. From the test result, you will be able to get a peek under the hood about the performance of HostGator
We are going to use the test server of Pingdom located in San Francisco, USA to run this test. So, here we go.
Pingdom speed test from the USA (San Francisco) server:

Pingdom Test Result:
Result Breakdown:
We can see that the 'Performance Grade' is 'B'. Next, we see that the 'Load Time' is 887 ms. That means our test website was completely loaded in 887 ms from the San Francisco test server. This is a great indication that HostGator is one of the best hosting services when it comes to site loading speed.
As the industry standard load speed is around 2 seconds, whereas our site was loaded even in less than 1 second. The credit goes to the high-quality servers of the HostGator hosting provider. There's no denying that we are very satisfied with the load time of our site.
Uptime Report of HostGator:
It is so much easier to forget about one of the most crucial aspects of a web hosting company. Yes, we are talking about the website uptime. If your web host company doesn't have good quality servers you will face downtime on your website.
To avoid this situation, you have to choose a web hosting provider who is very reputed about their uptime record. So, to check the uptime record of HostGator, we have visited their official website. As usual, we saw that they are claiming that they have maintained 99%+ uptime (industry standard) for the time being.
But, there's a caveat here. Sadly, most of the web hosting providers lie about the uptime record of theirs. It is a trick to gain more customers. But, we won't let them fool you.
So, we have got a hosting account with them and hosted one of our test sites on HostGator. Added to that, we are also keeping a track of the uptime of that website regularly. We have been doing this for a while now. For you, we will be sharing the uptime stats of last 10 months of our website hosted on HostGator.
Here, you can find the uptime (the authentic one) on the following screenshot.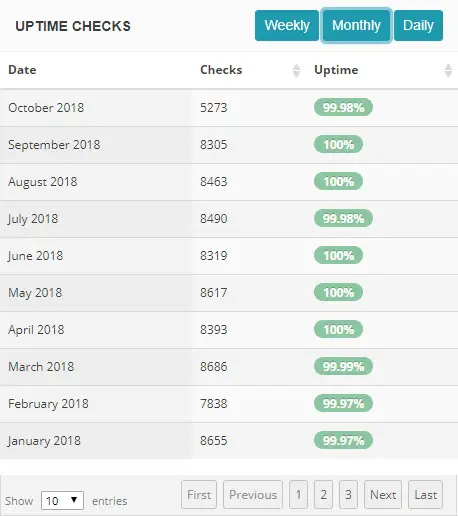 If you look at the image, it is perceived that on most of the months HostGator has kept 99.99% of uptime. As a matter of fact, on some months the uptime was at 100%. Nonetheless, HostGator actually achieved the industry uptime effortlessly. This is a great sign.
On top of that, it should also be mentioned that on some months there were some downtimes as well. Unfortunately, it is normal. No hosting company in the world can maintain 100% uptime.
The performance of the websites hosted on the VPS hosting environment will be better than that. Because HostGator offers a fully redundant network for their VPS servers. And, the data centers of HostGator are equipped with backup power generators and HVAC units. So, you can put your trust in HostGator if you want the best uptime on your websites.
HostGator Customer Support:
HostGator is very helpful to their customers. And, more importantly, if you are a VPS customer, then you will be given priority when contacting them. They offer their service through a lot of mediums. Normally, if you want to learn about web hosting and need how-to tutorial guides then you are up for a treat.
HostGator has 680+ tutorials concerning the technical operations related to web hosting. If you don't like to read, they have 500+ video tutorials for you on their blogs and YouTube channel. So, anybody can learn from them.
On their support page, you will find FAQ sections categorized based on the common problems that arise while managing a web hosting account. So, chances are that you will find most of the solutions to your problems already on those articles, videos or the FAQ sections.
Even then, you are free to get in touch with HostGator customer support team anytime (24/7/365). You can use any of the methods mentioned below.

Live Chat
Direct Call
Submit a Ticket
Special Bill Manage Section
The fastest way to communicate with them is to use the 'Live Chat' option. You can use other options as well pertaining to your issue. Some problems cannot be solved using the Live Chat. So, they will direct you to use the method which will be most useful for you when you contact them.
If you want to talk directly to them, you can use their toll-free telephone numbers. Whichever method you use there will be assistance for you. The finest thing about HostGator customer support team is that they are highly professional individuals.
Upon hearing about your problem, they can instantly figure out the solution. We have always got our problems solved by contacting their customer representatives. So, we hope you will have a great experience if you get in touch with HostGator support team.
Winding it up: Should you consider using HostGator VPS Hosting Packages?
Absolutely.
There are many reasons behind our suggestion. But, the best one is the price point. Normally, other web hosting charges much higher fees for the same services. But, on the contrary, HostGator is offering full and semi-managed VPS accounts within an affordable price range.
Furthermore, the performance of HostGator is also another vital factor. In our test, our test website hosted on HostGator performed over the top. On top of these, the uptime record and support of HostGator is also remarkable.
So, if you want a VPS solution for your website/s then HostGator has it all what it takes to be your next web hosting provider. From budget-friendly plans, smart customer support team, super-fast load speed to industry-standard uptime record, you will have everything if you go with HostGator VPS hosting service.