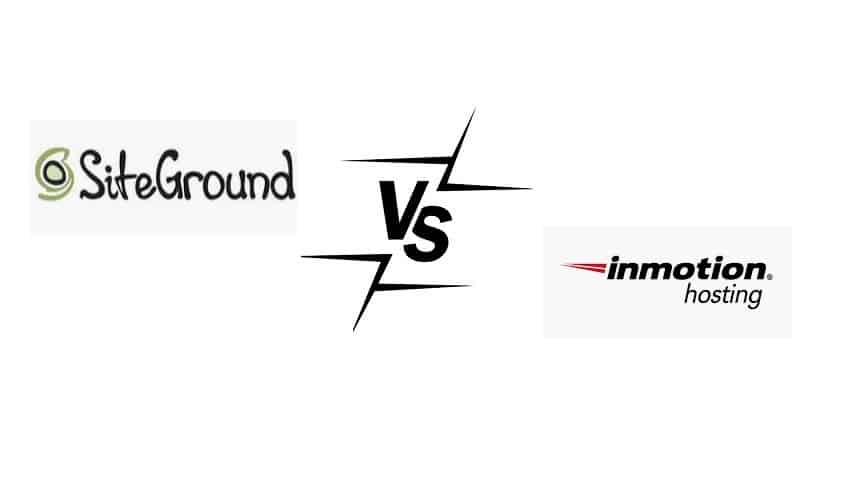 SiteGround is a popular web hosting worldwide. Similar to that, InMotion Hosting is another good option. However, which one would be the best option for Malaysia web hosting between SiteGround vs. InMotion Hosting. This is a tricky question to answer. And, for our Malaysian readers, this could be a very important topic.
Because you might be thinking whether you should get an account with SiteGround or InMotion Hosting. To tackle this issue, we have created this comparison post where we will compare both of these web hosting providers for our Malaysian readers.
So, let's begin…
SiteGround vs. InMotion Hosting: Comparison For Malaysia Web Hosting

SiteGround for Malaysia Hosting (Top Ranked)
Note: This website ReviewPlan.com is hosted on SiteGround
Server Response Speed Test Scored A+
Latest Uptime Stats (Real Records)
This web hosting shouldn't need any introduction. At the moment, they are one of the most famous and recommended web hosting services in the world. Matter of fact, we are also using SiteGround to host a lot of our websites including 'ReviewPlan.com'. And, until this moment, we are overly satisfied with their service. So, we can attest that you will also be happy with SiteGround.
Another great thing about SiteGround is that they have multiple data centers worldwide. And, one of that is established in Singapore. And, you see that Singapore is very close to Malaysia. So, if you are getting a lot of Malaysian visitors on your websites, you should host your site on the Singapore server of SiteGround. In doing so, your websites will be faster and lag-free to the Malaysian visitors.
Like most other top-rated web hosting providers, they also have all the most popular web hosting plans. For example, you will get shared, WordPress, dedicated, VPS, reseller, enterprise, WooCommerce hosting, and more. Even they have special web hosting for students with very cheaper pricing.
All of the web hosting packages of SiteGround comes with many premium and advanced features for free. For example, you will get SSL certificates, SSD server, website builder, unmetered bandwidth, free emails, CDN, auto daily backup, and more. You will also be secured by the 30 days money-back guarantee of SiteGround.
From our experience, we can say that SiteGround has one of the best customer support team in the world when it comes to web hosting providers. And, they are available 24/7 all-round the year. Every member of their customer support team is professional, helpful, and extremely fast in responding.
SiteGround offers customer service via direct call, email, live chat, and submitting tickets. All of their servers and infrastructure are secured with advanced technologies. So, your data on their server will be safe. You can definitely rely on them.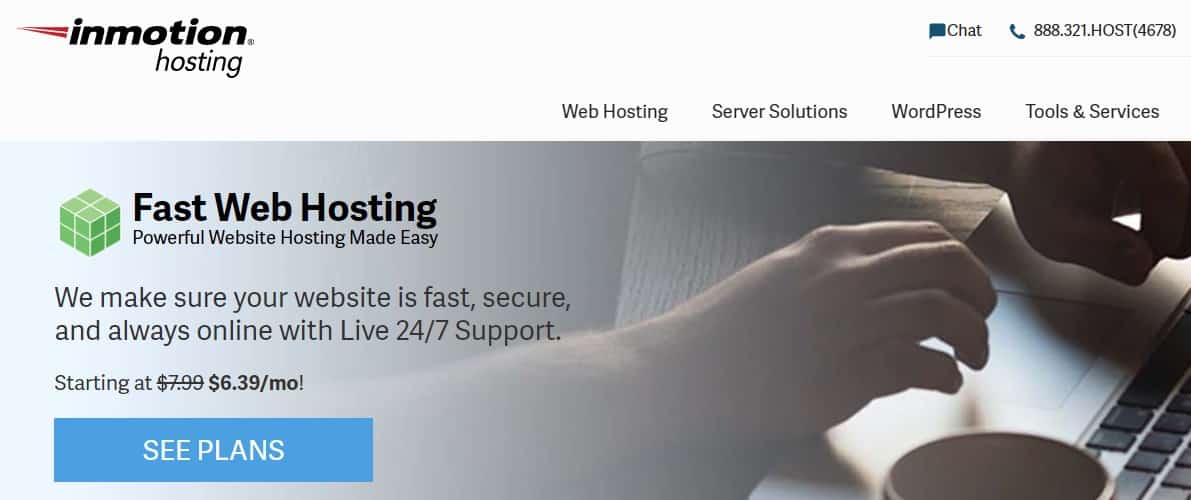 You might not be familiar with InMotion Hosting. However, that does mean this is a bad option. Rather, it is a very famous web host in the USA. This one has all kinds of web hosting plans like VPS hosting, WordPress hosting, shared hosting, cloud hosting, dedicated hosting, enterprise hosting, reseller hosting, and more.
The basic shared hosting is the cheapest option from them. And, it starts at $6.39/monthly at the moment of writing this post. There are some very attractive features and facilities with all of their web hosting features. And some of the notable ones are a free domain name. Unlimited disk space, unlimited email, unlimited bandwidth, free marketing tools, free SSL, SSD storage servers, free security suite, free drag and drop site builder, DDoS protection, and more.
They also have a service where they will build you a WordPress website within 2 days just for $99. This will be a great service if you are not an experienced website owner. All of their web hosting plans are managed. That means you will not have to think about the software side. All of these will be taken care of by the skilled professional team of InMotion Hosting from the backend. All of their servers are also secured with various advanced technology like hack protection, DDoS protection, custom firewall, Smart Routing technology, and more.
At the same time, they have a 99.999% uptime guarantee in terms of their network. Right now, they have multiple data centers in the USA. Yes, none of their data centers are outside of the USA. So, if you are looking for a web host provider for Malaysian websites, InMotion Hosting would not be a good idea. Because it will not offer faster performance to Malaysian visitors that browse your websites.
InMotion Hosting also has 24/7 customer support. Lucky for you, you can connect to the customer support team of InMotion Hosting in various ways such as live chat, email, call, tickets. At the same time, they have over 5000 tutorial articles on their official website related to web hosting. So, you can even solve your own web hosting related issues by reading those tutorials on your own. They also have a YouTube channel with informative videos.
InMotion Hosting also has up to 90 days of a money-back guarantee. Overall, InMotion Hosting is a top-rated hosting in the USA. Also, they have a lot of customers all around the world. However, if you are hosting a website for Malaysian readers, you should host it somewhere close to Malaysia. For that reason, InMotion Hosting is not ideal for Malaysia web hosting.
Last Words
So, we have provided a brief comparison of SiteGround vs. InMotion hosting for Malaysia web hosting. But which one is the winner here? If you have read the post above, you should already know that the winner is SiteGround. But why? Because SiteGround has its data center in Singapore and Australia. And, you should know that it is better if your website is hosted near the location from where you are getting the maximum visitors to your website.
Thus, if you receive the majority of the visitors from Malaysia on your website, then you should go for a web host that has a data center as near as possible to Malaysia. And, SiteGround checks all these boxes in this case. Thus, we recommend SiteGround as the best option for Malaysia web hosting compared to InMotion Hosting.