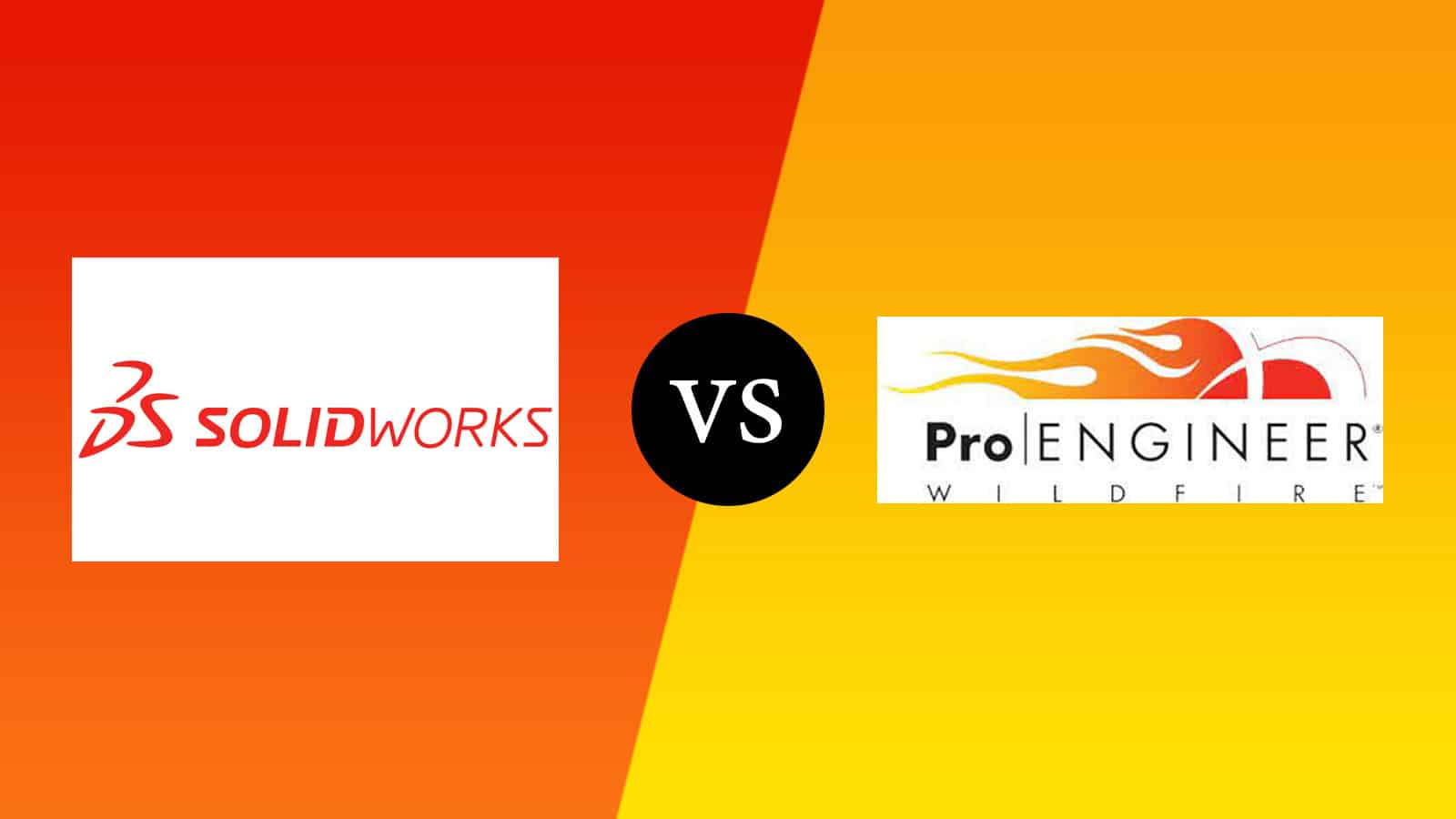 Two of the most widely used 3D modeling programs in use today in the industry are ProE and SolidWorks. Both employ very similar techniques to generate 3D models, but in somewhat different methods. Prior to the development of SolidWorks, ProEngineer set a new standard for the variety of tools it offered.
Both apps got more different and unique as they developed, each in its own path. For you to choose the one that best meets your production demands, this post will provide you with a thorough comparison of these two applications. Before contrasting the two, let's take a deeper look at what Solidworks and Pro-E are.
What is SolidWorks?
Dassault Systemes originally made SolidWorks available in 1995. It offers a lengthy list of helpful features that may help with the design process, such as big assembly performance, strong modeling tools, 3D mesh modeling, 3D markup, defeature, visualization, sophisticated mold design, and many more.
Users of SolidWorks, which has one of the biggest online user groups in the CAD industry, applaud the program's user-friendly interface and ease of use.
What is Pro-E?
Pro E is a 3D CAD program created by PTC, the parent company. PTC Creo is its current name. The engineering design software that is currently in use was one of the first of its kind in the 1990s, and it has seen a significant amount of improvement.
It is a design program that was particularly developed for advanced CAD work, such as creating a manufacturing facility or assembly, using its many modeling tools and capabilities. It is one of ten collaborative programs in a group that may be used for a variety of modeling tasks, including parametric modeling and solid modeling.
SolidWorks vs Pro-E
Attribute
SolidWorks
Pro-E
Ease of Use
Nearly every CAD design product now available is extremely comparable to SolidWorks as a 3D modeling tool. Design professionals who are proficient in using any 3D modeling or even 2D CAD drafting software would thus have no trouble acclimating to the SolidWorks user interface. When compared to the learning curve of other modeling tools, the work of learning to use this program is fairly simple for first-time users because of this, tremendously large online community, and the countless SolidWorks trainers out there.



In this case, SolidWorks has the advantage due to its straightforward user interface and plenty of learning resources, which are superior to the steep learning curve that comes with utilizing the Pro Engineering software program.
Pro E is a difficult program to learn for both experts and novices. Naturally, its broad toolkit and variety of uses play a significant role in this. Although there is a steep learning curve involved in using the software, CAD lessons and a helpful community have been developed around it to assist users in resolving common issues.
Applications
Many sectors that are closely related to manufacturing utilize SolidWorks, including construction, mechanical and electrical engineering, equipment, and computer hardware. Mining and the manufacture of medical devices are also among the top 10 businesses using SolidWorks.
Due to Creo's great versatility, it is employed by several businesses and industries. These industries include those that require thorough testing and simulation of designs prior to manufacturing, such as automotive, aerospace, heavy machinery, and others.
Modeling Features
Drawing and modeling mechanical components were essentially the only goals in mind when the SolidWorks collection of features was established. It does this using extrusion, parametric modeling, and solid modeling. For the components created using SolidWorks' interface, it is also feasible to simulate and view outcomes in real time. Last but not least, it offers extrusion-based instant modeling, enabling you to quickly produce 3D models for use in 3D printing or as prototypes.
Pro E was designed with a ton of features, and it surely does these things effectively. The program is loaded with tools built into many modeling suites. Pro E's parametric toolkit includes capabilities for analysis and documentation as well as tools for 3D solid modeling, direct modeling, robust assembly modeling, technical and freestyle surfacing, and technical surfacing. The Creo Sketch, Layout, and Schematics tools are among its 2D CAD drawing features for making 2D engineering components. The next feature on the list is its simulation and visualization capability, which enables users to simulate 3D models and see them in real time.
Strategies for Dealing with Failure
SolidWorks doesn't stop working when you make a mistake in your CAD design; instead, it transfers that error over to your subsequent phases. Although that may initially seem awful, it's actually a fantastic thing in terms of invention. You may use SolidWorks to track an error back to its origin, providing you with a better, more comprehensive understanding of how it occurred and how to rectify it. SolidWorks records how an error impacts other elements of your design.
Most of the time, Creo stops, and you have to fix the issue (or suppress it).
Pricing
Investing in a SolidWorks package costs around $2,000, and you can receive an estimate from the SolidWorks website for an exact price. To encourage students and new users to use the program, SolidWorks also offers a student package called SolidWorks Academia.
The whole Pro E suite costs over $2,200, while student packages are accessible to the general public for $59 each. For around $600, designers may also purchase suite products like Creo Mathcad.
Collaborations
Extensions for multi-CAD collaboration that let users communicate with one other using various CAD programs.
All users have the ability to work together on a variety of ideas and models using the 3DEXPERIENCE platform.
Pro E and SolidWorks may be selected more quickly if you consider the project you'll be working on as the most crucial element. In terms of surfacing and top-down design, Creo is far more stable and better than SolidWorks. Additionally, any project involving huge assemblies would be better suited for Creo.
For simpler, more compact design jobs, SolidWorks is usually used. Your issue may be resolved within the bounds of SolidWorks. Large assemblies cannot be worked with, nor can high-quality surfaces be created using SolidWorks.
The industry is using SolidWorks more frequently as a result of how simple it is. There is no need to worry about learning all of these complex processes and strategies in Creo for developing simpler tasks. Because of this, those consumers will find SolidWorks to be a far more appealing solution.
The complexity of the project will ultimately determine which software you use for your next project, Creo or SolidWorks. Creo is undoubtedly the best option if you want to build something incredibly intricate. But if your next job involves designing smaller items, you might want to consider utilizing SolidWorks.