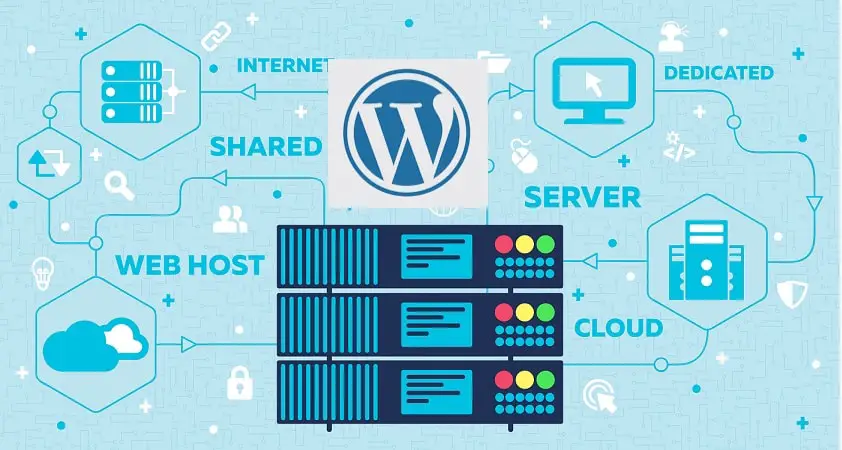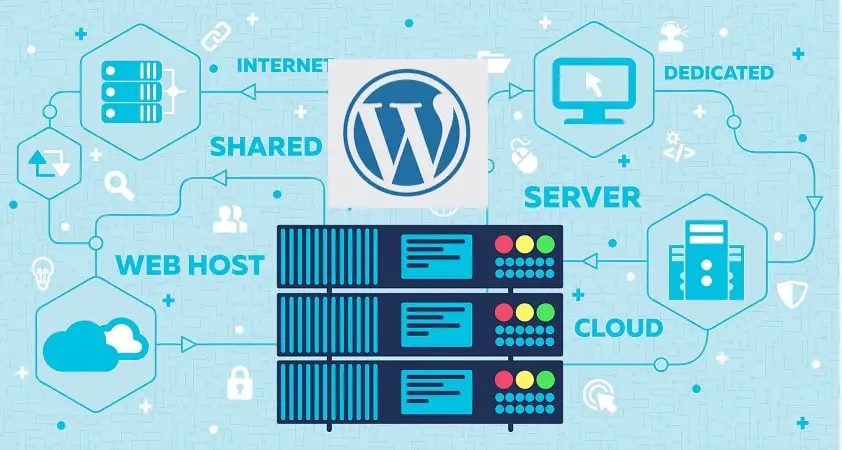 DISCLOSURE: This post may contain affiliate links, meaning when you click the links and make a purchase, we receive a commission.
Nowadays, WordPress is the most popular CMS (Content Management System) in the world. About more than 30 percent of the active websites all around the world are run by WordPress. It is because of the ease of use and the user-friendliness of this CMS. Another main reason is that WordPress is free of cots. And, you will get thousands of free plugins, themes, and other tools for free as well.
Because of the popularity of this top-rated CMS, many web hosting services are offering special WordPress web hosting packages. And, if you think that you are going to use WordPress on your site, you can actually get those packages. On the other hand, you can also use WordPress in your normal web hosting package as well.
In this post, we will talk about both WordPress and traditional web hosting plans for Malaysia. And, we will compare these options in terms of two web hosting service namely Exabytes and SiteGround.
WordPress Hosting vs. Web Hosting For Malaysia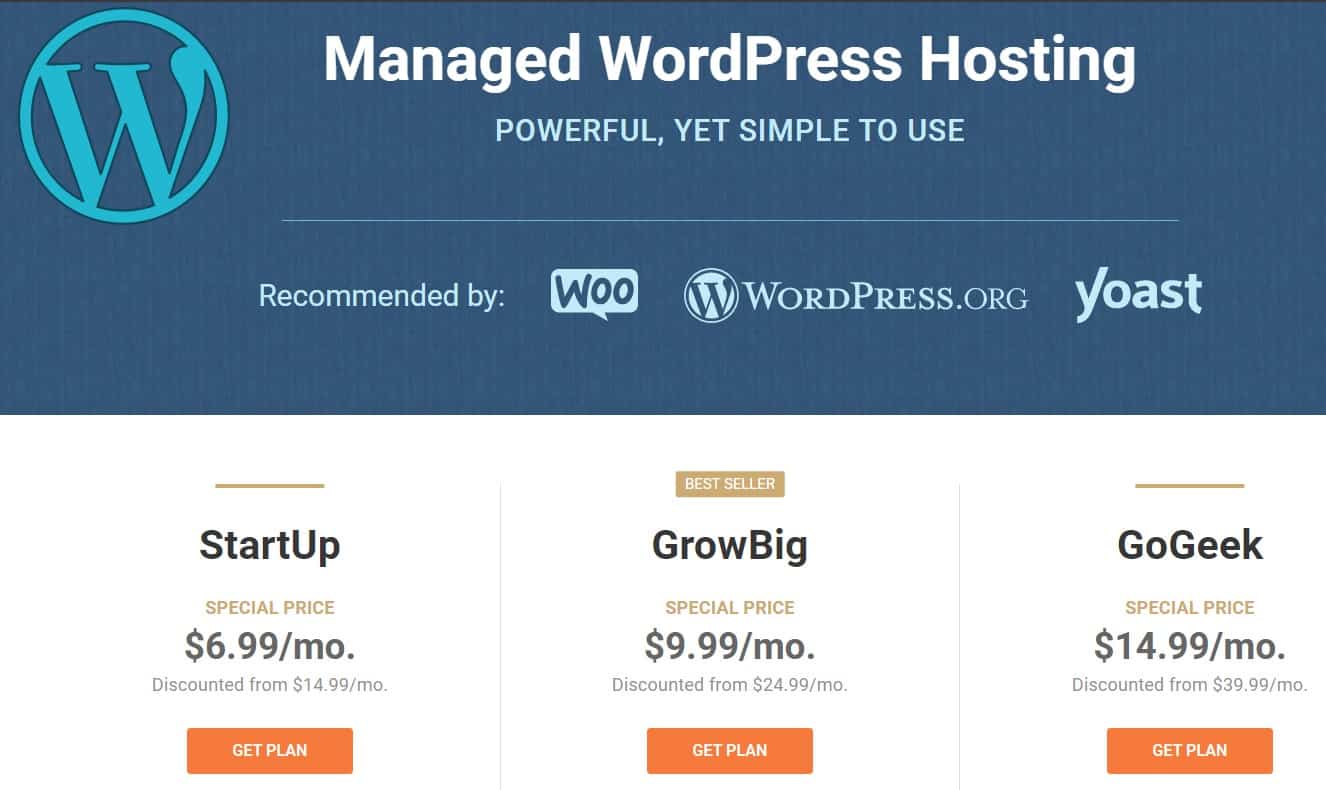 Believe it or not, officially, WordPress.Org recommends using SiteGround web hosting for your WordPress based sites. Added to that, both WooCommerce and YOAST plugins also recommend using SiteGround for WordPress based websites. So, you can see that SiteGround is not your typical web hosting service.
Matter of fact, we are also using SiteGround web hosting for hosting this website (ReviewPlan.com) for a long time. And, we are overly happy with their service and the performance of our website hosted with them. Right now, they have 3 special web hosting packages named StartUp, GrowBig, and GoGeek. And, these plans start at just 6.99 USD/monthly.
All of these WordPress packages come with an automated WordPress installation. Also, if you are migrating from another web host, you can use their free SiteGround Migrator Plugin to transfer your website from your old web host to them. This is very easy to do and you can do it on your own.
Additionally, their servers are built with Google Cloud Platform, so your websites will be fast and secure. You will also get free features like SG Optimizer plugin for caching, CDN, SSL, SSD servers, daily backup, free emails, auto WordPress updates, unlimited traffic, WP-CLI, SSH Access, unlimited database, staging, and more features for free.
For the record, SiteGround also has one of its data centers in Singapore. So, it will be perfect for Malaysian websites to host your site near Malaysia. And, they also offer 99.99% uptime with 24/7 customer support. As a regular user of SiteGround, we can tell you that they are very helpful and fast. For WordPress hosting users, you will be redirected to the WordPress experts from their customer support team. So, your WordPress related problems will be solved faster.
More to that, SiteGround also has a 30-days money-back guarantee on their WordPress web hosting packs. They also have tutorial articles and video tutorials related to WordPress web hosting for free on their official website and YouTube channel. So, you can also learn a lot about WordPress even if you are not an active customer of them. All in all, we would definitely recommend SiteGround for WordPress websites in Malaysia.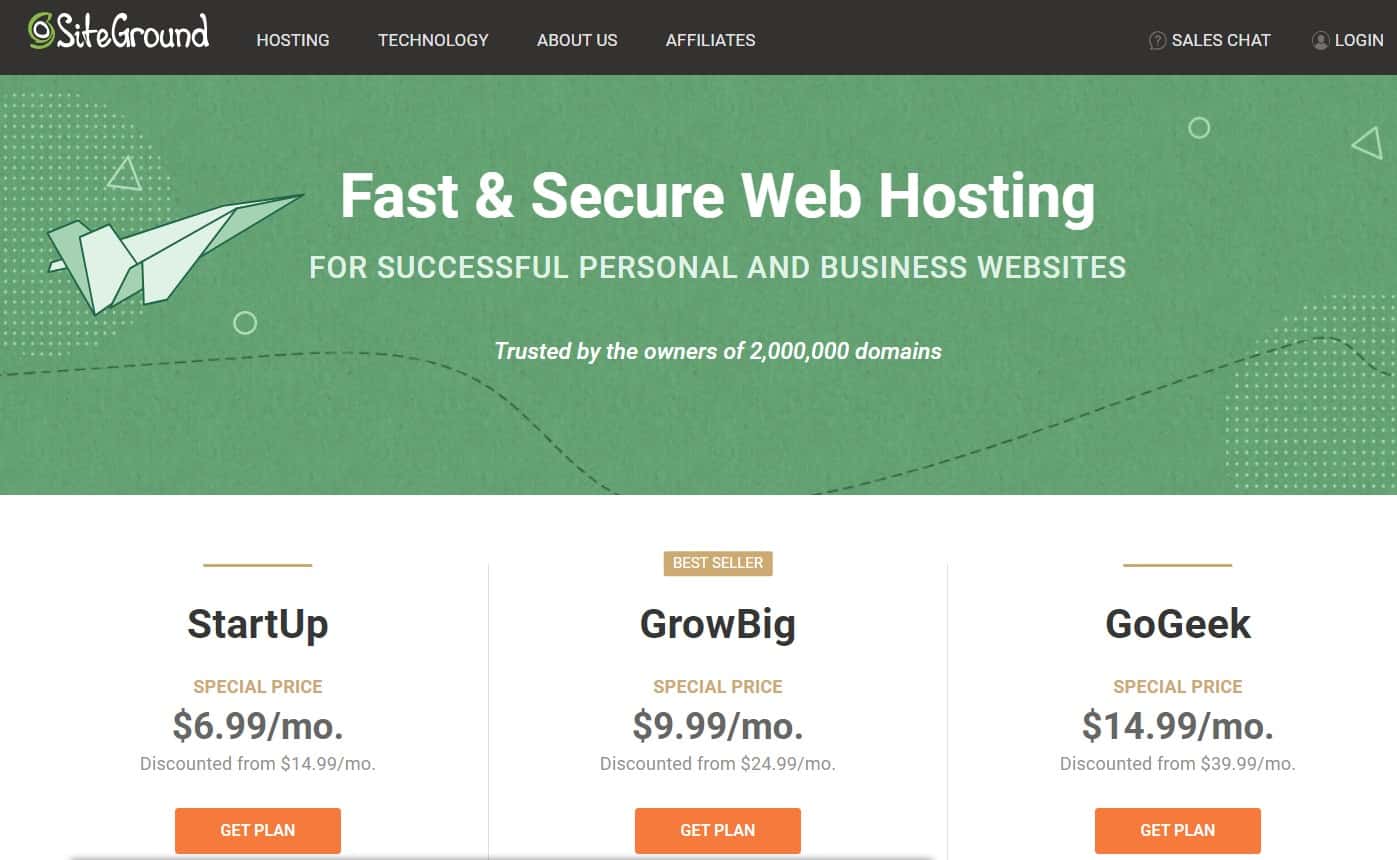 Simply put, SiteGround also offers the same WordPress hosting plans as their normal web hosting plans. They have done this to simplify things for the customers. So, the name, pricing, and features of the plans are also the same. However, in the normal web hosting plans, you will not get WordPress pre-installed. And, you will also not get the free WordPress plugins from SiteGround.
And, you can also use any CMS of your choice whether it is Joomla, Drupal, or Magento, etc. So, if you want similar facilities like their special WordPress web hosting plans on your non-WordPress website, you can go with their normal web hosting plans as well.
And, for Malaysia web hosting, SiteGround would undoubtedly be a great choice. As we have already talked about the key features of their WordPress web hosting plans above, we are not going to explain that again here.
WordPress Hosting vs. Web Hosting For Malaysia Using Exabytes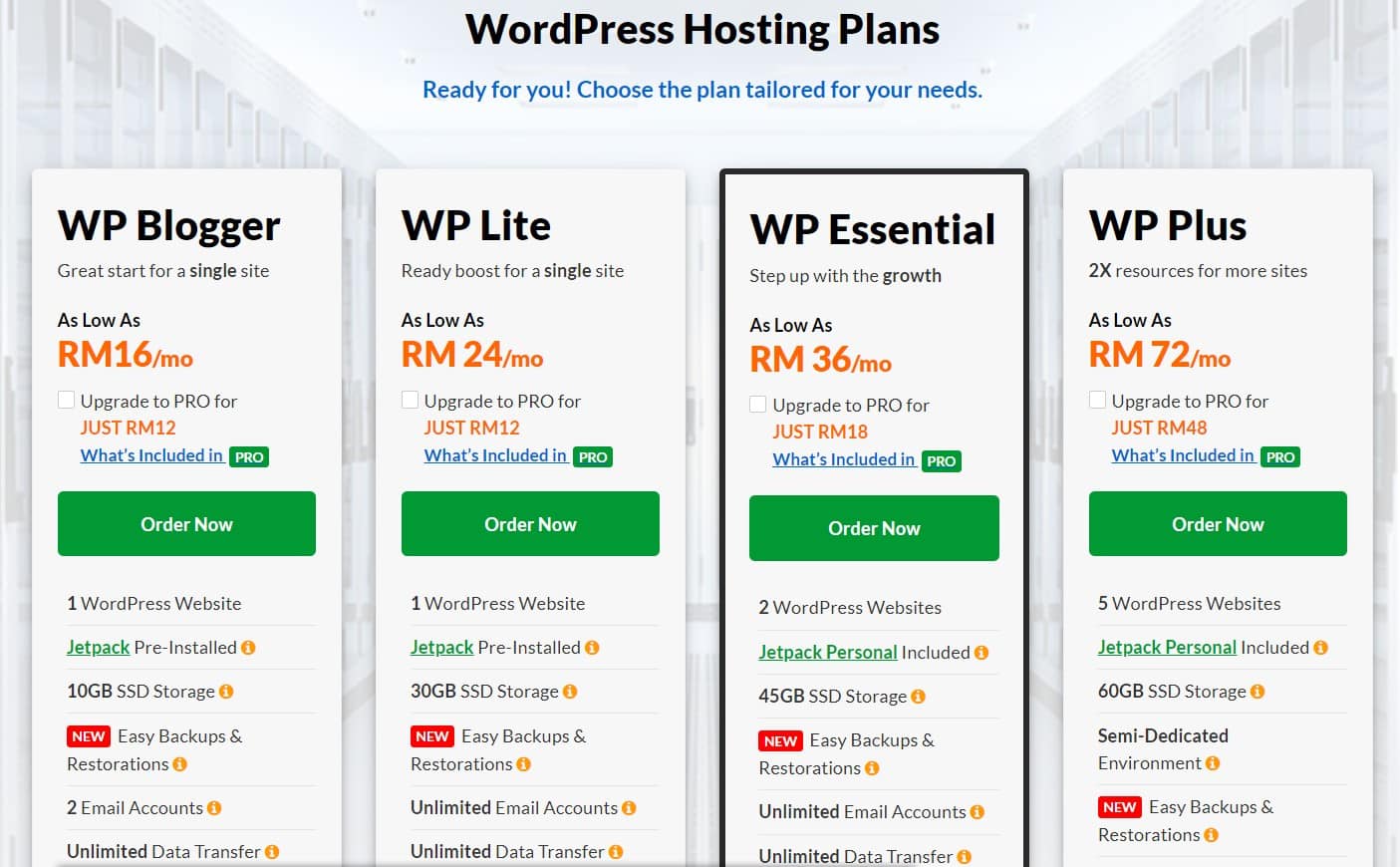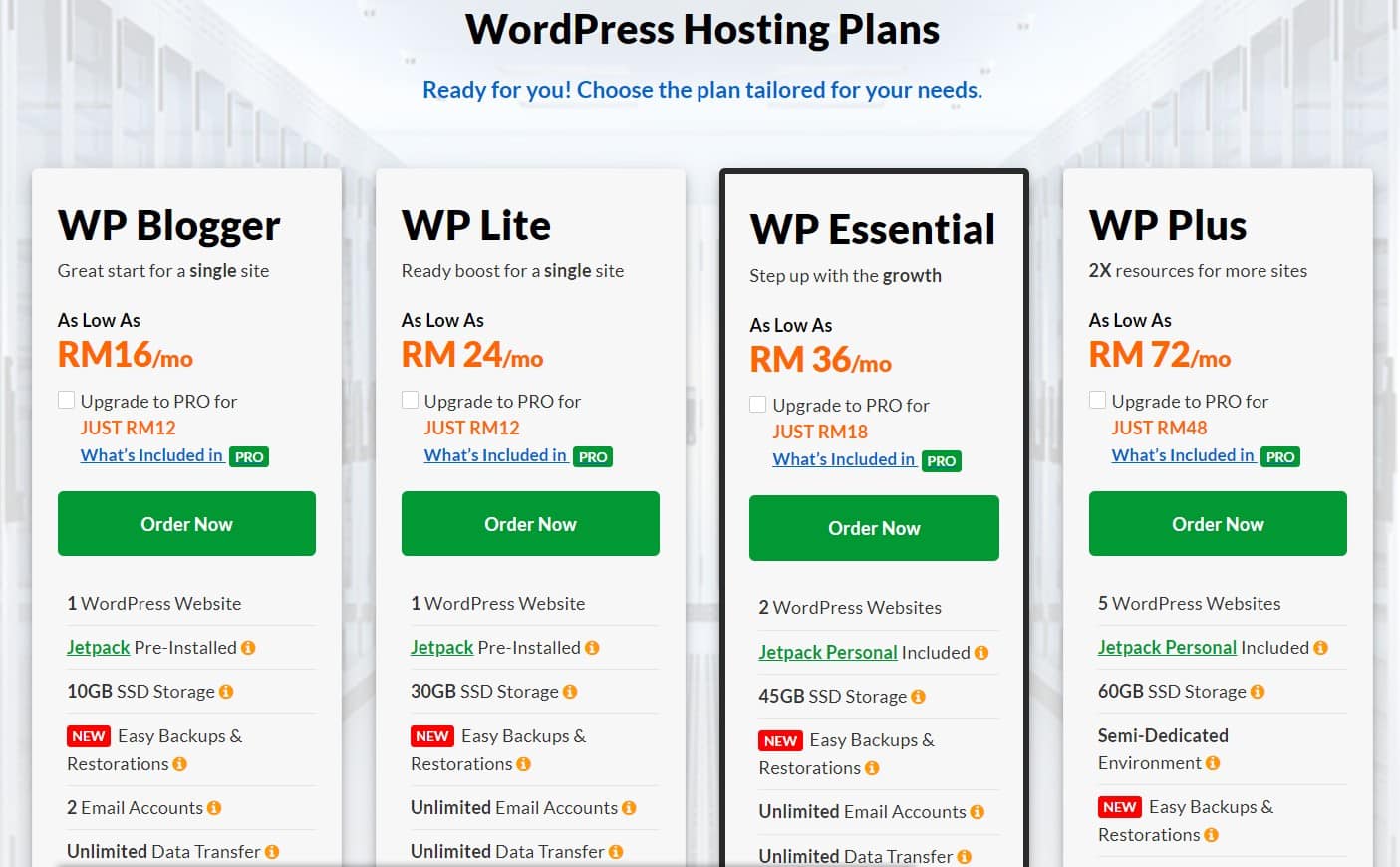 Regard to WordPress web hosting, Exabytes also offer exclusive WordPress hosting plans. They have 4 WordPress packs that are WP Blogger, WP Lite, WP Essential, and WP Plus. Their WordPress plans start at as low as RM 16 per month. You can also upgrade these packages to Pro to get a few essential features as well.
We have to admit that compared to SiteGround, their pricing is very cheap. Additionally, they also have data centers in Malaysia. So, for Malaysian websites, this would be a great web hosting service, to say the least. And, WordPress CMS will come pre-installed with all these plans. You will also get 100+ free WordPress themes with these WP plans.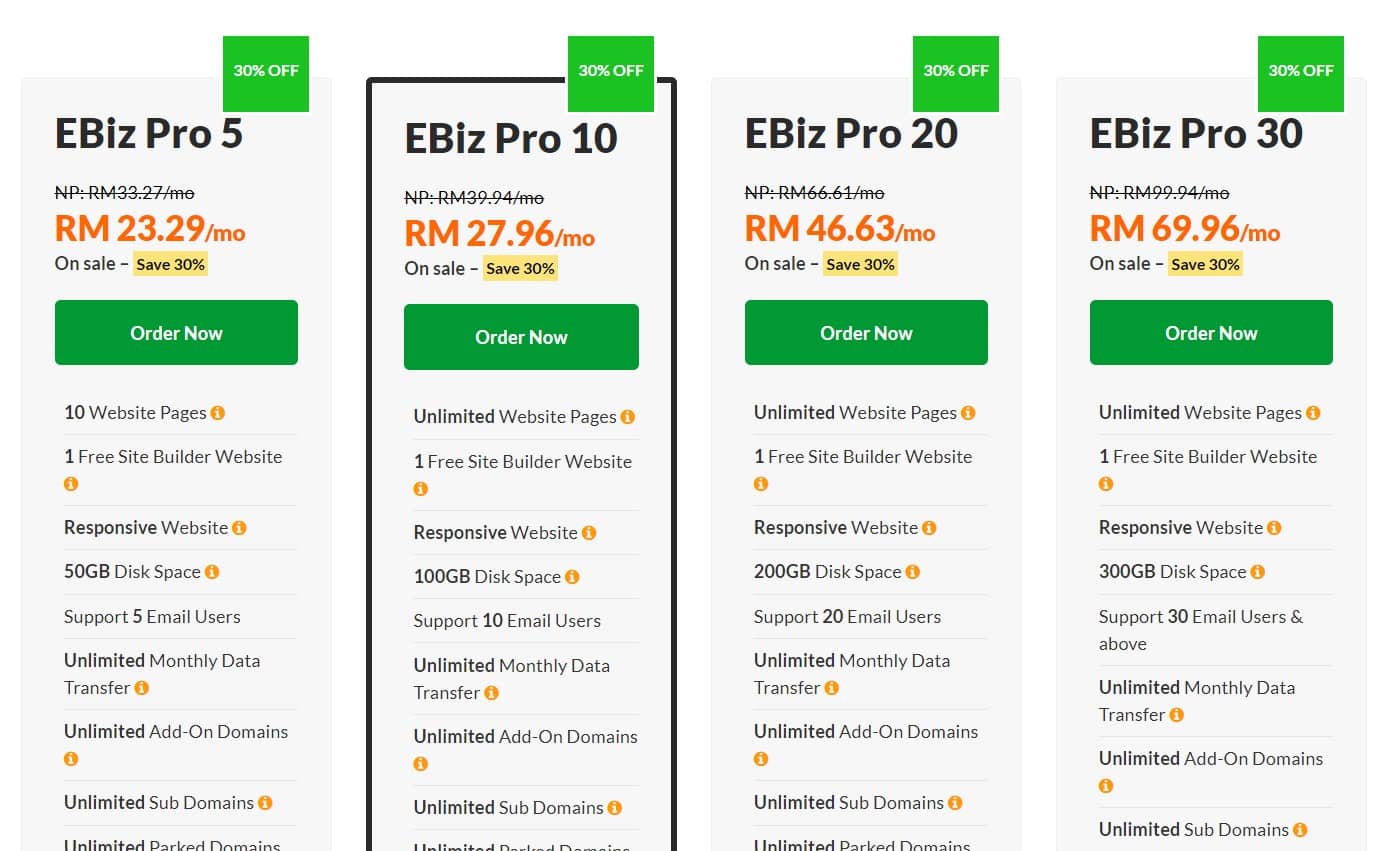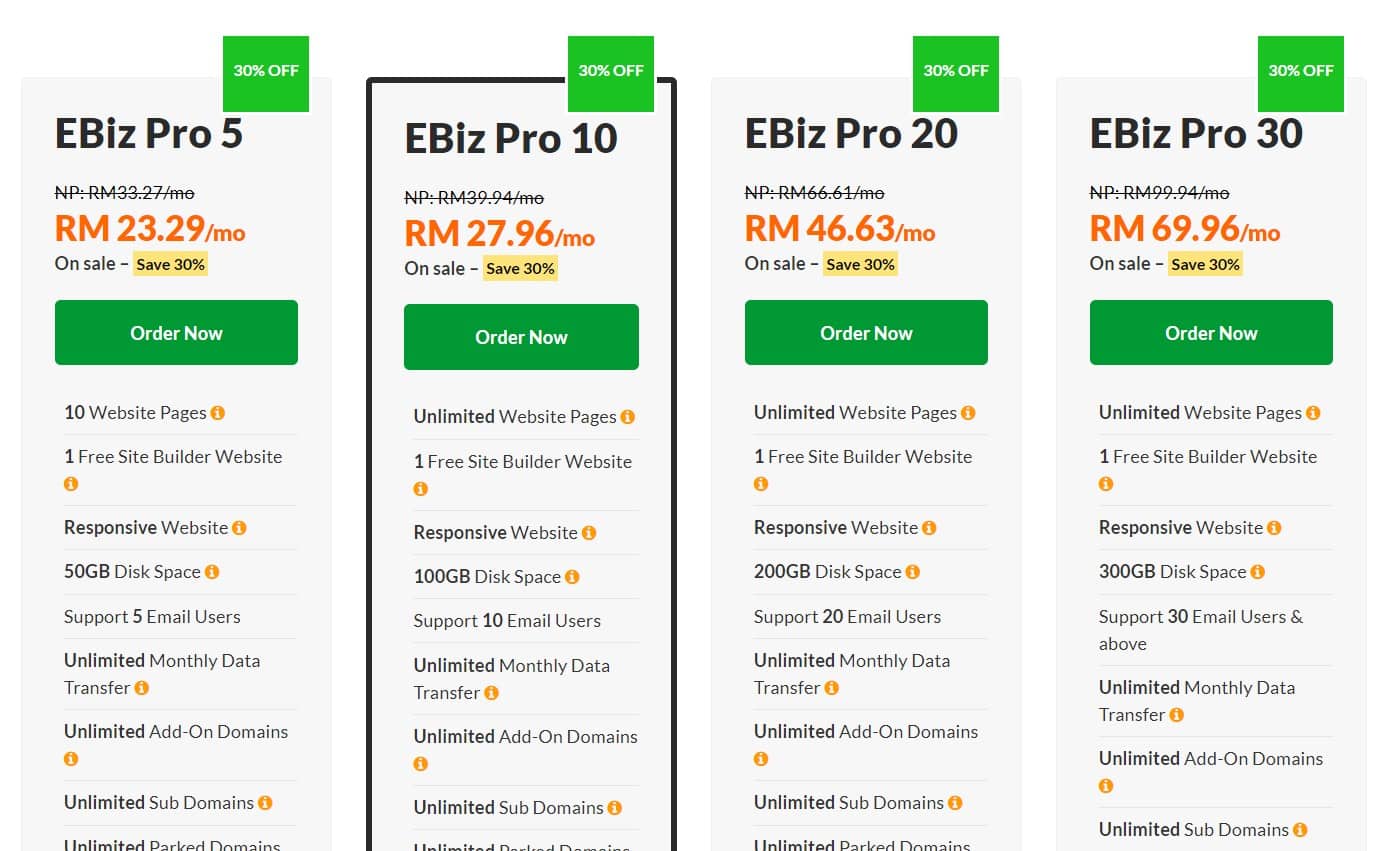 As normal web hosting plans, Exabytes has 4 plans that are EBiz Pro 5, EBiz Pro 10, EBiz Pro 20, and EBiz 30. The pricing starts at as low as RM 23.29 per month. All of their web hosting packs come with a 100-day money-back guarantee. And, some great features of them are SSH access, cPanel, remote server backup, free SSL, SiteBuilder, unlimited data transfer, and more.
These hosting plans will offer your SSD servers. And, your website will be hosted in the data center located in Malaysia as well. Exabytes customer support team is also available via live chat, email, WhatsApp, etc. 24/7/365.
Final Words
It is true that you don't need to get exclusive WordPress hosting plans for hosting your WordPress websites. In fact, any traditional shared web hosting packs is enough for hosting WordPress sites. In that case, you will have to install WordPress on your website from your cPanel manually. And, most good web hosting services make this process very easy. And, both SiteGround and Exabytes offer that as well. So, you can go with either of them.