Editor Rating

Rated 4.5 stars

Outstanding
---
Reviewed by:

Published on:

Last modified:
---
DISCLOSURE: This post may contain affiliate links, meaning when you click the links and make a purchase, we receive a commission.
Our Top Ranked #1 Web Host

Ideal for WordPress, Joomla, Drupal and eCommerce
What is HostGator Web Hosting?
A common problem among bloggers and website owners is finding a reliable host. Let's face it; there are lots of web hosts that claim they are the best but only interested in taking your money. A bad host can create a serious problem for any website owner, and that's why it's very important to have a quality web host for all your website hosting needs. In this HostGator reviews, I will provide you with in-depth personal and honest experience of HostGator hosting services.
HostGator was founded by Brent Oxley during his university days back in 2002, and the company has overcome many hurdles to become one of the biggest names in web hosting industry. EIG acquired HostGator after the group noticed the potential in HostGator.
The company started in Florida but moved to Texas in 2007 due to its quick growth and expansion. HostGator base is in Houston with an office in Austin and an Indian and Brazilian subsidiary.
HostGator serves more than 400,000 customers from 200 countries of the world with over 8 million domains. The company has about hundreds employees on their payroll but set to add additional 200 in the next two years. HostGator has lots of attractive plans that made it darling to many webmasters. Their cheap plan and solid hosting have won over many customers in the recent years.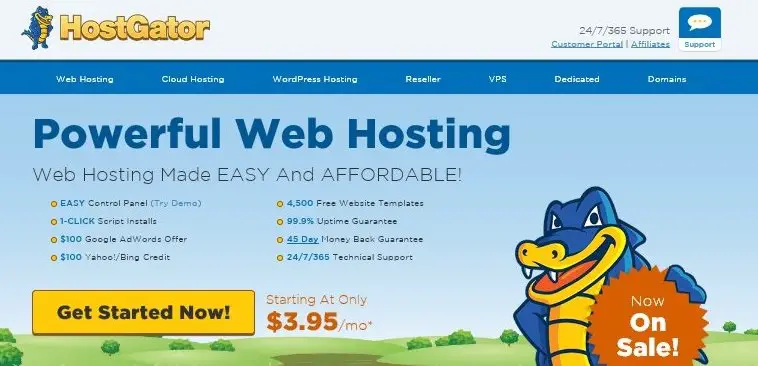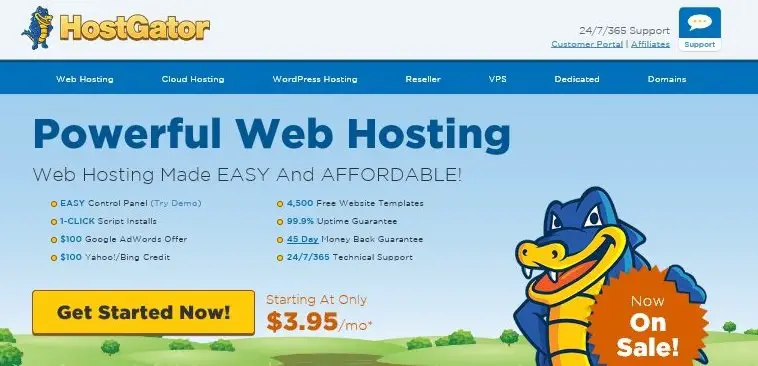 HostGator Information and Features (Table)
Details
 
Founded
2002
Server Location

Provo, Utah, United States (hostgator.com)
Houston, Texas, United States (hostgator.com)
Mumbai, Maharashtra, India (hostgator.in)
Hyderabad, Karnataka, India (hostgator.in)
Singapore (hostgator.in)

Services

Domain Hosting
Domain Transfer
Linux Shared Hosting
Windows Hosting
Cloud Hosting
VPS Hosting
Dedicated Hosting
Reseller Hosting
Dedicated WordPress Hosting
Dedicated Joomla Hosting
Other CMS Dedicated Hosting
e-Commerce Hosting
HostGator Website Builder

Unlimited Website
Available With Selected Hosting Plans
Unlimited Storage and Bandwidth
Available With Selected Hosting Plans
Domain Hosting
Yes
Linux Hosting
Yes
Windows Hosting
Yes
WordPress
Optimized
Joomla
Optimized
Drupal
Optimized
Magento
Optimized
PHP Hosting
Optimized
e-Commerce Hosting
Optimized
Email Hosting
Unlimited Account Available With Any Shared Hosting Plan
SSL Support

Positive SSL
Positive Wildcard SSL
EV SSL
COMODO SSL
COMODO Extended SSL
Positive Multi-Domain SSL

Dedicated IP
Yes
Free Site Migration
Yes
Free Domain
No
Domain Privacy Protected
Yes
Money Back Guarantee
45 Days
24/7 Support
Selected Methods Only


Ticket
Live Chat
Telephone
Fax
Email
Forum

Control Panel

Linux Hosting (cPanel)
Windows Hosting (Plesk)

One-Click Installation
Website Builder
Hostgator Website Builder
Automated Backup

Full cPanel Backups
Plesk Control Panel Backup
CodeGuard Backups

Content Delivery Network (CDN)

Cloudflare
SiteLock TrueSpeed CDN

Security Features

SSL
Extensive Custom Firewall Rule
SiteLock

Payment Methods

Visa
MasterCard
American Express
PayPal

Endurance International Group Network (EIG)
Yes
Social Profile
HostGator Reviews on Hosting Plans and Domain Service
So far, my experience with HostGator hosting has been amazing. There are at times you get frustrated with their customer support, but overall they are top-notched hosting. They offer three different shared hosting plans called:
Hatchling Plan
Baby Plan
Business Plan
Each of these plans depends on the webmaster's need and budget.
HostGator Hatchling Plan
Hatchling plan comes with unlimited disk space and at a much-reduced price. You will also get unmetered bandwidth, good support, and shared SSL certificate. However, the only downside of this plan is it allows only single domain.
HostGator Baby Plan
Baby Plan is HostGator's most popular plan. We found this plan to be very effective for anyone that wishes to run multiple personal websites/blogs unless you need a Private IP with a Toll-free number, in which Business plan will be more suitable. The baby plan comes with unlimited disk space, One Click Installs, unlimited domains and unmetered bandwidth. You can get it starting from $5.95 per month.
HostGator Business Plan
HostGator business plan allows you to have private SSL and IP, unlimited disk space, unlimited domains, unmetered bandwidth and even free toll-free number. It starts from $10 per month, and this price is subjected to changes. Sometimes you might be even possible to get the "Free upgrade" for the business plan at only $5.95 per month.
HostGator Reviews on VPS Hosting Plan
HostGator offers VPS plans to meet the needs of their clients. The control panel does not come with a hosting plan, but you will have full assistance from HostGator support to manage it. All their VPS servers utilize 2 cores or 4 cores CPU. The price starts from $19.95 to $39.95 per month.

HostGator Reviews on Cloud Hosting Plan
HostGator also offers cloud-based hosting. Their Hatchling cloud hosting plan starts at $7.16 per month, with 2 Core CPU, shared SSL, and single domain included. Their most advanced business cloud plan includes free private SSL and IP.

HostGator Reviews on Dedicated Hosting Plan
HostGator manages servers across the different location of the world. Dedicated servers are meant for larger businesses and high-traffic websites. The servers allow maximum customization, installation, configuration and overall flexibility. The plan for dedicated server starts from $76.56 and comes with Intel Xeon Dual Core 2.3GHZ (4 threads), 100 Mbps uplink, 4 GB RAM, 500 GB RAID-1 Drives, 10 TB Bandwidth and 2 dedicated IPS. The features increase depending on the plan you choose.
The plan for dedicated server starts from $76.56 and comes with Intel Xeon Dual Core 2.3GHZ (4 threads), 100 Mbps uplink, 4 GB RAM, 500 GB RAID-1 Drives, 10 TB Bandwidth and 2 dedicated IPS. The features increase depending on the plan you choose.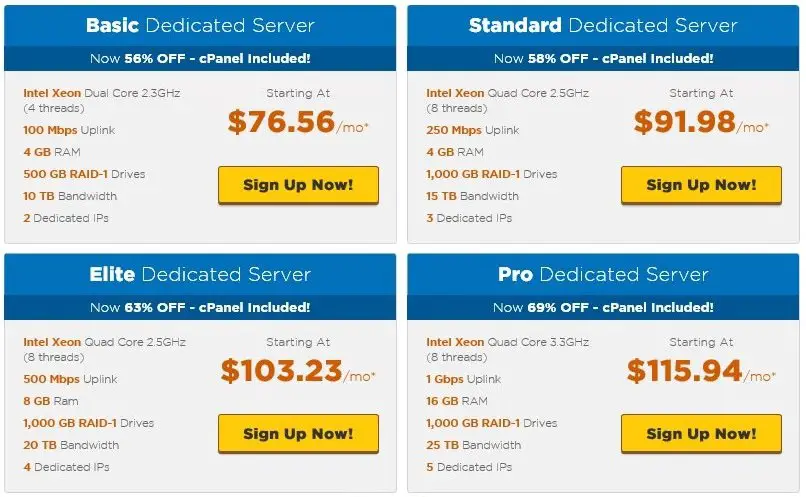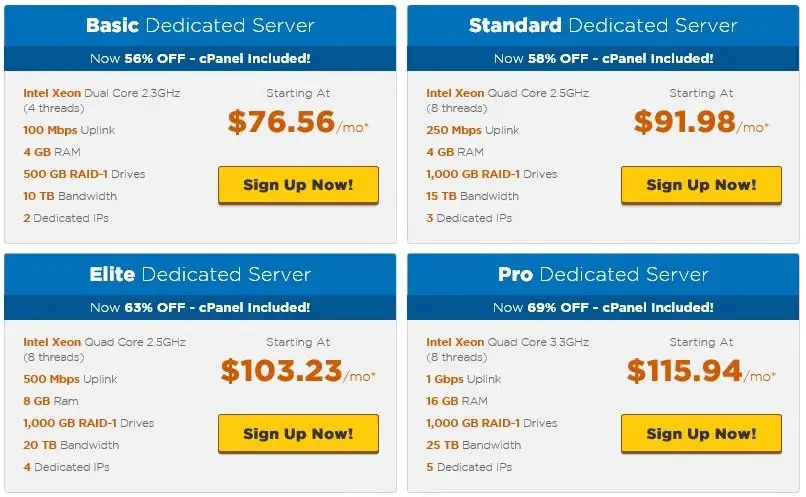 HostGator Reviews on Reseller Hosting Plan
HostGator reseller hosting plan allows anybody to become a reseller or even own a full-time web hosting company. Their reseller hosting plan allows you to create cPanel for each of your clients. You can set your own bill. It comes with all the features you need to act like a complete hosting company.

HostGator Reviews on Windows Hosting
Windows hosting is also provided by HostGator. The personal plan is only for single domain hosting while the Enterprise plan can host up to 5 domains. Both HostGator Windows hosting plans include unmetered disk space and bandwidth. The personal plan costs $4.76 per month while the enterprise plan costs $14.36 per month.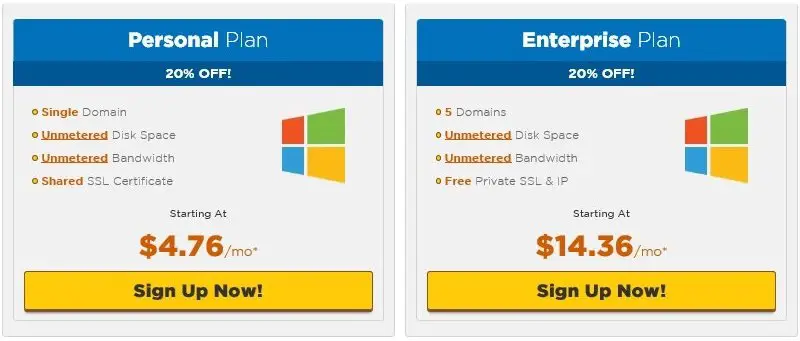 HostGator Reviews on Domain Service
HostGator also provides domain registration services. Before you can be able to set up any plan on HostGator, you must have a domain name either from them or another domain name registrar. HostGator dot com domain name cost $12.95 a year.
HostGator Reviews on WordPress Hosting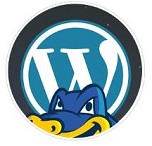 HostGator Managed WordPress hosting is perfect for anyone that wishes to easily setup and manage a robust new WordPress website. With this plan, HostGator can help you migrate your current website to WordPress. This plan is an attractive option for advanced users, and it is one of the most inexpensive ways to host WordPress with incredibly fast loading speed. It comes with other interesting features such as:
Automatic off-site backups
Automatic security updates
Automatic malware detection and removal
Unlimited bandwidth
The only downside is that you are mostly restricted to working with the WP dashboard, i.e. the WordPress backend. The biggest feature of this hosting plan is that it allows you access to MySQL which is a database management system for your website data.
HostGator WP hosting has three plans: Starter, Standard and Business plan. The starter cost about $5.95/mo at the time of writing this review. It allows one site, 25,000 monthly visitors, 50GB storage capacity, 100% free migration, global CDN, automatic malware remove, unlimited email accounts, shared SSL certificate and $100 Google Adwords credits.
HostGator Reviews on Email Hosting
All the HostGator plans; hatchling, baby, and business come with unlimited amounts of disk space and bandwidth to store emails. HostGator has a limit of 500 outgoing email per hour for each domain. This means that most of the emails will bounce back with an undeliverable error if you exceed the limit.
The limit to the number of Mailman emails list permitted is as follows:
Hatchling package: 20 Mailman mailing lists
Baby package: 25 Mailman mailing lists
Business package: 50 Mailman mailing lists
Reseller and Dedicated packages: Unlimited number of Mailman mailing lists
By default, every HostGator cPanel comes with one primary email account. It is recommended to set up a new email account by going to Mail Section in your cPanel. You can as well remove email accounts from this section. This section also allows you to set up your emails to go directly to Horde, SquirrelMail or Roundcube. HostGator allows you to set up your mailbox quotas.
HostGator Reviews on Support and Customer Support
HostGator provides 24/7 telephone support, and an online web live chat feature for instant chatting with a customer service agent. With HostGator live chat service, it can take anywhere between seconds to minutes to get a live agent to chat with you. I have tried their live chat service and it was considered good, read my experience with them below. Their phone tech support works pretty well too as far as you call them during weekdays.
Overall, HostGator has a comprehensive customer support which is remarkable considering that most of their plans are very cheap. They provide customers with a very deep knowledge base which contains almost all the answers to practically every possible question you could ask. Always ensure you make use of the knowledge base before contacting the customer support to save you time.
If you are looking for a web hosting company that serving excellent customer support, SiteGround  can be a good choice.

#Trial 1 Good Live Chat Support
I have tried their live chat service and I got their reply at 16.34 seconds after I launched the chat. For your information, how fast they get back to you can be varied. If you contact them during peak hours, there is a chance that you might need to wait several minutes or longer. However, from my own experience, it was fast and good. Overall the support staff was polite and professional. The support staff seems to understand their services well and I rated highest for him after I end the chat.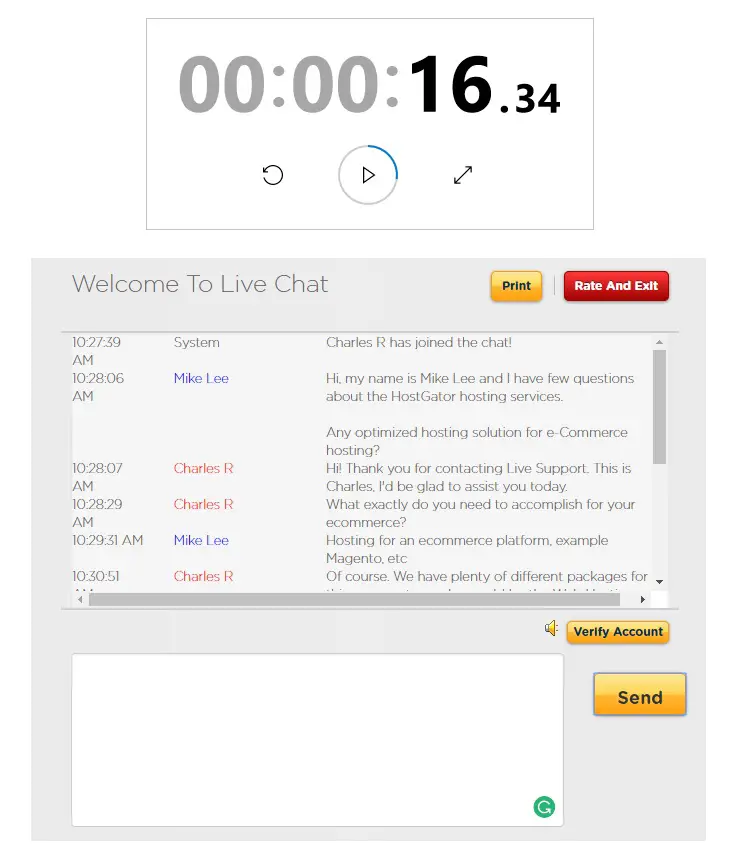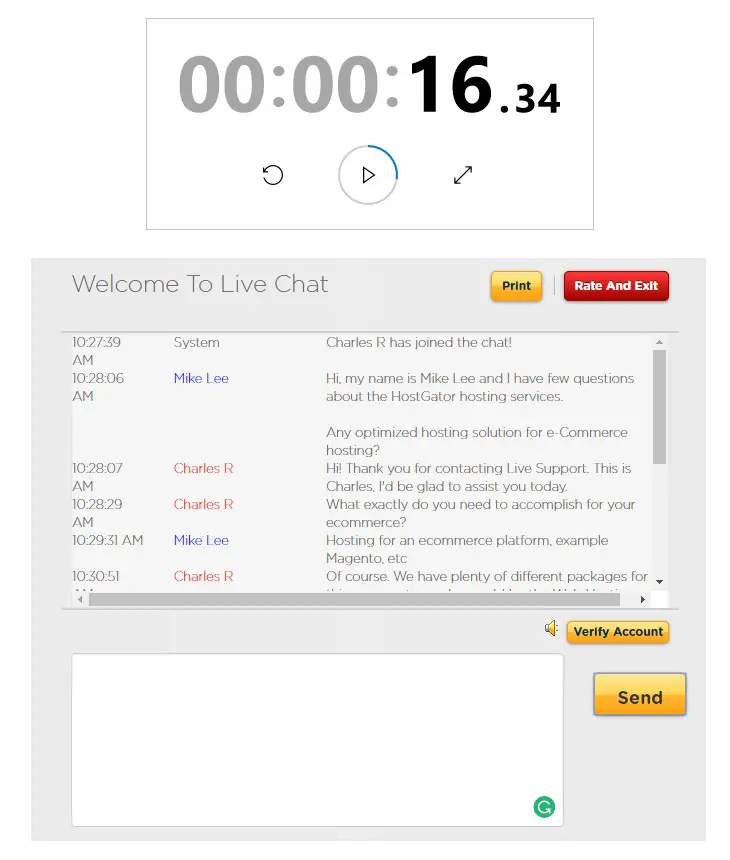 Here is our full conversation:
Mike Lee: Hi, my name is Mike Lee and I have few questions about the HostGator hosting services. Any optimized hosting solution for e-Commerce hosting?
Charles R: Hi! Thank you for contacting Live Support. This is Charles, I'd be glad to assist you today. What exactly do you need to accomplish for your e-Commerce?
Mike Lee: Hosting for an e-Commerce platform, example Magento, etc.
Charles R: Of course. We have plenty of different packages for this, our most popular would be the Web Hosting package called our Shared Business package and our Cloud Business package. Both come with 1 SSL and dedicated IP address for any site you choose.
Mike Lee: Thanks for the information. Is the there any hosting plan that supports email hosting? Any dedicated email hosting solution?
Charles R: Not ONLY email but all of our packages do have email.
Mike Lee: Can normal shared hosting plan like Hatchling and Baby plan support unlimited email accounts?
Charles R: Correct.
Mike Lee: Is HostGator offers Free SSL certificate service?
Charles R: Only with our Business packages.
Mike Lee: Can I get a Dedicated IP from HostGator?
Charles R: Yes, you can. The business packages include on for free.
Mike Lee: How about shared hosting plan?
Charles R: The shared Business plan and the cloud business plan both have a free SSL and IP.
Mike Lee: Not with Hatchling and Baby plan?
Charles R: Not for free, no.
Mike Lee: Available with certain charges, am I right?
Charles R: Correct.
Mike Lee: Is free domain included in the hosting plans?
Charles R: No, there is not
Mike Lee: Does HostGator offer Domain Privacy Protected service?
Charles R: Yes, we do. $12.95 a year.
Mike Lee: Can HostGator do the Site Migration for me if I convert to HostGator? Is it free?
Charles R: Yes and yes.
Mike Lee: Does HostGator offer a Content Delivery Network (CDN)?
Charles R: Yes, we do, with CloudFlare and SiteLock (extra).
Mike Lee: Is the server DDoS protected? What type of DDoS protection solution has been implemented?
Charles R: Yes, we do have DDoS Protection.
Charles R: support.hostgator.com/articles/pre-sales-policies/security-abuse/what-security-measures-are-used-to-protect-my-server
Mike Lee: What payment methods does HostGator accept?
Charles R: Paypal/ Creditcard
Mike Lee: Great. Any option for monthly payment instead of annual payment?
Charles R: Yes, however, you won't have the discount that a long term payment would offer.
Mike Lee: Thanks for the information. Will consider and thank you for the support!
HostGator NameServers and Control Panel
HostGator offers featured service of nameservers and control panel. They use cPanel as their control panel. Continue reading for more information.
HostGator NameServers
HostGator NameServers work like every other nameserver to convert the domain name into IP address.
HostGator NameServers look like the following:
nsX.hostgator.com
nsY.hostgator.com
When you register a domain name in another domain name registrar other than HostGator but you wish to host your website with HostGator, you must point your domain name to HostGator's server. You will get information for your NameServers in your welcome email, and you can log in to your domain name dashboard and edit your DNS to point to HostGator.
HostGator Control Panel
HostGator comes with cPanel 11 for all Linux plans. cPanel is the universal access point to all the features that comes with hosting packages such as WordPress installation, one-click backups, webmail, DNS setting and more.
HostGator cPanel is very different from GoDaddy and 1&1 cPanel which have proprietary backends. This one is easier to manage. Moreover, you have the support and knowledge base to guide you anytime if you run into some difficulties.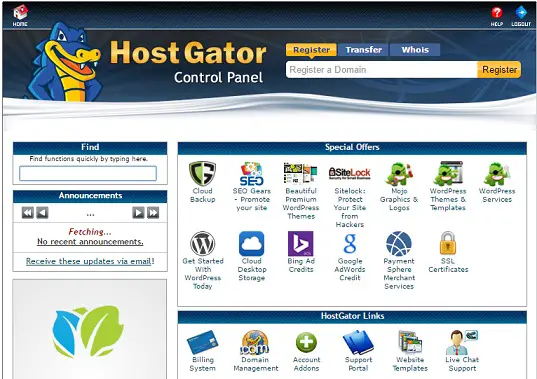 HostGator Reviews on Uptime and Server Status
Uptime Stats
Web host uptime is what a user must consider before getting hosting services because it determines how often your site will be down. HostGator has a remarkably stable uptime. They guarantee 99.9% uptime.
HostGator currently has the data center in facilities owned by The Planet in Texas, fire detection, UPS power supply and round-the-clock monitoring by in-house technical staff to ensure the safety of their 12,000 servers on-site.
They work with about ten other separate fiber providers and uses hardware from Time Warner and AT&T. HostGator performs weekly backups at their data center for every account except dedicated servers. The company charges $15 to restore the backup if you cannot supply your own backup file.

Uptime Stats – Target: 99.90%
October 2018 – 99.98%
September 2018 – 100%
August 2018 – 100%
July 2018 – 99.98%
June 2018 – 100%
May 2018 – 100%
April 2018 – 100%
March 2018 – 99.99%
February 2018 – 99.97%
January 2018 – 99.97%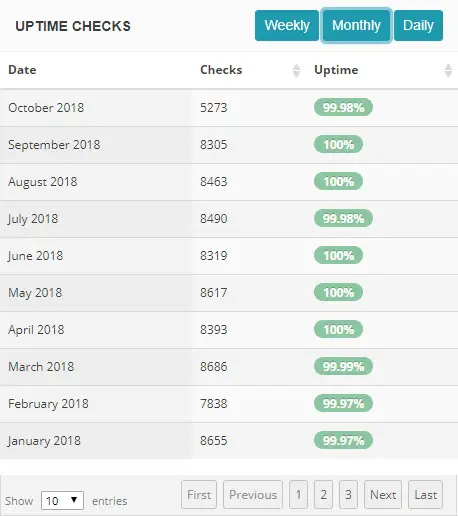 Overall, the HostGator server uptime is reliable. As you can see from the uptime checks above, HostGator achieved several 100% uptime. That's mean without single server outage within a month. Yes, they did achieve their 99.90 uptime target.
From my own experience, this case happened in most of the web hosts. There will be some months where the uptime is not 100%. For me, it is acceptable as long as the uptime is still above the 99% mark.
Note: I update this HostGator uptime stats regularly, do bookmark this page if you are interested in checking their uptime performance again.
Server Response Speed Test
I conducted a server speed test on a website hosted on HostGator. HostGator scored A+, and this proves that HostGator server is reliable. This test was conducted by pinging the website from 8 different locations below, United States, United Kingdom, Singapore, Japan, etc. As you can see below, it performed really well in the United States. For Asia regional country like Singapore, it might take longer response time but overall it is still good enough for the user.
Good and Bad of HostGator
Good
An established company with more than a decade of solid performance
Cheap and affordable hosting services
Excellent customer services
A prorated refund on cancellation
Live chat feature for quick and better support
Extremely high uptime
Lots of attractive features that caters for every website
Bad
No free domain
No free SSL
Summary and Conclusion: Is HostGator Worth the Money?
HostGator has shown how determination pays offers, from a startup by a student with just three servers to a leader in the industry. Many people trusted HostGator and with their domains which speak volume of this web host.
Over the years, they've been able to avoid many teething problems that are commonly associated with companies embarking on an aggressive growth path. HostGator is affordable, fast, reliable, stable and trusted.
There are not a lot of complaints against HostGator support. Moreover, an average user may not require support with their well-designed control panel. If you are looking for a reliable, affordable and open hosting company for your website, we will recommend you go with HostGator.
Compare HostGator With Our Top Ranked Web Hosts!
SiteGround vs HostGator vs BlueHost

SiteGround

Bluehost

HostGator
Rating

Rated 4.5 stars

Rated 4.5 stars

Rated 4.5 stars

Price

$3.95/month

$3.49/month

$3.95/month

Criteria