Editor Rating

Rated 4.5 stars

Outstanding
---
Reviewed by:

Published on:

Last modified:
---
DISCLOSURE: This post may contain affiliate links, meaning when you click the links and make a purchase, we receive a commission.
Note: This website ReviewPlan.com is hosted on SiteGround
SiteGround Hosting Services Are Among The Best In The Business
SiteGround offers compelling hosting packages for webmasters. It offers a wide array of services with shared hosting, cloud hosting, dedicated hosting services and actively managed plans with integrated WordPress management.
SiteGround offers many compelling advantages for small businesses or a newbie who are not looking to be overwhelmed by the huge responsibility of taking care of a large website server. SiteGround's customer service is quite accommodating and supportive, a huge bonus for new or inexperienced users. Read on ahead for a comprehensive SiteGround review.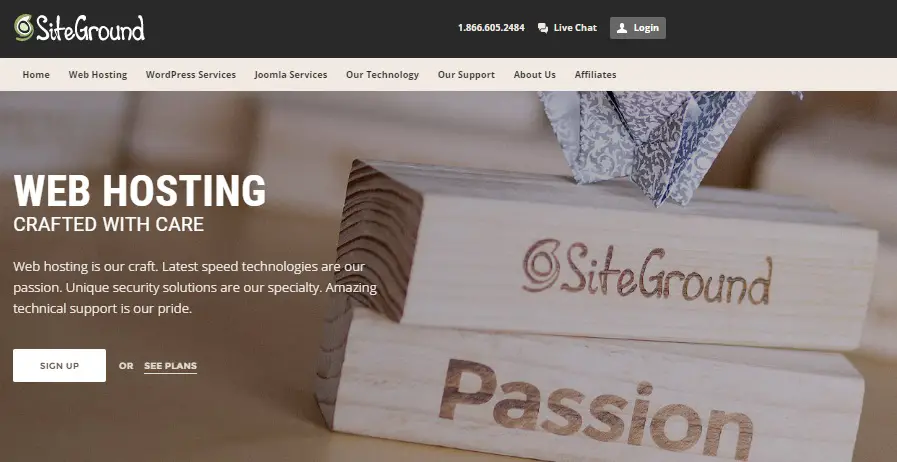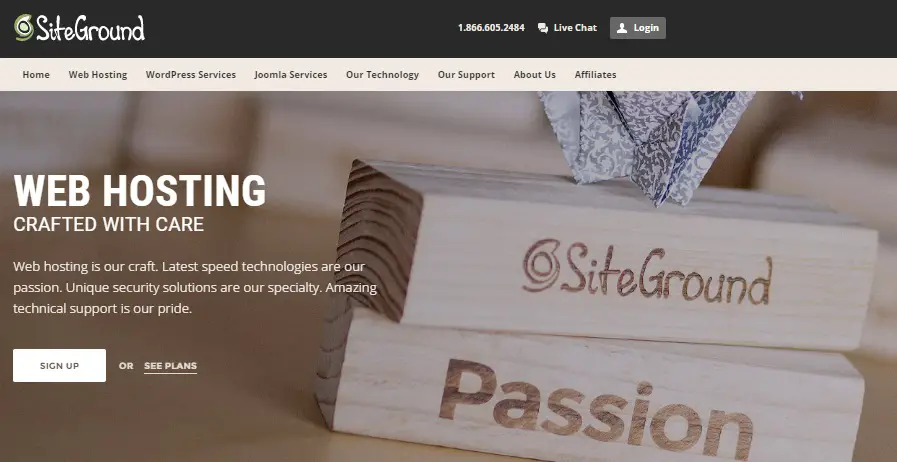 Use Our 60% SiteGround Discounts Coupon
SiteGround has plans that are decidedly middle range. You can find cheaper offerings without losing out on many of the advantages and features that SiteGround offers. However, the company also runs promotions from time to time that offers quite deep discounts on its monthly fees. Stay vigilant and you can get 60% good discount by clicking the SiteGround Coupon below.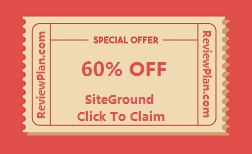 SiteGround Information and Features (Table)
Details
 
Founded
2004
Server Location

United States
United Kingdom
NetherLands
Singapore
Italy

Services

Domain Hosting
Domain Transfer
Shared Hosting
Cloud Hosting
Dedicated Hosting
Reseller Hosting
Enterprise Hosting
Dedicated WordPress Hosting
Dedicated Joomla Hosting
Other CMS Dedicated Hosting
e-Commerce Hosting
Student Hosting
Weebly Website Builder

Unlimited Website
Available With Selected Hosting Plans
Unlimited Storage and Bandwidth
Not Applicable - Limited
Domain Hosting
Yes
Linux Hosting
Yes
Windows Hosting
No
WordPress
Optimized
Joomla
Optimized
Drupal
Optimized
Magento
Optimized
PHP Hosting
Optimized
e-Commerce Hosting
Optimized
Email Hosting
Unlimited Account Available With Any Shared Hosting Plan
SSL Support

Free Let's Encrypt SSL
Wildcard SSL
EV SSL

Dedicated IP
Yes
Free Site Migration
Yes
Free Domain
No
Domain Privacy Protected
Yes
Money Back Guarantee
30 Days
24/7 Support
Control Panel
One-Click Installation
Softaculous
Website Builder
Weebly
Automated Backup
SiteGround Backup System. Take a backup in 30 days back.
Content Delivery Network (CDN)
Cloudflare
Security Features

SSL
Secure Account Isolation
Own Firewall Security Rules
24/7 Live Monitoring
Add Security Rules and Custom Patches on a Weekly Basis

Payment Methods

Visa
MasterCard
American Express
PayPal Available Upon Request

Endurance International Group Network (EIG)
No
Social Profile
SiteGround Has The Most Advanced Technology In Its Server Systems
SiteGround prides itself on its server technology. SiteGround implemented many advanced features for all type of hosting plans. It is very rare that budget hosting can enjoy such great features, and this is a great plus for SiteGround.
Installation Guides
SiteGround SSD
The company offers solid state drives on all of its shared and cloud plans for unprecedented access speeds. SSDs are some of the most compelling hardware upgrades on any computer system and can contribute to significant performance boosts that are noticeable clearly.
You will not find similarly matched server performance on any other middle range hosting plans unless you agree to pay a significant premium. Offering SSDs on shared hosting plans is a great step in bringing top end performance to the budget end of the market.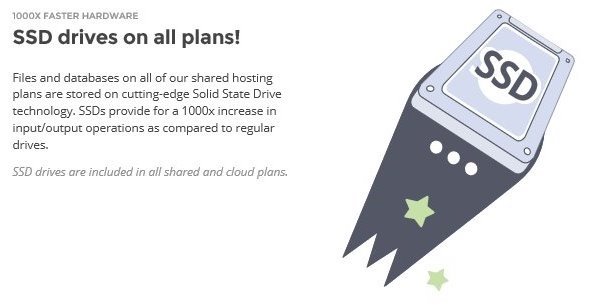 SiteGround NGINX Web Server
SiteGround uses the latest NGINX web server technology to improve significantly how static content is delivered to clients. This translates to significantly better-performing websites and best of all; this technology is available to all shared and cloud hosting plans.
Once again, SiteGround is the only hosting service provider that offers such advanced performance features in its budget plans. NGINX setup can also be separately purchased as performance boosts on dedicated hosting plans, giving you unprecedented flexibility on how you want your website hosted and fine-grained control over its performance.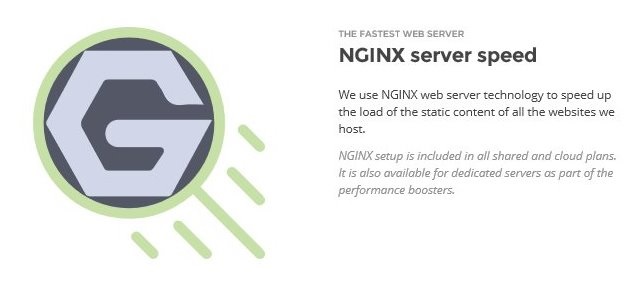 SiteGround SuperCacher
SiteGround also has some very advanced features like memcaching, which is unheard of in budget plans. It has also developed its own custom caching mechanism called SuperCacher. Using SuperCacher, which supports WordPress, Joomla and Drupal is built on NGINX reverse proxy technology. You can see significant boosts in the performance of static as well as dynamic websites.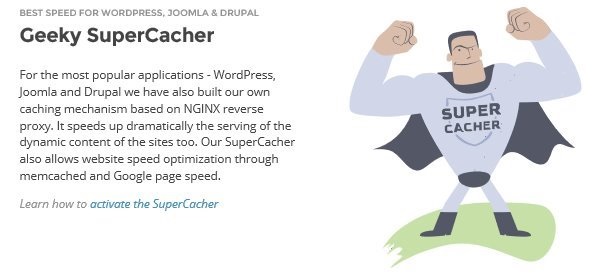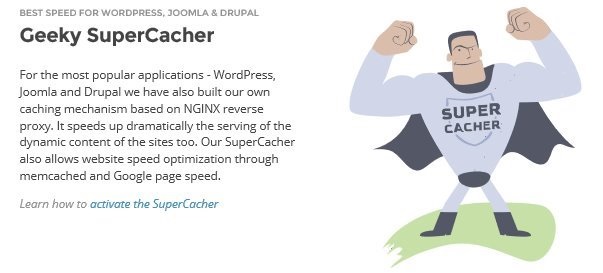 SiteGround CDN, DDoS, HTTP/2 Enabled Servers, PHP7 and HHVM
Also included is free CloudFlare CDN that helps to overcome latencies induced by geographical factors. Besides, SiteGround also implemented free CloudFlare DDoS Protection on their server.
SiteGround supports the brand new HTTP/2 network protocol which can offer dramatic increases in how fast websites load in client browsers on a variety of devices. SiteGround also integrates latest features into its server technology so that savvy developers can use them, such as PHP7 and HHVM.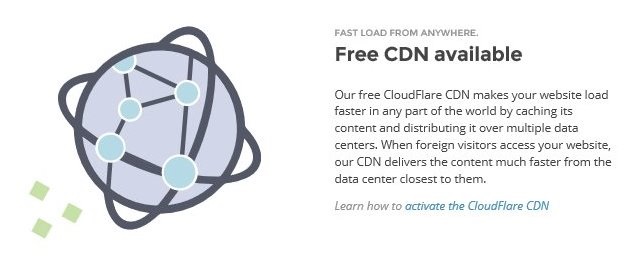 SiteGround Data Centers
SiteGround owns data centers on three continents, allowing you to optimize your website performance depending on from where you expect the majority of your visitors to view the site from. This allows you to fine tune the performance of your website by hosting your web content in geographically nearer locations.
The data centers themselves are backed up with multiple redundancies in the form of wide branching networking backbones, electrical redundancies, and physical security. You can rest assured that your data is safe in one of SiteGround's data centers. These data centers are located in United States, United Kingdom, NetherLands, Italy and Singapore.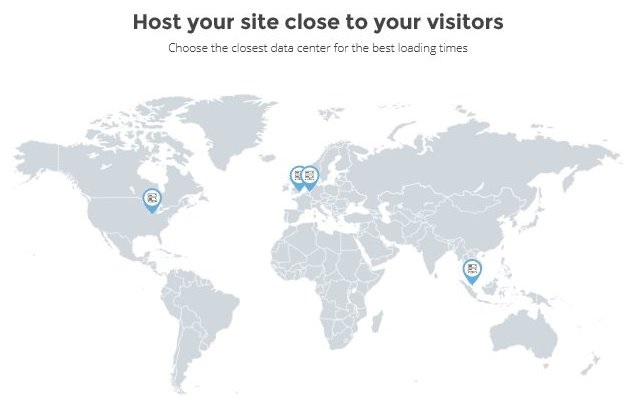 SiteGround Reviews on Hosting Plans and Domain Service
SiteGround offers flexible plans that you can pick depending on your particular needs and preferences. The company offers a wide array of services that include shared hosting, cloud hosting, reseller hosting and dedicated hosting plans that hold your data on exclusively dedicated servers. The company also offers a broad range of domain services and also supports transferring domains from other hosting services with minimal hassle.
Shared hosting plans are available in various tiers depending on the services you need. These services are ideally suited for newcomers with casual or mid-sized needs. The StartUp plan starts at only $3.95 per month, with 10GB web space included.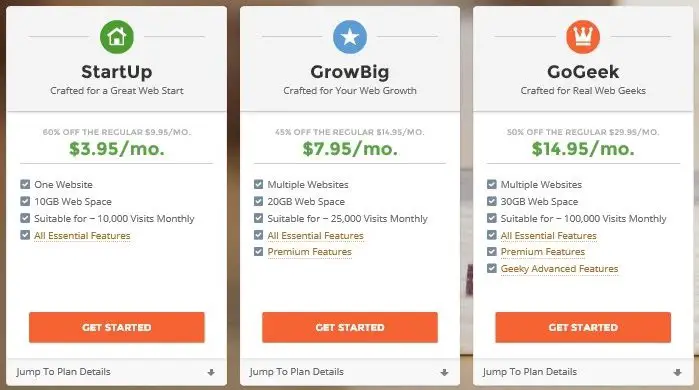 SiteGround Reviews on Cloud Hosting Plan
For enterprise and businesses, cloud hosting plans offer flexibility and dynamic performance that can be modified at the drop of a hat to adhere to web client strategies. The cloud hosting plans are actively managed and offer hassle free services to enterprises who do not want to take the responsibility of maintaining their website server themselves.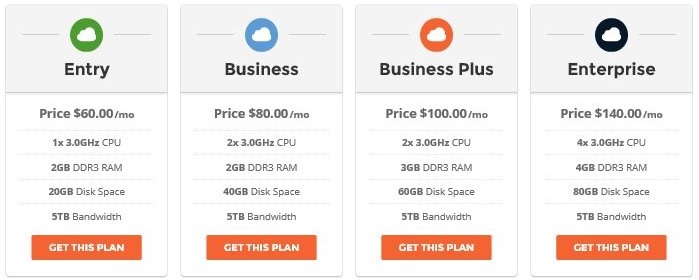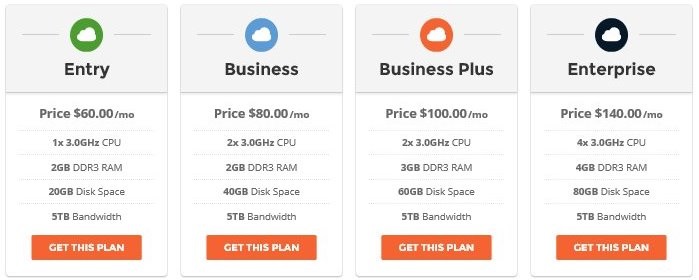 SiteGround Reviews on Dedicated Hosting Plan
SiteGround also offers dedicated hosting services that allow you to host your website on a high-performance service exclusively dedicated to you. These are the most premium services provided by the company and are managed by the best web experts in the business. You also get access to SiteGround's proprietary software that gives you a competitive edge over other hosting platforms.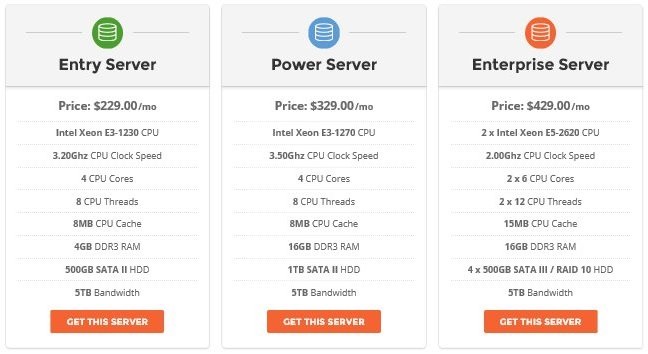 SiteGround Reviews on Reseller Hosting Plan
SiteGround also has a reseller hosting program that is purpose-built for web designers, UI developers and web hosting business owner who are in charge of maintaining client websites server.
The reseller hosting program allows web professionals to offer web hosting as part of the services they provide and not require the client to purchase their hosting plans. This allows professionals to offer more versatile services while also increase their revenue. The pricing on these plans are very flexible, and you can also purchase accounts in bulk, leading to reduced costs.
SiteGround Reviews on WordPress Hosting
WordPress is one of the most popular content management systems (CMS) out there. As such, many opt to use WordPress to build their website. WordPress is a trusted platform and makes users very easy to manage a website.
Read also: SiteGround Install WordPress Guide
It allows even relative newcomers to extend powerful and versatile control over their websites. Keeping this in mind, SiteGround offers fully featured WordPress hosting plans.


SiteGround offers complete flexibility when it comes to WordPress hosting. You can move existing WordPress sites to SiteGround servers or build one from the ground up. You get many benefits such as one-click WordPress installation that simplify setup on your end.
The company also offers free WordPress themes and WordPress installation service. This is addition advantages that you get from hosting a WordPress website on SiteGround.
Read: Install WordPress Theme on SiteGround
I can see that WordPress hosting deal to be very attractive. SiteGround WordPress hosting is ideal for those who want no nonsense web hosting with very little hassle, perfect for customers from non-technical backgrounds or those who prefer to take a hands-off approach to web maintenance.
SiteGround Is Officially Recommended By WordPress.org
SiteGround WordPress optimized platform has gained trust from the official WordPress.org authority. SiteGround is now listed as one of the most recommended WordPress hosting providers on WordPress.org. The high user ratings validated this, and even WordPress.org decided to choose SiteGround as one of their trusted partners.
SiteGround Reviews on Joomla Hosting
SiteGround also offers hosting services for Joomla. You get an unprecedented level of services with a Joomla website, and the SiteGround customer support is very supportive. You can either transfer an existing Joomla project onto SiteGround's servers, or you can develop a new website from scratch.
Read also: How to Install Joomla on SiteGround
Initial setup is also non-existent, you get one click installation services for absolutely hassle free installation.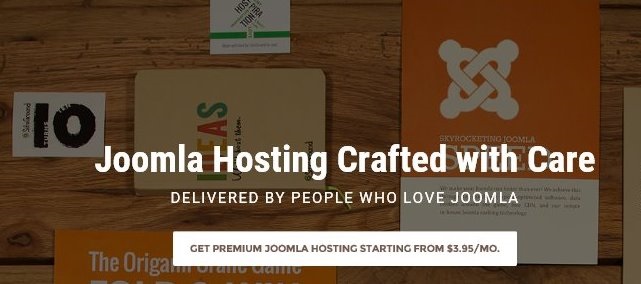 SiteGround also has plenty of free Joomla templates that you can take advantage of while developing your Joomla project. The Joomla core is always kept updated so you can rest assured that you will not miss any security fixes or new features.
Read: How to Install Joomla Template on SiteGround
Your data is regularly backed up in the case of hardware failure. With account isolation technology, your website remains secure even if other data on the same server is compromised by attackers. These advanced services are usually reserved for the most expensive hosting plans and it is amazing to see these services filter down to more affordable levels.
SiteGround Reviews on Magento Hosting
SiteGround supports a diverse number of software solutions to enable users to be as versatile and afford them maximum flexibility to build their web platform with absolutely no bottlenecks.
Read also: How to Install Magento on SiteGround
SiteGround supports Magento for e-commerce solutions. These plans are custom designed and purpose built to serve users with hosting tailored for e-commerce. You also get access to customer support that is specifically trained for Magento.
SiteGround allows optimum performance at all levels using free CloudFlare CDN and Railgun. This lets you focus all your efforts on improving the experience that your customers have on your website.
You need not worry about the site performance because SiteGround takes care of all the heavy lifting for you. All of SiteGround's plans are extremely flexible and completely modular. If you think that you will need additional services like PCI compliance or SSL encryption security, they can be added a la carte as needed.
This allows you to focus on building the best website you can for your customers instead of worrying about whether you can switch tracks later. SiteGround allows you maximum flexibility in terms of sustained site development.
You also get access to many free Magento themes and exclusive Magento hosting privileges that are off limits for other SiteGround customers. Set up is entirely hassle-free and you can rest assured that your website will be robust, steady and offer compelling performance.
SiteGround Reviews on Email Hosting Services
SiteGround offers you extensive and full featured email services. The accounts are pointed using your own domain address and provided free of charge. Your content is protected by encryption which ensures that no one has access to your sensitive data.
Encrypted emails mean that even SiteGround cannot access the data that you store on their servers. You also get access to SiteGround's advanced spam filters that help keep your email account uncluttered and free of unwanted email. All emails are using Spam protection.
SiteGround has the various third party and custom developed software that allows you to enjoy the best email experience possible. This removes your reliance on third party email service providers who might be surreptitiously reading your private data.
The SiteGround email is extremely versatile and can be used with some webmail clients like RoundCube and Horde. This flexible email hosting is one of the many advantages that SiteGround provides over its competitors.
Read: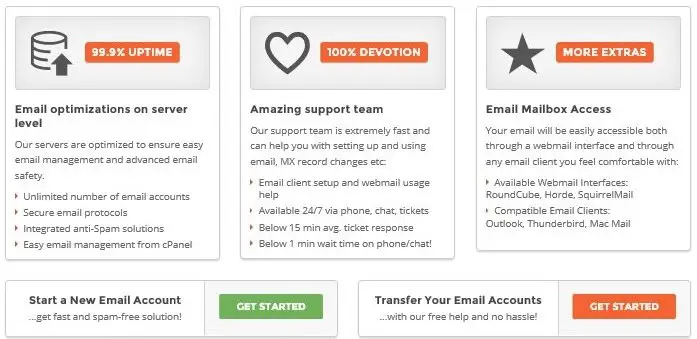 SiteGround Has Excellent Support and Customer Service
SiteGround has the strongest customer support service on the market. You get 24×7 access to customer services and the response is extremely fast. From the moment you raise your ticket, you are guaranteed to get a preliminary response within few minutes.
If you ask me which web hosting company has the best customer support? I will definitely say SiteGround. Yes, it is.
You can also take advantage of SiteGround's customer support over live chat with an executive or over the telephone. SiteGround hosts extensive FAQs that deal with the most common issues people have about configured their account properly when they use a new account at SiteGround.
You can look over for some great explainers about how the system works. SiteGround's award winning customer service is also present should you run into an issue that you absolutely cannot fix by yourself.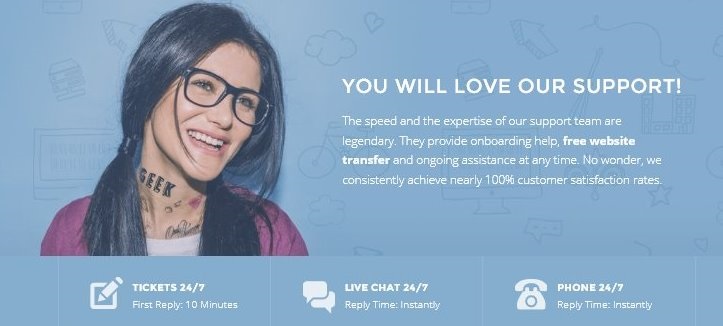 What makes SiteGround so good is that often you do not need to contact them at all. SiteGround is extremely proactive when it comes to maintaining its systems and by extension, client systems. So you will often find that SiteGround engineers are already working on a fix by the time you discover it yourself.
SiteGround scores major points for its leading customer service and the gained reputation is entirely deserved. Its customer service is always online and waiting times are either non-existent or really low. There is only a very marginal amount of time you need to wait before you are connected to an operator. All of SiteGround's support personnel are highly trained and know what you are talking about.
They are friendly and courteous, more than you could say for the support staff of many of SiteGround's competitors. SiteGround also outdoes its competition by offering extensive documentation of its services and features.
If you need help with any of SiteGround's services, or you prefer to read manuals and documentation before you move to customer service, you can do that. SiteGround understands that many of its customers prefer the hands on approach, and it has structured its help documentation to reflect that understanding.
#Trial 1 Fast and Efficient Live Chat Support
This website ReviewPlan.com is hosted on SiteGround and I always contact them if I have any questions and they never disappoints me. Their support is always fast and helpful. I tried their pre-sale support and it was amazing as well. It took only 3.48 seconds for me to reach the representative. Sometimes, I even got entertained instantly. He provided useful information and professional support. Overall, I will rate A+ for Martin.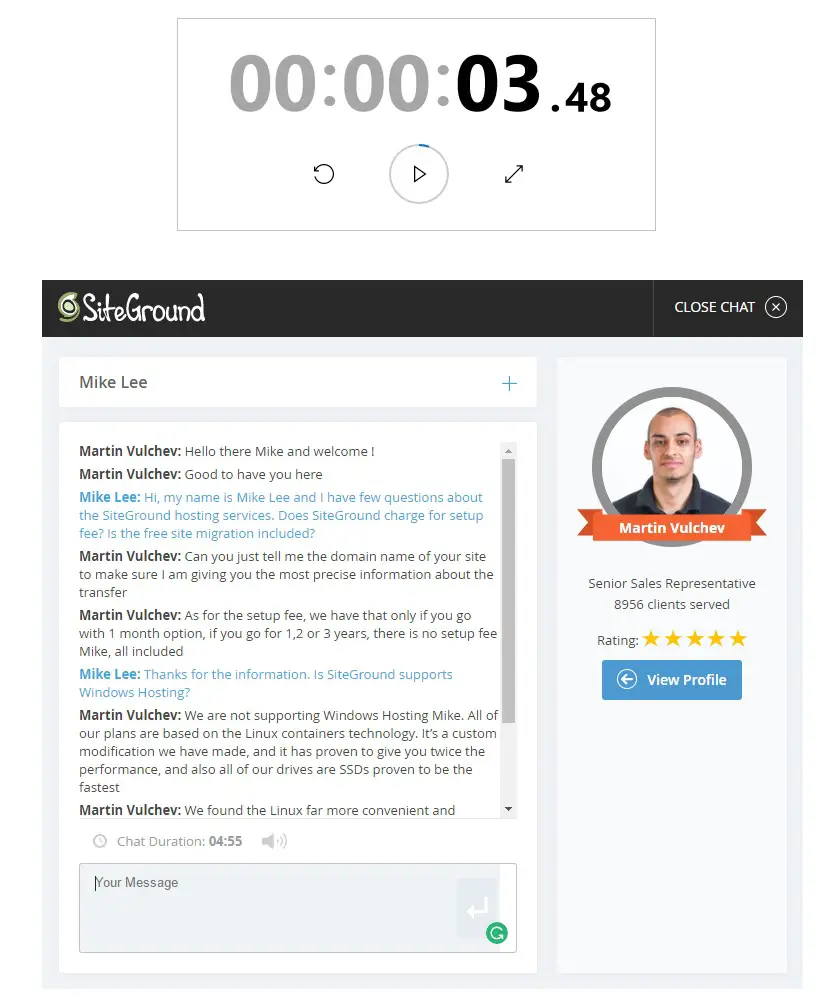 Here is our full conversation:
Martin Vulchev: Hello there Mike and welcome! Good to have you here.
Mike Lee: Hi, my name is Mike Lee and I have few questions about the SiteGround hosting services. Does SiteGround charge for setup fee? Is the free site migration included?
Martin Vulchev: Can you just tell me the domain name of your site to make sure I am giving you the most precise information about the transfer. As for the setup fee, we have that only if you go with 1-month option, if you go for 1,2 or 3 years, there is no setup fee Mike, all included.
Mike Lee: Thanks for the information. Is SiteGround supports Windows Hosting?
Martin Vulchev: We are not supporting Windows Hosting Mike. All of our plans are based on the Linux containers technology. It's a custom modification we have made, and it has proven to give you twice the performance, and also all of our drives are SSDs proven to be the fastest. We found the Linux far more convenient and responsive actually.
Mike Lee: How about PHP hosting? (Note: Learn how to change PHP version here)
Martin Vulchev: Absolutely, we are supporting it to the very bit Mike.
Mike Lee: How SiteGround handle email hosting? Can normal shared hosting plan like StartUp plan supports unlimited email accounts?
Martin Vulchev: Absolutely! With all of our plans, you can have as many email accounts as you want, totally free of charge. Even our smallest plan has that and all of our emails are using Spam protection that is normally paid with the other providers, here it is free of charge. It is set on a server level taking care of the outgoing and incoming spam.
Mike Lee: Is free domain included in the shared hosting plans?
Martin Vulchev: We believe our plans are heavily discounted already, if we go below this price by giving you a free domain name, this means that our plans are cheaper or we are falsely advertising higher price, which is definitely not the case.
Mike Lee: Totally understood. Will SiteGround back up my website automatically?
Martin Vulchev: Absolutely! We are backing you up on another server for your convenience in the unlikely case something happens to this one. You can take a backup in 30 days back.
Mike Lee: Is the server DDoS protected? What type of DDoS protection solution has been implemented?
Martin Vulchev: We are fanatics when it comes to security. What we do about security is that we cover it on 3 levels taking care of server/account/application sides of things. We have our own custom setup on the server that includes the firewall to filter any malicious traffic towards our servers + 24/7 live monitoring and Cron jobs running every 0.5 seconds to make sure each server and website are running smoothly without no problems. In addition to that, we add security rules and custom patches on a weekly basis. We always keep our servers up to date and use a top notch server hardware and write and apply our custom firewall rules, thanks to which we are able to prevent and fix massive vulnerabilities even on the zero-day.
Mike Lee: Amazing. What platform is the SiteGround using to support One-Click installation? Softaculous?
Martin Vulchev: Yes absolutely, we are partners with it, really easy to work with. One installation takes no more than few minutes really. Our plans are cPanel based as well.
Mike Lee: What payment methods does SiteGround accept? I do not see Paypal option available on the website.
Martin Vulchev: Actually we do support that as well. I can help you with that, you I will just need your help a bit. What you need to do is to submit the order without any payment info, we will get the order on our end and give you the link over the chat.
Mike Lee: That's great. Can I pay monthly?
Martin Vulchev: We are taking annual payments, you can pay for 3 months as that is our shortest billing cycle.
Mike Lee: Noted with thanks. I think I got my answers. Thanks for the high-quality support!
SiteGround Features a Website Builder and cPanel Control Panel Interfacing with Support For SSL, SSH, and FTP
SiteGround excels as a development tool and offers access to many features and technologies. By putting the tools that you need to customize and develop your website in your hands, SiteGround allows you to be engaged in the development process to an unprecedented level.
If you prefer to dive into the code and work things out yourself, you can definitely do that. The advanced tools and technologies on offer allow you to be as flexible as you want and customize your website to an unprecedented extent. SiteGround helps you develop your site to your dreams.
Read:
SiteGround DNS
SiteGround makes it easy to move your pre-existing websites onto SiteGround servers. You can also use your existing domain names and any other services that might have already paid for.
When you move your content over to SiteGround, it is designed to require as little additional services as possible and will seamlessly carry over from previous arrangements. In the case of your domain name, you simply replace your previous host DNS settings with the brand new ones from SiteGround and your website is up without any hassle whatsoever.
SiteGround Dashboard
SiteGround provides a dynamic and feature packed dashboard area where you can control all the services that the company provides from one centralized location. The service panel is powerful enough to be used for more advanced users while at the same time simple and intuitive enough to not intimidate new users.
SiteGround SSL
SiteGround also supports extensive security features through SSL. SSL restricts how secure data can be transmitted over the various interconnected networks that make up the internet. SSL is an industry standard technology that is used to protect sensitive information like credit card, financial transactions, website logins and other secure information on the internet.
Providing SSL support is also great for boosting customer trust and reliability since it drastically reduces the chance of your data getting hacked or leaked. SSL also prevents website impersonation attacks and disallows data altering, which adds to the security. While you can purchase more featured packs with SSL, SiteGround offers the basic SSL protect free of cost. This is a very good thing since many of the competition requires users to pay up to get SSL protection.
SiteGround SSH
In addition to SSL, SiteGround also supports SSH, a network protocol that helps to establish a secure access over an encrypted connection. SSH is widely used as a means to connect to file sharing technologies and other direct connection methodology like remote access, etc.
You can manage files, customize access permissions and edit files directly on the server by using SSH technology. It is a very versatile method of data manipulation and is extremely safe and secure to use. SiteGround offers SSH as part of the cPanel services on your web hosting account.
SiteGround FTP
SiteGround supports the FTP protocol to host and serve files to clients. It supports a number of desktop and mobile FTP clients, and you get unlimited FTP accounts with your hosting.
Read also: SiteGround FileZilla Tutorial
There is no file size limit on the files hosted on FTP and are automatically backed up, giving you peace of mind against sudden data loss. You can also choose to anonymise FTP traffic completely and send files securely. You also get access to dedicated FTP support 24×7, making the FTP package a particularly compelling argument.
SiteGround Website Builder
While you are welcome to use whatever CMS you prefer, SiteGround also has an integrated website builder called Weebly. Weebly is simple and feature packed, offering a nice balance between suitability to users at both ends of the spectrum.
It supports drag and drop, which makes web development incredibly easy. You also get access to a host of creative themes that can help you completely revamp the look of the website.
Weebly also supports e-commerce websites so you need not look elsewhere if you have e-commerce needs. Weebly is designed to create responsive web pages that look great on the desktop as well as mobile devices, making it a complete development package.
SiteGround cPanel
SiteGround uses cPanel as its control interface as it is widely used and offers great functionality. With cPanel account management, you can manage databases, files, folders and email accounts from one unified dashboard.
Read: Connect MySQL database guide
SiteGround went a step further and customized the cPanel interface further to improve its functionality. You can also add third-party plugins and tools to improve functionality as you desire.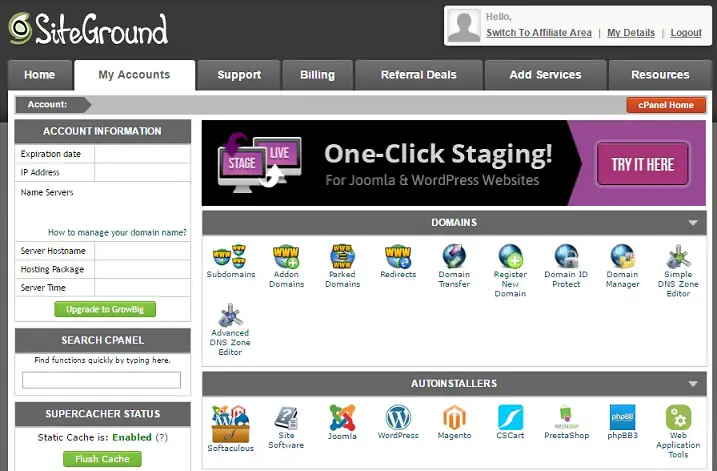 SiteGround Has Excellent Server Uptime And Continuous Status Monitoring
Uptime Stats
From my own records, SiteGround is performing above the average in the industry. As mentioned, this website ReviewPlan.com is currently hosted on SiteGround and below is the real uptime stats for the website. Overall I am satisfied with SiteGround performance as the average uptime is recorded at 99.99%. I could not find their uptime guarantee, although the "guarantee" is worthless, and I will use the industry standard average of 99.99% as the target. Obviously, they achieved the target most of the time.

Uptime Stats – Target: 99.99%
April 2020- 100%
March 2020 – 100%
February 2020 – 100%
January 2020 – 100%
December 2019 – 100%
November 2019 – 100%
October 2019 – 100%
September 2019 – 99.94%
August 2019 – 100%
July 2019 – 99.69%
June 2019 – 99.96%
May 2019 – 100%
April 2019 – 99.96%
March 2019 – 100%
February 2019 – 100%
January 2019 – 100%
December 2018 – 100%
November 2018 – 99.99%
October 2018 – 100%
September 2018 – 99.98%
August 2018 – 99.82%
July 2018 – 100%
June 2018 – 100%
May 2018 – 99.97%
April 2018 – 100%
March 2018 – 100%
February 2018 – 99.99%
January 2018 – 100%
December 2017 – 100%
November 2017 – 99.89%
October 2017 – 100% 
September 2017 – 99.99%
The average uptime of SiteGround is at 99.99%. Sometimes they even did not allow a single downtime along a month.
Note: I update this uptime stats regularly, do bookmark this page if you are interested in checking their uptime stats again in future.
Server Response Speed Test
The website pinged from 8 different locations below and it achieved A+. Overall I would say the SiteGround server is reliable and server response speed test conducted shown that SiteGround put enough effort in making sure their servers are always performing well. This can be achieved through their SSD drives, NGINX server, in-house SuperCacher solution, HTTP/2 enabled servers and top speed PHP execution.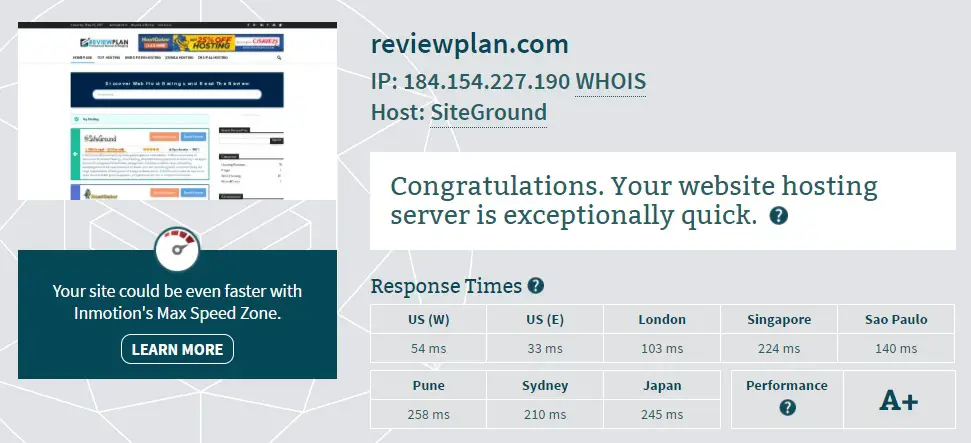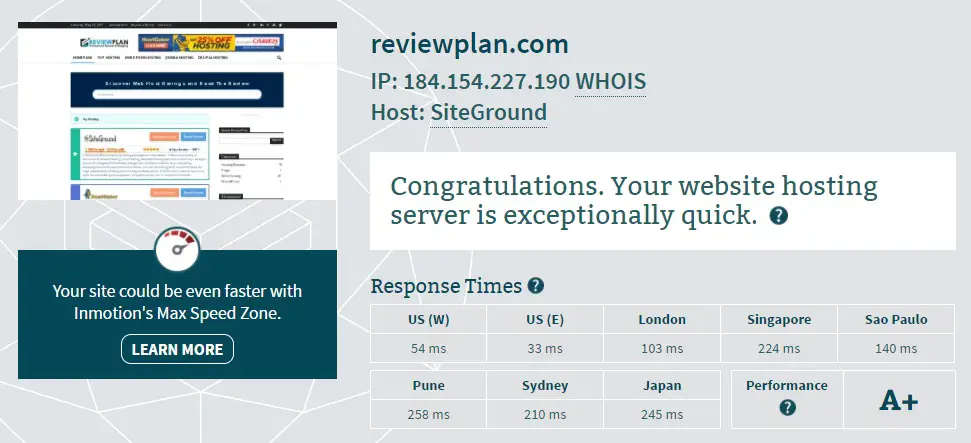 SiteGround Handcrafted Solutions
SiteGround uses edge LXC Linux container technology as its foundation. This ensures resource-efficient operation and unprecedented flexibility at handling loads. SiteGround uses a custom implementation of LXC and it is extremely powerful.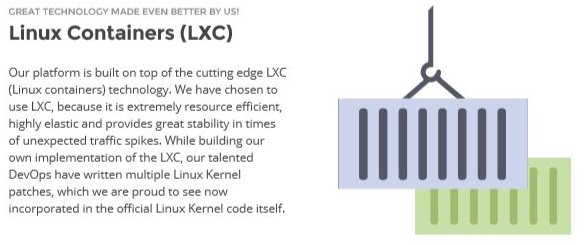 Server management is dynamic and SiteGround boasts a server uptime of 99.99%. You can rest assured that what may come, SiteGround services will always be up. SiteGround employs in-house server monitoring and controlling systems that have also been developed from the ground up to be tailored for SiteGround servers.
This is efficient and also offers much richer information than traditional monitoring services. The system also uses a predictive algorithm to check for flaws and predict future outages, which are then patched and fixed immediately.

SiteGround also has super-fast server systems that not only offer speed to the website but also reliability in the form of frequent backups. SiteGround uses a custom backup system that is extremely fast and secure.

One of SiteGround's pioneering features was secure account isolation which protects your data even if another account on the same server is compromised. SiteGround introduced this feature in 2008 using very efficient CHROOT account isolation, which was not supported by any other hosting service at the time.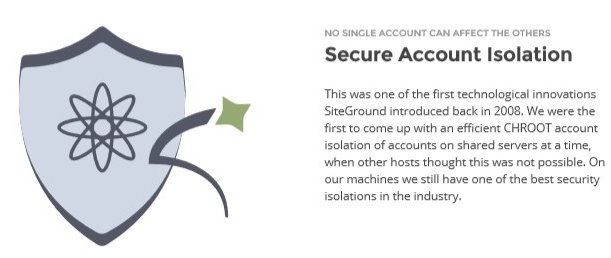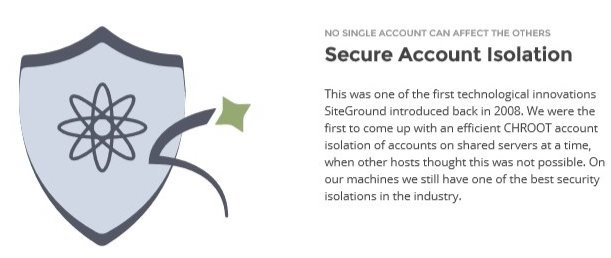 Good and Bad of SiteGround
Good
Powerful servers and great performance
Stellar customer support
Strong third-party application support
Affordable pricing
Multiple data centers offer redundancy and optimized performance
Supports extensive security and performance protocols
Updated software and integrated technologies
Bad
Data centers are limited to three continents, but this problem can be solved via the free CloudFlare CDN provided.
No free domain included.
Do not support Windows hosting
Summary of SiteGround
SiteGround is a very strong and renowned hosting services company. It offers amazing features and services for a very modest price. While it is powerful enough to please advanced users who can take advantage of its features, it is also simple enough not to be intimidating to first time users.
SiteGround offers a wide variety of service that is bound to meet the needs of any user and has many plans tailored to custom use cases. SiteGround comes highly recommended as a hosting service provider of choice. It offers great services and very affordable prices.
As a conclusion, SiteGround is currently TOP rated, and I would definitely recommend you to choose SiteGround as your long-term web hosting provider.
*Not interested in SiteGround? Check out top-ranked HostGator and BlueHost!
Compare SiteGround With Our Top Ranked Web Hosts!
SiteGround vs HostGator vs BlueHost

SiteGround

Bluehost

HostGator
Rating

Rated 4.5 stars

Rated 4.5 stars

Rated 4.5 stars

Price

$3.95/month

$3.49/month

$3.95/month

Criteria