Editor Rating

Rated 3 stars

Good
---
Reviewed by:

Published on:

Last modified:
---
DISCLOSURE: This post may contain affiliate links, meaning when you click the links and make a purchase, we receive a commission.
Our Top Ranked #1 Web Host

Ideal for WordPress, Joomla, Drupal and eCommerce
What is 123-reg Hosting?
123-reg is a web hosting service provider based in the United Kingdom. It is a barebones service in the true sense of the word and is targeted at customers who need the absolute minimal resources for their website.
It offers startlingly cheap plans with some features to get a website up and running. Read on to find out more about what 123-reg is suited for and what it's not.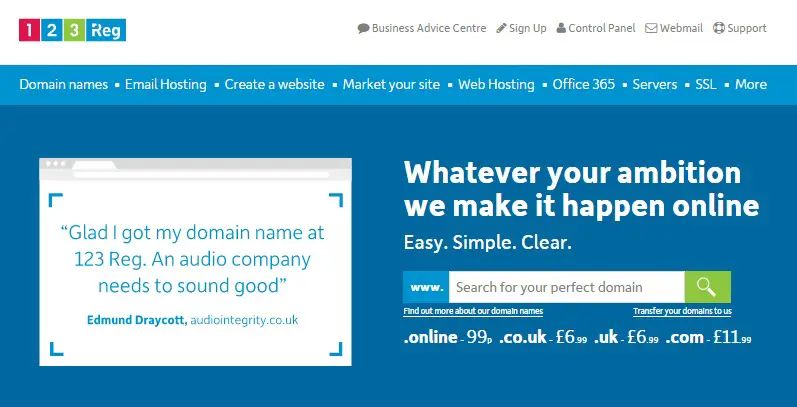 123-reg Reviews on Hosting Plans and Domain Service
123-reg offers various type of hosting solution including shared, premium and Windows hosting. Besides, it also provides optimized hosting solution for popular Content Management System (CMS) like WordPress, Joomla, and Drupal. In this 123-reg review, I will talk about their shared, Windows and WordPress hosting plan.
123-reg offers shared hosting services in a variety of plans to suit any budget. All hosting plans come with unlimited bandwidth and are designed to grow according to your needs. You can start off with a barebones plan and upgrade later as necessary.
Default storage space is enough for moderate and personal usage scenarios. There is also support for a minimum of one database; this makes it suitable for adding CMS systems like WordPress or build more advanced systems like e-commerce or photo galleries. Whatever your requirement, 123-reg hosting can accommodate it.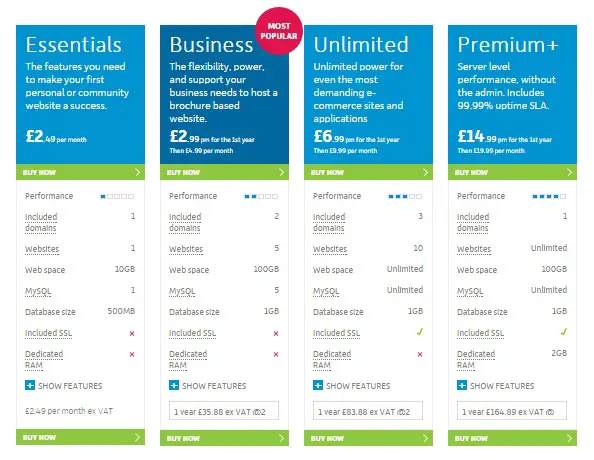 123-reg Reviews on Windows Hosting Plan
123-reg also supports a number of backend clients to host your website and data archives. It is one of the few service providers that offer web hosting on Windows platform, making it ideal for beginners or enterprise use. With complete support for .NET, ASP, and MS-SQL, you can rest assured that legacy systems or proprietary software can run seamlessly without any hassle.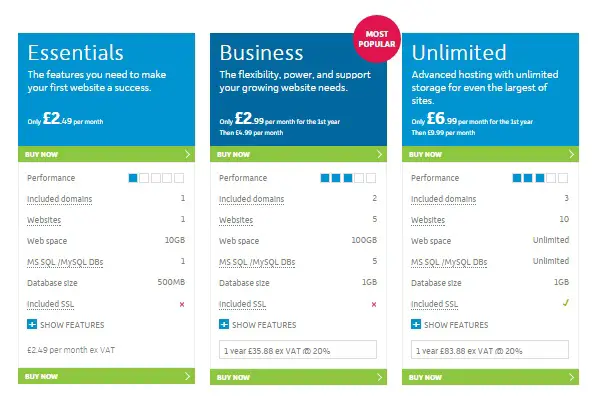 123-reg Reviews on Domain Service
You can also register for domain names with 123-reg. With over a million registered domains and over 400 supported extensions, you can choose your perfect domain name to best suit your requirements. Pricing is extremely competitive with no hidden costs. When you register your domains via 123-reg, you can also set the email address so that you can get it on the same domain as your website. This gives your email a very professional look.
123-reg Website Builder and Control Panel
123-reg also has an inbuilt website builder tool that gives you deep customizability along with drag and drops functionality to help you design your dream website even if you do not have any coding knowledge. 123-reg also has a custom designed control panel so that you can access all site functionality in a very simplistic and intuitive fashion.
123-reg Reviews on WordPress Hosting
123-reg web hosting has integrated WordPress support. If you have an existing website, you can migrate it to 123-reg servers with absolutely no hassle. With the specially designed backend, you can rest assured that all WordPress functionality is retained with 123-reg.
You can run resource intensive websites on the platform with zero worries. The Premium WordPress package offers 99.9% Uptime Guarantee; this package offers dedicated resources to your website to ensure that it remains online and functional even with high volumes of data traffic. With any WordPress package, you also get a free domain name.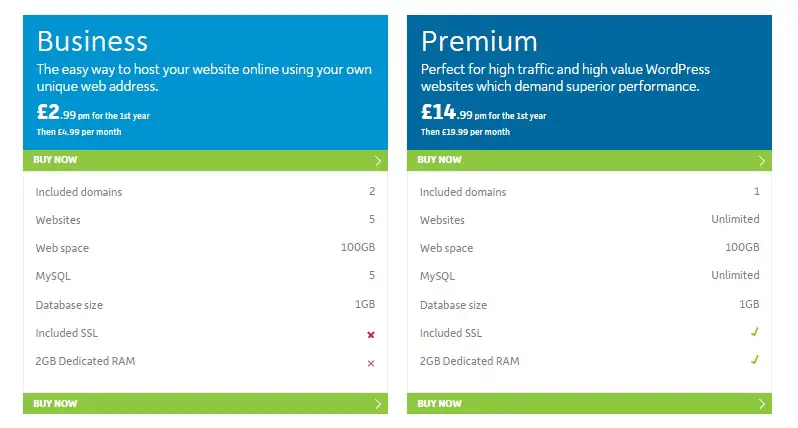 123-reg also employs dedicated WordPress support who can help you with any WordPress related issues, such as upgrades or plug-ins. The support staff is claimed to be trained. Your data is also regularly backed up to protect against hardware failures or data corruption. The system is equipped with one click installation that allows you to set up your WordPress website with just one click.
123-reg Reviews on Support and Customer Service
Customer service is one of the places where 123-reg has consistently fallen short. Multiple users have repeatedly complained of lacklustre customer service and technical support. When running a full-time website, having good customer support is crucial to keep the site up and minimize downtime. Also, for people with less or no technical proficiency, this is a very big problem since they will not be able to solve any issues by themselves and will need to ask personal acquaintances for help.
The company offers 24×7 customer support but often calls and emails go unreceived. This is a very serious offence and must be rectified as soon as possible. Although there is an automatic service ticket generation system in place, many customers have reported no follow-ups or even confirmation emails when tickets are being raised. Customer service needs to be thoroughly improved if 123-reg wishes to retain its existing customers and remain competitive in the web hosting service provider business.
123-reg Reviews on Uptime Performance and Server Status
123-reg offers mediocre server performance at best. 2016 has seen 123-reg experience multiple server outages. Websites went down for sustained periods of time, including its shared server system. Carrying on from its lacklustre customer service issue, the company failed to directly address these issues as well.
When online, performance and speed are decent. However, if reliability continues to remain such a major concern, I will keep monitoring it and update this review as it is important for any serious or business hosting needs.
Good and Bad of 123-reg
Good
Choice of server hosting platform: Linux and Windows
Bundled email and free domain registration
Simple and easy to use control panel
15-day money back guarantee
Bad
Abysmal customer service
Poor server reliability
Summary of 123-reg
In conclusion, 123-reg has the potential to be a competitive web hosting service provider. However, it is let down by its own pricing policies from offering a good alternative to budget hosting services. The basic package offers only barebones services and charges you for even the most basic services.
However, performance too is only decent. And server reliability is a cause for serious caution. There have been significant service outages that are just not acceptable, especially given the tremendous competition in the web hosting business. Lacklustre customer service is also a serious downer and prevents me from giving this service my full recommendation.
Compare 123-reg With Our Top Ranked Web Hosts!
SiteGround vs HostGator vs 123-reg

SiteGround

HostGator

123-reg
Rating

Rated 4.5 stars

Rated 4.5 stars

Rated 3 stars

Price

$3.95/month

$3.95/month

£2.49/month

Criteria