Editor Rating

Rated 3.5 stars

Very Good
---
Reviewed by:

Published on:

Last modified:
---
DISCLOSURE: This post may contain affiliate links, meaning when you click the links and make a purchase, we receive a commission.
Our Top Ranked #1 Web Host

Ideal for WordPress, Joomla, Drupal and eCommerce
What is 50Webs Hosting?
50Webs is a new hosting company for a new age of web hosting needs. It tries to break new ground in the web hosting industry in response to the new needs and situations of the 21st century. This is the day and age of start-up companies and most of them require at least some web based solutions and services.
It is a new category of users that 50Webs tries to target. The company bundles a number of website building software that makes it easy for users to get their site up and running as soon as possible with no additional expenses. While it has definitely set itself apart in the hosting game with its innovative packages, can it survive in this very competitive business environment and provide a compelling alternative to the web hosting heavyweights?
Read this full 50Webs review to find out.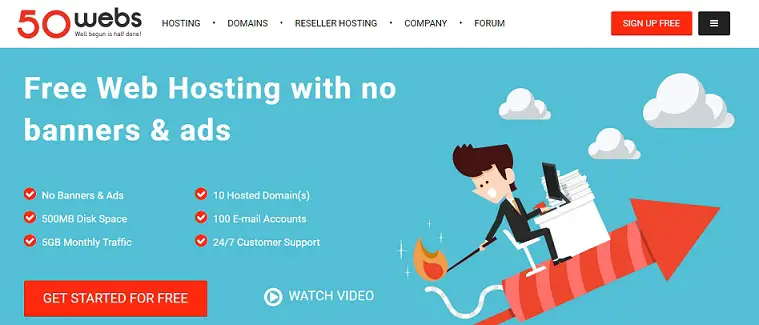 Details
 
Founded
More Than 15 Years
Server Location
United Kingdom
Services

Hosting
Domains
Reseller Hosting

Unlimited Website
Available with Web Hosting Webmaster and Advanced Plans
Unlimited Storage and Bandwidth
Limited Storage and Bandwidth is Available with Web Hosting
Domain Hosting
Yes
Linux Hosting
Yes
Windows Hosting
No
WordPress
Optimized
Joomla
Optimized
Drupal
Optimized
Magento
No
PHP Hosting
Yes
e-Commerce Hosting
No
Email Hosting
Yes
SSL Support
SSL Certificates Under our Paid Hosting Plans
Dedicated IP
Yes
Free Site Migration
No
Free Domain
Yes
Domain Privacy Protected
Yes, An Additional Paid Hosting Feature
Money Back Guarantee
30 Days
24/7 Support

Email Support
Ticket Support

Control Panel
Multi-lingual Control Panel
One-Click Installation
1-CLICK APPLICATIONS INSTALLER
Website Builder
Yes
Automated Backup
Available
Content Delivery Network (CDN)
No
Security Features

SSL Certificates
Mod Security
Spam Filters

Payment Methods
Endurance International Group Network (EIG)
No
Social Profile
50Webs Reviews on Hosting Plans and Services
50Webs offers various type of hosting plans to its users. It is widely known for its free shared hosting solution. Besides, they also provide paid hosting solution to advanced users with greater needs.
50Webs Reviews on Free Hosting Plan
50Webs is one of the few hosting service providers that offer a free hosting plan. Considering its target clientele of new start-up companies who might not have a lot of disposable resources, the free plan is a welcome opportunity. It offers 500 MB of storage and 5 GB of monthly bandwidth along with 10 domains and a 100 email accounts.
This package is patently sufficient for any freshly minted company or individual website.

50Webs also has paid shared hosting plans, ranging from a Mini plan that gets you 2.5 GB of storage and 25 GB of bandwidth at USD 2 per month to an Advanced plan that offers unlimited storage and bandwidth with over a 1000 email accounts at USD 7 per month.
The prices for shared hosting at 50Webs is extremely budget friendly, and their additional services such as round the clock customer support, a wide choice of domain names and country extensions, Linux-based servers powered by Apache and one click installer for a number of standard web apps like Joomla and WordPress make them a very appealing alternative.
50Webs does not serve any banners or advertisement on any of its packages so that you can retain the customizability and look of the website as you envisioned it.

50Webs Reviews on Reseller Hosting Plan
50Webs also has a great reseller hosting program. The reseller program is free to join and offers a great opportunity for web developers and site designers who wish to partner with 50Webs to provide an all-round inclusive web development and hosting services to customers.
50Webs also provides support services to resellers' customers, and with its stellar in-house customer service, you can build a strong customer base for both mutual benefits.
50Webs Reviews on Domain Service
50Webs also provides robust domain management services at extremely competitive rates. The company operates a custom-built management platform that allows you granular control over all your domains. You can also customize WHOIS entries and DNS services that suit your purpose and convenience.
50Webs Reviews on WordPress Hosting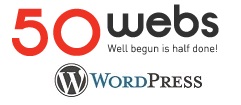 WordPress is the most widely used and popular content management system on the web and 50Webs understands this situation completely. It provides one of the most robust WordPress integration in the business, along with 1 click install services that take all hassle out of using WordPress. With dedicated customer service and technical support, you can rest assured that help is always at hand. A WordPress specific team is present to handle related queries in the best way possible and provide you targeted solutions to your problems. This is in sharp contrast to a lot of other hosting service providers who do not have a dedicated WordPress support team and refer queries to their technical team, which is obviously not a good decision and results in lackluster support and an overall subpar level of services. A large selection of additional services like themes, templates, and website building tools allows even beginner users or users who are unfamiliar with web development, HTML and PHP to build a very attractive and useful website in no time at all.
50Webs Reviews on Support and Customer Service
50Webs operates a moderate customer service team. Their technical support is there for you 24×7 throughout the year. Whatever issue you run into, you need to contact the customer service and they will automatically redirect you to the relevant department so that you can get the help you need.
Round the clock support ensures that you can maintain your website online without any issues. At the time of this writing, 50Webs does not provide live chat support.
#Trial 1 Prodigious Email Support
50Webs doesn't offer live chat support to non-clients but promise to answer all queries of everyone within in 1-2 hours by using ticket or email support. So I decided to check their email support and asked all questions which were in my mind. I sent them email on 31 October 2017 at 20:07 pm and got a quick response from one of their support representative at 21:32 pm on the same day.
I was very happy to get answers of my all queries. I found that 50Webs has really an outstanding email customer support not only for their own clients but also non-customers as well. So I rated their support services 10/10.

Here is the complete email conversation with 50Webs Representative:
Q: Is 50Webs Hosting provides free SSL service? How about paid SSL solutions?
A: Yes. We support SSL under our paid hosting plans, you can paid and setup via the Control panel.
Q: How about Domain Privacy Protected Service? If yes then free or paid?
A: Yes, as additional paid hosting feature.
Q: Is 50Webs Hosting offers Dedicated IP solution?
A: Yes
Q: Is there any Free Site Migration Service?
A: You need only re-upload the website content.
Q: Does 50Webs support Linux and Windows Hosting? If yes, through what type of control panel? Is it cPanel?"
A: We offer linux based hosting service only under our own platform. 
Q: How many data centers 50Webs Hosting has? What locations are these data centers/servers located?
A: 50Webs is UK based.
Q: Is 50Webs Hosting is a part of Endurance International Group(EIG)?
A: No
Q: Does 50Webs offer a Content Delivery Network (CDN)?
A: No
Q: Any optimized hosting solution for e-Commerce hosting?
A: No
50Webs Reviews on Uptime Performance and Server Status
Uptime Stats
50Webs might be a relatively new entrant in the crowded web hosting services market, but its services are competitive with the good players in the business. Its plans include a 30-day money back guarantee and 99.9% uptime guarantee to put your fears to ease. With strong server performance, your website works at lightning speed and a robust backend ensures web apps and database applications work as configured with very little delay.
Throughout its existence, 50Webs has only suffered few service outages or serious downtime. 50Webs tries to make their clients suffer minimal downtime that might result in serious loss of business and goodwill with your customers.
Server reliability is a key issue for all web-based ventures and is extremely important to start-up companies where an inaccessible website can cause irreparable harm to their reputation. 50Webs understands this, and with reliable server performance around the year, you can make sure your website is at the optimum level of hosting.
However, you should only expect this in their paid hosting solutions. Since they also provide free hosting voluntarily, you do not pay a penny and should not expect too much towards its free hosting service.

Uptime Stats – Target: 99.9%
October 2017 – 98.2%
September 2017 – 100%
August 2017 – 99.98%
July 2017 – 100%
June 2017 – 99.96%
 May 2017 – 98.5%
April 2017 – 99.9%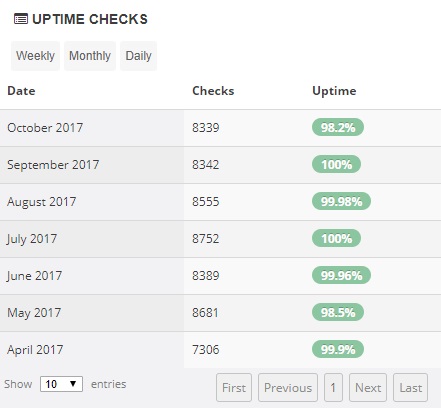 50Webs hosting offers to provide a 99.9% SLA uptime performance to their all customers round the world. Therefore, I planned to test the performance of this company's uptime stats just for assuring myself.  So for this purpose, I gathered 50Webs uptime stats from last 7 months (from April 2017 to October 2017) and this company achieved its target in 5 months which was much better than many other hosting companies.
Also, image of uptime stats is uploaded above for all those individuals who want to know about 50Webs uptime performance. Overall average of uptime performance of this company is 99.50%
Note: I will update 50Webs uptime stats on regular basis. Keep in touch with this website to get the latest update.
Server Response Speed Test
When choosing hosting of any company it is very important to check their uptime, unlimited bandwidth & space, server speed, customer support and so on. Server response test speed is one of the crucial things when any new customer wants to buy hosting for their own website. If speed of your website is not working well, then both visitors and website owner will have to face a lot of problem.
Mostly individuals want to know about the server response speed of 50Webs and for this I pinged one of my website which is hosted on this company and checked the speed of server through 8 different localities. Server speed of 50Webs comes out with a better rating of A as users can see in the attached photo given below.
Good and Bad of 50Webs
Good
Robust reliability, strong server performance, and fast speed
Plans for a wide range of budgets, including a free plan.
30-day money back guarantee for complete peace of mind
Strong reseller plans for lasting and mutually beneficial business partnerships
Good domain portfolio with custom made domain management platform
Bad
Customer service responses can be slow at times
Free plan suitable for very limited applications
No Live Chat support
Summary of 50Webs
50Webs offers a compelling alternative to web hosting service and plans are suitable for a wide variety of budgets. While its plans and restrictions might not be suitable for enterprise needs or applications with huge resource demands, 50Webs hits a sweet spot for providing just the right amount of services at a very cheap price.
Compare 50Webs With Our Top Ranked Web Hosts!
SiteGround vs HostGator vs 50Webs

SiteGround

HostGator

50Webs
Rating

Rated 4.5 stars

Rated 4.5 stars

Rated 3.5 stars

Price

$3.95/month

$3.95/month

Free

Criteria