Editor Rating

Rated 3.5 stars

Very Good
---
Reviewed by:

Published on:

Last modified:
---
DISCLOSURE: This post may contain affiliate links, meaning when you click the links and make a purchase, we receive a commission.
Our Top Ranked #1 Web Host

Ideal for WordPress, Joomla, Drupal and eCommerce
What is A Small Orange Web Hosting?
A Small Orange was founded in Atlanta in 2003, providing customers with great web hosting plans that are based on the idea: We don't believe in offering "unlimited-plans," we believe that you should only pay for the resources that you need. A Small Orange has been delivering web hosting services and customer support to their clients.
They have plans tailored for every customer, matching exactly his/her needs. They have grown to a point where they are now having over hundred employees and serve tens of thousands of customers around the world. This A Small Orange reviews will give you an insight on the company's performance.
Details
 
Founded
2003
Server Location

Dallas
Texas
Dearborn, Michigan

Services

Shared Hosting
WordPress Hosting
Business Hosting
Reseller Hosting
Cloud VPS
Dedicated Servers
Clementine Managed
Website Builder
Domain Service

Unlimited Website
Available
Unlimited Storage and Bandwidth
Limited Storage and Bandwidth Available With All Hosting Plan
Domain Hosting
Yes
Linux Hosting
Yes
Windows Hosting
No
WordPress
Optimized
Joomla
Optimized
Drupal
Optimized
Magento
Optimized
PHP Hosting
Optimized
e-Commerce Hosting
Optimized
Email Hosting
Yes
SSL Support

Free SSL Certificate Available with Business Hosting Plans
Paid SSL Certificate is Available at $39.95/Yr Per Domain

Dedicated IP
Available, But Paid $2 Per Month
Free Site Migration
Available
Free Domain
Available with Different Hosting Plans
Domain Privacy Protected
Yes, Available at $7/Yr
Money Back Guarantee
90 Days
24/7 Support

Live Chat Support
Email Support
Ticket Support

Control Panel
One-Click Installation
Website Builder

Weebly Website Builder
Paid Drag and Drop Site Builder Starting at $13/mo

Automated Backup
On Daily and Weekly Basis
Content Delivery Network (CDN)
Support CDN but have to implement by yourself
Security Features

SSL Certificate
Anti-Spam Protection
DDoS Attack Protection

Payment Methods
Endurance International Group Network (EIG)
Yes
Social Profile
A Small Orange Reviews on Hosting Plans and Services
A Small Orange has plenty of hosting plans to suit each customer's needs and matches their website's user expectations. Also, if you sign up for their hosting plan (except Tiny Plan) for 12 months, you get a free dot com domain. All plans come with full FTP/SFTP access, SSH, unlimited Email, 24/7 customer support and a 90-day Money Back Guarantee!
Also, all websites run on SSD (which is 15 times faster than the mechanical counterpart) making the site very responsive. Backups are created daily for the hosted websites.
A Small Orange shared hosting is most suitable for small start-ups and small websites. For as little as $5.92/month (billed annually), you can get your website up and run instantly! A Small Orange customer support is always available to help you with the installation process.
A Small Orange Reviews on Business Hosting Plan
If you're planning to start your own business and offer reliable services for your clients, A Small Orange offers good business hosting plans. These are most suited for eCommerce websites with a lot of customers. For as little as $25/month, you can reach your business clients all around the globe.
All business plans include free SSL certificates to protect your customers while they pay for your goods.
A Small Orange Reviews on VPS Hosting Plan
A shared hosting plan may have a few drawbacks. Shared hosting means shared resources and shared risks! For those who don't want to take that risk, A Small Orange VPS hosting is a good choice. You can get a fully resources-wise customizable virtual private server for as little as $22/month.
You get your own CPU power, SSD storage, bandwidth and none of these shared hassles. All VPS plans include free backups and free migration support from A Small Orange team. The plan is scalable, so you can take your website to the next level and upgrade it without any problems.
A Small Orange Reviews on Dedicated Hosting Plan
Looking for more? A Small Orange dedicated hosting plans are great for large websites. For as little as $109/month, you can have your own server dedicated to run your own website. Dedicated hosting plans include root access to your server, cPanel/WHM with Softaculous support, five dedicated IP addresses and 24/7 expert support.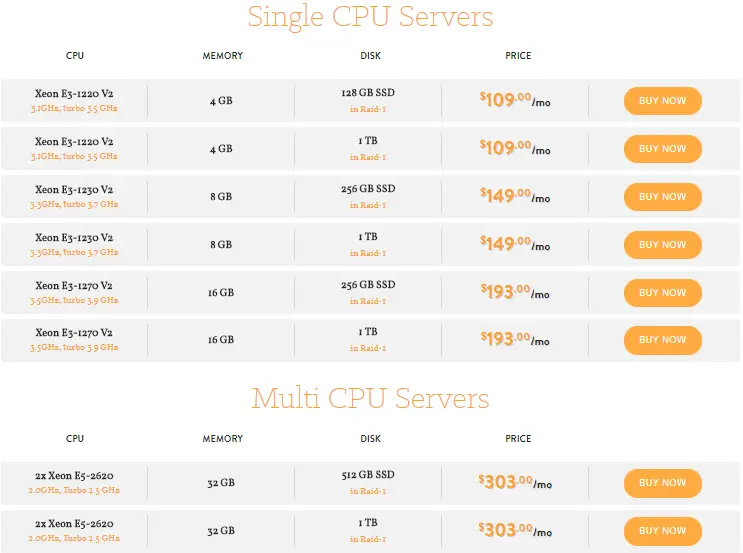 A Small Orange Reviews on Reseller Hosting Plan
For those web designers and developers who are selling web hosting services to their clients, you can sign up for reseller plan. You can create and host websites for your clients starting from $20/month. Reseller hosting plans are scalable and include 99.9% uptime guarantee, full FTP/SFTP access, emails, reseller WHM access and more.
A Small Orange Reviews on Clementine Managed Hosting Plan
There is also A Small Orange Clementine Managed hosting, which gives you the benefits of a dedicated server with dedicated resources, RAM, CPU, and storage without the full cost of a dedicated machine or the need to learn how to administer a private server.
No need to worry about installing patches and upgrades, as the A Small Orange team will take care of all updates for you, for free! It's a complete "hands-off" service, where you don't need to manage your server and can focus more on your real work.
A Small Orange Reviews on Domain Service
A Small Orange also offers domain registration. You can register the domain of your choice for as little as $15. It may be a little overpriced, but don't forget that you can get a free dot com domain when signing up for any web hosting plan for 12 months.
A Small Orange Website Builder
A Small Orange, along with Weebly, delivers a great website builder feature. If you don't have any web designing skills, you can still build the website of your dreams with the simple drag-and-drop Weebly platform. You get to create unlimited pages easily, starting from $13/month.
Weebly's drag-and-drop website builder includes professional slideshow, sleek audio, video players, website search and customizable page footers. You also get a custom domain, email account and cPanel included in the plan.
All plans can be extended using A Small Orange special add-ons. You can get, for example, a fully managed SEO service at any time for whichever hosting plan you signed up for.
A Small Orange Reviews on WordPress Hosting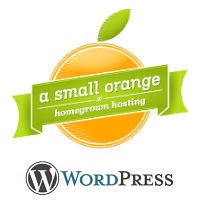 WordPress currently powers about half of the world's websites. It's getting more used in new websites because website owners feel comfortable using it, and it's powerful. A Small Orange offers WordPress installation on any of its hosting plans with a single click from their Softaculous-supported cPanel. They also offer to build a custom 5-page WordPress website for you for a one-time payment of $799. It's great to be able to host your WordPress website on their WordPress optimized platform.
A Small Orange Reviews on Support and Customer Service
A Small Orange offers a 24/7 customer support. They have a team of IT experts to assist you with fixing issues and migrate your website. However, lately, a lot of customers have been complaining that A Small Orange customer support is not up to their expectations and that they've been going on a downhill.
A lot came to an agreement that they have poor customer support, not so "24/7 available" and that some tickets get dropped and don't receive any response whatsoever from the customer support. If you are looking for a web hosting service provider that has excellent customer support, then we would recommend SiteGround.
#Trial 1 Moderate Live Chat Support
I have heard a lot about the mixed reviews about their customer support. Hence, I wanted to test their customer support services. Through live chat, I got the answer of my first query within 05.32 seconds. I was surprised to get a speedy response from their representative whose name was Akhila.
I got the 1st answer very quickly and after that, I got other answers with a gap of 2-3 minutes. This is something I think A Small Orange should be improved. Overall, the conversation was good so I rated her 8 out of 10.
Here is the complete conversation with A Small Orange Live Chat Support:
Akhila M has joined the chat!
Mike Lee: Hi, my name is Mike Lee and I have few questions about the A Small Orange hosting services.
Akhila M: Hello Mike. Welcome to live chat, My name is Akhila. I will review your question and get back to you.
Mike Lee: Is A Small Orange Hosting provides free SSL service? How about paid SSL solutions?
Akhila M: We provide free SSL on business hosting plans. The paid SSL charge is $39.95/ year for domain name
Mike Lee: Is there any Free Site Migration Service?
Akhila M: Yes, we do free migrations.
Akhila M: Is there anything else I could assist you with today?
Mike Lee: How about Domain Privacy Protected Service? 
Akhila M: It is paid service and the charge is $7/ year
Mike Lee: Is A Small Orange Hosting offers Dedicated IP solution?
Akhila M: Yes, we do provide, but the charge is $2/ month.
Mike Lee: Is A Small Orange supports Windows Hosting?
Akhila M: Unfortunately, we do not support Windows Hosting. I'm sorry about that.
Mike Lee: No Problem.
Akhila M: Sure.
Mike Lee: What type of control panel being used for Linux hosting?
Akhila M: cPanel is the control panel system used on Linux hosting 
Akhila M: To know more about it, please refer:kb.asmallorange.com/customer/en/portal/articles/1603058-your-cpanel-control-panel-?b_id=4859
Akhila M: Is there anything else I could assist you with today?
Mike Lee: Is A Small Orange Hosting a part of Endurance International Group (EIG)?
Akhila M: Yes!
Mike Lee: Does A Small Orange offer Content Delivery Network (CDN)?
Akhila M: Yes, we do support CDN, however, there is no tool for it on our server.
Akhila M: You will have to contact cloud flare and setup it.
Mike Lee: And what about SiteLock CDN?
Akhila M: Unfortunately, we do not Support SiteLock CDN.
Mike Lee: I have seen that your company is providing SiteLock at $20 per year?
Mike Lee: asmallorange.com/sitelock
Akhila M: Unfortunately, we no longer support SiteLock.
Akhila M: Do you have any other query?
Mike Lee: No more queries for today. It is really a nice talking with you.
A Small Orange Reviews on Uptime Performance and Server Status
Uptime Stats
Uptime is one of the most important aspects of a hosting service. A Small Orange claims a 99.9% uptime guarantee. However, again, some customers have been experiencing long outages and downtime with A Small Orange. Previously A Small Orange had superb performance in their uptime and speed.
It seems that more complaints start to emerge recently. We will continue monitoring uptime performance of A Small Orange.
Uptime Stats – Target: 99.9%
September 2017 – 99.71%
August 2017 – 99.95%
July 2017 – 99.98%
June 2017 – 99.89%
May 2017 – 99.84%
April 2017 – 99.83%
March 2017 – 99.01%
February 2017 – 99.33%
January 2017 – 99.77%
December 2017 – 99.8%
A Small Orange company promises to provide a 99.9% uptime guarantee to their all customers around the world. Through reviews available online, I have heard a lot that this company is unable to maintain the 99.9% uptime. Hence, I planned to test their uptime performance by myself. I gathered their uptime stats performance from December 2016 to September 2017.
It was really disappointed after seeing their results as this company only achieved their target in 2 months and in other 8 months, it failed to achieve the claimed target. You can see the uptime performance of A Small Orange attached above.
Note: Bookmark this website if you want to keep in touch with the latest uptime stats of "A Small Orange".
Server Response Speed Test
A hosting company can only grow if it is providing excellent server response speed, customer service, and good uptime performance. Same like their customer support and uptime performance, I have tested the server response speed of A Small Orange. I pinged one of the websites hosted on A Small Orange through 8 different localities in order to test the server response speed.
The server response speed test of A Small Orange is found to be outstanding as its overall rating appears as A+. I have also attached the result of server response speed of A Small Orange.

Good and Bad of A Small Orange
Good
Cheap/convenient plans that suit every budget and needs.
No "unlimited everything" plans. Pay only for what you need.
SSD drove servers that are very fast and responsive.
Supports WordPress, Node.js, and the most popular platforms.
Easy to set up with cPanel that supports Softaculous.
Bad
Not-so-helpful customer support.
Occasional downtime and outages, poor uptime performance
Many complaints online
Summary of A Small Orange
A Small Orange, with its cheap minimal plans that would satisfy a lot of website owners who don't need powerful servers. It is for sure a very good option, although it may have some downtime and late customer support response issues. However, if you are looking for a renowned web hosting provider that has minimal complaints, you might need to consider looking around for another option – SiteGround.
Compare A Small Orange With Our Top Ranked Web Hosts!
A Small Orange vs SiteGround vs HostGator

SiteGround

HostGator

A Small Orange
Rating

Rated 4.5 stars

Rated 4.5 stars

Rated 3.5 stars

Price

$3.95/month

$3.95/month

$5.92/month

Criteria