Editor Rating

Rated 5 stars

Spectacular
---
Reviewed by:

Published on:

Last modified:
---
DISCLOSURE: This post may contain affiliate links, meaning when you click the links and make a purchase, we receive a commission.
Our Top Ranked #1 Web Host

Ideal for WordPress, Joomla, Drupal and eCommerce
What is A2 Web Hosting?
A2 Hosting is a renowned company that offers high-quality web hosting solutions to the website owners, bloggers and businesses webpages. There are numerous tools and features provided by this web hosting company. These features and tools help web designers to develop an eye-grabbing webpage.
The A2 Hosting provides stable connection for its servers. It meets all the unique needs of the users for web hosting solutions. Either you're a professional developer or newcomer, this A2 Hosting reviews will provide you an insight into the company performance. This company is providing web hosting services since ten years ago to webmasters from all over the world.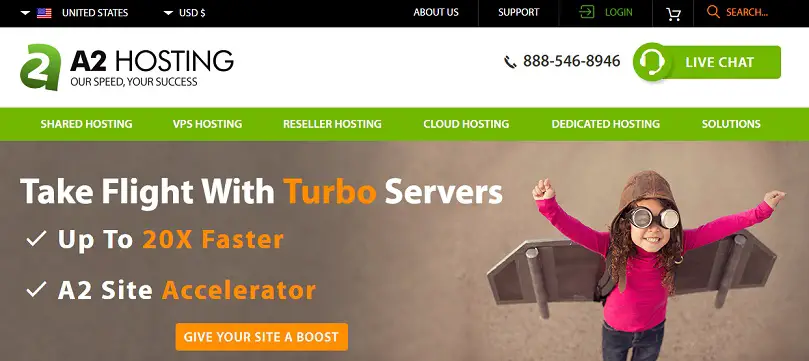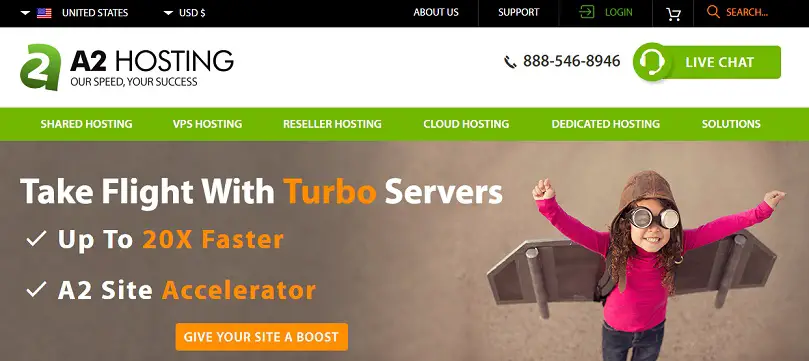 A2 Hosting Information and Features (Table)
Details
 
Founded
2003
Server Location

Michigan, United States
Amsterdam, Netherlands
Singapore

Services

Domain Hosting
Domain Transfer
Linux Shared Hosting
Windows Shared Hosting
VPS Hosting
Cloud Hosting
Linux Reseller Hosting
Windows Reseller Hosting
Dedicated Hosting
Other CMS Dedicated Hosting
e-Commerce Hosting
Email Hosting

Unlimited Website
Available With Selected Hosting Plans
Unlimited Storage and Bandwidth
Yes
Domain Hosting
Yes
Linux Hosting
Yes
Windows Hosting
Yes
WordPress
Optimized
Joomla
Optimized
Drupal
Optimized
Magento
Optimized
PHP Hosting
Optimized
e-Commerce Hosting
Optimized
Email Hosting
Unlimited Account Available With Selected Shared Hosting Plan
SSL Support

Free Let's Encrypt SSL
RapidSSL

Symantec Secure Site
GlobalSign SSL

Dedicated IP
Available
Free Site Migration
Yes
Free Domain
No
Domain Privacy Protected
Available
Money Back Guarantee
Anytime
24/7 Support
Selected Methods Only


Ticket
Live Chat
Telephone
Email

Control Panel

Linux Hosting (cPanel)
Windows Hosting (Plesk)

One-Click Installation
Website Builder
No
Automated Backup
Drop My Site Backup, Backed Up Nightly For 30 Days
Content Delivery Network (CDN)
Security Features
Payment Methods

Visa
MasterCard
American Express
PayPal
Skrill
Check
MO
BankWire
2CheckOut

Endurance International Group Network (EIG)
No
Social Profile
A2 Hosting Reviews on Hosting Plans and Domain Services
A2 Hosting offers variety types of hosting plans. The shared A2 Hosting plan is available at $3.92 of monthly charges with content management system optimized and easy-to-use interface. All shared hosting plans come with Free SSD and anytime money back guarantee.
The Turbo plan offers A2 site accelerator, free SSD, 20 times faster servers, unlimited transfer, storage, databases and websites at just $9.31 per month. The Swift plan has the same features except 20 times faster servers and A2 site accelerator option. It is available at $4.90 per month.
The Lite version would give you free SSD, unlimited transfer, unlimited storage, 5 Databases and one website at a monthly rate of $3.92. All of these hosting plans are designed for every kind of website owners (including business sites, personal blogs etc).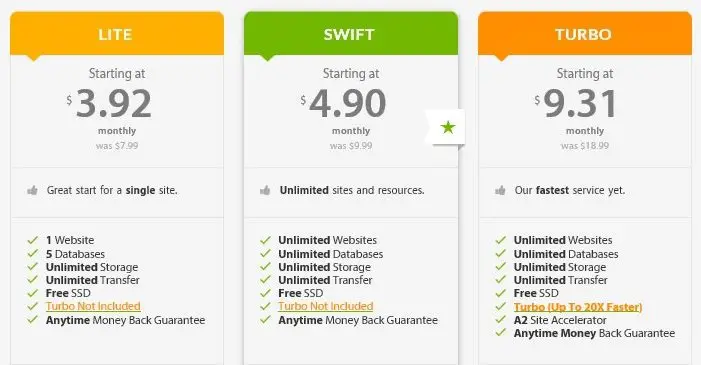 A2 Hosting Reviews on Managed VPS Hosting Plan
A2 VPS hosting plan available at unmanaged, managed and cloud-based version. All VPS plans provide a user-friendly interface with great security and speed. The managed VPS hosting plan starts at $32.99 per month, with free cPanel and free SSD included. To optimize the speed, Turbo Boost is available at an additional price of $14.52 per month.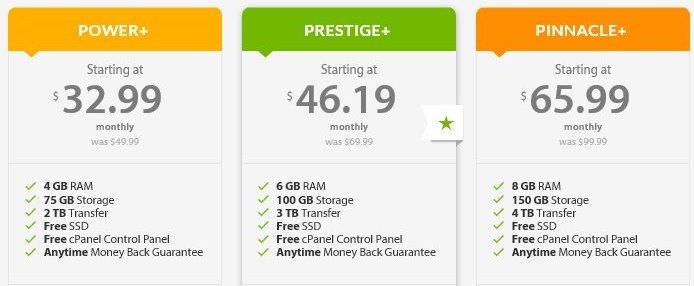 A2 Hosting Reviews on Unmanaged VPS Hosting Plan
A2 unmanaged VPS hosting is available at $5 per month. This pricing is very economical for VPS level. All unmanaged VPS plans come with 2TB of bandwidth that seems to be sufficient for most basic users. The A2 Hosting VPS is ideal for webmasters who need more server resources at a lower price.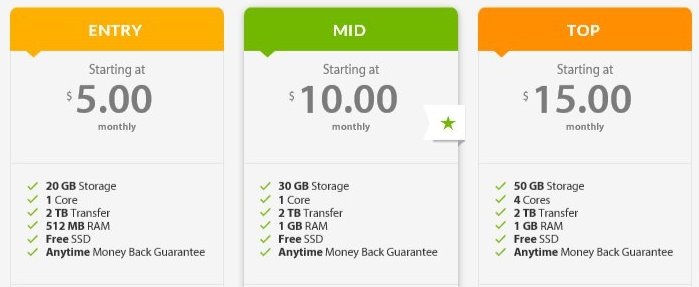 A2 Hosting Reviews on Cloud VPS Hosting Plan
A2 cloud-based VPS hosting starts at $15 per month, with two cores and 600MHz of CPU speed included. This VPS plan is good for those who relies on cloud-based hosting and need greater extensibility.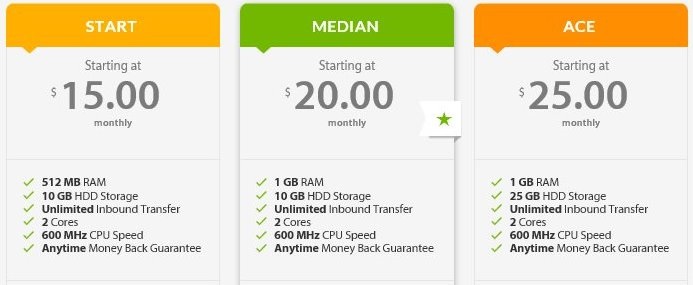 A2 Hosting Reviews on Unmanaged Dedicated Hosting Plan
The A2 Hosting unmanaged dedicated server offers the dedicated hosting solution at a whopping rate of $99.59. Webmasters who have some experience in managing server are ideal for this plan. With powerful server and high bandwidth, there is no doubt the dedicated hosting plan can support websites with high volume of traffic.

A2 Hosting Reviews on Managed Dedicated Hosting Plan
A2 Hosting dedicated server also available at managed level, with isolation and customized resources for servers. The cPanel control panel is included free and it makes users able to manage their files, domain, databases and email accounts easily. This plan is ideal for webmasters who want A2 Hosting to help them in managing their server at worry free level.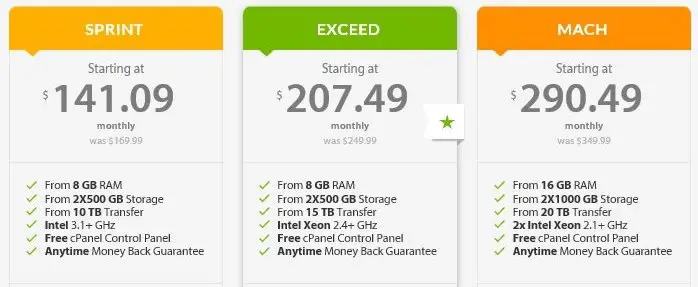 A2 Hosting Reviews on Reseller Hosting Plan
The A2 Hosting reseller offers cPanel or WHM control panel, with outstanding speed and stable uptime performance. Besides, the Turbo server option available might increase the speed up to 20 times faster. Meanwhile, unlimited client accounts are included for reseller plan users to boost their businesses effectively. Starting at only $13.19 per month, you can have your own web hosting business.

A2 Hosting Reviews on Domain Services
The A2 Hosting offers domain registration service. Besides, the A2 Hosting supports domain transfer that allows users to transfer their existing domain names to A2 Hosting. A2 Hosting does not provide free domain for its shared hosting plan user. You will need to purchase a new domain if you want to start a new site.
A2 Hosting Reviews on WordPress Hosting
High-performance Swift Server Platform makes the fast A2 WordPress hosting possible. The WordPress hosting by A2 web host offers three amazing packages to the webmasters. These are Lite, Swift, and Turbo. The Lite version is available at $3.92 monthly with unlimited transfer and storage. The Swift plan of A2 Hosting WordPress is available at $4.90 per month. It offers unlimited websites and databases. The Turbo package is being offered at monthly charges of $9.31. The offered A2 Hosting WordPress solutions are also perfect and suitable for all kinds of websites. All of the discussed plans are best for the newbie and website owners who have experiences. You would get perpetual security, developer friendly and high-performance server without much errors and lags. There is a guarantee of fast page loads with the regular testing by the experts of the company. Highly secured and stable performance are provided through auto-configuration of the A2 Hosting. The promotion, content writing and building a WordPress website have become quite simple through the WordPress plans offered by this company. Moreover, the 20 times improvement in server speed and topnotch crew support automatically attract webmasters towards this WordPress optimized plan. All in all, the available features and tools are designed as per the latest technology.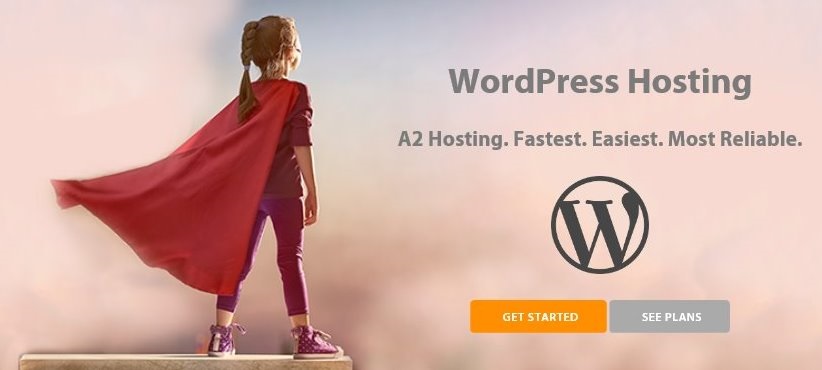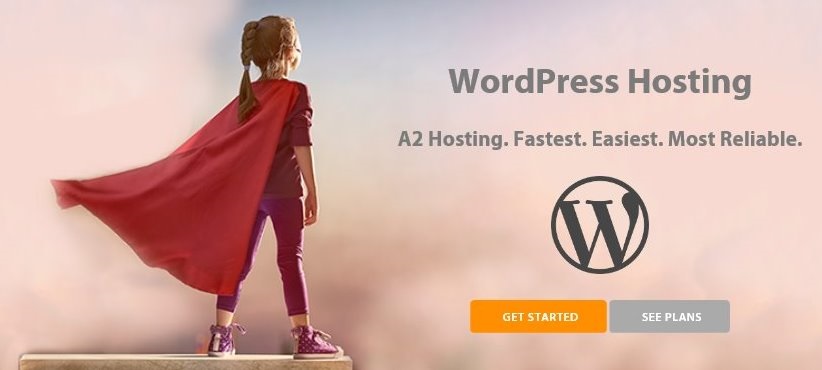 A2 Hosting Reviews on Email Hosting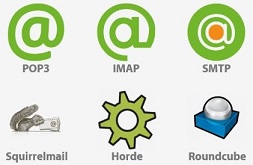 The A2 Hosting email services give a neck to neck competition to rival firms regarding topnotch services of email. The current A2 Hosting Webmail services are included in Lite, Swift and Turbo plans. The email technologies used in these plans are SMTP, POP3, and IMAP. The A2 Hosting email login process is possible after signing up for any of the mentioned plans. The tuning of A2 Hosting email settings is also possible for users to make any desired changes. The A2 Hosting email service tries to provide an error-free email experience to its users. The Turbo plan is mostly used for websites of large businesses and it is also ideal for users who need greater mail space.
A2 Hosting Reviews on Support and Customer Services
The A2 Hosting customer support is designed to make sure that the clients and users remain fully satisfied. There are various mediums of communicating with the A2 customer support representatives. The support services for customers are provided through ticket submission, telephone, A2 Hosting live chat, knowledge base and available with multilingual support.
You can enjoy A2 Hosting customer service 24/7 without any interruptions and distractions. All the customers are entertained 24 hours and 7 days a week. Moreover, every kind of question related to the services are answered by the skillful staff of the company.
Many A2 Hosting reviews can be seen on different websites and online forums, and they mostly define the same on their customer support. Undoubtedly, the company is effective in responding to their customers. Their customers normally will get an overwhelming response from the customer support staff. Below is my personal experience with their LiveChat support.
#Trial 1 Good Live Chat Support
I contacted A2 Hosting Live Chat support to look for some answers. Overall, I would say their support is quite up to the bar. At 21.91 seconds after I launched the chat, one of their "Support Guru" was alerted and start chatting me.
This is sign of efficient and I believe they always try to get back to their customer as soon as possible. The support was helpful and always try to answer your questions. For more details on our conversation, you can have a look below.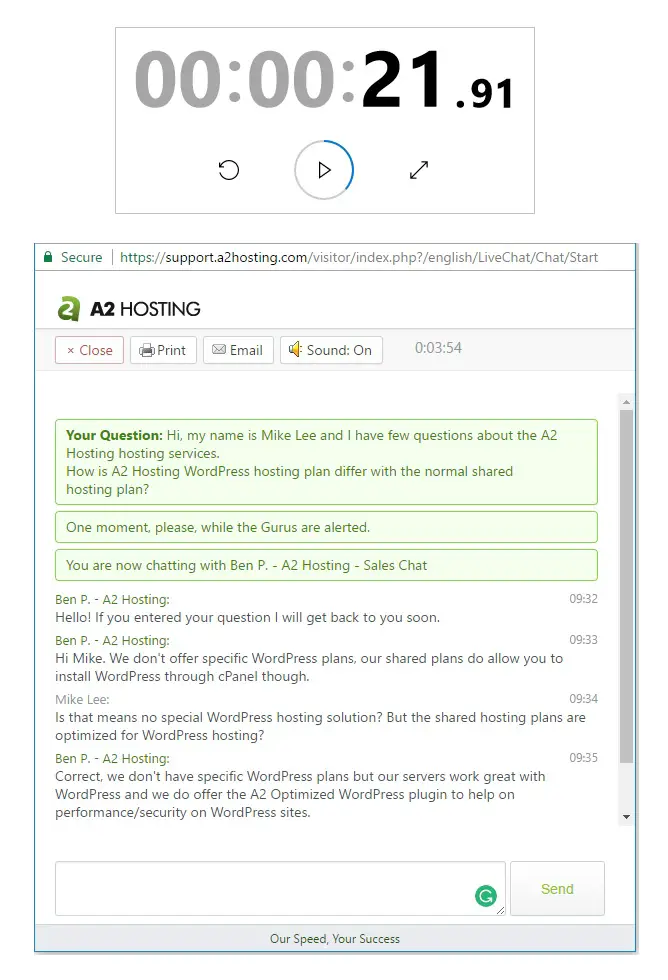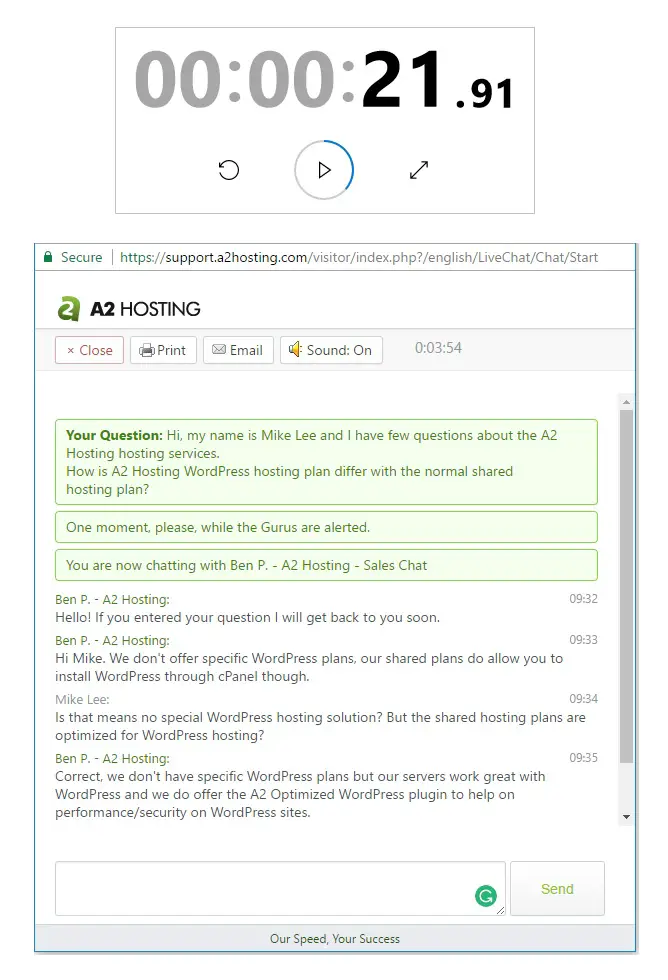 Here is our full conversation:
Mike Lee: Hi, my name is Mike Lee and I have few questions about the A2 Hosting hosting services. How is A2 Hosting WordPress hosting plan differ with the normal shared hosting plan?
Ben P: Hello! If you entered your question I will get back to you soon. Hi Mike. We don't offer specific WordPress plans, our shared plans do allow you to install WordPress through cPanel though.
Mike Lee: Is that means no special WordPress hosting solution? But the shared hosting plans are optimized for WordPress hosting?
Ben P: Correct, we don't have specific WordPress plans but our servers work great with WordPress and we do offer the A2 Optimized WordPress plugin to help on performance/security on WordPress sites.
Mike Lee: Is the shared hosting plans also optimized for Content Management System like Joomla, Drupal and Magento?
Ben P: Our A2 Optimized plugin also works with Joomla, Drupal, and Magento: https://www.a2hosting.com/kb/installable-applications/optimization-and-configuration/optimizing-your-site-with-the-a2-optimized-plugin
Mike Lee: Thanks for the information. Is free domain included in the shared hosting plans?
Ben P: A free domain isn't included with our plans, but you can purchase one for $15/year from us if needed.
Mike Lee: I can see the hosting plans mentioned Turbo Server. What make it so special?
Ben P: Turbo includes LiteSpeed as the web server which helps on performance: https://www.a2hosting.com/kb/a2-hosting-products/turbo-boost
Mike Lee: Is the normal shared hosting plans also using SSD?
Ben P: Yes, they use SSD.
Mike Lee: Any website builder tool offered?
Ben P: We don't offer any builder like that.
Mike Lee: I can see A2 hosting offer website builder hosting. What are that? https://www.a2hosting.com/site-builder-hosting
Ben P: Those refer to deskstop software that you can use but they are not included with our plans.
Mike Lee: Thanks. Will A2 Hosting back up my website automatically?
Ben P: Yes, backed up nightly for 30 days, however we always recommended keeping third party backups as well.
Mike Lee: What are the security features that A2 Hosting offers?
Ben P: We use the mos_security firewall to help against attacks, and for WordPress we offer some security features through A2 optimized like being able to rename your login page to help prevent brute force attacks.
Mike Lee: How about DDoS protection?
Ben P: We don't offer DDoS protection on our plans.
Mike Lee: :I can see there is CloudFlare. Is CloudFlare for DDoS protection or CDN?
Ben P: CloudFlore is both, but the DDoS protection is not for large scale attacks.
Mike Lee: Understood. What payment methods does A2 Hosting accept?
Ben P: We accept most major methods: Credit Card (Visa, MC, AmEx, Disc), PayPal, Bank Wire Transfer, Skrill,Check or MO, and 2CheckOut.
Mike Lee: Can I pay monthly?
Ben P: Yes, we allow monthly terms.
Mike Lee: Is A2 Hosting part of Endurance International Group(EIG)?
Ben P: No, we are not affiliated with EIG at all.
Mike Lee: Noted. Will consider and thanks for the support!
Features Services of A2 Hosting Nameservers, Control Panel, SSL, SSH and Website Builder
A2 Hosting Nameservers
The translation of domain names into IP address and permanent connection to the internet through a computer is possible through DNS. For more information, please read configuring domain settings and pointing domain's name server to A2 Hosting.
A2 Hosting Control Panel
Managing websites through cPanel make website management easier. The A2 Hosting cPanel allows managing the domain with a simple interface and fully featured web-based control. The other aspects of a site can also be managed by using cPanel, i.e. website statistics, CGI scripts, FTP, backups, files, and emails.
The A2 Hosting control panel comes with a variety of features like the migration of accounts, cPanel platform, CGI, security, logging features, domain, database, mail and files management. All of these features are very useful in managing a website.
A2 Hosting SSL
The security of a website is crucial. Security Encryption of the websites is provided by A2 Hosting through their SSL certificate service. This allows webpages to stay secured from the suspicious viruses and malicious codes. A single site SSL plan starts at $49.95 per month, with 256-bit encryption and easy 1-click setup.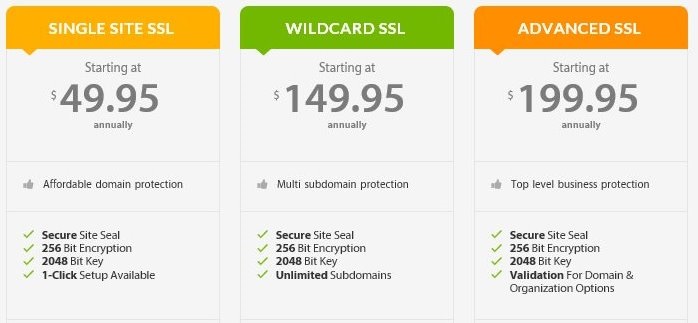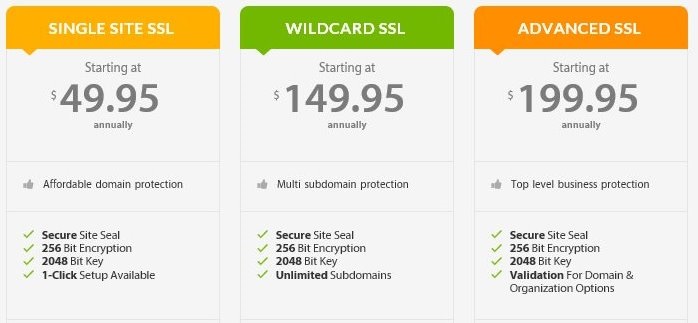 A2 Hosting SSH
The A2 Hosting SSH provides a secured way to access a remote device in the form of network protocol that works as the network administrator. The A2 Hosting provides excellent uninterrupted and shell secured access for passing the encrypted message. Using SSH to access client's account make the whole process more secure.
A2 Hosting Website Builder
The A2 Hosting website builder options are also available at Lite, Swift and Turbo plan. You'll have to get the Lite Plan at $3.92, Swift plan at $4.90 and Turbo at $9.31 as mentioned. These plans are ideal for building any website in an ideal manner. These are site builder software available to make website development easier.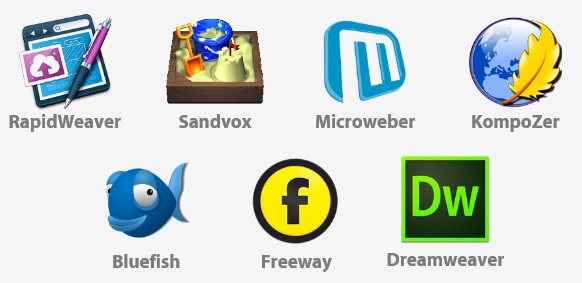 A2 Hosting Reviews on Uptime and Server Status
The speed of websites highly depends on the servers provided by the web hosting companies. A2 Hosting claims an uptime of 99.9%. The latest security patches of servers and modern data centers are used to provide stable uptime to every user of A2 Hosting. Others A2 Hosting reviews also give credits to their uptime performance. The current status of maintenance and availability of servers can be seen on the status page of the A2 Hosting's official website. As Turbo server is implemented in some of its hosting plans, the loading speed of A2 hosted webpage is expected to be satisfied fast.
Good and Bad of A2 Hosting
Good
Reliable web hosting with high-speed servers.
Turbo server implemented in some hosting plans to boost the speed up to 20 times faster.
Customization and variety of technology options available.
Prompt customer support services.
Free of charge SSD is included in most hosting plans.
Bad
MSSQL, Plexum, and ColdFusion are not supported.
Summary of A2 Hosting
A2 web hosting services are designed to provide fast and reliable experience to the customers. A2 Hosting might offer ransom discounts on all the hosting plans. This A2 Hosting review shows that actual difference between them and other companies is the provision of more features at economical charges. The optimized WordPress hosting tune the WordPress powered website performance to its best. The customer support services are up to the mark. Email services by A2 Web Hosting use modern technologies like SMTP, POP3, and IMAP. The SSL encryption developed by the company ensure high secured environment. Prompt customer services and free of charge SSD are the major pros of the company. Choosing the A2 web hosting as your web host can be beneficial as the features, pricing and customer support of the company are impressive. The company claims guarantee of 99.99% of uptime and high loading speed. The servers also work outstandingly for all kinds of websites. As a conclusion, A2 Hosting is an excellent web host and I would suggest you to try it.
Compare A2 Hosting With Our Top Ranked Web Hosts!
SiteGround vs HostGator vs A2 Hosting

A2 Hosting

SiteGround

HostGator
Rating

Rated 5 stars

Rated 4.5 stars

Rated 4.5 stars

Price

$3.92/month

$3.95/month

$3.95/month

Criteria