Editor Rating

Rated 3.5 stars

Very Good
---
Reviewed by:

Published on:

Last modified:
---
Our Top Ranked #1 Web Host

Note: This website ReviewPlan.com is hosted on SiteGround
Latest Uptime Stats (Real Records):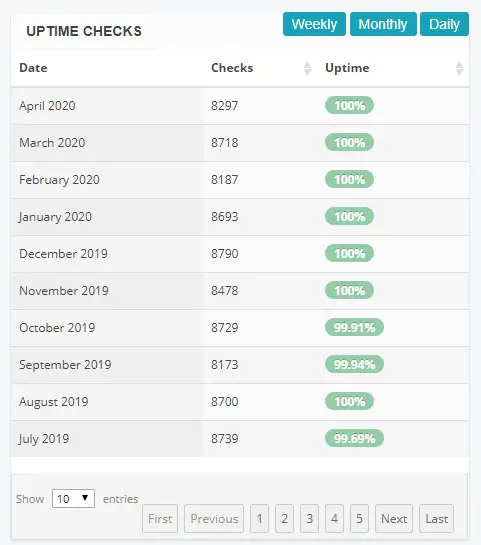 Server Response Speed Test Scored A+: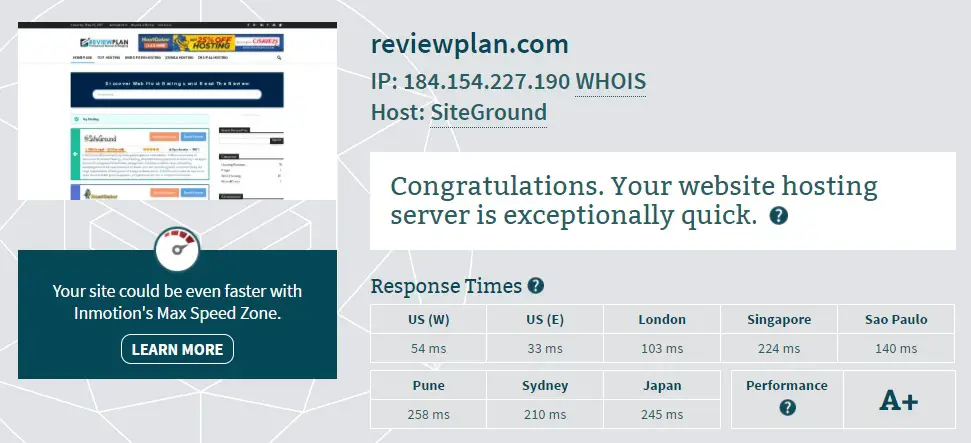 What is Aplus.net Hosting?
Aplus.net is one of the most storied brands in the web hosting business. The company was founded in 1992, 3 years before the home internet became mainstream with the advent of dial up internet connection. The case can be made that Aplus.net has been providing web hosting services longer than the internet has been common knowledge itself.
The company aims to provide the basic fundamental building blocks of starting an internet enterprise, including web hosting, domain registration services, web development services, user interface design, advertising and search engine optimization.
Aplus.net also has tailor made services for e-commerce ventures. Suffice to say, the company provides a one-stop shop for all internet services at affordable price points for a variety of budgets. But is it any good? Read on for the full review and find out for yourself.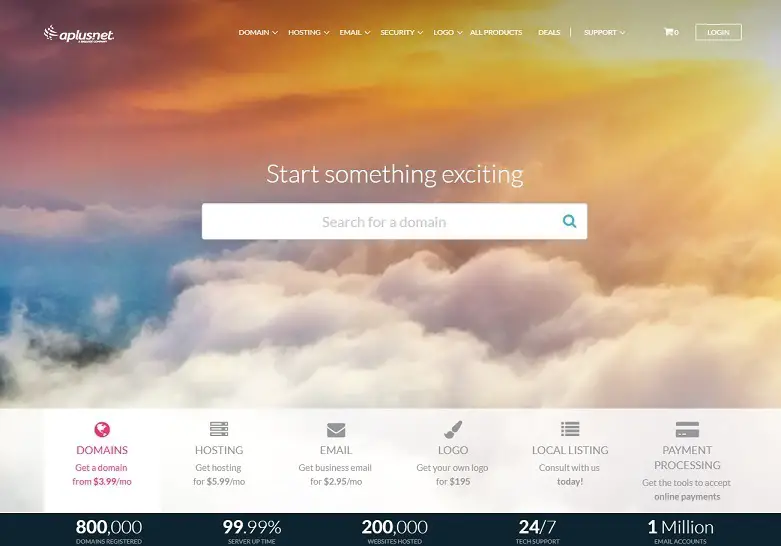 Aplus.net Reviews on Hosting Plans and Services
Aplus.net has been providing web hosting services for a long time. Being a veteran in the hosting business, it is expected that the company should offer great hosting plans for a wide variety of use cases.
The company caters to both personal and business users, meaning that whatever your budget, there is a hosting plan for you. Shared hosting plans start from USD 9.99 per month, providing 100 GB of storage space, 500 GB of bandwidth, support for 2 hosted domains and includes one free domain.
Hosting plans go up to USD 29.99 per month for unlimited storage space, unlimited bandwidth, support for an unlimited number of hosted domains, and one free domain.
The usual caveat applies though; no hosting service provider can provide unlimited resources at any price point. The "unlimited" is applicable only until certain usage thresholds are crossed, beyond which service will be curtailed or severely throttled. Users considering shared hosting plans from Aplus.net should keep this in mind.
For more demanding users with resource intensive needs, the company also provides Virtual Private Server or VPS plans. All VPS users have their data hosted on high-speed solid state drives or SSDs, which ensures that your website can serve content much faster than traditional spinning hard drives and also guarantees better reliability since SSDs are much less prone to catastrophic failure than hard drives.
The basic VPS 1024 plan costs USD 30 per month and comes with one free domain, 30 GB of SSD storage space, 1 TB of bandwidth, 1 GB of memory and 1 processor core. At the highest end of the spectrum, you have the VPS 4096 plan that provides 80 GB of SSD storage space, 2 TB of bandwidth, 4 GB of memory, 4 processor cores and also includes WHMCS.
VPS plans also come with the content delivery network or CDN services from CloudFlare and cPanel control panel interface and WebHost Manager for granular control over every aspect of your VPS.
The company also throws in automatic backups and free archive restorations for data redundancy and reliability as well as dedicated IP addresses. Suffice to say that the VPS hosting plans provided by Aplus.net will satisfy even the most demanding of users.
Aplus.net provides tailor made plans intended for use by e-commerce ventures. The Starter plan costs USD 14.99 per month and comes with 100 GB of storage space, 500 GB of bandwidth, one free domain, support for 2 hosted domains, 25 SQL databases, and a product listing limit of 25.
For more resource heavy applications, the Pro plan costs USD 34.99 and comes with unlimited storage space, unlimited bandwidth, support for an unlimited number of hosted domains, 100 SQL databases, and no limit on the number of products listed. The usual caveats about unlimited resources apply here as well.
E-commerce plans come with the pre-installed Pinnacle shopping cart software and dedicated IP address for payment services. While the company does not charge transaction fees like many other hosting service providers, the plans are relatively expensive than the competition.
The company also provides domain registration and management services for all top level domains and a variety of custom subdomains.
WordPress is the most widely used content management system or CMS, functioning as a back end service provider for some of the most popular and biggest websites on the internet. As a veteran provider of web hosting services, the company fully integrates WordPress on all its hosting plans and platforms. With dedicated customer support for WordPress related issues, you can rest assured that your WordPress based site will work perfectly on Aplus.net servers. However, one glaring fault here is that the company does not provide any managed WordPress hosting plans, requiring you to perform all website tasks yourself.
Aplus.net Reviews on Support and Customer Service
Aplus.net employs some of the most technically proficient customer support staff. Their technical support and customer service teams are based in the US and are available for contact 24 hours a day, 365 days a year.
You can contact them over the telephone, instant messaging, or email. However, Aplus.net does not provide a user forum or any kind of support documentation or wiki on their websites, which makes self-diagnosis of issues impossible.
The lack of online documentation is really shocking from such a reputable brand. While technical support is commendable in terms of knowledge and rapid resolution of problems, customer service remains lacking.
Aplus.net Reviews on Uptime Performance and Server Status
Aplus.net has one of the strongest server uptime status records in the business. With data centers located in Florida, Ontario, and Ireland, you can rest assured of server uptime and availability.
Redundancies have been put in place with respect to power failures and network outages, ensuring that come what may, your hosted website remains online at all times. Network performance is very high speed and down times are kept to a minimum, thanks to the vigilance of the system administrators and prompt action by the service engineers round the clock.
Good and Bad of Aplus.net
Good 
• Comprehensive web hosting services for all budgets
• Strong server performance and uptime
• Choice of operating systems
• Robust e-commerce platform
• Money back guarantee on all plans
• Social media presence
Bad
• Lackluster customer service
• No managed WordPress hosting
• No exclusive features not offered by the competition
Summary of Aplus.net
Aplus.net provides good performance and reliability at an affordable price. While their customer service falters at times, the overall experience with the company is thoroughly positive. The company has built up a strong reputation based on years of providing robust services and it is expected that they will continue to do so in the foreseeable future.
Compare Aplus.net With Our Top Ranked Web Hosts!
SiteGround vs HostGator vs Aplus.net

SiteGround

HostGator

Aplus.net
Rating

Rated 5 stars

Rated 4.5 stars

Rated 3.5 stars

Price

$3.95/month

$3.95/month

$7.99/month

Criteria