Editor Rating

Rated 4 stars

Excellent
---
Reviewed by:

Published on:

Last modified:
---
DISCLOSURE: This post may contain affiliate links, meaning when you click the links and make a purchase, we receive a commission.
Our Top Ranked #1 Web Host

Ideal for WordPress, Joomla, Drupal and eCommerce
What is Aruba Hosting?
Aruba is one of the largest web hosting company in Eastern Europe and Italy. The company was established in the year 1994. The company offers security and web hosting services all over the Europe. It holds a specialization in offering services to the Eastern Europe region. Aruba has a very vast hardware network.
It has six data centers and hosts 20,000 servers all over the Europe. This makes Aruba hosting quite popular. Aruba web hosting covers almost all web-based services. If you have a look at the Aruba web hosting reviews available online, you will find that the company offers reliable services, from email to cloud without any hassles.
Read this Aruba hosting review to know more about the services offered by them in detail. Aruba reviews from happy customers hint that the company is doing a great job in offering remarkable services to their clients.

Details
 
Founded
1994
Server Location
Services

CMS Hosting
Business Solution
Additional Services
Domains
Email
Website
E-commerce
Web Marketing
Cloud
E-Security

Unlimited Website
Yes
Unlimited Storage and Bandwidth
Unlimited Storage and Limited Bandwidth is Available with Web Hosting (Linus and Window Plans)
Domain Hosting
Yes
Linux Hosting
Yes
Windows Hosting
Yes
WordPress
Optimized
Joomla
Optimized
Drupal
Optimized
Magento
Optimized
PHP Hosting
Yes
e-Commerce Hosting
Yes
Email Hosting
Yes
SSL Support
Yes, Free SSL Certificate Available with All Hosting Plans
Dedicated IP
Available
Free Site Migration
No
Free Domain
Included
Domain Privacy Protected
WhoiS Domain Privacy Available at €2 Per Year
Money Back Guarantee
45 Days
24/7 Support

Live Chat
Phone support
Email and ticket support

Control Panel
Aruba control panel
One-Click Installation
Yes
Website Builder
Yes
Automated Backup
Daily Backups Available
Content Delivery Network (CDN)
No
Security Features

SSL Certificates
Anti-Spam & Anti-Virus

Payment Methods

Credit Card
PayPal
Wire Transfer or Bulletin

Endurance International Group Network (EIG)
No
Social Profile
Aruba Reviews on Hosting Plans and Domain Services
Regarding the Aruba shared hosting services provided, the company does an excellent job offering both Windows and Linux hosting services. Both these services are offered at the same price. Several packages are also offered by the company. The most appropriate Aruba shared hosting package can be chosen based on the requirements.
For some people, the basic package seems to be more than sufficient. However, for others, high-end packages seem appropriate. All plans are offered with unlimited traffic volume and disk space. However, there exists a difference in the bandwidth and number of database.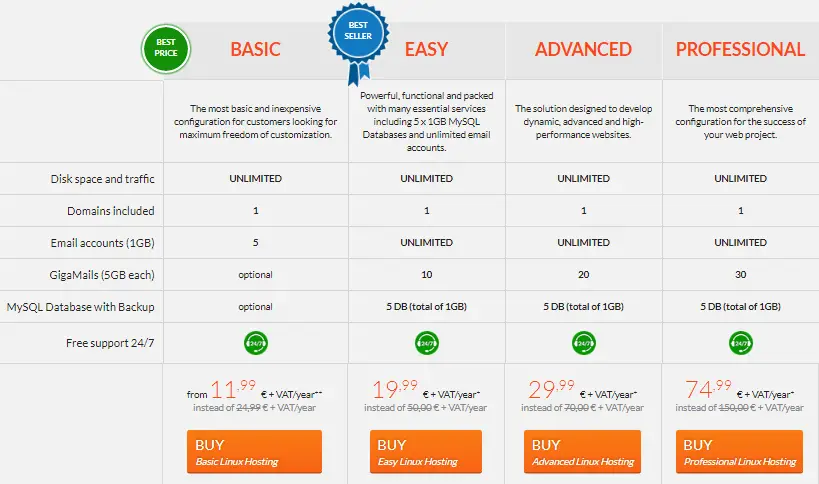 A unique solution offered by the company is the shared service which includes both Windows and Linux hosting. The users are offered two types of operating system. It is up to the users to choose the domain for the purpose of hosting. This proves to be a wonderful option for those who are operating on Windows server and may require a transition to the Linux server in future.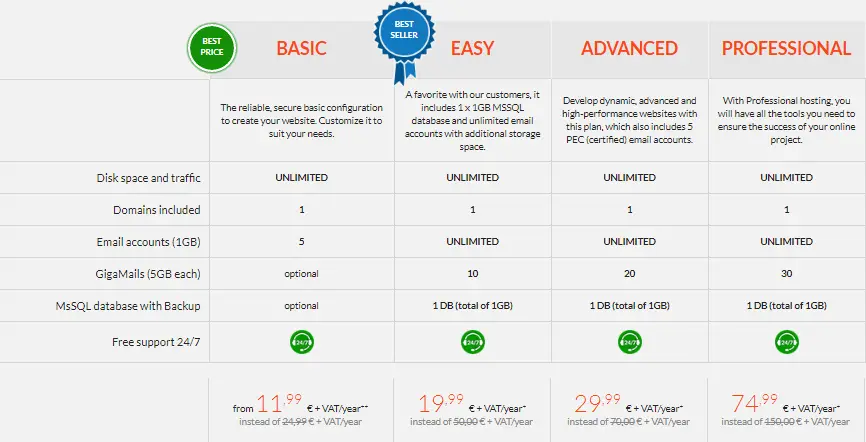 Aruba Dedicated Services
Aruba also offers dedicated services. However, the configurations vary. Two options are offered about the bandwidth. The users can choose the services based on the bandwidth they desire. Websites that experience huge traffic would love to opt for a faster speed and higher bandwidth. There is also a provision to upgrade the service anytime.
Aruba Cloud Services
The company offers quality cloud services, such as VMware and Hyper-V. The charging is done on an hourly basis. There is also a provision to purchase the cloud server and being charged hourly. However, Cloud VPS is offered on a monthly basis. There is a scope for proper consultation for other related services.
Aruba Reviews on Domain Services
Aruba offers a plethora of domain services beyond the transfer and standard registration process. The company also acts as a broker between a client and the people who have put domains for sale. Aruba provides backorder services to people who want to acquire domains that are going to expire soon.
Personalized management is offered by Aruba along with those who hold several domains. Moreover, combined Aruba email and Aruba domain deals are offered to those who do not require a website.
Aruba Reviews on WordPress Hosting
WordPress WordPress comes pre-installed when you opt for the Aruba WordPress services. Aruba helps to develop a search engine friendly blog and manage it with much ease. WordPress happens to be the most widely used CMS. The clients can customize their plans without much hassle. The features have been listed below:
• Auto-updates
• Automatic pre-installation of WordPress
• Hundreds of plugins
• Hundreds of themes
• Free customer supports 24/7
• Daily data backup
It is worth opting for Aruba WordPress services, as creating blogs cannot get easier than this. If you are new to WordPress, it cannot get any better than receiving services from Aruba. Aruba WordPress services are reliable, and there is no hassle to install WordPress when you opt for the hosting services offered by the company.
Just choose the plan, domain name, and register for the services. The quality of hosting service offered is safe, reliable, and simple.

Aruba Reviews on Support and Customer Service
Aruba offers live chat and telephone support 24/7. There are direct lines for the cloud, shared, e-security and dedicated services. They offer online guides and ticket system for the convenience of their clients. Moreover, they offer support in Spanish, English, and Italian.
Aruba contact details can be obtained from the support section on the official website of the company. Aruba support is appreciated by many but it is not always the case. I have shared my personal experience with them in this Aruba review.

Trial #1 Lack of Agent on Aruba Live Chat Support
In order to clarify some questions I had in mind, I contacted them via the live chat they provided. However, I noticed the message as below:
"No agents are currently available in the department selected"
Seriously, it was a bit disappointed as they claimed to provide 24/7 support. How could Aruba claim their support to be 24/7 available since they are not? In fact, they are not always available all the time.
Besides, there was only one department for me to select – data recovery department. I had questions regarding technical aspects and they seem did not have the correct department available during the time I was requesting for the support. Moreover, the worst thing was no Pre Sales Consultant available. This can be the biggest drawback if they intend to attract new customers.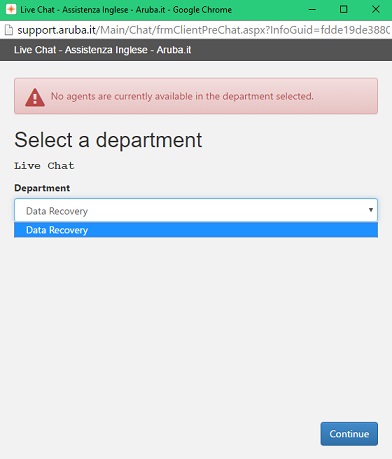 Trial #2 Moderate Live Chat Support
I decided to check the Aruba live chat support one more time as in my last trail I didn't get satisfied response from them. Before testing their live chat, I opened the stop watch to check after how much time their representative replied to me. I clicked on their live chat button and entered in the chat room. I got first message from one of their personnel in just 35.47 seconds which was fast. I wanted to clarify my all queries which I had in my mind.
The person who communicated with me was N.Daniele and he answered my all queries on time and in polite manner. But during our conversation, he gave me a link and asked me if you have more queries you contact here https://assistenza.aruba.it/en/sales. I was feeling very bad as I had some more questions to ask but he wrote this message and ended the chat session. Overall, their live chat improved a bit but because of their personnel behavior, I rated him 7 out of 10.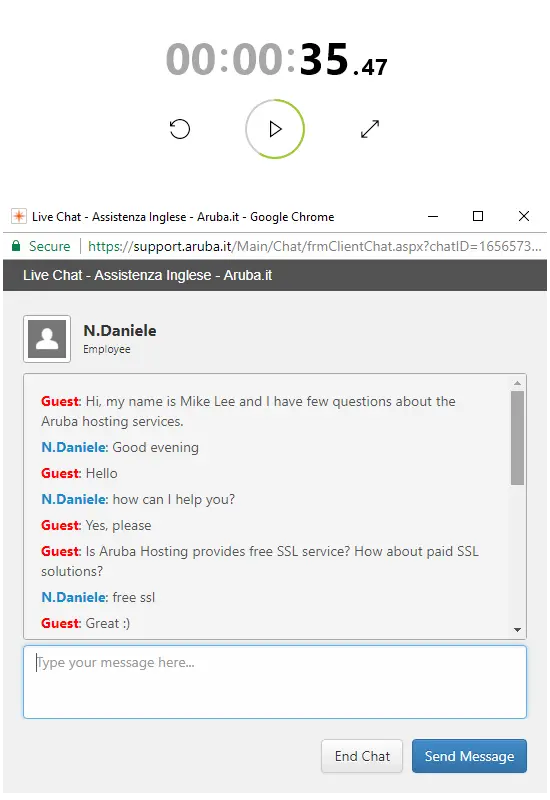 Here is the full conversation:
Mike Lee: Hi, my name is Mike Lee and I have few questions about the Aruba hosting services.
N.Daniele: Good evening
Mike Lee: Hello
N.Daniele: how can I help you?
Mike Lee: Yes, please
Mike Lee: Is Aruba Hosting provides free SSL service? How about paid SSL solutions?
N.Daniele: free ssl
Mike Lee: Great 🙂
Mike Lee: Is there any Free Site Migration Service?
N.Daniele: no, if you transfer a domain to Aruba, you would have process the contents transfer
Mike Lee: Can you tell me the charges?
N.Daniele: for hosting services?
Mike Lee: Yes
N.Daniele: you can see all our prices at this link:
N.Daniele: https://www.aruba.it/en/home.aspx
Mike Lee: Sure
Mike Lee: How about Domain Privacy Protected Service? If yes then free or paid?
N.Daniele: there are many different services
Mike Lee: Whois Privacy?
Mike Lee: Or you can tell me one or two services which are provided by your company
N.Daniele: Ok, sorry, whois privacy is available for 2 euro a year
Mike Lee: Alright
Mike Lee: Is Aruba Hosting offers Dedicated IP solution?
N.Daniele: no, for that you can refer to dedicated services
N.Daniele: as the one you can find trhoug this page:
N.Daniele: https://www.arubacloud.com/
Mike Lee: Okay
Mike Lee: What type of control panels being used in both Linux and windows hosting plan?
N.Daniele: Just the aruba one, different control panels such as Plesk, are only available for dedicated services
N.Daniele: You can find all the info on our hosting on this page:
N.Daniele: https://hosting.aruba.it/home.aspx
Mike Lee: Alright
Mike Lee: Any hosting plan that supports unlimited website?
N.Daniele: If you have any further questions you can also send a commercial request trough this link:
N.Daniele: https://assistenza.aruba.it/en/sales
N.Daniele: Have a nice evening sir!
Aruba Reviews on Uptime Performance and Server Status
Uptime Stats
The company has an impressive network. They have one data center in the Czech Republic and two in Italy. They have partnered with other companies for running data centers in Germany, the United Kingdom, and France. The company manages 20,000 physical servers and hosts many websites without any hassle.
Hundreds of people have already been employed by the company and they work from various locations in Europe. Aruba uptime guarantee is what makes their services lucrative. The data centers add to what Aruba claims regarding their speed. An uptime guarantee of 99.95% is offered on all the hardware.
However, no official information is available on the Aruba status and Aruba down time.

Uptime Stats – Target: 99.95%
October 2017 – 99.96%
September 2017 – 99.83%
August 2017 – 99.94%
July 2017 – 99.93%
June 2017 – 99.96%
May 2017 – 99.86%
April 2017 – 99.88%
March 2017 – 99.73%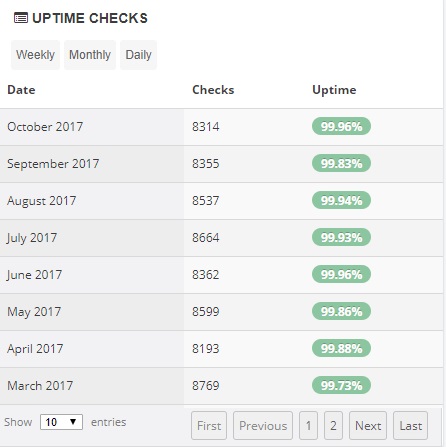 Aruba hosting company claims to provide SLA uptime guarantee of 99.95% but this information is not written on their official website. So I first confirmed their uptime from of their employee through live chat and after that, I checked their uptime stats.
As users can see in their above image, Aruba didn't accomplish their given target in 6 out of 8 months. The uptime stats performance of this company is unsatisfactory and this company needs to improve their uptime if they want to increase their clients. Overall average of Aruba comes out at 99.88% which is okay.
Note: I update this Aruba uptime stats regularly, do bookmark this page if you are interested in checking their uptime performance again.
Server Response Speed Test
Uptime stats of Aruba is not so good so I planned to test their server speed as I heard a lot about their speed. I conducted a test on Aruba website server by pinging my own personal website which is hosted on this company.
I checked the server speed of Aruba from eight diverse locations which are US (E), US (W), London, Singapore, Sao Paulo, Bangalore, Sydney and Japan. I found that this company has a good server performance and scored A in October 2017. Image of server response speed test is also attached so that users can see the result by their own.
Good and Bad of Aruba
Good
99.95% uptime guarantee
Free domain
Free daily backup
Cheap hosting plan
Offer both Linux and Windows hosting solution
Bad
Customer support is not impressive
Lack of customer support agent
Summary of Aruba
Aruba offers several services for all no matter one is a beginner looking to host a blog page or one runs an established business. Aruba is the first choice of many people living in Eastern Europe. Daily backups are offered for shared hosting services. Anti-spam, anti-virus, remote control software and firewall hardware are also offered.
Monitoring of the cloud servers is done 24/7. In addition to a plethora of features offered, the cloud systems can be hosted on redundant data centers which add to the reliability of their services. In conclusion, although their customer support is not impressive enough, Aruba is still a good choice for web hosting solution.
Compare Aruba With Our Top Ranked Web Hosts!
SiteGround vs HostGator vs Aruba

SiteGround

HostGator

Aruba
Rating

Rated 4.5 stars

Rated 4.5 stars

Rated 4 stars

Price

$3.95/month

$3.95/month

€11.66/year

Criteria