Editor Rating

Rated 2.5 stars

OK
---
Reviewed by:

Published on:

Last modified:
---
DISCLOSURE: This post may contain affiliate links, meaning when you click the links and make a purchase, we receive a commission.
Our Top Ranked #1 Web Host

Ideal for WordPress, Joomla, Drupal and eCommerce
What is Arvixe Web Hosting?
Arvixe is a web hosting firm having mixed reviews and feedbacks. Previously it was one of the award-winning web hosting service developed by Jefferey L. Wilson. In the beginning, many Arvixe reviews had shown most of the positive sides of this web hosting company. However, the services provided by the firm are not getting up to the mark recently.
Therefore, it won't be wrong that Arvixe isn't a first choice for the customers for now until their services are being improved. The Arvixe web hosting is comprised of numerous plans and pocket-friendly packages. The compromising customer support and uptime issues are creating difficulties for the company's survival in the web hosting industry.
Due to the entries of several economical and impressive web hosting services, the web hosting market has become more competitive. At the same time, many Arvixe reviews failed to share anything great about this web hosting firm. Though the company tried their best in the year 2015 to get their position back, but the arrival of many new web hosting providers made it hard for Arvixe.
Many Arvixe reviews still showing positive sides of the company as these Arvixe reviews still not updated based on their current performance.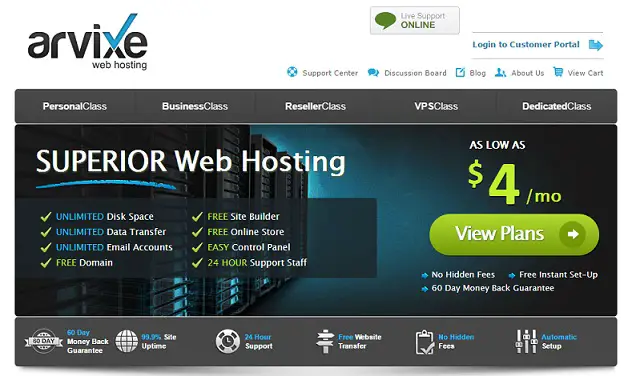 Details
 
Founded
2003
Server Location

United States (Dallas)
Asia (Hong Kong)

Services

Web Hosting
VPS Hosting
Dedicated Hosting
Reseller Hosting
CMS Hosting
Ecommerce Hosting
WordPress Hosting
Blog Hosting
Linux Hosting
Business Hosting
Forum Hosting
Social Networking and Community Website Hosting

Unlimited Website
Available with All Pro Hosting Plans
Unlimited Storage and Bandwidth
Available
Domain Hosting
Yes
Linux Hosting
Yes
Windows Hosting
Yes
WordPress
Optimized
Joomla
Optimized
Drupal
Optimized
Magento
Optimized
PHP Hosting
Optimized
e-Commerce Hosting
Optimized
Email Hosting
Yes
SSL Support

Free for Business, VPS and Reseller Hosting Plans
Paid SSL Certificate Starting for $25/Yr

Dedicated IP
Available Price Start at $3 Per IP
Free Site Migration
No
Free Domain
Available with All Plans
Domain Privacy Protected
Available at Cost of $9.95
Money Back Guarantee
45 Days
24/7 Support
Live Chat
Control Panel

Linux (cPanel)
ASP (Plesk Panel/WebSitePanel)

One-Click Installation
Softaculous
Website Builder
Weebly
Automated Backup
Weekly
Content Delivery Network (CDN)
No
Security Features

DDos Protection
Brute Force Protection
Firewall Protection

Payment Methods

Visa
MasterCard
American Express
PayPal
Discover

Endurance International Group Network (EIG)
Yes
Social Profile
Arvixe Reviews on Hosting Plans and Domain Services
Arvixe offers many types of hosting plans, including both Linux and Windows ASP hosting for personal, business, VPS, cloud and dedicated class
These plans are designed as per the requirements of the users. Arvixe shared hosting plan is available at $7 per month for Personal Class Linux Hosting. It offers plenty of flexibility for a desired website's foundation and provides options on the Windows-based server or Linux.
The shared hosting plan is available on Personal Class Linux, Personal Class ASP Windows, Business Class Linux and Business class ASP Windows.


For Personal Class ASP Windows hosting, it starts at $8 per month with unlimited disk space, unlimited monthly data transfer and free domain included. The domain will remain free as long as the hosting subscription is still active.

Business Class hosting is designed for users who need enhanced security and greater extensibility. Free SSL certificate is included in both Linux or ASP Windows based hosting plan. The Business Class Linux hosting plan starts at $25 per month while Business Class Pro will cost $38 per month.

The price of ASP Windows based hosting will be slightly higher than Linux-based hosting. It costs $30 per month with dedicated application pools included.

Arvixe Reviews on VPS Hosting Plan
Arvixe VPS hosting is available for Linux and Windows operating systems. The Arvixe Linux VPS hosting plan will incur $43 of the monthly fee. This plan provides a personal network to the users that allow them to get access to high-speed servers. Many Arvixe VPS reviews show that it was one of the most purchased plans than other offered packages.

The Arvixe ASP Windows-based VPS hosting offers 2GB of memory and will use WebSitePanel as the control panel for managing files, databases, etc. It costs $63 per month with 50GB of disk space included.

Arvixe Reviews on Cloud Hosting Plan
Cloud hosting has become very popular nowadays. Many web hosting companies have started offering cloud hosting as an alternative hosting solution to their clients. Arvixe also provides three cloud hosting plans, namely Basic, Pro and Premium. All cloud hosting plans are fully managed, and either cPanel or WHM control panel is included.
Arvixe Reviews on Managed Dedicated Hosting Plan
The Arvixe dedicated server is available at different prices. It depends on the server configuration. It offers multi-core dedicated servers and users may configure their own server based on their own needs. The basic dedicated solution starts at $131.70 per month. The price may differ if you need a more powerful server and this will raise the hosting cost.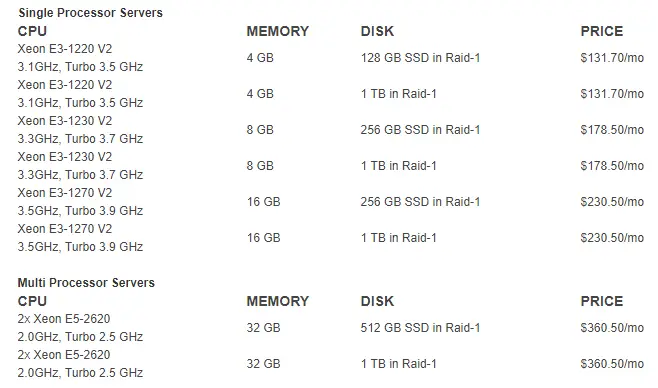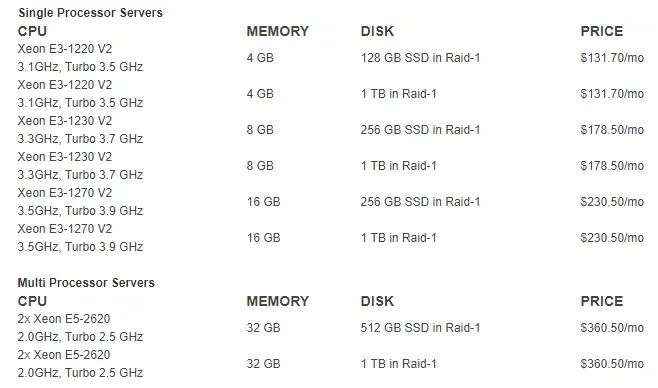 Arvixe Reviews on Reseller Hosting Plan
The Arvixe reseller plan allows the user to start their own web hosting business. It is available in both Linux and ASP Windows based platform. Free SSL certificate included enhancing the server security.

As mentioned, the price of ASP Windows based hosting will be slightly higher if compared to Linux based platform. The ASP Windows plan starts at $28 per month. Reseller Class ASP Pro plan is also provided for users who need higher bandwidth and disk space.

Arvixe Reviews on Domain Service
The Arvixe domain is free of charge with their hosting plans. The domain names suggestions are also provided by the support services staff if the customer is an active premium plan subscriber. The domain name can be transferred easily to Arvixe with reasonable rates. The free of charge domain name is valid as long as the hosting subscription is active.
Arvixe Reviews on WordPress Hosting Plan
WordPress is the leading open source content management system. The Arvixe WordPress hosting is available for WordPress powered websites. This plan increases the security and speed of websites with WordPress optimized environment. The WordPress optimized plan provides customer support, enhanced security and better performance.
There are an automatic setup and no hidden fees for it. WordPress can handle the simple and complex website. However, there is a drawback of relying on Arvixe WordPress hosting plan. The unstable uptime performance is definitely a major hurdle which causes many users left Arvixe.
Many other Arvixe reviews also show the feedbacks with full of complaints about this issue. Therefore, it's up to you whether to try this WordPress hosting plan or not.


Arvixe Reviews on Email Hosting

Unlimited amount of Arvixe email accounts are available with their hosting plans. The entire procedure of logging into the email account is pretty easier. The Arvixe email login is only possible when the user gets full access and permission of logging in through the provided email id and password. The major technologies used in the entire email process are SMTP, IMAP, and POP3.
Arvixe email hosting provides webmail client software like SquirrelMail, Horde, and Roundcube. You can create a countless amount of email accounts by dipping into cPanel to setup the email accounts. The Arvixe email hosting service is acceptable for the newbie, but the expert may tend to choose other more stable email hosting solutions.
Arvixe Reviews on Customer Support and Help
The customer support by Arvixe isn't quite up to the mark for many users. Many users and clients raise questions on the quality of services provided by the company. The customer supports by Arvixe are not excellent as sometimes no support is available to the customer who urgently seeks for help.
Customers don't get instant responses from the customer service department and many of them are disappointed with their service. They need a lot of improvements in their customer support to avoid losing customers. Like other companies, Arvixe would not be able to survive if this continues. Since Arvixe changed its ownership, the quality of Arvixe customer support has declined.
The 24/7 customer services promised seems only applicable if their staff are free. Therefore, the company should hire more staff to avoid leaving customers disappointed. The Arvixe live chat option is available for the queries, but it doesn't respond quickly as well.
There are chances that the company would lose its stake more in the few upcoming years if Arvixe does not want to improve. All in all, many Arvixe reviews show disappointment and hoping the "old and efficient Arvixe" back to online.
I was hosting my website on Arvixe and switched it to another web host after the changing of Arvixe ownership. There were many times I requested the support but they failed to entertain me. Hence, I was sure their support was not too good before this.
Anyway, for the recent test on their customer support, I started to see improvements. The support staff Vivekananda S was very polite and good. I personally rate this support staff high.
Is this the sign that Arvixe support is improving?
Maybe yes, or maybe just a particular case that they work well recently. I will try to contact them again in the near future and update this article.
#Trial 1 Professional Live Chat Support
Customer support services of a web hosting company can become the foundation of its long-lasting success. The clients will never be satisfied if they are not receiving quick and effective customer support. I wanted to test the live chat support of Arvixe therefore; I contacted their support representative.
Vivekananda S was the person with whom I asked few questions about Arvixe's hosting services. His first answer came in just 18.58 seconds and then he started answering my questions one by one. Overall it was a satisfactory conversation and I got a good response that's why I rated him 9/10.
Here is the detailed conversation with Arvixe Live Chat Support:
Mike Lee: Hello
Vivekananda S: Hi Mike. My name is Vivekananda. How are you today?
Mike Lee: I am Fine. What about you.
Vivekananda S: I am doing great. Thank you for asking. How may I assist you today?
Mike Lee: I have few questions about the Arvixe hosting services.
Mike Lee: Is Arvixe Hosting provides free SSL service? How about paid SSL solutions?
Vivekananda S: Yes, we provide free SSL for Business plan. If you need the SSL to be paid It costs $25 per year
Mike Lee: What about Reseller or VPS? Is it free or paid?
Vivekananda S: Yes, we do provide free SSL for Reseller and VPS plans.
Vivekananda S: Only for the Personal class, it has to be paid.
Mike Lee: How about Domain Privacy Protected Service? If yes then free or paid?
Vivekananda S: It costs $9.95 for the Domain Privacy Protected Service
Vivekananda S: For all the domain and plans.
Mike Lee: Okay. Is there any Free Site Migration Service?
Vivekananda S: Unfortunately we do not provide migration support.
Mike Lee: Is Arvixe Hosting offers Dedicated IP solution?
Vivekananda S: Yes, we do offer.
Mike Lee: Free or Paid?
Vivekananda S: It is paid, $3 per IP Per year.
Mike Lee: What type of control panel is used by Arvixe like Linux hosting, Windows hosting or any other?
Vivekananda S: Linux – cPanel
Vivekananda S: ASP – Plesk Panel
Mike Lee:  Alright 🙂
Vivekananda S: Is there anything else I could assist you with today Mike?
Mike Lee:  Is Arvixe Hosting is a part of Endurance International Group(EIG)?
Vivekananda S: Yes 🙂
Mike Lee:  Any Website Builder tool offered? If yes then please mention the name?
Vivekananda S: We offer WordPress, Joomla, Weebly.
Mike Lee:  What platform is the Arvixe using to support One-Click installation? Softaculous?
Vivekananda S: Yes, it is Softaculous
Mike Lee:  Does Arvixe offer a Content Delivery Network (CDN)?
Vivekananda S: No we do not.
Mike Lee:  Any hosting plan that supports unlimited website?
Vivekananda S: Yes, all the Pro hosting plans.
Mike Lee:  Will Arvixe back up my website automatically?
Vivekananda S: Yes, we do keep the backup for last 1 week.
Mike Lee:  What about daily?
Vivekananda S: If you have the account with us (7/23/2017), then we will be having the the backup of 22,21,20,19,18,17,16
Vivekananda S: We will be having the 7 backup files.
Mike Lee: Noted. Thank you for your time 🙂
Vivekananda S: Thank you.
Featured Services of Arvixe Nameservers, Control Panel, SSL, SSH and Website Builder
Arvixe Nameservers
Arvixe nameservers are the process of addressing components and numeric identification by translating text-based humanly meaningful identifier to the internal part of the system in the form of software and hardware. Arvixe allows domain hosted on another server point to its existing server. The users can use their existing domain on the Arvixe hosting account.
Arvixe Control Panel
Arvixe offers cPanel, WHM, and WebSitePanel as the control panel to their clients. cPanel is the most popular control panel that simplifies the entire website management process, and it works on Linux OS. Type of control panel offered depends on the type of hosting plan that user has subscribed.
Arvixe SSL
The Arvixe SSL makes sure visitors and site owners get full protection when operating on Arvixe hosted website. This secured layer of sockets develops an encrypted connection between browser and web server. The SSL certificate can be added to your hosting account at an additional price for personal class plan subscriber.
For premium hosting plans like the business and reseller class, it is already included free in the hosting plan.
Arvixe SSH
This seventh layer of OSI model is a cryptographic network protocol that permits the remote access. Arvixe SSH is a secure shell that protects sites from any suspicious virus while passing through different servers. For Linux based subscriber, learn how to connect via SSH with a Linux Terminal might beneficial.
Arvixe Website Builder
Arvixe website builder makes website development simpler. The webmaster may have unique ways of building websites. Arvixe gives you plenty choices of the website builder and their expert can help you in the installation of website builder software with no extra cost.

Arvixe Reviews on Uptime Performance and Server Status
Uptime Stats
One of the most important factor to judge a web hosting company is their uptime performance. Any access to hosted websites must not frequently be interrupted. The Arvixe uptime and speed are unstable and slow. It lagged in many tests as compared to the rival web hosting options. However, it isn't so bad with their competitive prices.
The Arvixe speed and uptime may suffer the websites hosted under cheap shared hosting plans. The Arvixe down issue might cause by overselling, and their obsolete server cannot support it. The Arvixe status and availability of servers can be checked online.

Uptime Stats – Target: 99.9%
July 2017 – 99.86%
June 2017 – 99.24%
May 2017 – 99.99%
April 2017 – 98.50%
March 2017 – 99.35%
February 2017 – 98.8%
January 2017 – 99.72%
December 2016 – 99.17%
November 2016 – 99.51%
October 2016 – 99.59%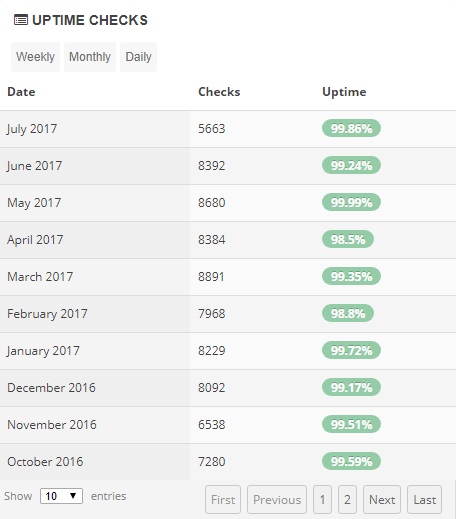 Arvixe hosting company has not set any target for its uptime performance. That is why I will use the industry standard of 99.9% to test its uptime performance. I heard a lot about the unstable uptime of Arvixe but I decided to check it myself, therefore; I collected its uptime stats from October 2016 to July 2017.
I have also shared the uptime stats of Arvixe and it can be observed that the company has totally failed to meet the industry standard. Out of 10 months, Arvixe only succeeded in achieving the 99.9% target in 1 month.
Server Response Speed Test
A web hosting company can only grow if it provides a fast server response speed. I have read many bad reviews about Arvixe's server status and I decided to test the server response speed of Arvixe. I pinged a site hosted on Arvixe from different locations in order to check the server response performance of Arvixe.
The server response speed of Arvixe is found to be good and its overall rating comes out as A. I have also posted the server status results of Arvixe.

Good and Bad of Arvixe
Good
A wide variety of hosting plans is available.
There are both Windows and Linux based platform.
There is no limit of domains, emails, and monthly data transfers.
The prices are competitive and economical.
Hosting plans are recurring at the same price.
Many website building tools available for a newbie.
Bad
Frequent server down issue.
Obsolete technology.
Poor uptime performance
Summary of Arvixe
Arvixe web hosting services provider was highly popular due to their competitive prices for all the hosting plans. The company's competitive edges are the cheap rates, unlimited space and unlimited email accounts offered. This Arvixe review shows both negative and positive sides of the Arvixe.
The customer support services are though not excellent, but some users still prefer this web host due to their previous excellent reputation. On the other hand, the uptime of Arvixe server is still doubtful and unstable as many complaint frequent server down issue.
As mentioned, many Arvixe reviews still show that choosing Arvixe won't make you regret. This is because Arvixe was an excellent web hosting company before changing its ownership. However, the quality of their services has declined recently and many Arvixe reviews are not updated yet.
For websites hosted on Arvixe are expected to suffer from the discussed issues. There is room for improvements in their customer support, uptime, and speed stability. I was hosting my websites on Arvixe and has renewed the hosting plan two times when they were still excellent. Personally, I hope Arvixe can get back to their previous performance.
However, at the time of writing this, I do not see any significant improvements in Arvixe. Hence, I would not suggest you to try Arvixe before the services are being improved.
Compare Arvixe With Our Top Ranked Web Hosts!
SiteGround vs HostGator vs Arvixe

SiteGround

HostGator

Arvixe
Rating

Rated 4.5 stars

Rated 4.5 stars

Rated 2.5 stars

Price

$3.95/month

$3.95/month

$4.00/month

Criteria