Editor Rating

Rated 3.5 stars

Very Good
---
Reviewed by:

Published on:

Last modified:
---
Our Top Ranked #1 Web Host

Note: This website ReviewPlan.com is hosted on SiteGround
Latest Uptime Stats (Real Records):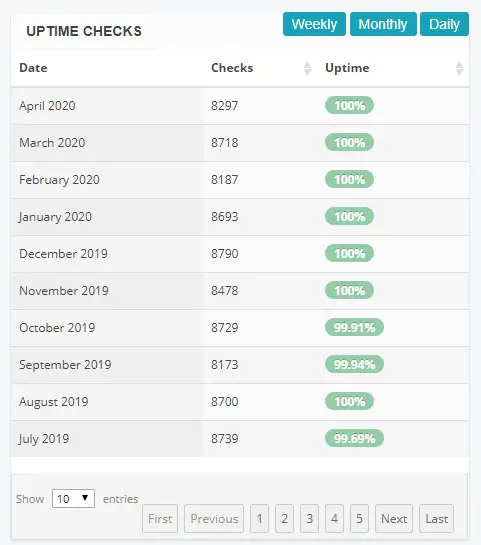 Server Response Speed Test Scored A+: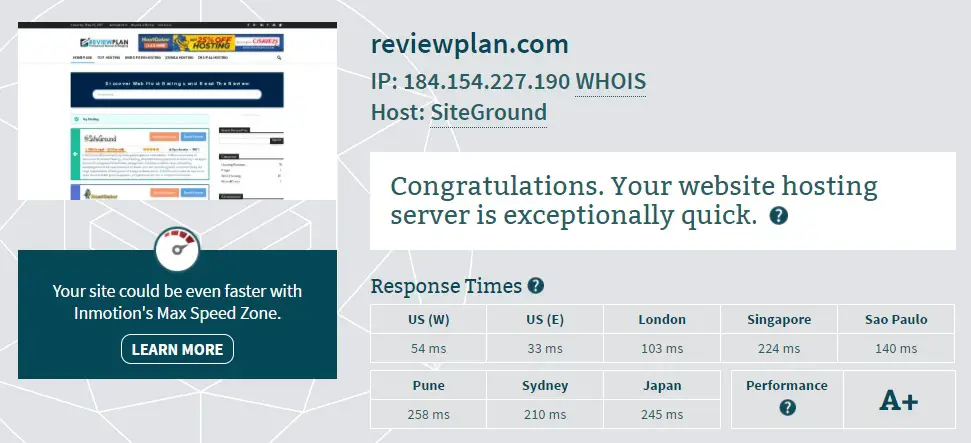 What is AwardSpace Hosting?
Award Space is a Germany based provider of enterprise grade hosting services at accessible price points. Award Space was created after merging of its two parent companies, Zetta Hosting Solutions, and AttractSoft.
For more than 10 years, Award Space has provided value for money hosting services to clients across the world. Its location offers it the unique advantage of being located near one of the most primary internet backbones in the worlds, that connecting Europe and North America.
Does the company utilize these advantages to strategic advantage? Or does it squander them? Read on to find out.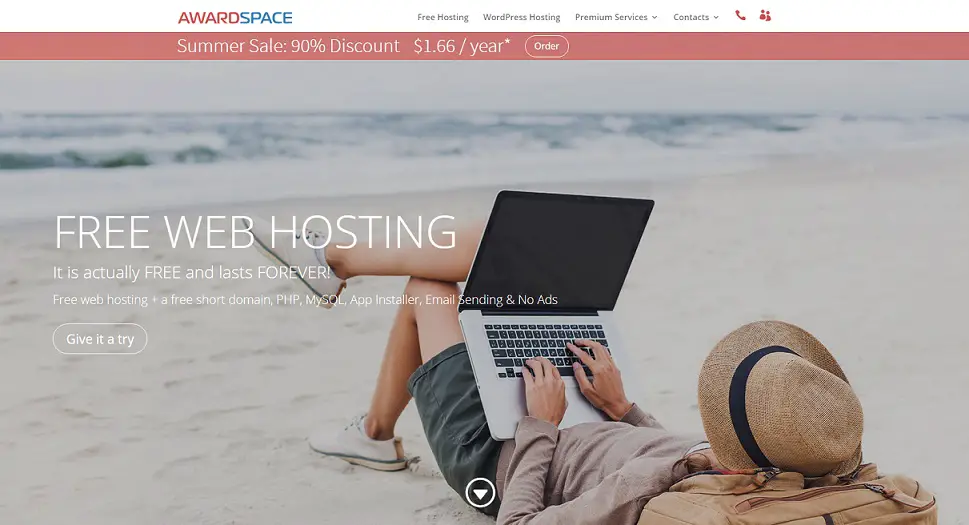 AwardSpace Reviews on Hosting Plans and Services
Award Space focuses on offering hosting services at the budget end of the spectrum. It is one of the few large hosting service providers that offer a tier for free web hosting.
Shared hosting plans contribute to a bulk of the company's customer base; as one of the most inexpensive ways to get a website online, the shared hosting plans are often targeted towards beginners and casual users who do not expect large amounts of traffic or place premiums on reliable performance.
However, the price advantages of a shared hosting plan lead many users to host business websites on the platform. To that end, Award Space offers three tiers of service on its shared hosting platform.
The shared hosting platform is custom designed to be used by beginners and is affordable as well. All plans offer unlimited resources and put restrictions on physical entities such as the number of domains and subdomains, the number of free domain registrations offered, number of FTP accounts, etc. All plans also come with a 30-day money back guarantee for complete peace of mind.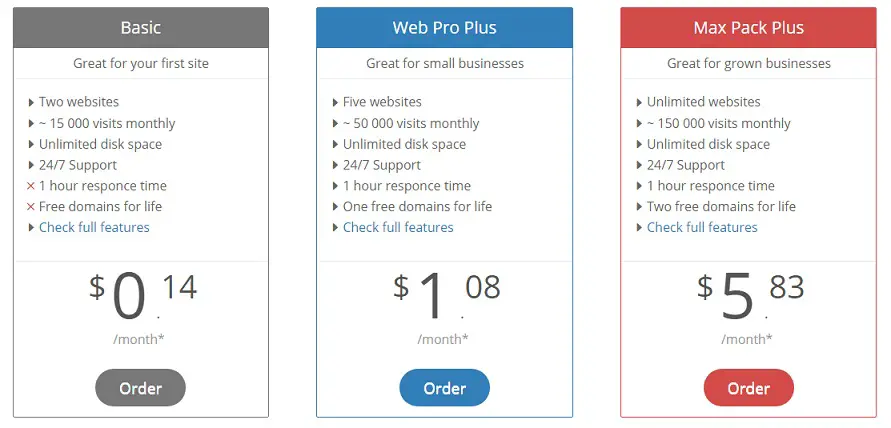 Award Space also offers a unique middle ground between shared hosting and VPS hosting: semi-dedicated hosting which is standard shared hosting with the added benefit of scalability.
Award Space offers Virtual Private Server or VPS hosting plans for more serious hosting requirements. VPS plans are a great middle ground when you have outgrown shared hosting but are not yet ready to commit to a dedicated server plan.
VPS hosting plans are akin to sandboxed accounts on a server with restricted access to high-quality resources. VPS hosting plans are, by design, scalable. If you expect huge traffic increases, maybe due to a promotional event, you can temporary allocate additional resources to deal with the added traffic.
Award Space uses cutting edge XEN hypervisor technology which ensures accurate resource allocation and guaranteed access to dedicated resources. The most inexpensive VPS hosting plan starts with 1 CPU core, 1 GB of RAM, 25 GB of storage space in RAID, and 2 TB of monthly transfer bandwidth at 50 Mbps.
The plan goes up to 2 CPU cores, 4 GB of RAM, 100 GB of storage space in RAID, and 8 TB of monthly transfer bandwidth at 100 Mbps.
Award Space also offers reseller hosting at no additional cost. Users who intend to be hosting resellers, web design, and development studios, for instance, can simply sign up at the company's Reseller Cluster website and any hosting sales will be directly processed by Award Space.
This kind of reseller arrangement is unique to say at least, and definitely provides its reseller customers with a lot more flexibility than traditional reseller hosting plans. Usually, resellers purchased reseller hosting plans like traditional hosting plans and had to allocate resources to their own clients out of their dedicated allocations.
This new system bypasses the reseller as an intermediary entirely and allows end users to purchase hosting directly from Award Space via the reseller's own interface and website, if any.
The reseller service is entirely white label, meaning that end users do not even realize that their hosting is being processed through a reseller since there are no company logos anywhere other than the reseller's logo. Award Space also offers a private DNS cluster service for the ultimate in reseller experience.
Finally, Award Space also provides domain management and other security certification services. You can purchase domains directly from Award Space when you purchase your hosting; all top level domains are accessible from the company's platform.
Many of the company's top tier hosting plans come with free domain registration, so that is something that you can keep in mind to save a fair bit of money. Award Space also offers full security certification using SSL certificates.
This is a must if your website has a login interface or has any element that requires transmission of sensitive information such as passwords and bank details, e-commerce websites for instance.
AwardSpace Reviews on WordPress Hosting
Award Space does not offer any separate WordPress hosting plans. However, WordPress as a CMS is definitely supported on the platform. WordPress is one of the most popular CMS used today and powers some of the largest websites on the internet.
It forms the bedrock of a large number of professional and enterprise websites and provides robust reliability, even when dealing with huge volumes of traffic. Award Space fully integrates with WordPress to provide a seamless experience with websites developed in WordPress.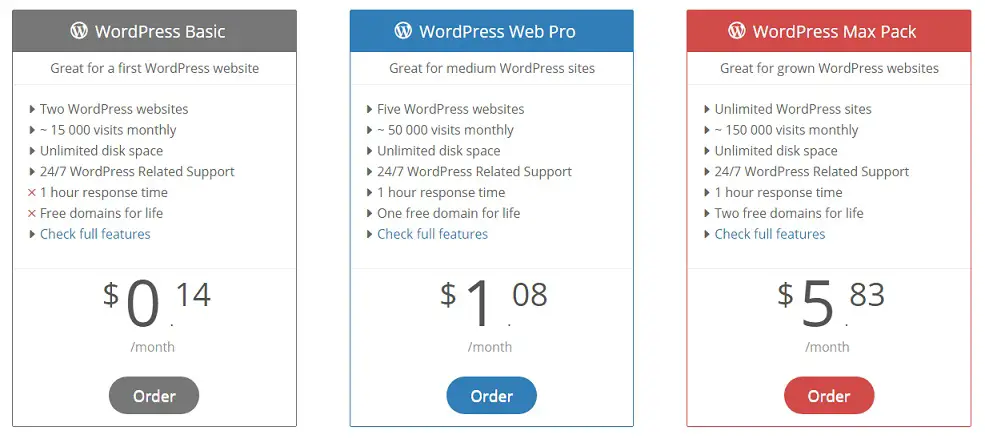 AwardSpace Reviews on Support and Customer Service
Customer service is fairly satisfactory but is nothing to write home about. There wasn't anything lacking, but we definitely would not have minded a personalized customer service experience. Technical support staff is well trained and experienced and customer service is quite efficient and no nonsense.
AwardSpace Reviews on Uptime Performance and Server Status
Award Space has consistently maintained a server uptime record of more than 99.9% over the years. Service is extremely reliable and server down times are exceedingly rare, as are speed reductions. Service level agreements are also available for the higher end hosting plans.
Good and Bad of AwardSpace
Good
Budget oriented hosting plans
Good performance and value for money
Robust and reliable hosting infrastructure
Generous freebies with hosting plans
One stop shop for all hosting related needs
Bad
Customer service is strictly satisfactory with plenty of room to be competitive
No dedicated WordPress plan
Summary of Award Space
Award Space is a compelling alternative to many budget hosting service providers. The company offers hosting plans that are quite value for money. The lack of higher end plans capable of more resource intensive applications is a downer since when your hosting needs grow you will need to migrate your data to a different company. However, if inexpensive and reliable hosting is what you are looking for, Award Space fits the bill like a glove.
Compare Award Space With Our Top Ranked Web Hosts!
SiteGround vs HostGator vs Award Space

SiteGround

HostGator


Rating

Rated 5 stars

Rated 4.5 stars

Rated 3.5 stars

Price

$3.95/month

$3.95/month

Free

Criteria