Editor Rating

Rated 3.5 stars

Very Good
---
Reviewed by:

Published on:

Last modified:
---
Our Top Ranked #1 Web Host

Note: This website ReviewPlan.com is hosted on SiteGround
Latest Uptime Stats (Real Records):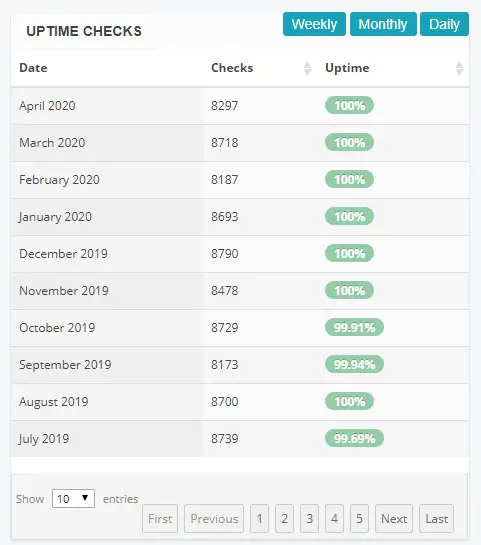 Server Response Speed Test Scored A+: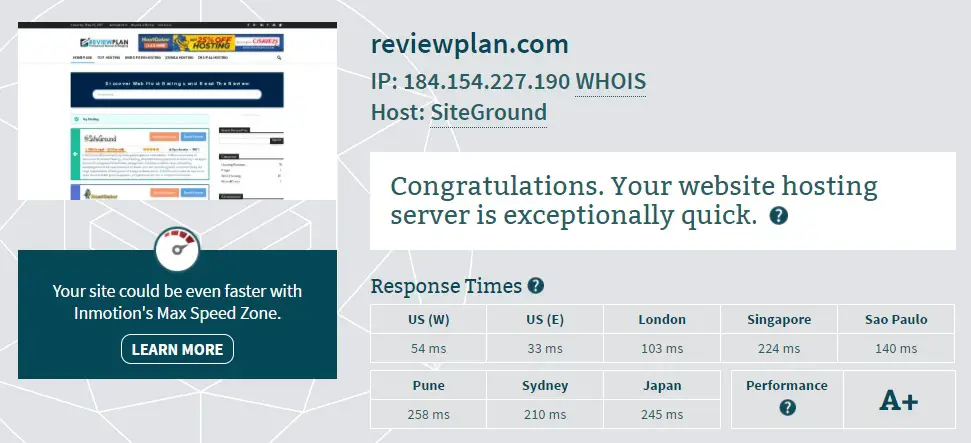 What is Bytemark Web Hosting?
Bytemark calls itself the most reliable cloud hosting service provider in the United Kingdom and it certainly seems to have the chops to back up that claim. The company was established in 2002 and has achieved ISO 27001 accreditation, a tremendous feat for such a young company.
Bytemark distinguishes itself from other competition hosting service providers in that it is one of the few companies who has developed most of their products and platform from scratch in house.
Bytemark has built its cloud hosting platform from the ground up without using any third party services. The company focuses on providing cutting edge cloud hosting services and dedicated server facilities for enterprise grade performance and security. But are these just tall promises or is there really some good? Read the full review to find out.
Bytemark 

Reviews on Hosting Plans and Services
Bytemark is definitely the industry leader in offering enterprise grade cloud hosting services on a budget. The cloud hosting network runs entirely on high-performance solid state drives or SSDs, ensuring that there are no bottlenecks in your site achieving top performance.
Additionally, Bytemark cloud hosting plans are designed to be flexible from the ground up, allowing you to modify your plan as your needs and requirements change. Run any operating system on the Bytemark cloud platform to its full potential, from open source Linux based operating systems to Windows Server 2012 for proprietary applications.
Bytemark offers a unique take on pricing in that it does not have a traditional pricing list where you get differing specifications for different costs. Instead, there is only one "base specification" plan that costs GBP 10 per month and comes with 1 CPU core, 1 GB of RAM, 25 GB of SSD based storage space, 1 TB of transfer bandwidth and 1 IPv4 IP address.
If your requirements go beyond the resources offered in the base specification plan, you can purchase them a la carte; for instance, you can add more RAM up to a maximum of 180 GB at the rate of GBP 10 per GB of RAM. Similarly, an additional 1 TB of transfer bandwidth costs GBP 20.
This is a boon for small and medium businesses that might not necessarily have enough demands to justify a high-performance hosting plan but are unsatisfied with the performance from their budget plan and are looking to upgrade that will not break the bank.
By allowing clients to independently purchase additional resources as they see fit, Bytemark has definitely taken a right step forward in making business more customer friendly. The company operates two data centers in the United Kingdom: one at York and the other at Manchester.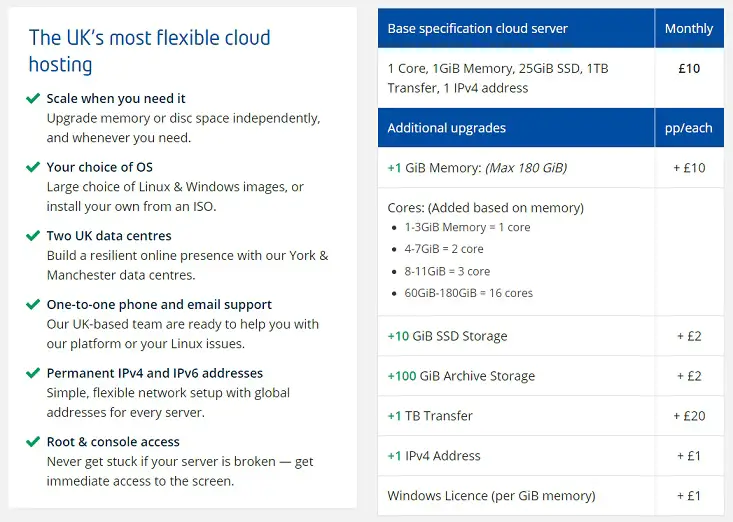 Bytemark does not only provide amazingly robust cloud hosting features but also provides dedicated hosting services for the ultimate in performance and reliability. The company offers a range of dedicated servers intended to fit a number of the most common use case scenarios on the internet.
The Bytemark Dual plan costs GBP 75 per month and comes with a dual core Intel Core i3-4160 processor clocked at 3.6 GHz, 8 GB of RAM, and a choice between 120 GB of usable storage space on SSDs or 1 TB of usable storage space on SATA hard drives.
The Max plan on the other hand starts at GBP 179 per month and comes with an enterprise server grade quad core Intel Xeon E3-1231 v3 CPU with 32 GB of RAM, and a choice between a hybrid setup of 240 GB of usable data storage space on SSD. Also included is 1 TB of usable data storage space on SATA hard drives or 480 GB of usable data storage space on SSDs.
All dedicated servers other than the entry level "Dual" plan comes with dual power supply and dual network connections to introduce redundancy and insulate the system against sudden power outages or loss of network connectivity.
All Bytemark dedicated servers are equipped with RAID technology to ensure your data is protected against corruption or accidental deletion, a 1 Gbps network connection to ensure that your data uplink is never the bottleneck in your operation, 4 TB of monthly transfer bandwidth, optional hardware firewall for granular control over incoming and outgoing connections, and a choice between IPv4 or IPv6 IP address.
Bytemark Reviews on WordPress Hosting Plan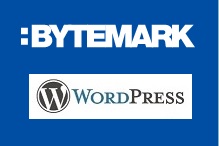 WordPress is the leading content management system or CMS on the internet today, with many of the most popular and traffic heavy websites utilizing WordPress CMS as their backend.
Bytemark being one of the leading providers of cloud hosting services in the United Kingdom has therefore ensured that their platform and all their hardware and hosting plans play well with WordPress systems.
You can build a new WordPress based project from scratch or you can migrate an existing WordPress project to Bytemark servers and you can expect it to run full steam from day one with only very minimal reconfiguration needed.
Bytemark Reviews on Support and Customer Service
Bytemark is one of the few companies that bundle personal one on one customer service guarantee on all their hosting plans, including the base level plans. Usually, it has good customer service and technical support as the company does not only chase fatter profit margins or when competition drives down prices from everyone, forcing them to change.
Therefore, it is definitely refreshing to see an industry leader like Bytemark set the benchmark for other companies to follow that good customer service is not only worth investing, it can often be the turning point between retaining a loyal customer and losing one.
Bytemark Reviews on Uptime Performance and Server Statu
All of the Bytemark hosting plans are backed up by a service level agreement, guaranteeing replacement of faulty or failed hardware within 4 hours.
The 100% core network guarantee that Bytemark offers should be reason enough to put anyone in doubt at ease about the company's ability to offer reliable and high-performance web hosting to its clients. Down time is kept to a bare minimum on high-speed Bytemark cloud hosting and dedicated server solutions.
Good and Bad of Bytemark
Good
Indigenously developed cloud hosting platform
Innovative pricing structure that is beneficial to small and medium business clients
Focus on customer support as an integral part of business and customer experience
Great server uptime status
Default RAID and SSDs on even base hosting plans
Bad
Service focused on domestic market of United Kingdom only
RAID 1 implementation allows utilization of only 50% of installed storage capacity
Summary of Bytemark
Bytemark is a fantastic web hosting service provider if you are looking for cloud hosting your web initiative. Cloud hosting is rapidly becoming the future and has already replaced a lot of shared and VPS hosting opportunities. As costs come down, cloud hosting will take the main stage and Bytemark has already taken a step forward in that direction.
Compare Bytemark With Our Top Ranked Web Hosts!
SiteGround vs HostGator vs Bytemark

SiteGround

HostGator

Bytemark
Rating

Rated 5 stars

Rated 4.5 stars

Rated 3.5 stars

Price

$3.95/month

$3.95/month

£10/month

Criteria