Editor Rating

Rated 3.5 stars

Very Good
---
Reviewed by:

Published on:

Last modified:
---
Our Top Ranked #1 Web Host

Note: This website ReviewPlan.com is hosted on SiteGround
Latest Uptime Stats (Real Records):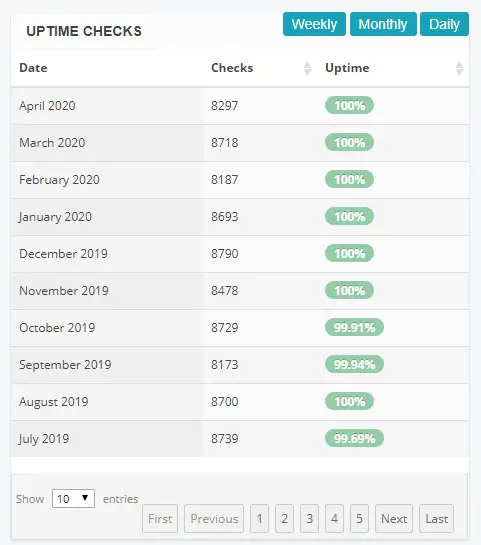 Server Response Speed Test Scored A+: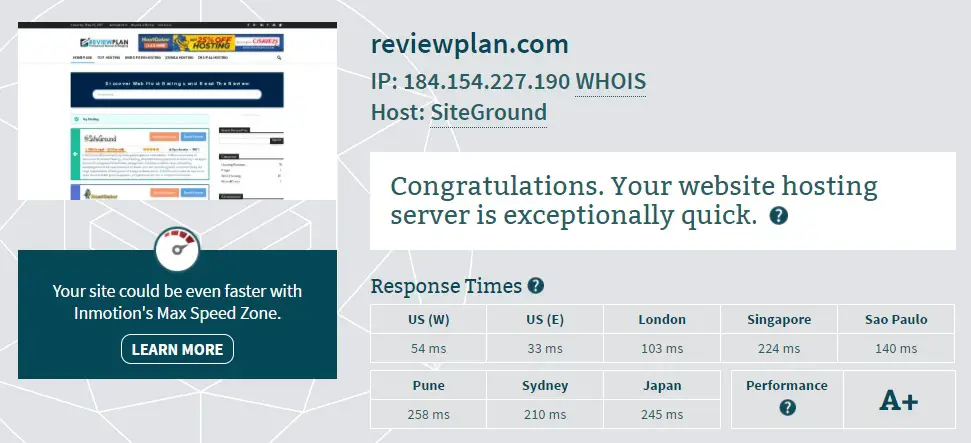 What is Canadian Web Hosting?
As the name suggests, Canadian Web Hosting is the premier web hosting service provider in the business. With data centers in Vancouver and Toronto, the company offers high performance hosting solutions to clients in Canada and all over North America.
While the company specializes in high-performance web hosting services at all budgets, it does offer specific business services as well, such as email hosting, dedicated support, customizable backup services, and enhanced data security. While this is sure to please enterprise users, entry level users are not left high and dry.
With its host of budget conscious hosting packages, Canadian Web Hosting assures that it has a hosting solution at every price. With its extremely high-performance servers and wide accreditation with various standard entities, you are assured of premium services at affordable prices. So does the company deliver on its promises? Read the review to find out.
Canadian Web Hosting 

Reviews on Hosting Plans and Services
Canadian Web Hosting offers shared hosting plans for hosting services at an inexpensive price point. The cheapest Linux based plan starts out at CAD 4.95 per month with 1 GB of storage space and unlimited bandwidth.
The most expensive Linux plan costs CAD 16.95 per month and comes with unlimited bandwidth and storage space. Windows ASP.NET is also available on the company's shared hosting platform.
Canadian Web Hosting also has a Site Builder tool that is a WYSIWYG based web editor that allows even novice users to develop professional looking websites with just a few clicks without any coding whatsoever.
Hundreds of bundled templates, drag and drop support, and e-commerce ready platform ensures that the Site Builder tool is a valuable addition to its hosting solutions.
The shared hosting services are truly top notch if you are looking for modest needs with a personal blog or small business website or an online portfolio that is light and not very traffic intensive. Performance is consistently high and prices are very competitive with the market.
Canadian Web Hosting also has a diverse Cloud Hosting portfolio with multiple plans and pre-configured options designed to suit particular use cases. For users with greater needs than shared hosting can provide but not enough to justify a dedicated server right away, a cloud or VPS hosting plan is the perfect way to try out the platform and check its performance as well as the resource requirements of its systems.
The company's SSD Cloud plans start at CAD 5 per month with 1 CPU core, 512 MB of RAM, 20 GB of storage space in RAID 10 configuration and 1 TB of bandwidth.
The plan goes all the way up to a CAD 80 per month plan that comes with 4 CPU cores, 80 GB of storage space in RAID 10, 5 TB of bandwidth, and 2 dedicated IPs. Additional plans are also available for sites with particularly high bandwidth requirements.
The company also operates an Elastic Cloud Server portfolio that automatically scales the resources allocated to you on the basis of your shifting demands and requirements. With servers operating on Dell hardware and multiple redundancies, you are assured of supreme reliability and performance on an entirely automated basis.
Plans start at CAD 10 per month. Canadian Web Hosting has one of the most comprehensive cloud hosting services portfolios in the business. For users in North America, the company is a clear choice if you are looking for specialized cloud hosting services. Resource allocation is extremely precise and guaranteed, with no overselling on the part of the company.
For even more specialized use cases, Canadian Web Hosting also offers Private Cloud services that offer complete isolation and automatic failover services. Available technologies on the platform are Xen, Hyper-V, and VMWare, all with High Availability compliant designs.
The company also offers assisted design and deployment services to help you get your project off the ground as fast as possible. Private cloud plans start at CAD 658 per month and go all the way up to CAD 2018 per month.
Private cloud services are a big draw for complex system applications for corporates or educational purposes and at the prices, Canadian Web Hosting is a clear winner. With virtually no competition in this sector, the company still provides great bang for the buck with its high-performance high-reliability services.
Canadian Web Hosting offers managed WordPress hosting plans from CAD 9.95 per month. While more expensive than the competition by a fair margin, this price includes active management, which most competitors do not even begin to offer at this price point and with shared WordPress hosting nonetheless.
Therefore, it is definitely a bargain that Canadian Web Hosting is offering fully managed WordPress hosting at such an accessible price point. Because every site element is managed by Canadian Web Hosting professionals, you can sit back and relax.
Reviews on Support and Customer Service
The company operates 24×7 customer service and can be contacted over the telephone, email, and IM. With some of the most technically proficient customer support in the business, Canadian Web Hosting scores big points when it comes to technical support and customer service.
Canadian Web Hosting 

Reviews on Uptime Performance and Server Status
Canadian Web Hosting operates AT 101 SOC 2 and SOC 3 certified data centers that are also HIPAA and PCI compliant. This ensures the very best in reliable performance and data security comes what may. Your proprietary and precious data are guarded with utmost security and access control.
All server resources have multi-level redundancies that ensure that service outage never affects the customers. Additionally, the company has a 60-day money back guarantee that ensures that in the event that you are not satisfied with the level of services you get from the company, you can get a full refund no questions asked.
In addition to a service level agreement, the company maintains over 99.95% monthly server availability. While this is on the high side, the price point must be considered when making these decisions. This is not an enterprise focused organization, and yet their performance and reliability are more than enough to balance out.
Good and Bad of Canadian Web Hosting
Good 
Strong service portfolio all over the budget spectrum.
Large number of cloud services
Extremely reliable and high-performance data centers and server equipment
Award winning customer service
60-day money back guarantee as well as SLA available
Bad
Server uptime behind the competition
Services available with the highest efficiency to only North American clients
Summary of Canadian Web Hosting
Canadian Web Hosting is definitely a good way to go for quality web hosting services. Whatever your budget, the company has a plan for you that suits your needs, requirements and is affordable to boot.
Compare Canadian Web Hosting With Our Top Ranked Web Hosts!
SiteGround vs HostGator vs Canadian Web Hosting

SiteGround

HostGator

Canadian Web Hosting
Rating

Rated 5 stars

Rated 4.5 stars

Rated 3.5 stars

Price

$3.95/month

$3.95/month

C$4.95/month

Criteria