Editor Rating

Rated 5 stars

Spectacular
---
Reviewed by:

Published on:

Last modified:
---
DISCLOSURE: This post may contain affiliate links, meaning when you click the links and make a purchase, we receive a commission.
Our Top Ranked #1 Web Host

Ideal for WordPress, Joomla, Drupal and eCommerce
What is Cloudways Hosting?
Cloudways is not a new player in the web hosting business. However, with a newly launched logo and overhauled interface, the company is looking to break new ground with users. Cloudways differentiates itself from other competitors in that all of its hosting offerings are cloud-based.
The company exclusively offers cloud hosting as VPS and says so in the company motto: "Managed Cloud Hosting for Everyone." While there are plenty of web hosting services providers in the market, they usually tack on cloud hosting as an afterthought.
Many hosting service providers do not have budget cloud hosting plans, they fall firmly within a level where only business and enterprise users can afford them.
However, cloud hosting is getting more and more popular these days and prices are being driven down. Cloud Virtual Private Server systems, better known as Cloud Hosting offers many compelling advantages over conventional hosting systems. So does Cloudways make a compelling case? Read this Cloudways review to find out!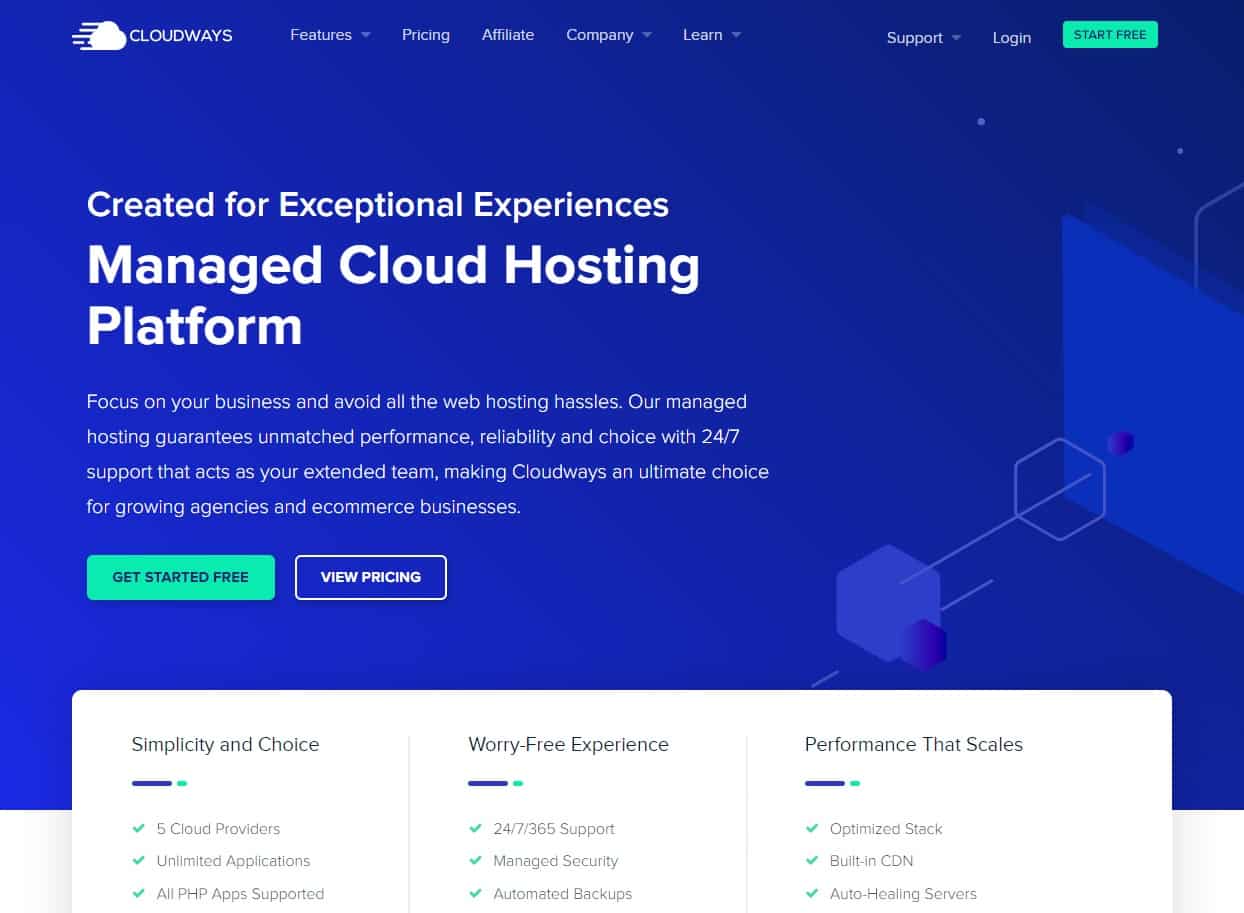 Details
 
Founded
2011
Server Location

North/South America
Europe
Asia/Pacific
Australia

Services

Cloud Hosting
Magneto Hosting
WordPress Hosting
WooCommerce Hosting
Drupal Hosting
Joomla Hosting
Prestashop Hosting
Laravel Hosting
PHP Hosting
Othe Services

Unlimited Website
Available
Unlimited Storage and Bandwidth
Limited Storage and Limited Bandwidth Available with Hosting Plan
Domain Hosting
No
Linux Hosting
Yes
Windows Hosting
No
WordPress
Optimized
Joomla
Optimized
Drupal
Optimized
Magento
Optimized
PHP Hosting
Yes
e-Commerce Hosting
Optimized
Email Hosting
No
SSL Support
Let's Encrypt Free SSL Certificates Available with all Hosting Plan
Dedicated IP
Yes Available with Dedicated Servers
Free Site Migration
Yes
Free Domain
No
Domain Privacy Protected
No
Money Back Guarantee
30 Days
24/7 Support

Phone Call
Live Chat
E-mail
Ticket Support

Control Panel
Own Platform and Console
One-Click Installation
Yes, Available
Website Builder
No
Automated Backup
Available
Content Delivery Network (CDN)
No
Security Features

Malware Protection
Firewall Protection
SSL Certificates

Payment Methods

Visa
MasterCard
American Express
PayPal

Endurance International Group Network (EIG)
No
Social Profile
Cloudways Reviews on Cloud Hosting Plans and Services
Cloudways definitely brings its own spin to the cloud hosting business. Very few service providers have offered this level of variety and customization in choosing a cloud hosting plan. Cloudways offers five cloud hosting platforms to choose from:
DigitalOcean
Linode
VULTR
Amazon Web Services
Google Cloud Platform
You can choose from these five providers depending on various factors, such as the location of their data centers and the physical distance between the servers and the locality of your intended audience.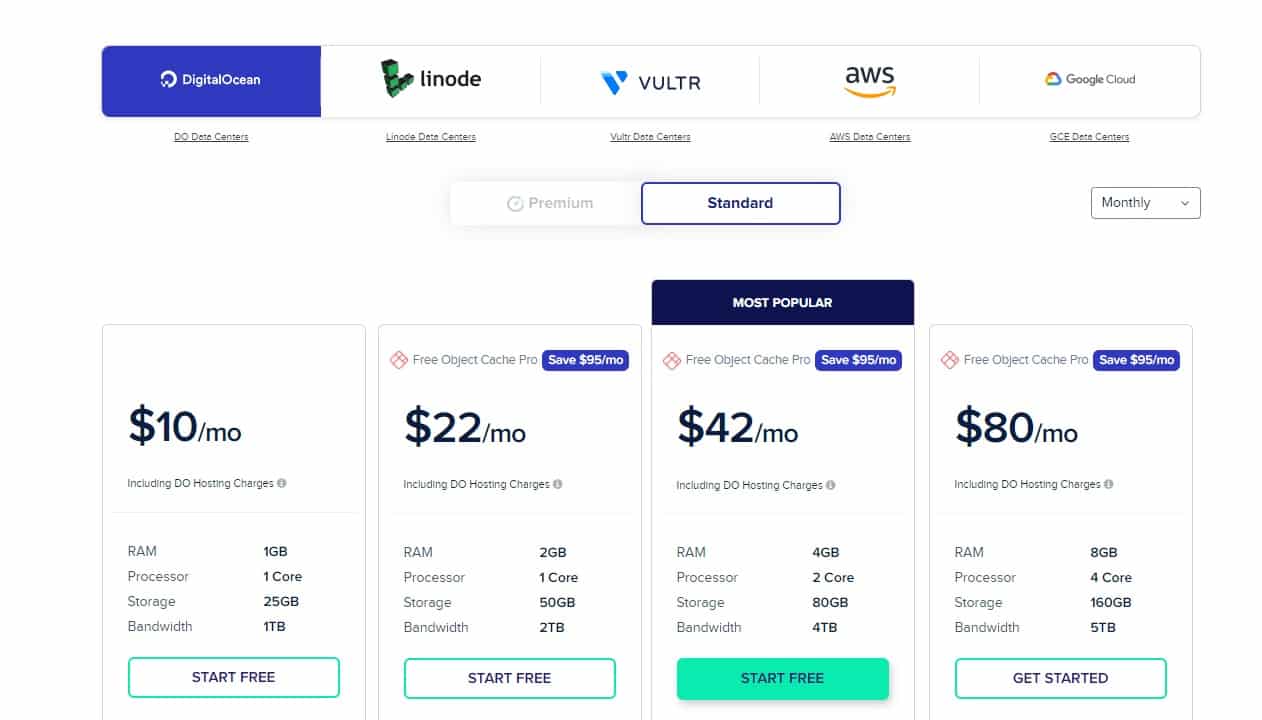 Cloudways offers a different type of hosting plans, each plan being further extendable if needed.
The hosting plans offered by different vendors cost differently. All these plans come with 24×7 customer support, 1 free site migration and no limit on the number of applications that can be installed.
In addition to these, Cloudways also supports one-click installation for many web apps, such as PHP, WordPress, WooCommerce, etc.
Along with providing you the freedom to choose the vendor of your cloud hosting infrastructure, you can also opt for pay as you go plans, allowing you not to worry about your site going over prescribed limits and being knocked offline.
There is also the CloudwaysBot that automatically optimizes and performs maintenance on your installed applications and also tracks performance.
As you can see below, CloudwaysBot sent a notification to inform that my WordPress is not up to date. This can be useful to get noticed if there is a new version available.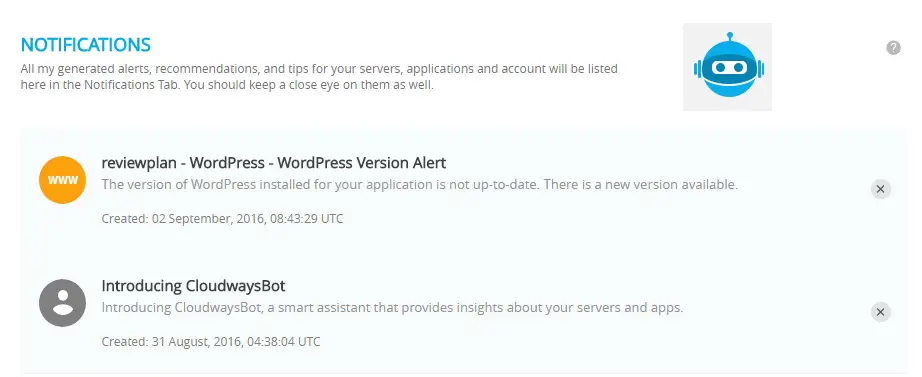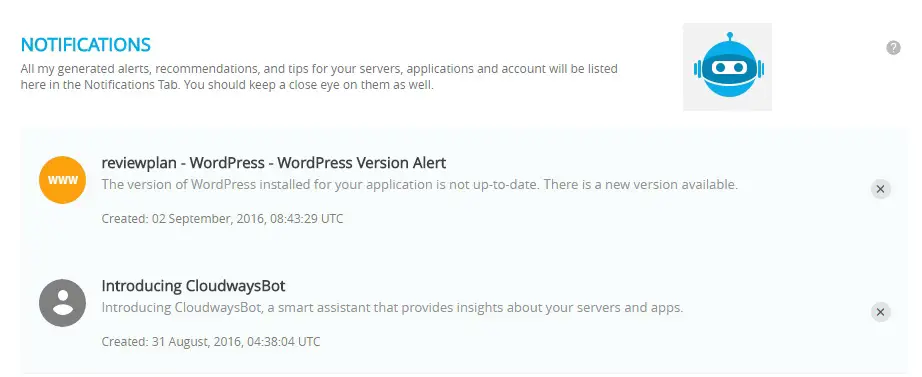 Cloudways security is robust, with multiple layers of network protection, fast and automatic installation of updates. Finally, because Cloudways does not charge per install, you can host any number of websites you want on your server.
Cloudways Reviews on WordPress Hosting
Cloudways has highly customized its WordPress offerings to ensure that WordPress hosted projects run as smoothly as virtually possible. Integrating Git is extremely easy, allowing for fast updates and collaborations. With no limit on the number of staging URLs or WordPress installs, users can use up the full potential of the server resources they buy.
Installing WordPress on Cloudways is extremely easy. You only need to select the version of WordPress you want to install, name your WordPress app, and add the application. WordPress installation is done with just a few steps.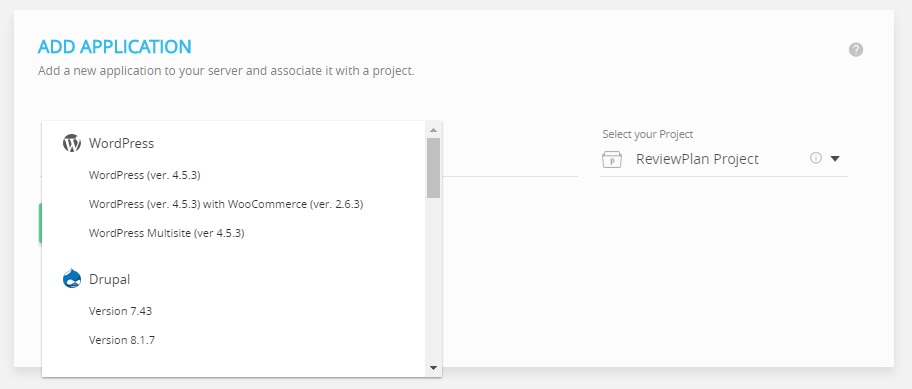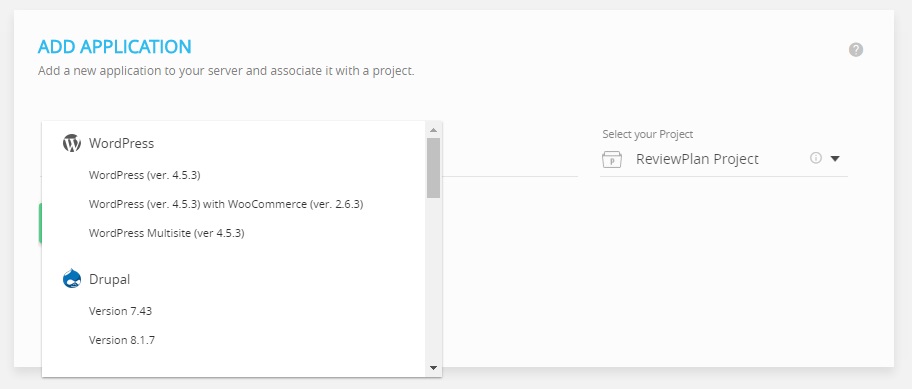 For advanced network admins, Cloudways WordPress comes with WP-CLI pre-installed so you need not worry about configuring the UI.
Your data is backed up automatically and with customized technical support with a dedicated team of engineers devoted solely to WordPress users and issues, the Cloudways offering is certainly one of the most well-rounded products on the market today.
Website migration is free, and the control panel and console have been customized so that new users and novices feel at home controlling the site and do not get intimidated by advanced options or clunky UI.


Cloudways Reviews on Support and Customer Service
Cloudwaysoffers 24×7 technical support throughout the year to ensure that no customer's complaint goes unheeded. The support staff is well trained and very professional.
In case you need help to configure some aspect of your website, or you have run into some issues with billing, you need only contact the customer service system via telephone, Live Chat or e-mail.
A ticketing system ensures that your problem is attended to as soon as possible. I have tried their customer support by myself, below are my experience with the Cloudways Sale Support.
Trial #1 Excellent Live Chat Support
In order to clarify some questions with them, I contacted their support through Live Chat. Cloudways has effective and efficient Live Chat support. They almost provided instant response and I got entertained within 1.45 seconds. This was pretty amazing. The support staff was able to answer all my questions professionally.
I asked some questions regarding WordPress optimized hosting, renewal prices, and domain registration service. From their support, I was informed that Cloudways does not provide domain registration service. However, they can help you to map your third-party hosted domain to their server easily. Overall I would say their support is excellent and impressive.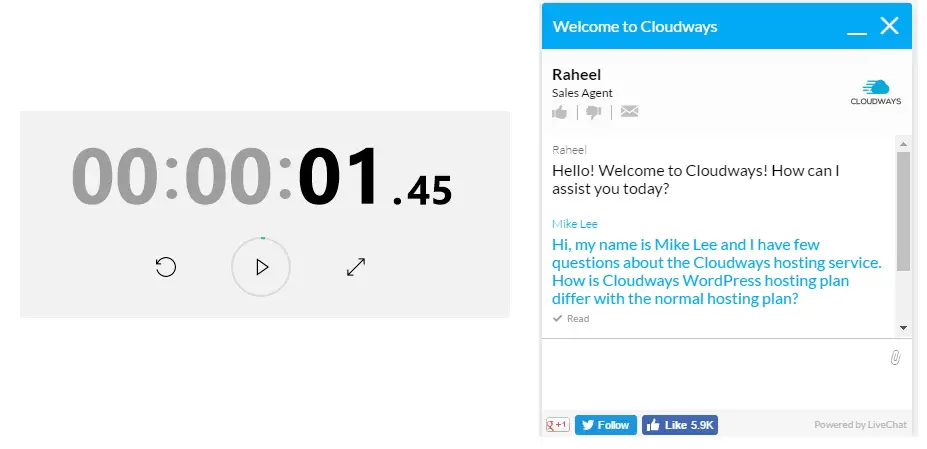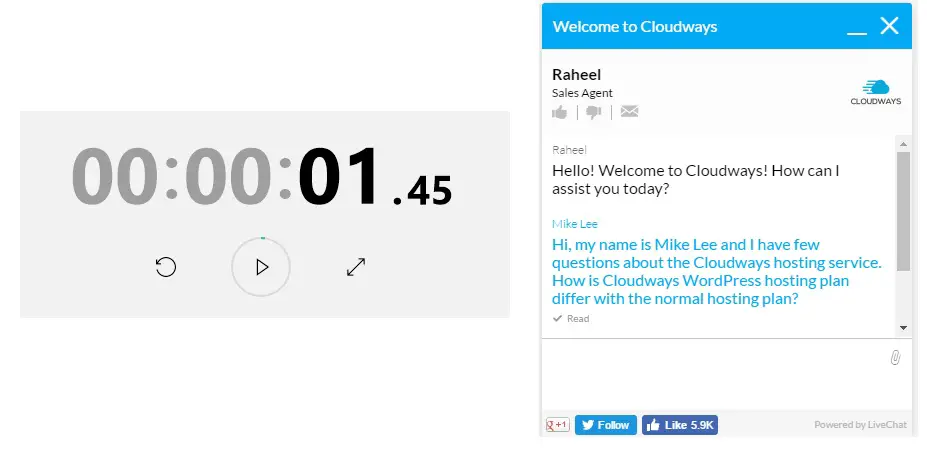 Trial #2 Prodigious Live Chat Support
I am fully satisfied with the customer support of Cloudways as I have checked their live chat support a few months back. Again I contacted their support via live chat as I had some more queries regarding their plans. I was amazed to get a quick response from one of their representative within just 01.49 seconds.
The person who talked with me was Ahsan and he had complete knowledge about their company's hosting plans as well other questions like CDN, Security Features, SSL, Website Transfer and so on. I appreciate Cloudways customer support services which they provide to non-customers as well. Because of his positive attitude and detailed knowledge about hosting plans, I rated him 9/10.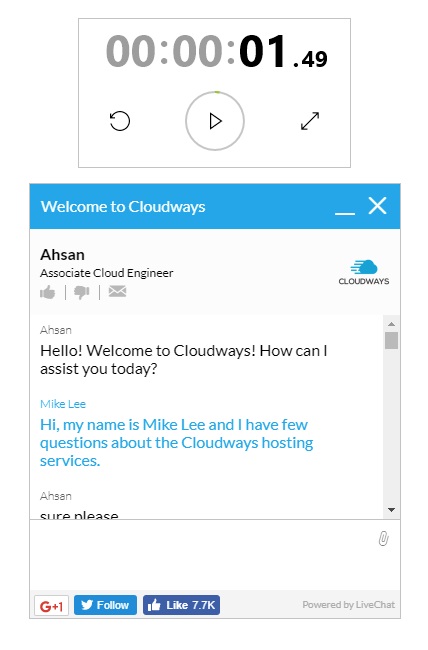 My full conversation with Cloudways customer support is given below:
Ahsan: Hello! Welcome to Cloudways! How can I assist you today?
Mike Lee: My name is Mike Lee and I have few questions about the Cloudways hosting services.
Ahsan: Sure, please.
Mike Lee: Is Cloudways Hosting provides free SSL service? How about paid SSL solutions? 
Ahsan: Yes. For further details and guidance on how to install a new Let's Encrypt SSL Certificate on your server kindly read the following KB:
https://support.cloudways.com/how-to-install-letsencrypt-free-ssl-certificate/
Ahsan: That's was free and you can also use any third party custom SSL too.
Ahsan: Please note that Cloudways doesn't sell SSL certificates. In this KB we explain the whole process, from requesting to installing the SSL certificate: 
https://support.cloudways.com/how-can-i-get-an-ssl-certificate-for-my-application/
Ahsan: If you already have an SSL certificate for your website and you just want to install
it, follow this KB:
https://support.cloudways.com/how-to-install-your-own-ssl-certificate-on-an-application/
Mike Lee: Alright. How about Domain Privacy Protected Service? I
Ahsan: We do not have this feature as we are not providing the domain's registrar but you can use CloudFlare for this.
Mike Lee: That means your company does not provide domain hosting?
Ahsan: Yes, we don't in order to make the site live from Cloudways you would update A records
A Record:
• There is no need to update nameservers just point your domain to Cloudways server IP by updating the A records 
https://support.cloudways.com/how-do-i-take-my-website-live-from-cloudways
Mike Lee: Noted. Is Cloudways Hosting offers Dedicated IP solution?
Ahsan: We are providing dedicated servers along with their dedicated IP.
Mike Lee: Cost per IP?
Ahsan: We are charging as per plans To find more about pricing, please visit: 
https://www.cloudways.com/en/pricing.php
Mike Lee: Is there any Free Site Migration Service Available?
Ahsan: First managed migration for each account is free. If you want us to do additional migrations for you, then there is a per migration fee depending on the application. You can check it out here: 
https://www.cloudways.com/en/free-website-migration-service.php
Ahsan: Is there anything else I can help you with?
Mike Lee: Yes. Does Cloudways support Linux Hosting or Windows Hosting? If yes, through what type of control panel? Is it cPanel, Plesk or any other?
Ahsan: We have only Linux (Debian 8 0 based servers and we are providing managed support for all server-level issues)
Ahsan: We have our own platform and console/
Mike Lee: And what about cPanel?
Ahsan: We do not have cPanel here.
Ahsan: We have our own platform and console
Mike Lee: Noted. Any web hosting plan that supports unlimited website?
Ahsan: You can host unlimited sites here at Cloudways.
Mike Lee: Great. Is Cloudways Hosting is a part of Endurance International Group(EIG)?
Ahsan: No, it is not.
Mike Lee: Does Cloudways offer a Content Delivery Network (CDN)?
Ahsan: Currently not, but we are going to take this feature live soon in coming 30 days.
Mike Lee: That would be great. Any Website Builder tool offered?
Ahsan: No, Cloudways mainly focus on server-side things.
Mike Lee: Got it. What platform is the Cloudways hosting using to support One-Click installation? Softaculous?
Ahsan: Cloudways has its own platform.We have built it in-house and we are not using any third party platform.
Mike Lee: What are the security features that Cloudways offers?
Ahsan: Each deployed server has its own firewall and all your applications are also behind the same firewall with very tight controls. Additionally, we regularly patch the servers that host your applications and we minimize the number of services open to the Internet (minimal attack surface).
Ahsan: To continuous protection of your application(s), we have partnered with Sucuri to offer you their services (that includes malware cleaning and monitoring) at a discounted price.
Ahsan: We have created two KB's related to this:
https://support.cloudways.com/how-to-set-up-sucuri-antivirus-website-monitoring/
https://support.cloudways.com/set-up-sucuri-website-firewall-waf/
Mike Lee: What about DDoS protection?
Ahsan: We suggest to have CloudFlare or Sucuri.
Mike Lee: Do you offer Cloudflare free or paid?
Ahsan: We do not offer.We recommend.
Mike Lee: Noted. Thank you Ahsan for answering my all queries
Mike Lee: Have a good day
Ahsan: We appreciate if you please rate your overall chat experience with us today by filling the form after closing the chat 🙂
Ahsan: Thank you for chatting with us today. We wish you a very pleasant day. Goodbye !
Mike Lee: Sure!
Cloudways Reviews on Uptime Performance and Server Status
Real Uptime Stats
As a cloud hosting company, Cloudways has commendable statistics when it comes to sustained server performance and reliability.
Server uptime is consistently maintained with very few instances of services been down or working at reduced speed. Maintaining good status is definitely a plus for the Cloudways team.
Uptime Stats – Target: 99.98% (Last 12 months)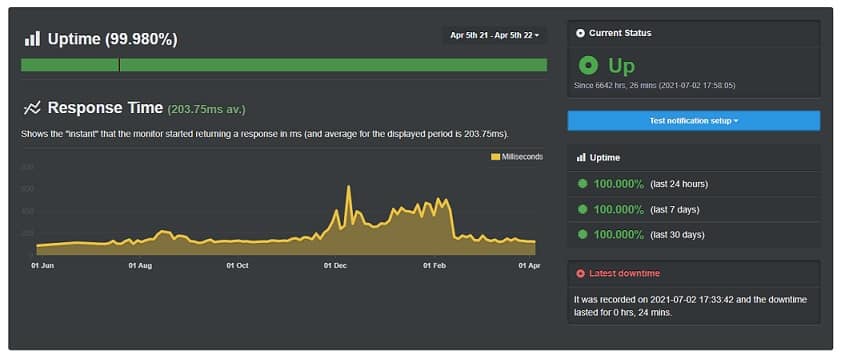 Cloudways hosting company doesn't claim any specific target for their uptime so I decided to check their uptime stats by using industry standard uptime which is 99.90%. For this purpose, I gathered the uptime data of this company for the last 12 months from April 2021 to April 2022.
I was astonished to see that in all 12 months Cloudways achieved the industry standard target. This company is providing a remarkable uptime performance as shown in the image which is attached above. The overall average of Cloudways hosting is 99.98% which is extraordinary.
Note: I will keep updating the uptime stats of Cloudways so bookmark this site for future updates.
Server Response Test Speed
After seeing the amazing response of Cloudways uptime performance, I planned to test the server response speed of the company just to assure myself that both their uptime stats and customer support are outstanding.
I am happy to tell that they have prodigious server response speed as well. As all of us know that server speed of a website is very important when it comes to buying a hosting.
I tested one of the site's speed which is hosted by Cloudways through 8 diverse localities. This company offers an outstanding server response speed as you can see in the image attached below. The speed of Cloudways comes out with a brilliant rating of A+.


Cloudways Server Monitoring
Cloudways has a built-in server monitoring dashboard for users to monitor the server performance.
You can check various aspects of your server, like CPU, free disk, bandwidth usage, hit rate, etc. This can be very useful for monitoring purpose. With the data and statistics provided, you are always informed about the performance of the server.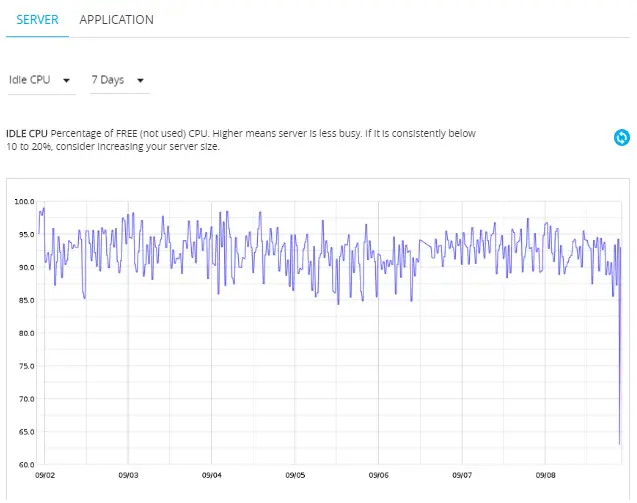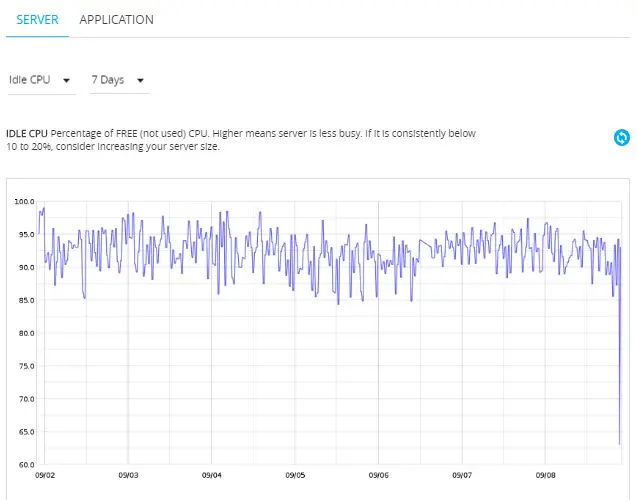 Good and Bad of Cloudways
Good
Excellent performance
Customizable plans allow versatility and choice
Choice of cloud host is essential
Customer service is exemplary
Strong server security and reliability
Great uptime performance and server response speed
Bad
Do not provide domain registration service
Pay as you go system can lead to excessive bills if traffic increases unexpectedly
Summary of Cloudways
Cloudways offers compelling reasons to ditch conventional hosting for good and move to cloud hosting. As more competitors start offering VPS and cloud hosting services for budget users, prices will come down, and we'll see more development in this field.
Cloud hosting offers great performance and the slight increase in expense is well worth it. For now, Cloudways receives a strong recommendation.
Compare Cloudways With Our Top Ranked Web Hosts!
SiteGround vs HostGator vs Cloudways

Cloudways

HostGator

SiteGround
Rating

Rated 5 stars

Rated 4.5 stars

Rated 4.5 stars

Price

$10/month

$3.95/month

$3.95/month

Criteria