Editor Rating

Rated 4.5 stars

Outstanding
---
Reviewed by:

Published on:

Last modified:
---
DISCLOSURE: This post may contain affiliate links, meaning when you click the links and make a purchase, we receive a commission.
Our Top Ranked #1 Web Host

Ideal for WordPress, Joomla, Drupal and eCommerce
What is Codero Hosting?
I believe everyone will know what Codero is about just by visiting its website, but allow me to elaborate and expound what this site is all about for the sake of those who do not understand the main objective of this site.
The site's name is "Codero" with a caption saying, "Hosting on Demand." It also says that they are "Dedicated to Performance" and "Driven by Service" which catches every eye of the readers and every other person who is looking for a trusted web hosting to host their own websites.
Codero web hosting has been in the hosting industry since 2009 and has undergone various name changes due to buying outs. They have received many customer reviews regarding their products and services which made them grow better and more reliable.
Many site owners who manage their websites using Codero hosting, be it professionals or not, have sent mixed web hosting reviews for this site's inconsistencies and the Codero has never stopped improving their services to the point that these problems are clearly getting less and less each year.

Details
 
Founded
2009
Server Location

Central Dallas, TX
Phoenix , AZ

Services

Managed Hosting
Cloud Hosting
Dedicated Hosting
Hybrid Hosting
Reseller Program
Control Panel Option
Network Configurations
Network Services
Security Services
Server Access Tools

Unlimited Website
Available
Unlimited Storage and Bandwidth
Limited Storage and Bandwidth Available With Different Hosting Plans
Domain Hosting
No
Linux Hosting
Yes
Windows Hosting
Yes
WordPress
Optimized
Joomla
Optimized
Drupal
Optimized
Magento
Optimized
PHP Hosting
Yes
e-Commerce Hosting
Yes
Email Hosting
Yes
SSL Support
SSL Certificate Available
Dedicated IP
Yes, Available With Up to 4 IPs Initially
Free Site Migration
No
Free Domain
No
Domain Privacy Protected
No
Money Back Guarantee
No
24/7 Support
Control Panel
One-Click Installation
Yes
Website Builder
No
Automated Backup
Yes, Available
Content Delivery Network (CDN)
Yes
Security Features

DDoS Protection
SSL Certificates

Payment Methods

Visa
American Express
MasterCard
Discover

Endurance International Group Network (EIG)
No
Social Profile
Codero has a lot to offer when it comes to services which they claim that many others are actually back it up. Even other sites containing Codero reviews say that this site has offers which fit just right for their needs. One of the services they offer, which they consider as one of the most used offers, is providing both Dedicated and Cloud server platforms with 100% guaranteed uptimes.
Not all web hosting providers are considered flexible when it comes to having storage platforms, but this site offers many options in regards to storage platforms from NAS units all the way up to Fiber arrays. They also own a unique patent of hybrid technology for unlimited expansion paths for their clients.
Codero Reviews on Hosting Plans and Domain Services
Codero web hosting offers different hosting plans which are great for the site owners to manage and find the service that best fits them. These hosting plans don't really go out in most of the Codero reviews out there because this is solely according to a personal choice and does not matter a lot when it comes to the web hosting reviews.
The Codero offers four main types of hosting namely: hybrid cloud hosting, cloud hosting, dedicated server hosting, and reseller hosting.
Codero Reviews on Cloud Hosting Plan
In cloud hosting, you are able to do hosting with shared servers and networks. The Codero claims to support different operating systems, SSD-powered platform, free configurable firewall protection, and hybrid enabled for maximum flexibility.
They have their unique platform software for this but you can connect this with their hybrid hosting platform. This is actually common and useful when you run your own business and have a lot of networks involved to handle. The most basic cloud hosting plan starts at $5 per month.
Codero Reviews on Hybrid Cloud Hosting Plan
In hybrid cloud hosting, you are able to do hosting with shared servers and private servers but on the same network. The Codero has its own software for this type of hosting platform that you and I will never worry about its performance because everything you do with the platform is backed by their excellent support.
I can see the reason to believe them since they really have nice features for the platform and it really works fine. This platform can be used if you need big data applications for your site, database clustering with shared storage, and much more.
Codero Reviews on Dedicated Hosting
In dedicated server hosting, you are able to do hosting on a private server for your own site and for other personal business. The Codero claims Intel multi-core processors up to 3.7 GHz, RAM up to 384GB, free outgoing bandwidth up to 30TB, free unlimited incoming bandwidth, rapid deployment, and it is fully customizable.
With the help of Codero dedicated server reviews from customers, you might be able to get additional helpful information about this platform. Below is the basic dedicated hosting plan they offer, there are more advanced dedicated hosting solutions offered.
Codero Reviews on Reseller Hosting
In Codero reseller hosting, you are able to make business about hosting other sites, in partner with Codero web hosting. They offer discounts on regular pricing and setup fees, rewards points program, dedicated account executive, 100% uptime guaranteed, live US-based support, and no contracts.
The main business you can do here is to literally re-sell the services offered by Codero and profit from it making a good business to run if you have a lot of people to offer their services but on your own terms. This is taking the web hosting up to a whole new level, getting good reviews help a lot to them and you, a reseller in Codero.
Codero Reviews on Domain Service
Currently, Codero does not offer a stand-alone domain registration. In Codero, domain counts are unlimited which means you can host multiple domains on your account with any Codero plans. Domain transfer in Codero is not that common which usually means, many users have new domains when choosing this site for the web hosting provision.
It is possible to transfer the domain in Codero, and you also have the option to transfer it out.
Codero Reviews on WordPress Hosting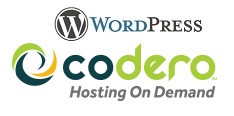 In Codero, WordPress is actually very compatible. In fact, they offer full support for WordPress. I find WordPress very easy to use when it comes to content management which makes quite many people use WordPress for their site. Alongside with Codero, website storage space and access has never been easy to a lot of people. I have contacted them personally regarding the compatibility of WordPress hosting on their platform. They do not provide any managed or dedicated WordPress hosting.
However, you are able to host your WordPress site easily on Codero. The control panels they provide such as Plesk, WHM or cPanel have the application for WordPress installation and management. The only problem to take care of is the payment for maintenance of the main host, along with maintaining your site and keeping it up-to-date.
Codero Reviews on Support and Customer Service
One of the main factors to consider in online business sites is their customer service. I can honestly say that this is one subject where most web hosting review sites are visited for. Many Codero reviews say that Codero support is just average or Codero customer service is not reliable but it all comes down to experience and your own ability to judge what is real.
I have shared my own experience with their customer support in this review. Basically, Codero customer service is what you need to judge for yourself before and during your service with them. If you plan to make Codero as your partner for web hosting, you have to read a lot of customer reviews and make a decision for yourself with your own understanding.
I would say the risk is what makes almost everything meaningful since you believe more when you experience it yourself. One thing that no one denies, though, is their 24/7/365 US based support. Even before you order from them, you can chat to them and there will be at least one representative from their company to speak with you right away.
It is undeniably one of the best factors that can bring your hopes up to this site having available customer support for 24 hours a day, 7 days a week, 365 days a year.

Not only that they are very active in chat, but they also offer ticket system and phone system, whichever is convenient for you. Many Codero reviews have shown how the support directly responds and how they are behaving towards a customer but the main reason varies.
There are a lot of factors to consider when understanding how representatives respond to a customer and one of them is how you speak to them. You can actually contact them by ticket system and log into your server portal account and there will be an option to let you write and submit a ticket to their supports.
Right in front of their site, you can actually see their phone number and you can just call that number if you feel convenient for doing so. Codero people help a lot when it comes to solving your problems and find ways to help make your experience with them a very good one.
I actually have not proven if their support, such as live chat or phone call, is multilingual but you rest assured they will give their best to answer your problems accordingly. Below is my personal experience with their customer support.
Trial #1 Great Live Chat Support from Codero
I have contacted them via Live Chat to ask some questions regarding the WordPress hosting, control panel, and DDoS protection. Before clicking the "Chat Now", I had my stopwatch ready. As you can see below, it took only 5.31 seconds for me to get replied. This was really amazing and I was happy with them.
As the best way to know the quality of their customer support is to get your hands dirty, I would recommend you to try it out. In order to know how supportive the Codero is, I also requested the customer support staff to answer my questions from different topics.
From our conversation, you can see that their customer support staff is very well trained. No matter it was WordPress hosting related question, control panel or topic covered DDoS protection, the customer support staff answered me professionally. Personally, I would say their customer support is good.
Trial #2 Outstanding Live Chat Support from Codero
I came to know that Codero Hosting Company offers an outstanding customer support to their all customers and non-customers 24/7. Hence, I tested their support service again through the live chat when I was updating this review. I visited their website and click on the live chat option and sent them a message. I got my first reply within 06.84 seconds which was really a good signal for me.
The person who assisted me throughout the session was Chris R. He provided me all authentic information regarding their hosting packages in detail along with links. Due to his polite behavior and complete knowledge about packages, I rated him 5 stars.
Here is the full conversation with my second Codero Live Chat Support:
Mike Lee: Hi, my name is Mike Lee and I have few questions about the Codero hosting services.
Chris R: Hello! What questions do you have?
Mike Lee: Is Codero Hosting provides free SSL service? How about paid SSL solutions?
Chris R: If you use a management tool such a Plesk or cPanel, you can use Lets Encrypt's plugins to get a free SSL pretty easily. Typically that's easier than buying an SSL and having to worry about installing it as well.
Chris R: As for paid alternatives, we do not resell SSLs, so you'd need to look at a vendor such as Comodo for that one.
Mike Lee: How about Domain Privacy Protected Service? 
Chris R: That would be something you would need to contact your domain's registrar for, as they would manage the domain information.
Mike Lee: That means your company doesn't offer domain hosting?
Chris R: We offer hosting and DNS services, but we are not a domain registrar.
Mike Lee: Noted, is Codero Hosting offers Dedicated IP solution?
Chris R: You have the ability to set your IPs up as shared or Dedicated, though most Web Servers can install SSLs on Shared IPs now, so they're typically not needed.
Chris R: Our Dedicated Servers come with up to 4 IPs initially. You can set those up in any way that you'd like.
Mike Lee: Is there any Free Site Migration Service?
Chris R: If your current server has cPanel or Plesk, you can use their built in migration tools to complete the migration fairly easily, but unfortunately we do not offer migration services.
Mike Lee: Any optimized hosting solution for e-Commerce hosting?
Chris R: We offer Cloud and Dedicated servers with root access over the server, giving you full control of the server to setup in any way that you'd like. That goes from customizing Nginx, Apache, MySQL, etc.. in any way that you'd like – though it would be your responsibility to make the custom configurations if you want them.
Mike Lee: Is the hosting environment good for PHP hosting?
Chris R: If you order the server with a tool such as cPanel or Plesk, they come with everything you need to host your website pre-installed, including PHP.
Mike Lee: Great 🙂
Chris R: Is there anything else that I can help out with while you're here?
Mike Lee: Yes
Mike Lee: Is there any hosting plan that supports email hosting?
Chris R: We do not have any limited plans – the server is yours to do with as you'd like. With Plesk and cPanel, they also come with mail services already installed and configured, so all you'd need to do is point your domain and create the email accounts.
Mike Lee: What platform is the Codero hosting using to support One-Click installation? Softaculous?
Chris R: By default, Plesk comes with its own installer, but you can install Softaculous if you'd like on cPanel and Plesk servers, but you would need to purchase their license for their software.
Mike Lee: Is Codero Hosting a part of Endurance International Group (EIG)?
Chris R: No we are not.
Mike Lee: Is there any Money Back Guarantee for the hosting service?
Chris R: Unfortunately we do not have a money back guarantee, but you can cancel at any time if you'd like.
Chris R: Is there anything else that I can help out with?
Mike Lee: Yes, any Website Builder tool offered?
Chris R: I'm afraid not, as Plesk and cPanel do not come with those by default. You would need to install any type of tool that you wish to use onto your domain, such as WordPress.
Mike Lee: Are cloud and dedicated servers support unlimited websites?
Chris R: Though both types of servers can host as many domains as you'd like.
Chris R: Yes, they do.
Mike Lee: What about the unlimited storage and bandwidth?
Chris R: By default, the servers come with a 1TB HDD, but you can select larger hard drives or more hard drives if you need more space in the future.
Chris R: For dedicated servers that are, which is what you'd want for the Dedicated IPs and other features that we discussed prior.
Chris R: As for bandwidth, Dedicated Servers come with a few TB of bandwidth, so you should never see any issues there.
Mike Lee: Alright Chris. What are the security features that Codero offers?
Chris R: We take care of the hardware side of things – so the security of the physical server and the data center. As far as securing your website goes, that would be up to you. You'd need to make sure to keep your software updated and not to use any plugins, themes, etc that have security flaws or vulnerabilities.
Mike Lee: Will Codero back up my website automatically or I have to pay for it?
Chris R: With a Dedicated Server, you're in charge of the backup policies and setup. Both cPanel and Plesk come with tools to do that fairly easily. You just choose which Domains / cPanels you'd like to backup, and how often, and it handles the rest.
Mike Lee: Great. It is really a nice talking with you.
Mike Lee: Have a good day and thank you for your time 🙂
Chris R: Thanks! It's nice talking to you as well! Have a good day, Mike!
Chris R: Thank you for chatting with us.
Codero Reviews on Uptime Performance and Server Status
Uptime Stats
The subject about Codero uptime has gone way up high because of its exemplary speed performance with 100% uptime. Everybody is going crazy about it but just that, nothing more. From my point of view, the 100% uptime guarantee is just a marketing trick as no one is perfect.
However, it is obvious that the current status of Codero is putting the best of effort into uptime performance and speed. They are actually considered to be excellent in this category. Varying sites with Codero reviews are not denying the impressive performance that Codero has shown. They have placed great importance in uptime with their updated status and speed.
Uptime Stats – Target: 100%
September 2017 – 100%
August 2017 – 100%
July 2017 – 100%
June 2017 – 99.96%
May 2017 – 99.73%
April 2017 – 100%
March 2017 – 100%
February 2017 – 99.95%
January 2017 – 100%
December 2016 – 100%
Codero Hosting claims to provide 100% SLA uptime performance to all clients who are using their services. I wanted to see their uptime performance and started monitoring their service. From the image above, you can see the uptime stats of Codero from the last ten months from December 2016 to September 2017.
Codero accomplished their claimed target of 100% in 7 months. In the remaining 3 months, they didn't achieve their 100% uptime target. The overall average of Codero uptime record is 99.96%, which is outstanding for many users.
Note: Bookmark this website if you want to keep in touch with the latest uptime stats of Codero.
Server Response Test Speed
Server Speed of a website really plays a crucial role when it comes to purchasing a hosting service. Same like uptime stats and customer support, I also checked the server response speed of Codero to see if it is also outstanding. This company is offering fast server response speed as I pinged a website that is hosted on Codero and tested the speed of server by choosing 8 different locations.
Codero proves that they are offering extraordinary server speed to their clients around the world. The image is also attached below so that the you can see by your own. Rating of Codero comes out at A+ which is great.
Good and Bad of Codero
Good
Numerous varying choices available in choosing a platform that works best and fit your needs.
Great big discounts and offers for new buyers.
The good support which really contributes to your experience with them.
Excellent speed performance with stable uptime and up-to-date status.
Easy-to-use interface which makes it easy for you to manage your own site with the configurations you need.
Bad
Too many complaints and bad Codero reviews about their billing method and other payment issues.
No domain registration service. You will need to register your domain through third party domain registrar like GoDaddy and point it to Codero server.
Summary of Codero
At first glance, it seems promising and everything true with positive thoughts towards the things when hosting with them. They offer great discounts and promotion to new clients, who are looking for a good hosting company to work with. In choosing the right platform to use for your website, they also have got lots to offer and to choose from.
With four main types of hosting platforms they offer, your needs are met with their unfailing great deal features. They have good customer service and support that truly helps you with your problems regarding their services. Adding their stable uptime performance, this site is undeniably ideal to host your sites with.
Not forgetting the downside of having bad reviews regarding payment issues and billing charges, this site has been taken down and these reviews are currently destroying their reputation as well as questioning their loyalty towards clients. On my own choice, I would love to recommend this site to many other people as this would be a great hosting choice you'd make.
Compare Codero With Our Top Ranked Web Hosts!
SiteGround vs HostGator vs Codero

SiteGround

HostGator

Codero
Rating

Rated 4.5 stars

Rated 4.5 stars

Rated 4.5 stars

Price

$3.95/month

$3.95/month

$5/month

Criteria