Editor Rating

Rated 3.5 stars

Very Good
---
Reviewed by:

Published on:

Last modified:
---
DISCLOSURE: This post may contain affiliate links, meaning when you click the links and make a purchase, we receive a commission.
Our Top Ranked #1 Web Host

Ideal for WordPress, Joomla, Drupal and eCommerce
What is Dot5Hosting?
Dot5Hosting has been providing web hosting services since 2002, making it a veteran in the web hosting business. While Dot5Hosting was quite reputed about its budget internet hosting plans, I agree that the web has changed substantially in the intervening years.
The company was acquired by Internet services behemoth Endurance International Group or EIG who also owns many other web hosting service providers like iPage, FatCow, and HostMonster. This allows Dot5Hosting to remain competitive within its niche that it has carved out over so many years without needing to worry about competitors undermining its market share by offering diversified services.
Being under the EIG umbrella means that the company can continue to do what it does best. Multiple Dot5Hosting reviews have focused on the company's support for WordPress and other Web 2.0 utilities. However, there is much else to say about this web hosting service provider, and everything is not necessarily a rosy picture. Read on to find out.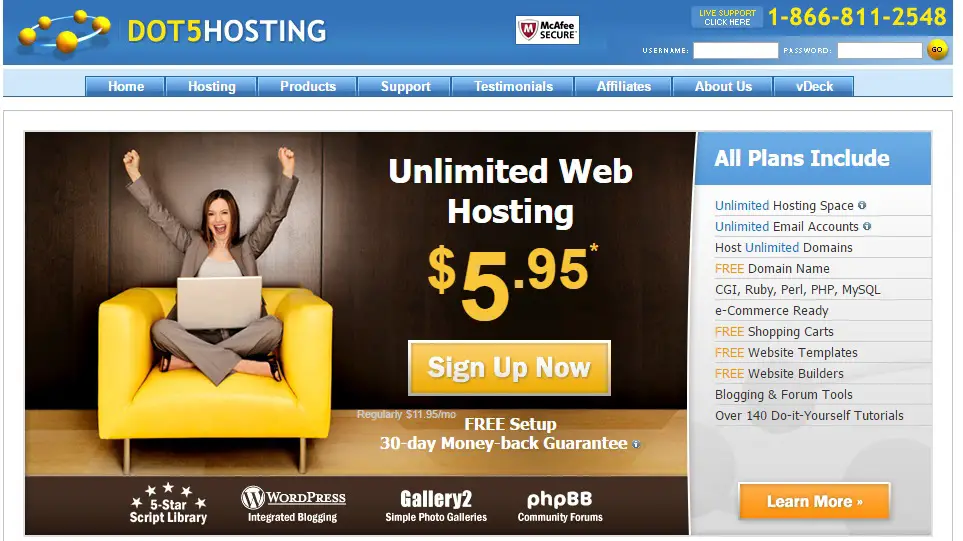 Details
 
Founded
2002
Server Location
Services

Web Hosting
WordPress Hosting
Website Management
Domain Services
Email Services
E-Commerce Services
Marketing Services
goMobile Site Builder

Unlimited Website
Yes
Unlimited Storage and Bandwidth
Unlimited Storage and Scalable Bandwidth
Domain Hosting
Yes
Linux Hosting
Yes
Windows Hosting
Yes
WordPress
Optimized
Joomla
Optimized
Drupal
Optimized
Magento
Optimized
PHP Hosting
Yes
e-Commerce Hosting
Yes
Email Hosting
Yes
SSL Support

SSL Certificate
Positive SSL Certificates Starting at $31.99/Yr
Extended Validation SSL certificate Starting at $269.99/Yr

Dedicated IP
No
Free Site Migration
No
Free Domain
Yes, Available (One, Two or Three Year Plans Only)
Domain Privacy Protected
Domain Privacy Available at $9.99/Yr
Money Back Guarantee
30 Days
24/7 Support

Live Chat
Telephone
Ticket Support
Knowledgebase

Control Panel
vDeck Control Panel
One-Click Installation
Yes, Through Mojo Marketplace
Website Builder

CM4all Site Builder
Drag and Drop Website Builder Available For Free with Hosting Plan
Available Paid Drag and Drop Website Builder Price Starting at $6.99/mo
goMobi Site Builder Starts from $1.98/mo

Automated Backup
Daily Automatic Website Backup & Restore Starting at $1.14/mo
Content Delivery Network (CDN)
Yes, SiteLock CDN Available at $1.94/mo
Security Features

SSL Certificate
SiteLock CDN

Payment Methods

Visa
MasterCard
Discover
American Express
PayPal

Endurance International Group Network (EIG)
Yes
Social Profile
N.A.
Dot5Hosting Reviews on Hosting Plans and Services
Dot5Hosting is one of the few hosting service providers that offer fully featured packed services to all customers. Whether you are a small business owner, an e-commerce venture, or a personal blog owner, you get access to all the web hosting services Dot5Hosting provides.
The company provides unlimited storage space and POP3 email mailboxes, secured by industry leading encryption software.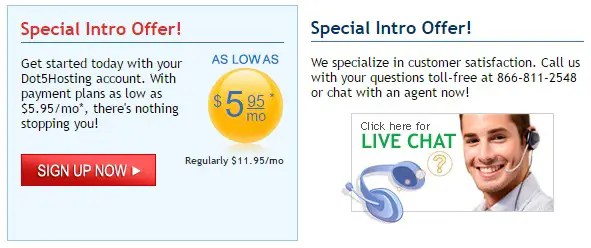 You also get an unlimited number of domains on your account, as well as support for unlimited FTP accounts and MySQL databases. The platform is also up to date, with support for PHP 4, PHP 5, Perl 5, Python, and all other Web 2.0 technologies. The shared hosting plan starts at $5.95 per month (2 years subscription), with $100 of Google AdWords and Yahoo! Search Credit included.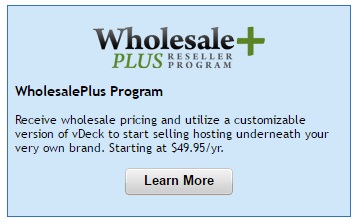 For web designers and developers, Dot5Hosting also offers reseller programs. The company understands that businesses are key to its continued success, and therefore provides an experienced management team dedicated to service resellers. Dot5Hosting boasts a wide portfolio of web developers, online marketers and advertising companies as clients.
Dot5Hosting Reviews on WordPress Hosting
Dot5Hosting offers seamless integration with WordPress. You can migrate your existing WordPress site to Dot5Hosting servers, or you can build one from the ground up. The WP Essential package offers attractive features like superb performance, adaptive antivirus and antimalware programs to protect you from unscrupulous scams on the internet, and a dedicated WordPress support team staffed with WordPress experts to help you solve all your WordPress related issues on the Dot5Hosting platform.
You also get access to a number of handpicked and curated themes and plugins for free to enhance site functionality and give it a very attractive look and feel. This additional functionality is offered free of cost, which is quite surprising given that Dot5Hosting is a budget oriented company.
You are also provided with a ton of pre-installed plugins and modules, ranging from W3 Total Cache to Jetpack. The WordPress control panel has also been customized so that even novice users can use it effectively while retaining customizability. Along with the dedicated WordPress customer support, Dot5Hosting is a good and safe choice if you are looking for a place to host a predominantly WordPress based website.
Dot5Hosting Reviews on Support and Customer Service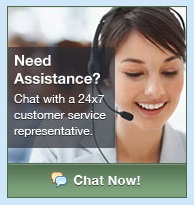 Customer service is a region where Dot5Hosting falls woefully short. While the company claims to offer 24×7 support over the telephone, live chat, and email, in reality, customer service was extremely shoddy.
Also, the quality of customer service was poor, with staffers inadequately prepared to handle technical queries. In general, customer service was of very little help when you wanted to get something done or if you ran into some error related to the operation of the website.
My trial #1 with them was not a happy experience but I did tried their support for second time and it was good.
Is this means they have improved their customer support?
I am not sure whether this is only a particular case. Hence, I will conduct more tests in future and will update this review accordingly.
Below are my personal experience with their support.
Trial #1 Poor Live Chat Customer Support
I was looking for the support via their live chat. As mentioned, they claim to provide 24×7 customer support. However, from my own experience, their customer support is very poor. The maximum waiting time for me is 10 minutes. I was being left completely unentertained for more than 10 minutes and finally I gave up.
Absolutely no response from Dot5Hosting during the 10 minutes and 3.40 seconds. I was disappointed with their customer support and I believe many have the same experience. This is the main reason why I rated their customer support low for this trial. Anyway, I have tried their support for second time and it was good in the second try.
Trial #2 Satisfied Live Chat Support
I wanted to check the live chat support of Dot5Hosting one more time as I heard that they have improved their support services since the first time I was disappointed with their services. Before starting the conversation with them, I prepared the questions which I had in my mind and I also set the time so that I can check their response time.
I contacted them through live chat support and got the answer of my first question within 15.37 seconds, which was amazing. The lady who replied to me was Bindu T and she answered my all questions on time and in a polite manner. She had complete knowledge about the company's packages and services.  I rated her 8 out of 10.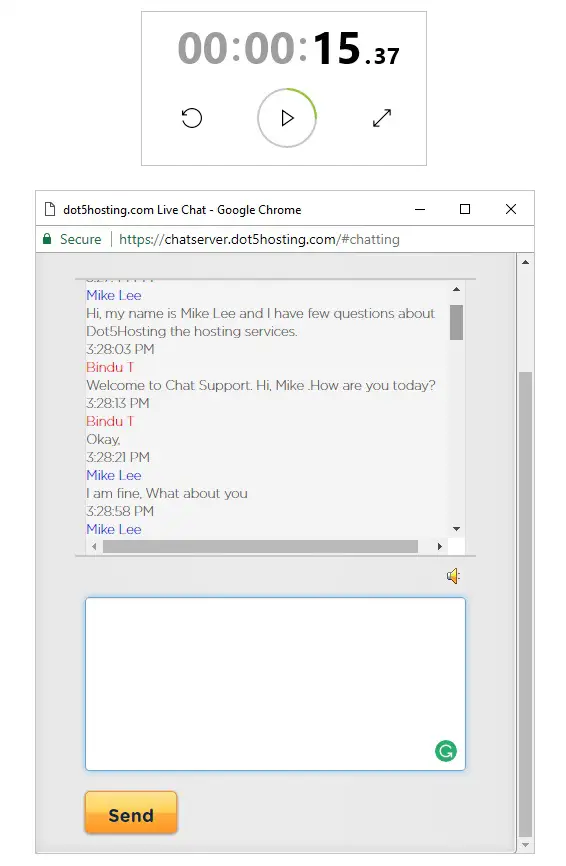 My full conversation with Dot5Hosting customer support is given below:
Bindu T has joined the chat!
Mike Lee: Hi, my name is Mike Lee and I have few questions about Dot5Hosting hosting services.
Bindu T: Welcome to Chat Support. Hi, Mike .How are you today?
Mike Lee: I am fine, what about you. Is Dot5Hosting provides free SSL service? How about paid SSL solutions?
Bindu T: I'm great, thank you.
Bindu T: Yes, we provide SSL, which costs $31.99/ year.
Bindu T: We do not provide free SSL.
Mike Lee: Is there any Free Site Migration Service?
Bindu T: You can download the files via FTP and upload it to our server.
Bindu T: There is no any cost to upload via FTP.
Bindu T: There is no any Free Site Migration Service.
Mike Lee: How about Domain Privacy Protected Service? 
Bindu T: We charge $9.99/ year for Domain Privacy.
Bindu T: Do you have any other questions, Mike? I will help you if any.
Mike Lee: Yes. Is Dot5Hosting offers Dedicated IP solution?
Bindu T: I will check it and confirm.
Bindu T: Please hold for 3-4 minutes while I check it.
Mike Lee: Sure
Bindu T: Thank you for holding.
Bindu T: I am sorry, we do not support VPS or dedicated hosting
Mike Lee: No problem Bindu.
Mike Lee: Is Dot5Hosting is a part of Endurance International Group(EIG)?
Bindu T: Yes, Dot5Hosting is a part of Endurance International Group(EIG)
Bindu T: Our headquarters are in Burlington, MA.
Mike Lee: Does Dot5Hosting offer a Content Delivery Network (CDN)?
Bindu T: Yes, we offer CDN.
Mike Lee: Free or Paid?
Bindu T: We provide SiteLock CDN and it is paid service
Mike Lee: How many data centers Dot5Hosting has? What locations are these data centers/servers located?
Bindu T: I will check it and confirm
Bindu T: Two data centers in the USA, Boston Waltam
Mike Lee: What are the security features that Dot5Hosting offers?
Bindu T: SSL, SiteLock.
Mike Lee: Great 🙂
Mike Lee: Thank you for your time 🙂
Mike Lee: Have a good day Bindu
Bindu T: Are you satisfied with my help? Please click the Rate & Exit button on the top right corner of this chat window to rate my support.
Mike Lee: Okay, sure.
Dot5Hosting Reviews on Uptime Performance and Server Status
Uptime Stats
Server uptime is an area where Dot5Hosting has been able to keep up with the times. The service was quite well known in the past for being a great budget-oriented web hosting service provider. Website downtime can have a significant impact on the image of a business or even a blog. Hence, from our records, I think they are doing quite good in maintaining a good uptime.
Uptime Stats – Target: 99.90%
September 2017 – 100%
August 2017 – 100%
July 2017 – 99.93%
June 2017 – 100%
May 2017 – 99.85%
April 2017 – 99.98%
March 2017 – 99.95%
February 2017 – 100%
January 2017 – 100%
December 2016 – 99.88%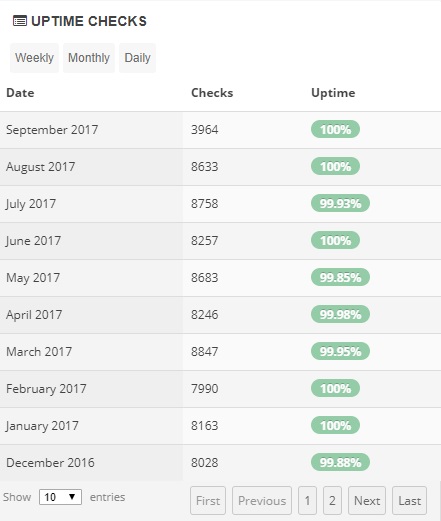 Dot5Hosting Company always committed to provide a speedy and fast uptime to their all customers but they do not claim any specific uptime target. So for this purpose, I planned to check their uptime by using the industry standard which is 99.90%.
I collected the uptime stats performance of Dot5Hosting for the past 10 months, including September 2017. This company accomplished the target in 8 months but failed to achieve the target in remaining 2 months.
Dot5Hosting uptime performance is remarkable and I have attached the image of both uptime chart and stats. This image will help those who want to know more about the uptime performance of Dot5Hosting.
Note: I update the uptime stats of Dot5Hosting regularly, do bookmark this page if you are interested in checking their uptime performance again.
Server Response Test Speed
When it comes to choosing a hosting for your website, one important thing that knocks in anyone's mind is the server response speed. For a website owner, it is important to check the server response of their website. If the website server speed is not fast, then it will directly affect your site as visitors will avoid visiting it next time.
For this purpose, I tested the server response speed of Dot5Hosting and pinged one of the websites which is hosted by this company. I checked the server response speed of the website through 8 different locations and got a remarkable result. The server response speed test comes out with an excellent rating of A+. Image of server speed test is also attached below.
Good and Bad of Dot5Hosting
Good
Cheap budget oriented services
Good WordPress integration with custom control panel
Frequent discounts
Attractive reseller programs
Bad
Abysmal customer service and technical support
Design of Dot5Hosting website does not have a professional look
Summary of Dot5Hosting
Dot5Hosting might have been a pretty decent choice in the past if you were looking for budget web hosting services. It offers a good feature selection for a good price, but its customer service is somewhat inconsistent.
However, if you are looking for a cheap and feature packed web hosting experience to get your hands dirty as a first-time webmaster, you might need to reconsider Dot5Hosting.
Compare Dot5Hosting With Our Top Ranked Web Hosts!
SiteGround vs HostGator vs Dot5Hosting

SiteGround

HostGator

Dot5Hosting
Rating

Rated 4.5 stars

Rated 4.5 stars

Rated 3.5 stars

Price

$3.95/month

$3.95/month

$5.95/month

Criteria