Editor Rating

Rated 3.5 stars

Very Good
---
Reviewed by:

Published on:

Last modified:
---
DISCLOSURE: This post may contain affiliate links, meaning when you click the links and make a purchase, we receive a commission.
Our Top Ranked #1 Web Host

Ideal for WordPress, Joomla, Drupal and eCommerce
What is eUKhost?
There are many web hosting companies that offer to house web files on their servers. Many people wishing to have their content viewed online will need to look for them for this kind of service. Most of these companies are US-based. However, there are a few others that are not based in the US but still perform as competitively as those based in the US.
eUKhost is one of these, and we shall be taking a look at their services, whether they are great or not.
eUKhost History
eUKhost has been in the web hosting business since 2001 that makes it a teen in the web hosting industry, being almost 15 years old. It was founded by Robert King, who is now the company's Managing Director. The company was first built on services around web hosting that had only shared hosting services for a handful of clients.
It has then grown to provide dedicated server hosting as well as VPS to about 35,000 clients. 60% of these clients are based in the UK. Services offered include VPS, dedicated servers, domain services as well as reseller hosting solution. A quick look online will show you positive reviews of eUKhost, with very little negative feedback given for their services.
Let's take a look at what they offer.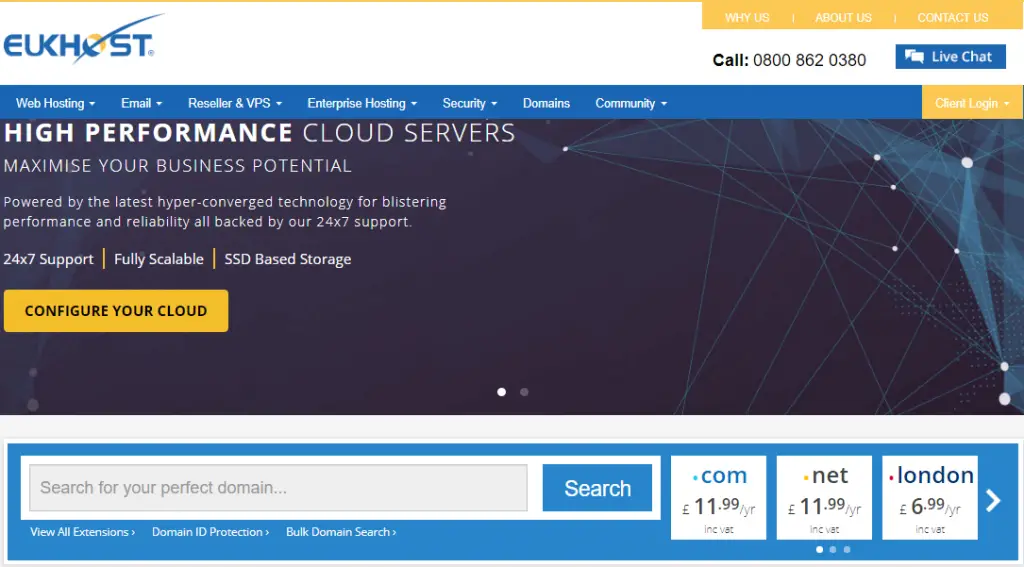 Details
 
Founded
2001
Server Location

Wakefield
Maidenhead
Nottingham
Reading

Services

Web Hosting
Linux Hosting
Windows Hosting
Email Hosting
Reseller Hosting
VPS Hosting
Enterprise Hosting
Cloud Hosting
Dedicated Servers
Security Service
Domain Service
WordPress Hosting

Unlimited Website
No
Unlimited Storage and Bandwidth
Unlimited Bandwidth Available with Web, Email, Reseller and VPS Hosting
Domain Hosting
Available
Linux Hosting
Yes
Windows Hosting
Yes
WordPress
Optimized
Joomla
Optimized
Drupal
Optimized
Magento
Optimized
PHP Hosting
Optimized
e-Commerce Hosting
Optimized
Email Hosting
Yes
SSL Support

Free SSL available with Reseller & VPS Plans (Linux VPS &Windows VPS)
SSL Certificate Starting from £29.00/Yr
Wildcard SSL Certificate Starting at £79.00/Yr

Dedicated IP

One IP Free with VPS Solution
Additional IP Price Starting at £2.8 (inc. VAT)/mo or £33.60 (inc. VAT)/Yr Per IP

Free Site Migration
Available
Free Domain

Yes with web hosting Plans (cPanel, Windows, WordPress)
Reseller & VPS Plans (Linux VPS, Windows VPS & Linux Reseller)

Domain Privacy Protected
Available at £5 per year
Money Back Guarantee
30 Days
24/7 Support
Control Panel

cPanel with Linux Plan
Plesk with Windows Plan

One-Click Installation
Through Softaculous
Website Builder
RV site builder
Automated Backup
Weekly Routine Backups of all Shared/Reseller Hosting Servers
Content Delivery Network (CDN)
CloudFlare
Security Features

Security Metrics Certified
WHOIS ID Protection
SSL Certified
Wildcard SSL Certificate

Payment Methods

Stripe
Visa
MasterCard
American Express
JCB
PayPal

Endurance International Group Network (EIG)
No
Social Profile
eUKhost Reviews on Hosting Plans and Services
A look at the hosting plans as well as the domain services offered will help us know what makes the company likable among so many people, as well as what make them have such great positive reviews.
This hosting plan is suitable for individuals as well as professionals who wish to have their blogs, forums and websites hosted. The cPanel is included here to make your hosting account manageable. The plan comes in three packages:
Basic – Goes for £3.33 per month, which is inclusive of VAT. It features an unmetered data bandwidth, Dell PowerEdge Hardware, 2GB (UK) disk space and 10 MySQL databases.
Intermediate – Goes for £4.99 per month inclusive of VAT. It features 30 MySQL databases, an unmetered data bandwidth, Dell PowerEdge Hardware as well as a 10 GB (UK) disk space.
Advanced – Goes for £6.66 per month inclusive of VAT. It features an unlimited number of MySQL databases, 20 GB (UK) disk space, an unmetered data bandwidth as well as the Dell PowerEdge Hardware.
If you buy any of these cPanel packages for a year, or for every other year (biennial), you will be given a free domain name.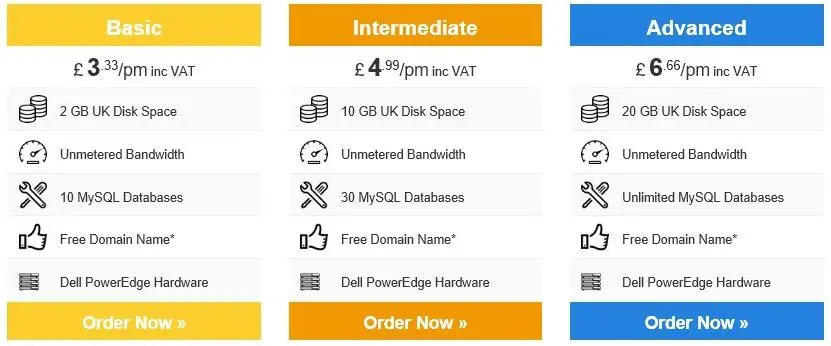 The Windows shared hosting plans are also offered, similar to the Linux shared hosting plan. The prices are almost the same. The only differences are the number of the domain, the size of the disk space, and price of Advanced plan. Besides, Plesk panel is included instead of the cPanel.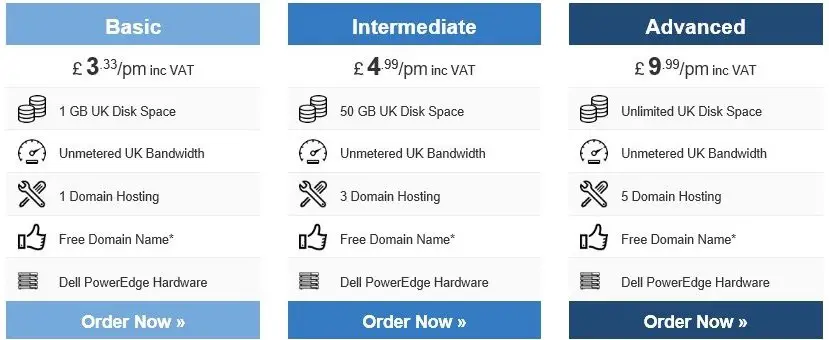 eUKhost Reviews on Business Hosting Plan
eUKhost offers the Business hosting plan to businesses that need a robust hosting plan. Not to say that the hosting plans are robust, this plan also guarantees its clients a 100% uptime. Does this sound too good to be true? Well, the company has SLA to back this up. What is SLA, you may ask. 
It is a Service Level Agreement document to check should the host fail to make its promises, some penalties will come with it. This plan comes in two packages:
Linux (£16.66 per month exclusive of VAT) – It features a 5GB (UK) disk space, monthly bandwidths of 100GB, 10 parked domains, 5 add-on domains, and cPanel hosting.
Windows (£16.66 per month exclusive of VAT) – It has features that are similar to those in Linux, except the Plesk Panel is used instead of the cPanel.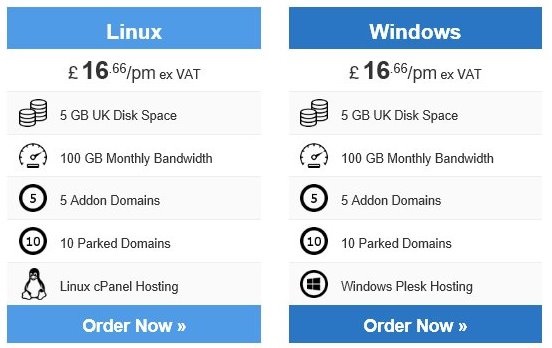 eUKhost Reviews on Linux VPS Hosting
The VPS (Virtual Private Server) hosting is offered in four packages: Starter, Standard, Professional, and Enterprise. All these packages share the same features but differ in pricing and size. The features include SSD storage and a free Plesk Web Admin. The Starter plan goes for £12.99 while the Enterprise plan goes for £33.99 per month, exclusive of VAT.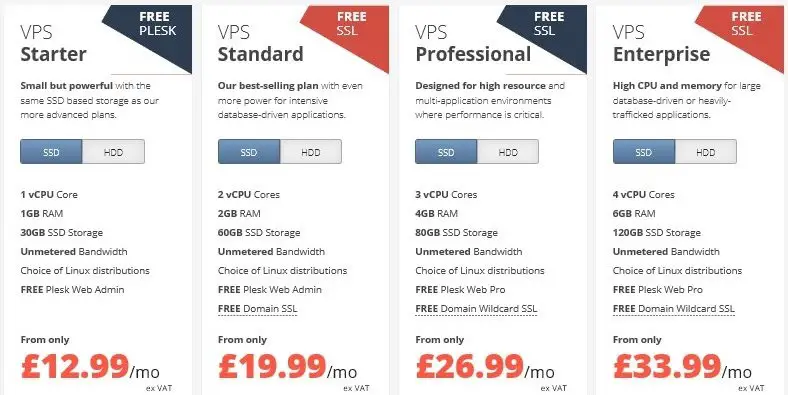 eUKhost Reviews on Windows VPS Hosting
Windows VPS hosting also comes in four packages similar to those of the Linux VPS Hosting. The Starter Plan goes for £15.99, and the Enterprise goes for £36.99 per month, exclusive of VAT.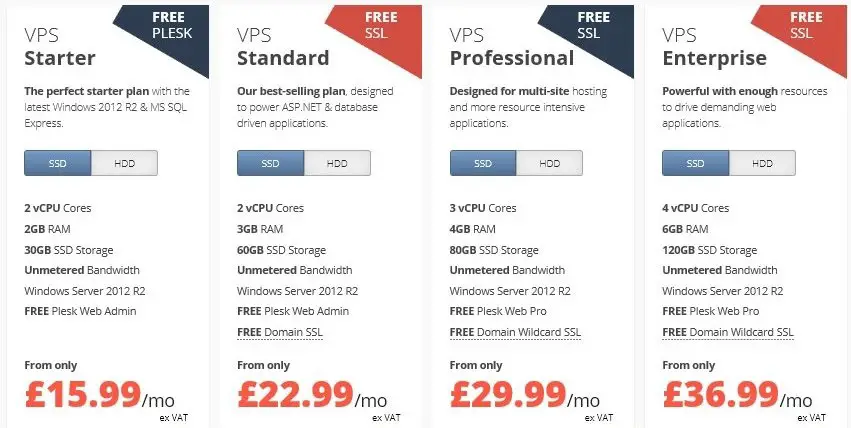 eUKhost Reviews on Cloud Hosting Plan
Backed by 100% SLA and 24/7 live support, the cloud hosting plan is offered through VMware or Hyper-V. When you log on to their site, you will need to choose the kind of operating system you wish to work on, control panel, remote backup size, and a monitoring plan.
The company boasts of offering great features for their cloud customers like disaster recovery, super fast storage, leading Firewalls as well as reliable solutions for backup.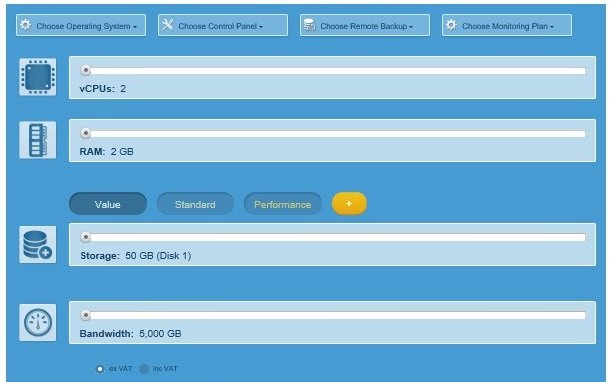 eUKhost Reviews on eNLight Cloud Hosting Plan
How is the eNlight cloud hosting differs from the cloud hosting plan mentioned above? Well, it takes reliability and uptime to a whole new level. The plan uses a cluster of servers connected to a storage device (remote), with the data stripped down to multiple of these devices, thus ensuring redundancy.
You can order either the Linux version or the loud for cluster version, which all come at different prices, depending on the features given.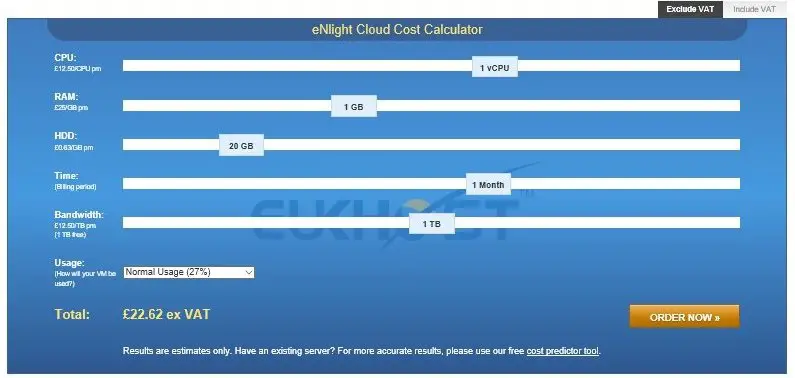 eUKhost Reviews on Dedicated Hosting Plan
eUKhost dedicated hosting is for those who wish to have their servers managed, and give them a level of peace. The plans offered come in two major categories; those offered under HDD (Hard Disk Drive) and those offered under SSD (Solid State Drive). Servers that are included in the dedicated hosting plan are eUK E3, eUK E5, and eUK E5 St servers.
Plans are then packaged into the Standard, Professional, and Enterprise plans.
eUKhost Reviews on Linux Reseller Hosting Plan
Under eUKhost reseller plan, you are promised a 30-day money back guarantee. The plans are packaged into Basic (£ 9.99 per month, exclusive of VAT), Premium (£14.99 per month VAT exclusive) and Supreme (£24.99 per month VAT exclusive). All these plans share the same features that include sufficient disk space, unlimited domains, high bandwidth and Dell PowerEdge Hardware that will vary in size depending on the chosen plan.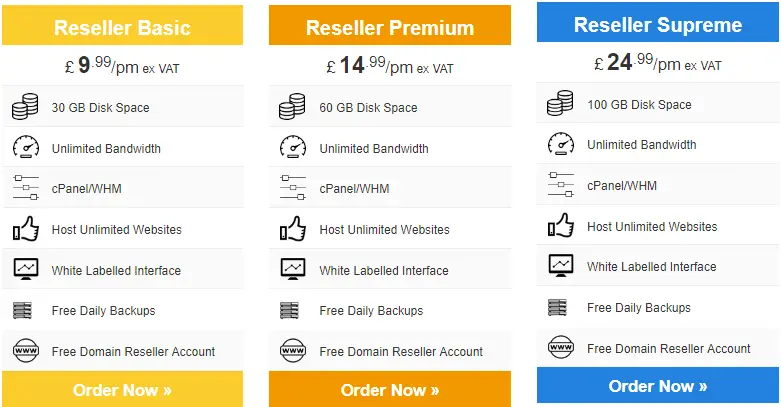 eUKhost Reviews on Windows Reseller Hosting Plan
eUKhost Windows-based reseller hosting plan's prices are similar to those of the Linux reseller hosting plan. The differences are the features that can only be supported in the Windows environment, such as the Plesk control panel, and the SQL Server.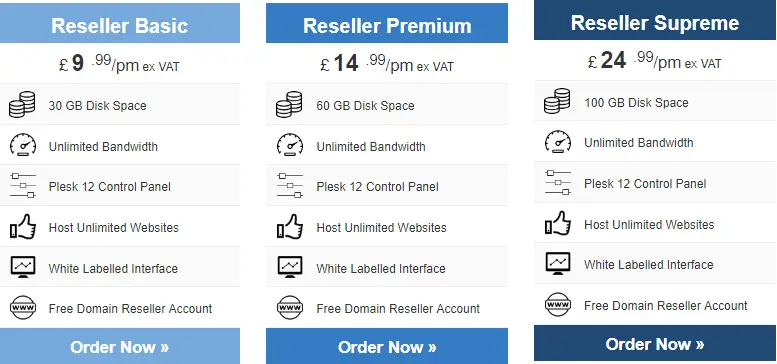 eUKhost Reviews on Domain Services
You can purchase a domain name starting from £5,83 per year. Some of the top featured domain name extensions include .com, .net, .org, .London, .business as well as .solutions.
eUKhost Website Builder
You can also build websites easily with their website builder. They provide an interface that is fully responsive on any computer device, be it mobile or stationery, as well as an easy layout for you without involving any computer coding. You can sign up for free and start building your website. Besides, you can also use the RV Site Builder that is ready in the cPanel.
eUKhost SSL Certificates
Any company or online store that handles client information will need to have an SSL certificate. This safeguards their client's details. You cannot successfully run an online business without an SSL certificate.
SSL Package: Alpha SSL (£29.00 pa), Domain SSL (£59.00 pa), Org SSL (£89.00 pa) and Ext SSL (£320 pa). They feature 2048 bit encryption as well as a standard browser padlock. The Ext plan will get a green bar browser padlock.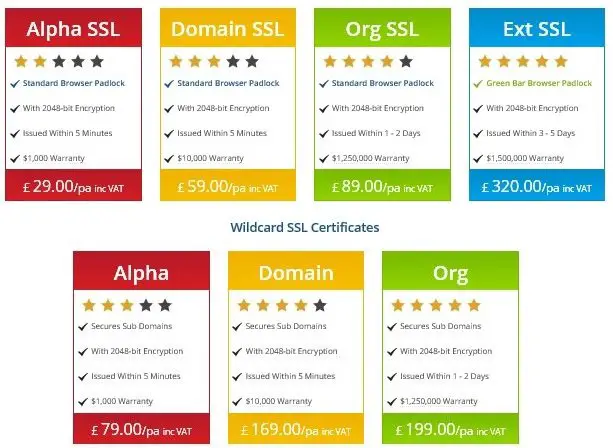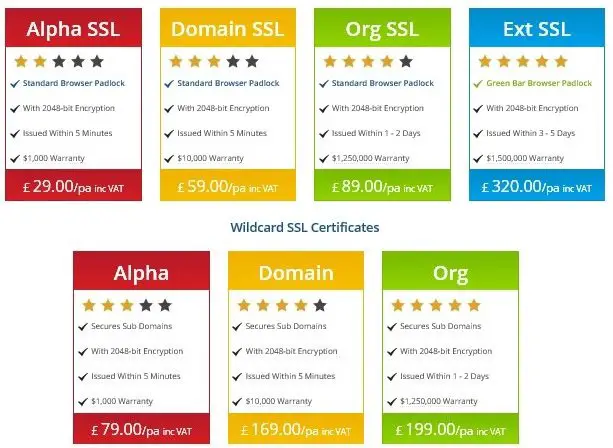 eUKhost Reviews on WordPress Hosting
It's now perhaps a well-known fact that WordPress sites make up a bulk of the websites available online. Therefore, almost all web hosting companies make an effort to offer support for WordPress. eUKhost has pre-installed WordPress. There are thousands of professional themes to choose from, which can help to customize your blog site.
The company has set aside a separate server to serve the WordPress sites only, under its optimized WordPress hosting plans. It also features some pre-installed plugins that are popularly used with WordPress. With these features, I can say eUKhost is good for WordPress.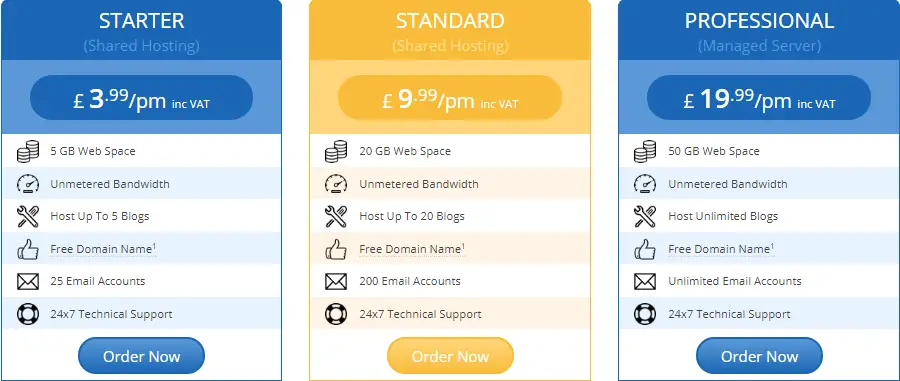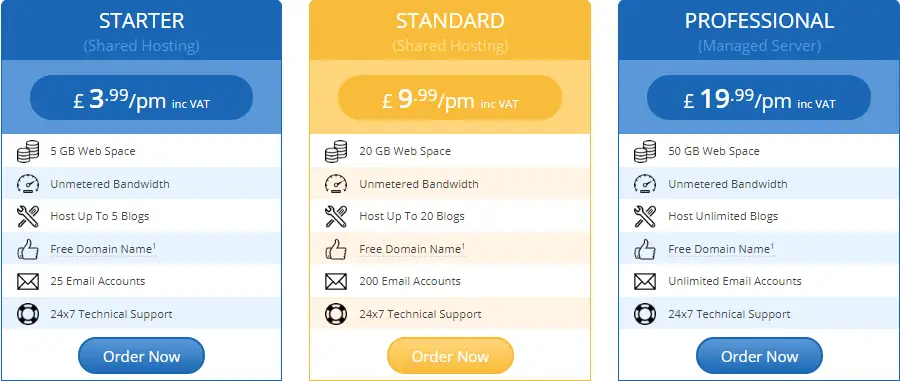 eUKhost Reviews on Support and Customer Service
eUKhost offers 24/7 support to its clients, through their sales executives and senior technicians. These people work in shifts so that the customer service is available 24/7. If you need help, you can contact the team through telephone, live chat, and email. A look at other eUKhost reviews shows that the company's support is superb.
For your information, another web hosting service provider that is serving excellent customer support is SiteGround.
#Trial 1 Prodigious Live Chat Support
I have heard a lot about the prodigious and quick customer service of eUKhost especially live chat support. So I decided to test their online live chat. I contacted their support personnel by filling up my information and entered into their chat box. Within 05.44 seconds their representative sent me the text.
I was astonished to get a speedy response from their support personnel. He was so attentive and have complete know how about their company's hosting plans and other information. His name was Stuart and his tone of talking with me was polite. So I rated him 10 out of 10.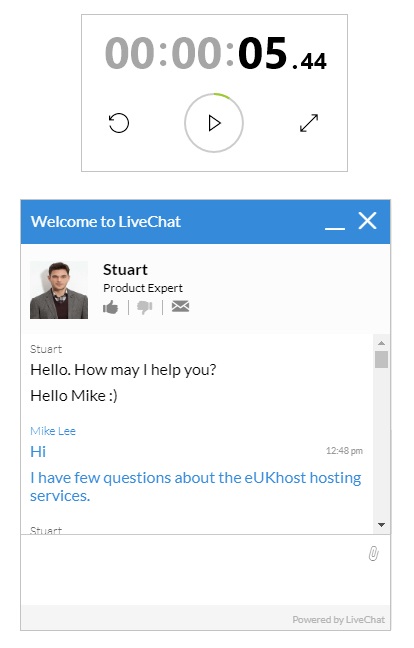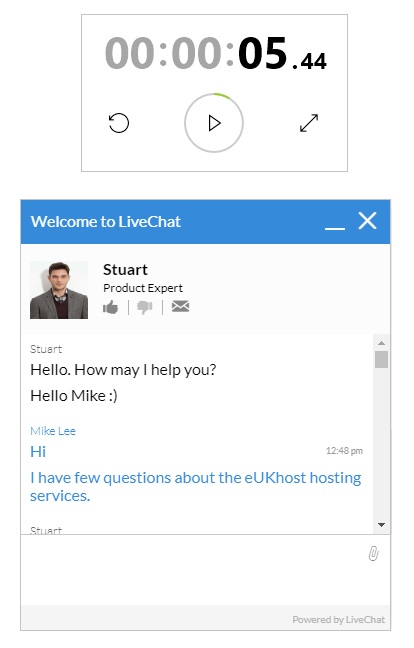 A detailed conversation with eUKhost Live Support Personnel:
Stuart: Hello. How may I help you?
Stuart: Hello Mike 🙂
Mike Lee: Hi, I have few questions about the eUKhost hosting services.
Stuart: Sure, let me know.
Mike Lee: Is eUKhost Hosting provides free SSL service? How about paid SSL solutions?
Stuart: We don't provide free SSL service, you can have a look at the link below to see the SSL certificates offered by eUKhost. https://www.eukhost.com/ssl-certificates.php
Stuart: The basic SSL Certificates can secure only one domain name.
And a Wildcard SSL certificates can secure one domain + the sub-domains under it.
Mike Lee: Both are paid?
Stuart: Yes
Mike Lee: How about Domain Privacy Protected Service? If yes then free or paid?
Stuart: Are you looking to secure a information based website or the e-commerce one?
https://www.eukhost.…domain-names/id-protection.php
Stuart: Domain ID Protection costs just £5 per year.
Stuart: Alpha SSL – A low cost, entry level SSL Certificate ideal for hosting bundles and entry level websites. Recommended for information based websites.
Stuart: Domain SSL comes up with the SGC technology, which means you get an additional level of guaranteed security for the users generally recommended for the sites on which online transactions are being performed.
Mike Lee: Alpha SSL is also paid or free? Because I see your company plans.
Stuart: All SSL certificates are paid if taken as add on. Are you also looking for web hosting solution?
Stuart: We're providing SSL free with VPS plans that two different SSL certificates on different plans. https://www.eukhost.com/vps-hosting/linux.php. Please refer to link above
Mike Lee: Okay. Is there any Free Site Migration Service?
Stuart: You can simply click on "Configure & Buy" to check the server configuration options provided along with the pricing.
Stuart: Which control panel are you currently using?
Stuart: You'll only need to share existing cPanel login details with our techs once the setup is completed. Our techs will take care of the entire migration for you. It includes all the websites, databases, emails etc.
With all our fully managed hosting servers and services we do provide you 24 X 7 X 365 days unmatchable technical support via Live chat, Phone, Tickets, and Emails without any additional cost. No additional cost for migration. No setup fee.
Mike Lee: That's mean eUKhost is providing free site migration with no additional cost and it is totally free. Sound good.
Mike Lee: Is eUKhost Hosting offers Dedicated IP solution?
Stuart: You'll get one dedicated IP free with VPS solution.
Mike Lee: Not with other hosting plans?
Stuart: Dedicated IP comes as add on with shared/reseller plans.
Stuart: Each additional IP will cost you £2.8 (inc. VAT) per month or £33.60 (inc. VAT) per year per IP address.
Stuart: When are you looking to get these services live and active?
Mike Lee: What type of control panels being used in both Linux and windows hosting plan?
Stuart: cPanel with Linux shared plans.
Stuart: Plesk with WIndows shared plans.
Stuart: cPanel and Plesk as an option with Linux VPS.
Stuart: Plesk with all Windows hosting plans.
Stuart: Which plan are you considering?
Mike Lee: Well not decided yet. Any Website Builder tool offered?
Stuart: RV site builder.
Mike Lee: Is there any shared hosting plan supports unlimited websites?
Stuart: There is no such plan supporting unlimited websites.
Stuart: With Linux shared plans you can host multiple domains, only limit is the disk space allocated.
Mike Lee: What are the security features that eUKhost Hosting offers?
Stuart: Please provide your exact specs requirement and preferred hosting platform. I'll then be able to help you pertinent solution with the exact features.
Mike Lee: Tell me about shared hosting plan?
Stuart: Linux or Windows?
Mike Lee: Linux
Stuart: https://www.eukhost.…-hosting/cpanel-comparison.php
Stuart: Please refer to the link above to know the features.
Mike Lee: Okay. Is eUKhost Hosting is a part of Endurance International Group(EIG)?
Stuart: No.
Mike Lee: Will eUKhost Hosting back up my website automatically? Or we have to pay for it?
Stuart: We take weekly routine backups of all shared/reseller hosting servers so if you want any database backup restored from the latest available backup with us, you can seek help of our technical team and get it restored.
Mike Lee: That's great. Thank you for your time.
Stuart: Pleasure 🙂
Stuart: Have a wonderful time.
eUKhost Reviews on Uptime Performance and Server Status
Uptime Stats
Uptime is very crucial to all websites as this will determine whether their sites are accessible. eUKhost has promised a 100% uptime with some of its hosting plans, which is backed by an SLA. However, based on my personal record of their uptime performance, they are not really performing well recently.
eUKhost's server speed is relatively fast, especially those powered by SSD. It can, therefore, be said that the company is reliable when it comes to speed. There are only a few complaints on the speed upon looking at some of the eUKhost reviews provided online. The online status of eUKhost servers is currently active, at the time of writing this review.

Uptime Stats – Target: 99.90%
July 2017 – 99.74%
June 2017 – 99.62%
May 2017 – 99.43%
April 2017 – 99.56%
March 2017 – 99.70%
February 2017 – 98.98%
January 2017 – 98.95%
December 2016 – 99.20%
November 2016 – 100%
October 2016 – 99.66%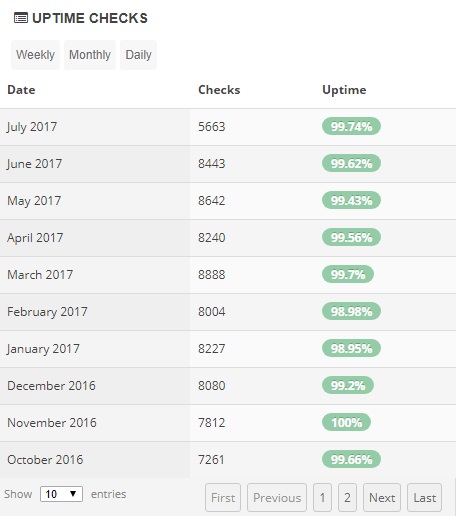 eUKhost claims to provide 99.95% uptime SLA to their all customers. I was not sure about their uptime performance so I decided to check their uptime stats performance for past 10 months including July as well. I got a disappointing result from this hosting company as only one month shows 100% uptime stats and other 9 months did not achieve the target.
Overall average of eUKhost was 99.48% which is below their uptime target. If this company wants to increase their clientage then they should have to improve their uptime performance.
Server Response Speed Test
When it comes to hosting server speed, then the customer has to think a lot. Because server speed really plays an important role. Same like eUKhost company promises to provide a speedy server speed so I decided to check whether their company's claim is true. I pinged a website hosted on their server through 8 different locations.
I got a better server response speed as shown in the picture below. Overall rating of server speed test is A. The server speed is good for both e-commerce and blogging websites. Besides, this company also offers CloudFlare CDN (Content Delivery Network) which helps in speeding up your site.

Good and Bad of eUKhost
Good
Free domain.
Customer support is excellent.
Bandwidth is unlimited.
Easy to use.
Well laid out hosting plans that are easy to understand.
Bad
Marketing tools offered are very minimal.
Poor uptime performance
No free SSL for shared hosting plan
Summary of eUKhost
Well, a look at what it offers in web hosting shows that much of the services are similar to other web hosting companies. The pricing is fair, the customer support is good, and the speeds are also great. However, they need to improve their uptime performance.
One might argue that the shared servers are crowded or oversold. This might thus lead us to wonder whether the small sites get the value they paid for. Overall, the company offers great web hosting services.
What makes eUKhost differ from the other web hosting companies?
They are working hard to keep up with new emerging technologies, which is a very positive aspect. As a conclusion, if you are looking for a UK-based web hosting service provider, you can consider eUKHost.
Compare eUKhost With Our Top Ranked Web Hosts!
SiteGround vs HostGator vs eUKhost

SiteGround

HostGator

eUKhost
Rating

Rated 4.5 stars

Rated 4.5 stars

Rated 3.5 stars

Price

$3.95/month

$3.95/month

£3.33/month

Criteria