Editor Rating

Rated 4 stars

Excellent
---
Reviewed by:

Published on:

Last modified:
---
DISCLOSURE: This post may contain affiliate links, meaning when you click the links and make a purchase, we receive a commission.
Our Top Ranked #1 Web Host

Ideal for WordPress, Joomla, Drupal and eCommerce
What is FastHosts?
FastHosts is a UK based hosting service provider that offers impressive features through web hosting packages. They have many data centers which aid in powering the tools that the company has to offer in the packages. The data centers are located in Gloucester, England and other places. FastHosts has everything you require irrespective of whether you own a business online or run a blog.
FastHosts offers powerful tools and emails hosting options. Moreover, FastHosts provides numerous services. For example, FastHosts web hosting offers several tiers of packages where free SEO tools are offered to the users. This FastHosts review will give you an insight regarding the quality of service they provide.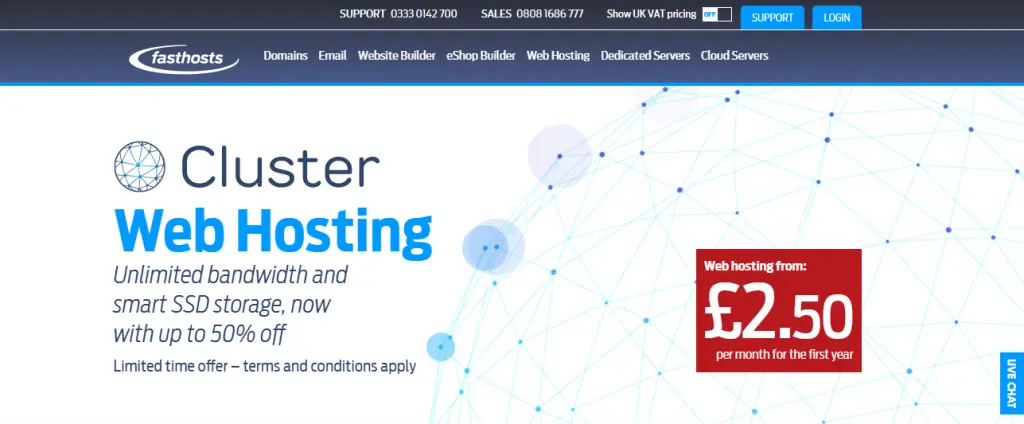 Details
 
Founded
1999
Server Location

Gloucester, UK
Spain
Germany
United States

Services

Domains
Email
Website Builder
eShop Builder
Web Hosting
Dedicated Servers
Cloud Servers
Web Hosting
Reseller Hosting
WordPress Hosting

Unlimited Website
Limited (100 Website Package)
Unlimited Storage and Bandwidth
Limited Storage and Unlimited Bandwidth Available with Web Hosting Plans
Domain Hosting
Yes
Linux Hosting
Yes
Windows Hosting
Yes
WordPress
Optimized
Joomla
Optimized
Drupal
Optimized
Magento
Optimized
PHP Hosting
Yes
e-Commerce Hosting
Yes
Email Hosting
Yes
SSL Support

Free dedicated SSL certificate for 1st year with Momentum and Ultimate Web Hosting Plans
SSL Certificates

Dedicated IP
Paid Dedicated IP's available to Private Servers Either Dedicated or Virtual Cloud
Free Site Migration
No
Free Domain
Yes, Free Domain for 1 Year
Domain Privacy Protected
Yes, Paid £2.99+VAT Per Domain
Money Back Guarantee
30 Days
24/7 Support

Email Support
Live Chat
Ticket Support
Fax
Post Service
Social Media Includes Facebook, Twitter etc

Control Panel

Plesk (Private Servers)
cPanel 11 + WHM (Private Servers)
Bespoke Account Control Panel (Cluster Shared Hosting)

One-Click Installation

Yes , Through OneClick installer
Free and Paid One-Click Installations are Available

Website Builder
Website Builder Available Price Starting from £4.99 Per Month
Automated Backup
Yes, Paid Service Only With Cloud Servers
Content Delivery Network (CDN)
No
Security Features
Payment Methods

Visa
Maestro
MasterCard
PayPal

Endurance International Group Network (EIG)
No
Social Profile
FastHosts Reviews on Hosting Plan and Features
FastHosts FastHosts offers standard hosting options to their customers. The company offers both UNIX and Windows hosting. The clients can choose the one that best suit them. FastHosts offers hosting packages that vary from entry level to dedicated servers.
The FastHosts shared hosting plan starts at £2.50 per month. The Ignite package allows only one website and up to 10GB of storage space. If you have greater traffic needs, the Momentum or Ultimate plan might suit you. All shared hosting plans come with 24/7 support and SEO tools. Besides, a free domain is included in all shared hosting plans.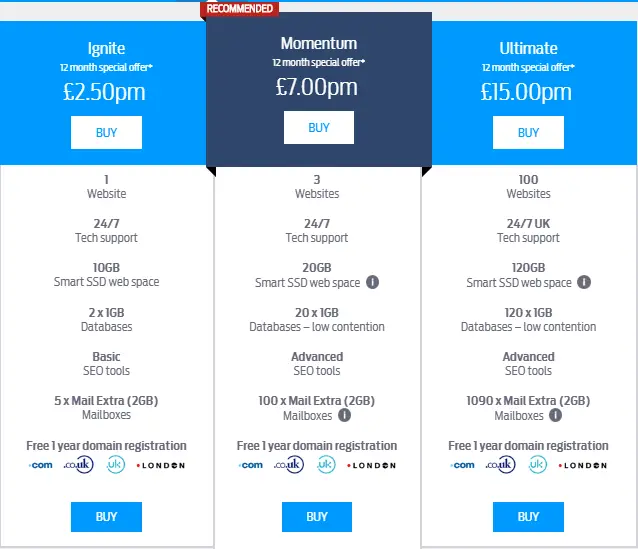 Features of FastHosts
The best thing about this company is that they offer a free service which is named as the Traffic Driver. This SEO service is offered for free, which is in fact quite a rare offering by a web hosting company.
The company also offers a wonderful site-builder tool. This tool can be very useful for the new webmasters. The basic package for this website builder starts at £4.99 per month, with a 30-day money back guarantee.
FastHosts seems to offer same services as the other UK hosting companies. Its control panel enables the users to manage all tools and navigate through the features easily. Installing different applications is also hassle-free. Some applications come with the one-click installation.
FastHosts Reviews on WordPress Hosting
FastHosts offers optimized WordPress hosting solution. It has been developed considering the core performance. Hosting packages have been developed for maximum WordPress optimization. Dynamic load balancing is something that makes FastHosts impressive.
Its load balancing capabilities help in handling the load of excessive traffic, thereby letting your website perform well all round the clock. Besides, they also provide one-click install panel that makes it possible to install WordPress quickly.
FastHosts Reviews on Support and Customer Service
FastHosts support offers plenty of options to the users in order to stay connected for resolving queries. FastHosts customer service covers both phone and online ticketing systems. The help is not just limited to ticketing, but they also offer supports through accounts on LinkedIn, Google+, Facebook and Twitter.
The company offers user guides and has a vast knowledge base. Its training center offers all the information needed by the users. You can rely on their support services when you encounter issues or have any questions. However, this is not always the case. You should contact them during non-busy hours or you will have to wait for their response.
Besides, another negative side of the company is that they do not offer a forum. This is quite disappointing as it could be a valuable resource.
#Trial 1 Prodigious Live Chat Support
I wanted to test the customer support of FastHosts as they have a good reputation in this aspect. At first, I noted down some questions which I have in my mind and then I contacted their support service via the live chat. Within 1.82 seconds, one of their representatives sent me the message. His name was Matt Harvey and he responded my all queries on time.
I was happy that within less time duration, I got answers to my all questions. He talked with me in a professional and polite way. I am satisfied with the live chat support of FastHosts so on behalf of my judgment, I rated him 9/10.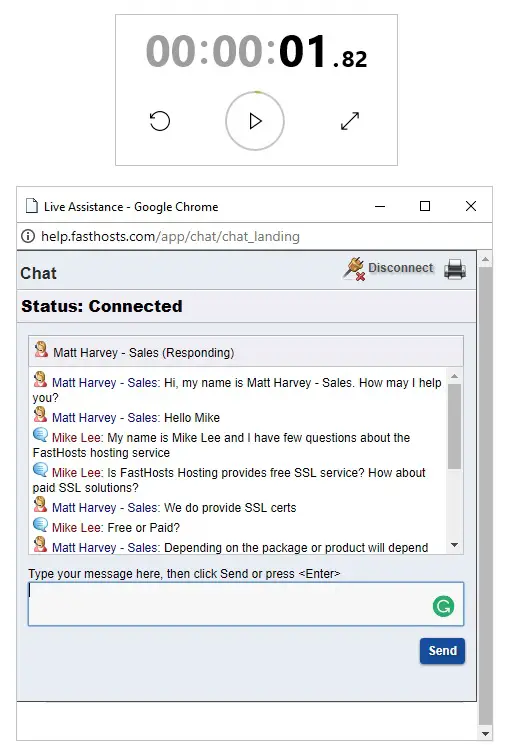 Here is the full conversation:
Matt Harvey: Hi, my name is Matt Harvey – Sales. How may I help you? 
Mike Lee: My name is Mike Lee and I have few questions about the FastHosts hosting service.
Matt Harvey: Hello Mike.
Mike Lee: Is FastHosts Hosting provides free SSL service? How about paid SSL solutions?
Matt Harvey:  We do provide SSL certs.
Mike Lee: Free or Paid?
Matt Harvey:  Depending on the package or product, will depend on if this is free or chargeable.
Mike Lee: How about Domain Privacy Protected Service? 
Matt Harvey: That is chargeable – £2.99+VAT per domain in year 1 increasing to £5.99+VAT per year thereafter .
Mike Lee: Is there any Free Site Migration Service?
Matt Harvey:  No, we do not offer this as a free service. It is a chargeable service, only between private server to private server. 
Mike Lee: Alright Matt. Is FastHosts Hosting offers Dedicated IP solution? 
Matt Harvey:  We only make dedicated IP's available to private servers. Either dedicated or virtual cloud.
Mike Lee: Is FastHosts Hosting is a part of Endurance International Group(EIG)?
Matt Harvey:  No.We are part of United Internet.
Mike Lee: What type of control panels being used in both Linux and windows hosting plan?
Matt Harvey:  If you are referring to our 'Cluster' shared hosting, you access the webspace via our bespoke account control panel.
Mike Lee: And what about dedicated or cloud servers?
Matt Harvey:  For private servers, we offer Plesk or cPanel and pre-installed options.
Matt Harvey:  Both chargeable. Cloud is £10.00+VAT per month. Dedicated is £14.99+VAT for Plesk and cPanel £19.99+VAT per month.
Mike Lee: How many data centers FastHosts has? What locations are these data centers/servers located?
Matt Harvey:  We have 4 DC's, with the default being Gloucester, UK. The others are only available to Cloud, Spain, Germany, and US. 
Mike Lee: Great. Does FastHosts offer a Content Delivery Network (CDN)?
Matt Harvey:  No, not out of the box. But a server can be configured by you for this requirement.
Mike Lee: Alright. Any hosting plan that supports unlimited website?
Matt Harvey:  No, only a 100 website package. 
Mike Lee: Will FastHosts back up my website automatically?
Matt Harvey:  Not on a shared package, no. Only as a paid service with a cloud server
Mike Lee: Got it. What are the security features that FastHosts offers?
Matt Harvey:  We monitor traffic to and from our DC's but not to individual sites or servers. That is the responsibility of the user .
Mike Lee: Alright. It is really a nice talking with you
Mike Lee: Thank you for answering my all queries.
Matt Harvey:  You are welcome Mike.
FastHosts Reviews on Uptime Performance and Server Status
Uptime Stats
99.99% guarantee is offered by FastHosts. If you are interested in the FastHosts status, you would be disappointed to know that the company does not offer statistics to the public regarding this factor. There are barely any complaints on FastHosts speed. FastHosts downtime is also something that is not much heard about.
However, I will keep monitoring the uptime performance and update this FastHosts review if needed.
Uptime Stats – Target: 99.99%
September 2017 – 100%
August 2017 – 99.99%
July 2017 – 99.99%
June 2017 – 100%
May 2017 – 99.84%
April 2017 – 100%
March 2017 – 100%
February 2017 – 100%
January 2017 – 99.85%
December 2016 – 100%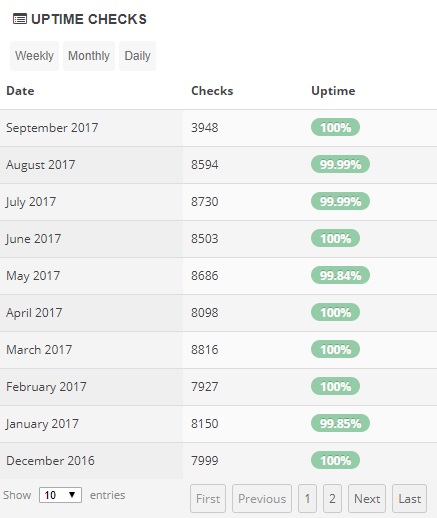 FastHosts Company guarantees to provide 99.99% SLA uptime to their all clients around the world. I gathered their uptime stats performance of the past 10 months including September 2017. Also, I uploaded the image of uptime stats and chart performance to assist all those who are still in confusion regarding their uptime performance.
FastHosts accomplished their target in eight months out of ten and only in two months, this company did not achieve the target. The overall average of FastHosts is 99.96% , which is outstanding.
Note: For latest and complete performance of FastHosts uptime stats, visitors can bookmark our site.
Server Response Test Speed
When choosing a good hosting for your website, one of the important things that knocks to your mind is the server speed. If speed of your website is not good as you expected, then it will be difficult for visitors who like to visit your site on regular basis.
Hence, I planned to test the server response speed and for this, I pinged one of the websites hosted on FastHosts' server. I checked the server response speed from 8 diverse localities and found that this company is providing good server speed as you can see in the image given below. FastHosts comes out with an amazing rating of A.

Good and Bad of FastHosts
Good
Unlimited bandwidth
Reliable service
24/7 customer support
Free SEO tools
VPS and dedicated servers
Great uptime performance
Bad
Absence of forum for support
Not really providing unique service
No free site migration service
Summary of FastHosts
FastHosts is a reliable name when it comes to hosting services available in the UK. The company always try to provide good quality services to their clients. The dedicated and VPS hosting solutions offered by them are just satisfied.
A plethora of features is offered in order to ensure that the users are able to configure their sites as per their wishes. The company also has made considerable progress in rooting out the factors that affect the server performance.
FastHosts is dedicated to following a great business practice. If you already have a site that is subjected to heavy traffic, this hosting company is able to offer you the right solutions to manage the traffic. New websites also gain a considerable amount of benefits from their services because of the free search engine optimization tools being offered with the plans opted for.
Service is offered to all the customers irrespective of being entry level or experienced in running websites. A lot of wonderful features are offered for a decent pricing of services. Overall, I would say FastHosts is neither perfect nor too bad. The main concern before choosing FastHosts as your hosting service provider is to consider whether FastHosts can fit your needs.
Compare FastHosts With Our Top Ranked Web Hosts!
SiteGround vs HostGator vs FastHosts

SiteGround

HostGator

FastHosts
Rating

Rated 4.5 stars

Rated 4.5 stars

Rated 4 stars

Price

$3.95/month

$3.95/month

£2.50/month

Criteria