Editor Rating

Rated 4.5 stars

Outstanding
---
Reviewed by:

Published on:

Last modified:
---
DISCLOSURE: This post may contain affiliate links, meaning when you click the links and make a purchase, we receive a commission.
Our Top Ranked #1 Web Host

Ideal for WordPress, Joomla, Drupal and eCommerce
What is FatCow Hosting?
FatCow is a web hosting company which is well-known in the market for its good facilities and affordable hosting plans. It is one of the many web hosting companies and it provides a boost up of good uptime according to a measured statistics of 99.9% over a 30 day period. FatCow is listed under the name of its parent company EIG.
The Internet is available in every corner of the world and users yet not got the perfect solution for web hosting. This FatCow review shows that it is providing stable web hosting solution. Website hosted with FatCow loads quickly and fast enough for visitors. The company has made a reliable brand in providing domain services to its customers.
The services are very much affordable to every pocket and also available in annual packs. The subscription can be purchased by customers according to their own use.
Details
 
Founded
1998
Server Location
Boston, USA
Services

VPS Hosting
WordPress Hosting
Dedicated Hosting
Domain Registration
Website Management
Email Service
Marketing Service
E-commerce Service
Domain Parking

Unlimited Website
Available
Unlimited Storage and Bandwidth
Available
Domain Hosting
Yes
Linux Hosting
Yes
Windows Hosting
No
WordPress
Optimized
Joomla
Optimized
Drupal
Optimized
Magento
No
PHP Hosting
Optimized
e-Commerce Hosting
Optimized
Email Hosting
Yes
SSL Support
SSL Certificate by Comodo Available at $31.99/yr
Dedicated IP
Available With Dedicated Hosting Plan
Free Site Migration
Not Free But Paid Price Start at $150
Free Domain
Yes For One Year
Domain Privacy Protected
Available at $9.99/Yr
Money Back Guarantee
30 Days
24/7 Support

Telephone
Live Chat
Ticket Support

Control Panel
vDeck v4
One-Click Installation
Mojo Marketplace
Website Builder
Yes, Drag and Drop
Automated Backup

Free Backup After Every 14 Days
Paid Daily Automatic Backups Available at $1.12/mo Or $26.98/Yr

Content Delivery Network (CDN)
SiteLock TrueSpeed CDN
Security Features

SiteLock Secure
SSL Certificate
Malware Protection

Payment Methods

PayPal
Visa
MasterCard
American Express
Discover

Endurance International Group Network (EIG)
Yes
Social Profile
Few Facts About FatCow Hosting Reviews
FatCow is always optimizing their server speed and other FatCow hosting reviews support this statement. A webmaster able to serve all of his/her visitors effectively. The clients will get a pretty consistent service across the board. FatCow has clustered architecture. It means if a server goes down, then another is ready to take its place with minimized downtime.
The data center located in Boston in the USA gives space up to 800 servers under FatCow hosting. Constant security surveillance is kept and made best facilities available besides physical protection. The server's safety is under two firewalls surveillance. The safety procedures adopted by the company are totally advance and understandable.
The hosting has become a complicated multi cross of connections, and all web hosting companies are doing their best to perform well in the market.
FatCow Reviews on Hosting Plans and Services
FatCow hosting offers services like FatCow shared hosting, VPS, dedicated and reseller hosting plan for users to choose so that they can find a plan that suits their website. The company has powerful server specially designed for users to provide them a fast and stable service.
FatCow shared hosting plan or "The Original FatCow Plan" starts with only $49 per year. This price is considered affordable for most people. Free domain name is included in this plan. This means when you sign up for this plan, you can get a favorite domain for free.
Besides, FatCow technology is claimed to be powered by green wind energy. This is great news not only for users but also for the environment!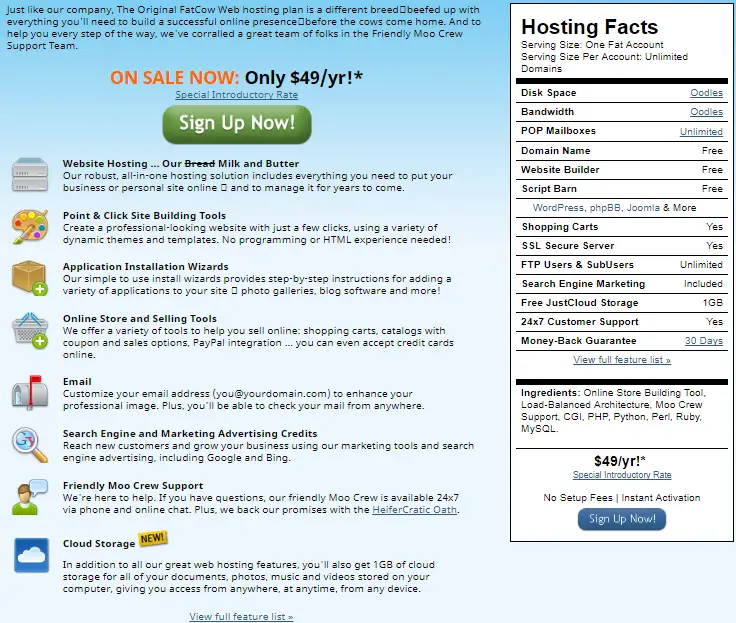 FatCow Reviews on VPS Hosting Plan
FatCow VPS hosting plan is another good service provided by FatCow and allows users to enjoy better performance. The Basic VPS solution costs $19.99 per month. Features like 40GB of storage, 1TB Bandwidth, and popular control panel cPanel are included in this plan.
In addition, if you need more advanced VPS hosting plan, the Optimum VPS plan provides up to 4 TB Bandwidth with customizable CPU/RAM, which provides user good experience and performance.
FatCow Reviews on Dedicated Hosting Plan
The dedicated hosting plan is ideal for those who have a popular website, which needs a powerful server to support the high traffic. With a dedicated server, you have full control on the server. Dedicated server allows users to enjoy huge server resources; this is not allowed on most shared hosting plan.
The Startup plan costs $119.99 per month, with Intel Xeon E3 server, 4GB RAM, 500GB Storage and 5TB Bandwidth. More powerful Professional and Enterprise hosting plan are also available.
FatCow Reviews on Reseller Hosting Plan
Interested in starting your own hosting business? FatCow reseller hosting plan might be a good choice for you! Starting at $49.95 per year, you can start your own web hosting business. The FatCow reseller plan uses VDeck, which is one of the superior web hosting control panel.
The FatCow hosting plans come with the following features:
Includes all the features that enable the users to create, edit and maintain their website easily. File Manager and SimpleScripts are available.
Access email via Webmail, configure email settings and set up some mailing lists with autoresponders.
Marketing Services like Ad credits, toll-free numbers, even email marketing tools are available.
FatCow Reviews on WordPress Hosting
FatCow WordPress hosting plan is customized for WordPress site. It is about doing something different to make the server and environment more compatible with the WordPress. The WordPress hosting is one of the best service provided by FatCow even other reviews define the same.
The WordPress is now considered as a revolutionary concept and many people are interested in using it as their personal website as well as company business website. The hosting quality maintained by the FatCow is remarkable and it's a great achievement for both WordPress and FatCow itself. FatCow offers special WordPress hosting plan for this popular Content Management System (CMS).
The WP Starter plan starts with just $3.75 per month, which included the customized control panel, pre-installed WordPress themes, and plugins. This WordPress hosting plan is designed for WordPress to achieve maximum performance. In addition, additional speed and enhanced security are expected in WP Essential plan.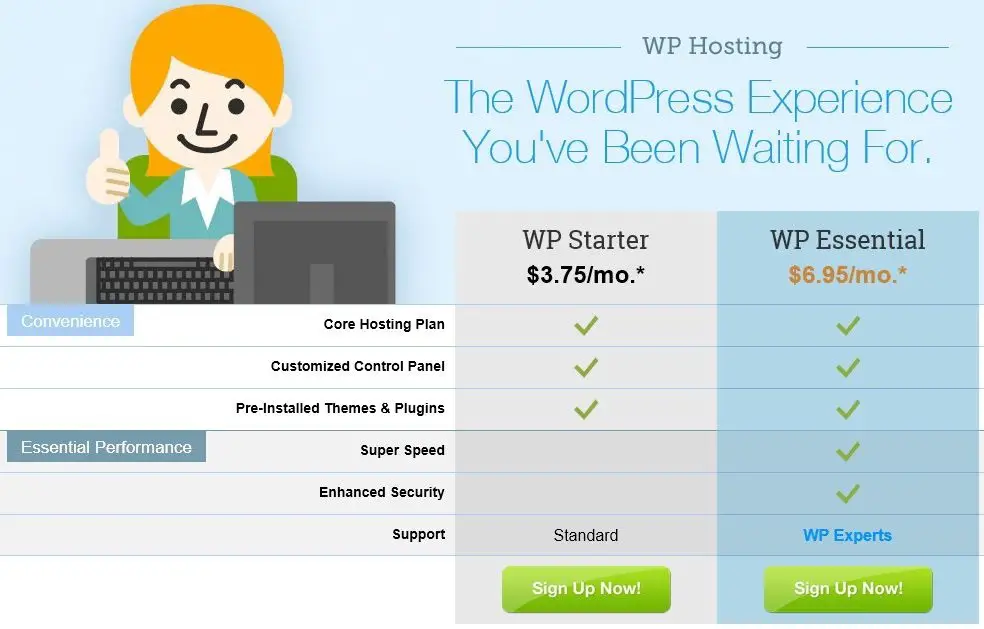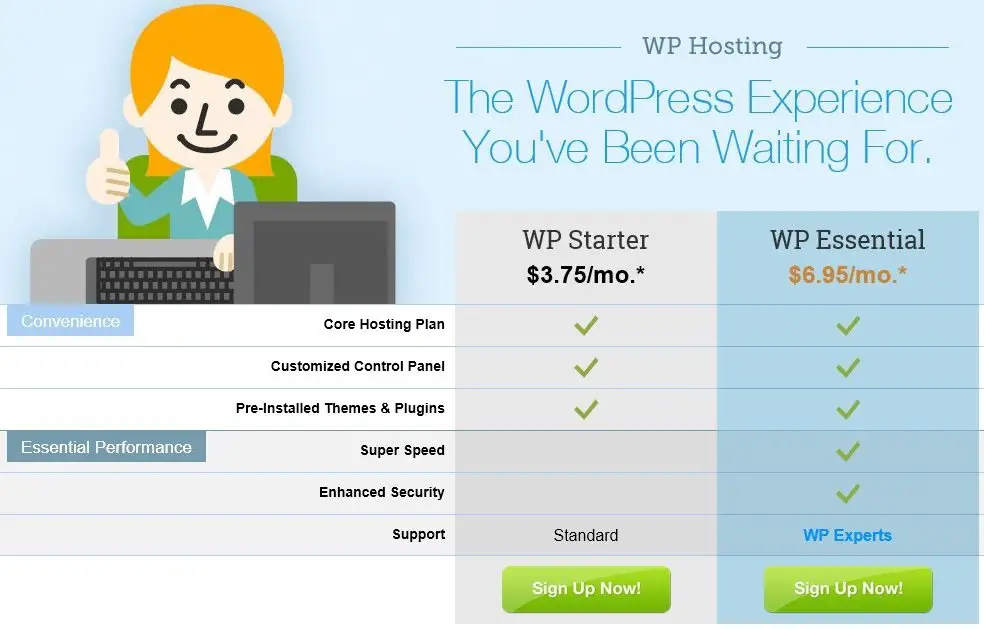 FatCow Reviews on Email Hosting Service
FatCow offers different types of email hosting plans to target different types of customers. The customers who use their email services have expressed their experience with FatCow as fairly good. The people of today world are presently engaged in technological works and all different forms of conversations can be done with email.
All FatCow email plans include features like spam and virus protection, 24×7 support and webmail services. RoundCube is a popular webmail platform which has many awesome features. This webmail platform is now included free with all web hosting plans and the webmail login is very convenient.
With $5 per month, G Suite plan is available for every Smartphone user. More advanced email plan is also available for enterprise email solutions.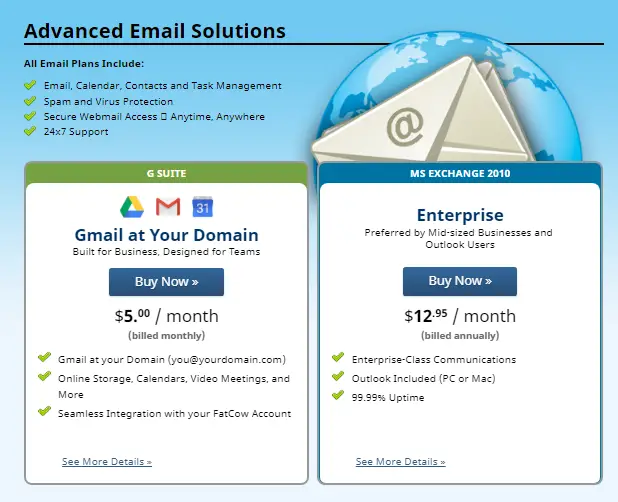 Everyone hates email spam and FatCow has provided a solution for it. The FatCow premium email spam filter enables users to monitor spam with more detailed reporting tools. With this spam filter, you gain control over the email spam. Besides, FatCow offers its users with extra mailbox storage. 10GB of mailbox storage costs $39.95 per year.


FatCow Reviews on Support and Customer Services
FatCow has earned name and fame in the world by providing a solution oriented quick service to its customers. It is providing customer support via live chat, telephone, and ticket system. FatCow customer support is provided every day of the year without any halt.
A big team is arranged to provide various services to every customer regarding every aspect of using the internet and the content of the internet. Good support is provided by qualified customer support officer, who tries to maintain a long lasting stability of the solution.
FatCow has really flexed its muscles and tried to separate itself from other service providers. Although they have tried hard to make every customer happy, there are still some complaints about their support delay. Below is my personal experience with their live chat support.
#Trial 1 Professional Live Chat Support
No doubt, FatCow hosting offers excellent customer services to all new and existing clients. I wanted to test the FatCow Live Chat services. I contacted to FatCow live chat personnel and he replied to me in 1 min and 0.32 seconds. The support employee name was Walston P and he answered all questions briefly and in a polite manner.
He guided me completely as he was having complete knowledge about their all hosting plans. Even his way of talking was professional. So I rated him 9 out of 10.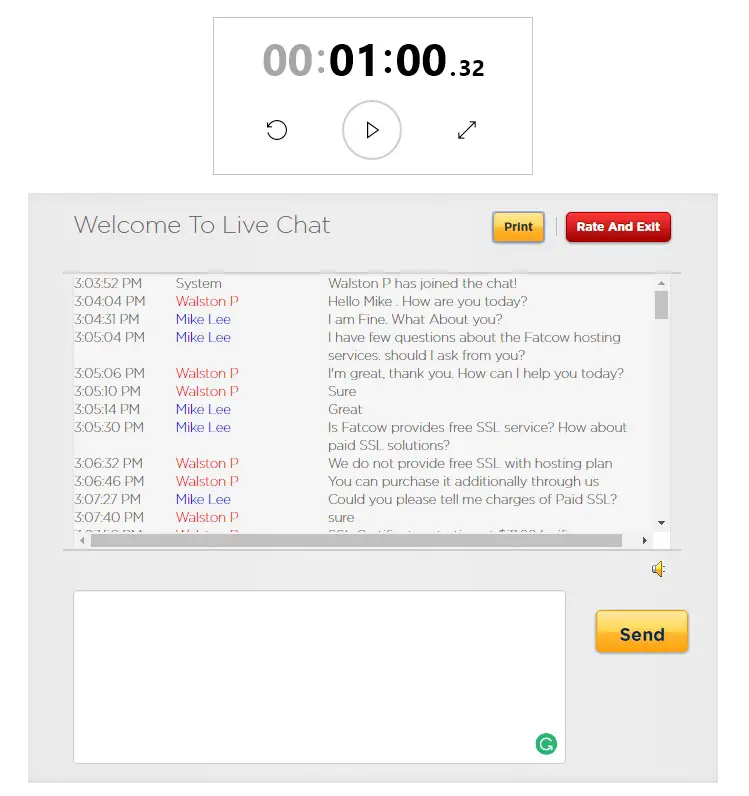 A detailed conversation with live chat support of FatCow:
Walston P has joined the chat!
Walston P: Hello Mike. How are you today?
Mike Lee: I am Fine. What about you?
Mike Lee: I have few questions about the FatCow hosting services. Should I ask from you?
Walston P: I'm great, thank you. How can I help you today?
Mike Lee: Is FatCow provides free SSL service? How about paid SSL solutions?
Walston P: We do not provide free SSL with hosting plan. You can purchase it additionally through us.
Mike Lee: Could you please tell me charges of Paid SSL?
Walston P: Sure. SSL Certificates starting at $31.99/yr if you purchase for 3 years.
Walston P: You can check it at fatcow.com/product/ssl_certificate.bml
Mike Lee: Alright
Walston P: Is there anything else I can assist you with today?
Mike Lee: $31.99 is one year fee?
Mike Lee: How about Domain Privacy Protected Service? If yes then free or paid?
Walston P:$31.99 per year on purchase for 3 years.
Walston P: Domain privacy is paid at $9.99/year
Mike Lee: Is there any Free Site Migration Service?
Walston P: No, Mike.
Mike Lee: What about Paid site migration service?
Walston P: It will charge $150 for migrating a website from an external server to us.
Mike Lee: Is FatCow offers Dedicated IP solution?
Walston P: With the Dedicated hosting plan we provide dedicated IP's
Mike Lee: Free or Paid?
Walston P: It comes with the hosting plan.
Mike Lee: Only with dedicated hosting, your company is providing dedicated IPs or with all plans?
Walston P: Only with dedicated plans. Shared hosting does not provide dedicated IP
Mike Lee: Got it. How many data centers FatCow has? What locations are these data centers/servers located?
Walston P: We have one only one data center located in Boston, USA
Mike Lee: Is FatCow supports Linux and Window Hosting?
Walston P: We provide Linux hosting.
Mike Lee: Through what type of control panel?
Walston P: We provide vDeck Control Panel.
Walston P: vDeck v4 is a control panel that puts you in control, with a completely redesigned, easy-to-use interface, featuring tabbed, drop-down navigation and one-click support.
Mike Lee: vDesk control panel is available with all hosting plans?
Walston P: vDeck v4 gives you greater flexibility for managing your hosting account and provides you with a wider selection of web hosting applications. vDeck v4 offers a consistent style throughout all pages. The tabbed interface eliminates the clutter by utilizing a well-organized, drop-down navigation.
Walston P: Yes
Mike Lee: That's Great Walston.What platform is the FatCow using to support One-Click installation? Softaculous?
Walston P: Mojo Marketplace.
Mike Lee: Is FatCow hosting plans optimized for Content Management System like Joomla, Drupal and Magento?
Walston P: Yes, we support Joomla and Drupal. Magento is not supported on shared hosting
Mike Lee: What about other e-commerces, Drupal and PHP?
Mike Lee: All these CMS are optimized?
Walston P: Yes, Mike. It is optimized.
Mike Lee: Great 🙂
Mike Lee: Any shared hosting plan that supports unlimited website?
Walston P: We do provide unlimited website hosting on all shared hosting plans
Mike Lee: Is there any hosting plan that supports email hosting?
Walston P: All hosting plan comes with free emails.
Mike Lee: Is FatCow part of Endurance International Group (EIG)?
Walston P: Yes.
Mike Lee: Will FatCow back up my website automatically? If yes, then tell me it is free or paid?
Walston P: We keep backup of the website on server for 14 days. It is free.
Mike Lee: I am checking your hosting plans and they said that Daily Automatic Backups Available at $1.12/mo & $26.98/Yr
Mike Lee: I am a little confused.
Walston P: Backup is made on the server automatically. If you want to download backup on your end then we have the paid tool.
Mike Lee: Alright. Is there any security features that FatCow offers?
Walston P: We do provide SiteLock service.
Mike Lee: It is really a nice conversation with you Walston and I got my all answers. Thank you 🙂
Walston P: It was my pleasure assisting you Mike!
Walston P: If you are satisfied with this support interaction, please click on the 'Rate and Exit' button to rate this chat experience whenever possible.
Mike Lee: Sure.
FatCow Provides Bundle of DNS, SSH, SSL, Website Builder, FTP and Control Panel Services
FatCow provides all the listed services under one roof, and the company also has maintained the hosting quality without much issue. The engineers at the company are expected to be well trained and experienced. They are specifically certified for resolving such day to day solutions for connectivity.
FatCow Control Panel
The Fatcow control panel is a platform for all users to control and manage their website files, database and more. FatCow uses vDeck, which is a superior web hosting control panel in their shared hosting plans. Some people prefer cPanel, but vDeck is also a good alternative to consider.
cPanel is available in their VPS and dedicated hosting plan. In addition, FatCow WordPress hosting plans have its own customized control panel. A good and safe control panel is important. The vDeck and cPanel control panel get updated from time to time to achieve the safest condition.
FatCow Domain Name Server (DNS)
With FatCow DNS, users can deal easily with their website visitors without any interruption. People usually call it FatCow nameservers as well. Domain name server has become a need of every individual that has created a tangled web of networks. As the time of writing this, FatCow still handles its DNS very well. FatCow also provides a very useful tutorial on How To Update DNS Records.
FatCow SSH
Secure Shell service is provided by FatCow as well. With FatCow SSH, it is able to tunnel the protocol of the network. The main purpose of using SSH is for security, which can be used to encrypt the online message. If you need to do FTP transfer securely, FatCow SSH can encrypt the files and achieve a high level of security.
FatCow SSL
Before you go ahead with the FatCow SSL, please check do you really need SSL? The Fatcow SSL services start at $31.99 per year, which is affordable for most e-commerce webmaster. FatCow SSL helps to protect your website reputation and increase customer confidence when dealing on your website.
FatCow Website Builder
Websites are the soul of World Wide Web. FatCow website builder is well known for providing advanced and usable features in their product. The project's outcome is fairly good as structure building is done in a fine way by keeping everyone's need in mind. FatCow offers free to use website builder tools to clients.
You can easily design, create and grow a website without many technical skills needed. There is no doubt that the "Drag and Drop" feature of FatCow website builder makes their client's life easier.
FatCow FTP
The Internet works on protocols and these are very sensitive as well. FatCow FTP maintains a high level of stability and they tried their best to make sure their servers are always compatible and working fine with popular FTP software like FileZilla. If you are new to FTP, please consider reading Configuring and Connecting To Your Website Using FTP.
FatCow Reviews on Uptime and Status
Uptime Stats
The feature packed and very robust is FatCow's Uptime. Downtime is a nightmare for many webmasters as it can cost economic loss. Although not perfect, FatCow still provides fairly impressive uptime performance that beats many other web hosting companies.
FatCow uptime guarantee provides a relief to its customers from any harassment, but the company never publishes any real statistics about their server uptime performance. People can still keep track of FatCow uptime with other uptime monitoring tools. Other FatCows uptime reviews also show that FatCow sustains good percentage of uptime.

Uptime Stats – Target: 99.90%
July 2017 – 100%
June 2017 – 100%
May 2017 – 100%
April 2017 – 99.92%
March 2017 – 99.89%
February 2017 – 99.94%
January 2017 – 100%
December 2016 – 99.94%
November 2016 – 100%
October 2016 – 100%
FatCow Company does not claim any specific uptime target but the industry standard of all hosting companies is 99.90%. Even I have no idea about this company's uptime performance before. Therefore, I decided to collect their uptime stats. I collected their uptime stats for last 10 months including this month as well.
I am excited after seeing the FatCow uptime stats performance as this company achieved the industry target in 9 out of 10 months. Average uptime of FatCow hosting is 99.97%. I would say this is a great achievement.
Server Response Speed Test
FatCow hosting provides not only outstanding uptime performance but also offers exceptional server speed. As all individuals know very well that server speed plays a pivotal role when it comes to the website speed. If speed of your website is slow, then the visitor of your website will become exhausted and it will affect the image of your website.
For this, I tested the speed of FatCow hosting by pinging a website hosted on Fatcow server from 8 different localities and I found an astonishing result from all these locations. The test acquired A+ rating. This hosting also offers CloudFlare CDN which helps in speeding up your site.
Good and Bad of FatCow
Every company has advantages and disadvantages. The good and bad sides always exist as nothing is perfect in this world. Similarly, FatCow has its own good and bad. Have a look at these.
Good
Impressed users with good uptime performance.
FatCow fulfills the needs of customers by providing various types of web hosting plans.
The hosting plan starts from annual plans to budget-friendly monthly payment plans.
Powered by wind energy, which is a plus for environment
Bad
Might face decrease in loading speed when the server is too crowded
FatCow tries not to steer the customers in the wrong direction but sometimes the system is unsupportive and creates hurdles for users.
Internal Selling:FatCow and iPage both are kept under the same management of Endurance International Group (EIG). The companies practice a similar kind of business style. On the contrary, the companies try to lure you the various free software and web application trials.The 'Marketing Services' section is payable, which might induce unnecessary additional expenses.
Expensive charge for site migration service
In nutshell review about FatCow
FatCow is a green hosting company with active social media coverage. The uptime, speed, control panel features and support performance is within the acceptable range for most users. When it comes to super cheap (but quite reliable) web hosting providers, it's tough to compete with the sound value that FatCow brings to the table.
While it might have a silly name, but there is no way to stop FatCow in becoming incredibly cheap and effective web hosting company. FatCow has taken various steps to ensure a smooth transition from one channel to other. As a conclusion, FatCow is a budget web hosting company which provides good value of services.
Compare FatCow With Our Top Ranked Web Hosts!
SiteGround vs HostGator vs FatCow

FatCow

SiteGround

HostGator
Rating

Rated 4.5 stars

Rated 4.5 stars

Rated 4.5 stars

Price

$4.00/month

$3.95/month

$3.95/month

Criteria