Editor Rating

Rated 3 stars

Good
---
Reviewed by:

Published on:

Last modified:
---
DISCLOSURE: This post may contain affiliate links, meaning when you click the links and make a purchase, we receive a commission.
Our Top Ranked #1 Web Host

Ideal for WordPress, Joomla, Drupal and eCommerce
What is HostMetro Web Hosting?
HostMetro is one of the budget friendly options if you are looking for an online hosting service that offers fairly decent functionality for not a lot of money. HostMetro is a new company, in business since 2008. It offers only shared hosting; dedicated hosting is not offered even for a premium price.
This is most possibly done to simplify their offerings and straighten out their pricing strategy. It is also few of the hosting service providers who offer a guarantee that the prices will not go up at the end of the term. This HostMetro reviews will give you an insight on HostMetro performance.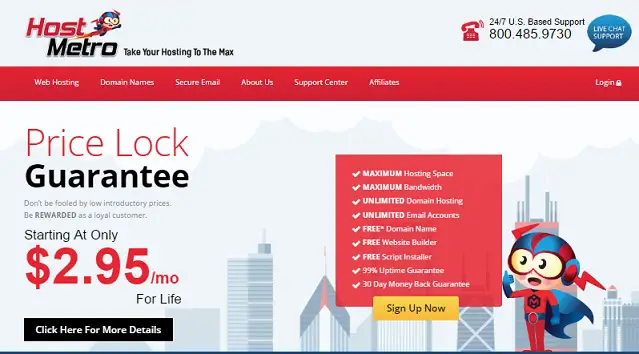 Details
 
Founded
2008
Server Location
Chicago, IL
Services

Web Hosting
Domain Services
Secure Email
SSL Certificate
E-Commerce Hosting
WordPress Hosting

Unlimited Website
Available with All Plans
Unlimited Storage and Bandwidth
No
Domain Hosting
Yes
Linux Hosting
Yes
Windows Hosting
No
WordPress
Optimized
Joomla
Optimized
Drupal
Optimized
Magento
Optimized
PHP Hosting
Optimized
e-Commerce Hosting
Optimized
Email Hosting
Available
SSL Support

Free SSL Certificate with Super Max Plan
Paid SSL Certificate Available at $2.50/mo
GeoTrust Rapid SSL Available for $20/Yr

Dedicated IP
No
Free Site Migration
Available with all Plans
Free Domain
Available when Signup
Domain Privacy Protected

Free Domain Privacy Available with Super Max Plan
$6.00/Yr Per Domain

Money Back Guarantee
30 Days
24/7 Support
Control Panel
Customized cPanel
One-Click Installation
Yes, Through Softaculous
Website Builder
RVsitebuilder
Automated Backup

Weekly Backups
Premium Backup Services Available at $20/Yr

Content Delivery Network (CDN)
CloudFlare
Security Features

SSL Secure
Advanced Firewall Protection
SiteLock Security Seal Available at $2.50/mo

Payment Methods

Visa
MasterCard
American Express
Discover
PayPal

Endurance International Group Network (EIG)
No
Social Profile
No
HostMetro Reviews on Hosting Plans, Domain, Email Services and Features
HostMetro has only a few barebones features, and this is where it becomes evident that this is a budget offering.
HostMetro shared hosting plan runs on Linux server and cPanel is included. HostMetro offers unlimited domain hosting, reserved or parked domains and sufficient amount of web spaces. The HostMetro Mega Max plan starts at only $2.95 per month, with free domain included in the package.
The Super Max plan costs $6.95 per month. It also provides some e-commerce centric features such as free SSL security and support for PHP.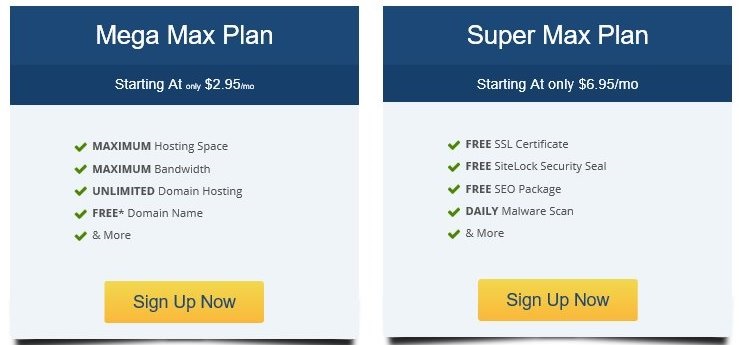 HostMetro Reviews on Domain Services
HostMetro offers domain management services that are suspect at best. Transferring your existing website with domain over to HostMetro is free of charge.
HostMetro Reviews on Email Services
HostMetro offers secure email service. In addition to support for an unlimited number of email accounts, you also get access to decent spam filters that worked most of the time. Spam filtering prevents unsolicited mail to sneak through. The HostMetro email hosting starts at $2.50 per month, with 10 GB of total disk space included.

HostMetro Features
One of the best things about HostMetro is that it offers one guarantee that virtually very few other hosting service providers do: a price lock guarantee. While introductory rates to hosting plans are often quite appealing, when time comes to renew your subscription, you need to pay a lot more than you did when you signed up in the first place.
With HostMetro, this is a thing of the past since the company maintains the hosting rate even for renewals. You pay the same as a new customer as does an old one.
HostMetro Reviews on WordPress Hosting
WordPress is one of the most popular CMS platforms on the market today. HostMetro advertises readymade WordPress integration plans in a major way but often falls short on the performance front. Performance is decidedly average using this CMS. While HostMetro representatives blamed the slow response times on faults with the particular systems that were being tested, many customers have left their negative reviews about their experiences hosting WordPress sites with HostMetro.
HostMetro officially supports WordPress, but many users have complained that this compatibility has been integrated into a very shoddy fashion. WordPress powered websites often load slower than usual, and anti-spam measures like CAPTCHA security and other password protection often failed to load completely. If you are planning to run a WordPress site, you might want to look at other budget offerings like SiteGround.
HostMetro Reviews on Support and Customer Service
Customer support at HostMetro is at a moderate level. cPanel related problem is a common complaint, and their customer support has been allegedly responding to these complaints by ignoring calls and emails.
While online chat support was satisfactory, telephone support was a real disappointment based on many feedbacks received. Overall, customer support is a real mixed bag and this is obvious one region where you definitely get what you pay for; stellar customer support also requires similar prices.
#Trial 1 Outstanding Live Chat Support
For checking the validity of statement "Online chat support was satisfactory", I conducted a live chat support with one of their representative Matt who assisted me well throughout the whole conversation. He replied my all queries in just 04.52 seconds and I was quite surprised to get a speedy response from him. I asked some questions from him and Matt responded me promptly. I am much satisfied with HostMetro customer support.
Their live support supervisor was good and well-versed. I am impressed that he answered my all questions. I gave Matt 5 stars for his outstanding response.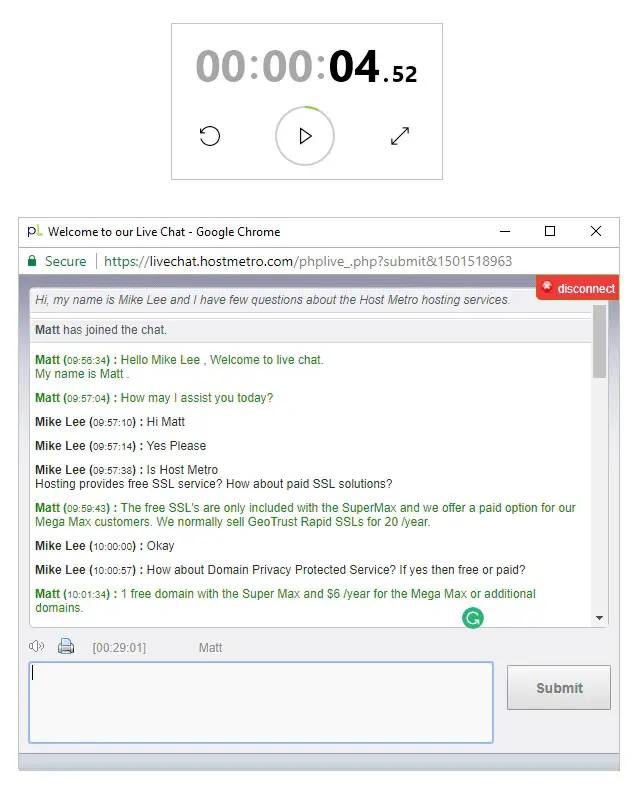 A detailed conversation with live support of HostMetro:
Matt: Hello Mike Lee, Welcome to live chat. My name is Matt. How may I assist you today?
Mike Lee: Hi Matt.
Mike Lee: Is Host Metro Hosting provides free SSL service? How about paid SSL solutions?
Matt: The free SSL's are only included with the SuperMax and we offer a paid option for our Mega Max customers. We normally sell GeoTrust Rapid SSLs for 20 /year.
Mike Lee: How about Domain Privacy Protected Service? If yes, then free or paid?
Matt: 1 free domain with the Super Max and $6 /year for the Mega Max or additional domains.
Mike Lee: Alright. Is there any Free Site Migration Service?
Matt: Here's the transfer guidelines.
Matt: http://www.hostmetro.com/transfer-terms.html
Mike Lee: Is HostMetro Hosting offers Dedicated IP solution?
Matt: Unfortunately we don't offer dedicated IP's at the moment. Our servers are updated to not require the dedicated IP for the SSL installation.
Mike Lee: How many data centers HostMetro Hosting has? What locations are these data centers/servers located?
Matt: Our servers are only located in Chicago, IL.
Matt: Is there anything else I can assist you with today?
Mike Lee: Does HostMetro support Linux Hosting or Windows? If yes, through what type of control panel? Is it cPanel?"
Matt: Linux and cPanel.
Mike Lee: Your company is not offering Windows hosting?
Matt: Correct, no windows hosting.
Mike Lee: Will Host Metro backup my website automatically?
Matt: We backup accounts weekly 1 – 3GB and offer a restore fee for $39.95. Otherwise, if you buy our Premium Backup Service for $20 year, we backup the accounts regardless of size and offer free restores.
Matt: Also the service adds a backup icon to take manually backups.
Mike Lee: Okay. Is any hosting plans optimized for Content Management System like Joomla, Drupal and Magento?
Matt: Yes, we offer Softaculous which is a software library with all of those scripts available for 1 click installs.
Matt: Here's the complete script list. http://www.softaculous.com/softwares
Mike Lee: Does HostMetro offer a Content Delivery Network (CDN)?
Matt: We don't offer it with our cPanel. But you can setup cloudflare for free easily.
Mike Lee: What about Sitelock Security seal?
Matt: You can add Sitelock as an addon.
Matt: Generally with CDNs you point your nameservers to them and route A records back to your account with us.
Mike Lee: Okay. Any Website Builder tool offered?
Matt: We offer the RVsitebuilder tool as well. https://www.rvsitebuilder.com/ 
Mike Lee: May I know which year Host Metro started the hosting business?
Matt: 2008.
Mike Lee: Is free domain included in any hosting plan? 
Matt: As long as you sign up a new hosting account you can either get a free domain or free domain transfer.
Mike Lee: Alright. Thank you for your time 🙂
Mike Lee: Have a good day.
Matt: Thank you.
HostMetro Reviews on Uptime Performance and Server Status
Uptime Stats
HostMetro has had many major server outages based on our records. While they do have measures in place to minimize service downtime as much as possible, total uptime has been on the low side.
Server speeds were good at the time of testing but frequently dropped even below that level, which is something you must contend with when you go for a company that provides budget hosting services. HostMetro does have regular status updates of their systems, but if you have crucial requirements, maybe you should look elsewhere.
Uptime Stats – Target: 99.90%
July 2017 – 99.58%
June 2017 – 99.61%
May 2017 – 99.72%
April 2017 – 99.65%
March 2017 – 98.09%
February 2017 – 98.31%
January 2017 – 99.18%
December 2016 – 98.08%
November 2016 – 99.18%
October 2016 – 99.92%
Overall, the Host Metro uptime server performance is not good as anyone can easily check their uptime performance in above image. Host Metro claims to offer 99.90% uptime guarantee to their all clients around the world. So I decided to check their uptime stats by my own.
I gathered their uptime stats performance of past ten months which starts from October 2016 to July 2017. They achieved the target in only 1 month out of 10, and overall average of these months is 99.132%, which is terrible for most users.
For all those clients who are thinking of buying the hosting of this company, these uptime stats and chart will help whether to go with this company or not.
Server Response Speed Test
When choosing any hosting especially for your own site, the very first and important thing that comes in anyone's mind is company's server speed. Speed plays a vital role and if your hosting is not providing fast server speed, then it can affect the worth of your website and visitors will avoid visiting your website.
For testing the server speed of Host Metro, I pinged one website which is hosted by this company to check the server speed through diverse locations.
Host Metro provides a good server speed at the time of testing. Anyway, there were many complaints received regarding the poor server response speed of HostMetro. I will continue monitor the server speed of HostMetro and update it here. I attached the image of their speed test. This company's overall speed test comes out with a good rating of A this time.

Good and Bad of HostMetro
Good
Extremely affordable
Price lock guaranteed
Unmetered email and unlimited domains
Frequent promotions and discounts that further decrease the cost
Bad
Poor uptime performance
Mixed reviews about the server response speed
No dedicated hosting plans offered
Summary of HostMetro
HostMetro is a decent budget friendly hosting service provider for essential hosting needs. Its features are pretty bare bones and will be sufficient only to support very light personal sites. Although it does have features geared towards e-commerce users, hosting e-commerce sites might not be a safe bet on HostMetro.
The price guarantee is one of the best things HostMetro has to offer. Basically, you get introductory rates throughout your subscription period; that makes it a really cheap proposition and the discounts HostMetro offers can lower that price down even further. Customer service is thoroughly average, as is server performance.
Do not expect to host heavy resource websites here and you will be fine. HostMetro is a great cheap hosting solution to people with little needs from their websites. If you have even moderate demands, you should look for alternatives.
Compare HostMetro With Our Top Ranked Web Hosts!
SiteGround vs HostGator vs HostMetro

SiteGround

HostGator

HostMetro
Rating

Rated 4.5 stars

Rated 4.5 stars

Rated 3 stars

Price

$3.95/month

$3.95/month

$2.95/month

Criteria