Editor Rating

Rated 4.5 stars

Outstanding
---
Reviewed by:

Published on:

Last modified:
---
DISCLOSURE: This post may contain affiliate links, meaning when you click the links and make a purchase, we receive a commission.
Our Top Ranked #1 Web Host

Ideal for WordPress, Joomla, Drupal and eCommerce
What is HostPapa Web Hosting?
The website has now been an essential for every business organization. Web hosting provides the businesses storage space and platform to host websites. In this regard, the HostPapa web hosting can be an optimal choice for you to get started. The primary goal of the HostPapa hosting is to provide its customers with the best web hosting experience.
Through many years of hard work, HostPapa has achieved great improvement on reliability, security, technical expertise and customer support to its clients. This HostPapa reviews will give you an insight on the HostPapa performance. HostPapa Inc. was founded in 2006, and since then it has been striving to gain more customers by providing excellent customer support and 24 x 7 technical support.
HostPapa international, HostPapa Canada and HostPapa UK offers a bundle of helpful services to its customers. These services include guaranteed uptime with faster speed. They are available around-the-clock for prompt customer services.
HostPapa Inc. provides steadfast servers and top-level technology that will help you to compete in the market. The free domain registrations are very useful for webmasters. You might look at this HostPapa reviews in order to verify the reliability of their services.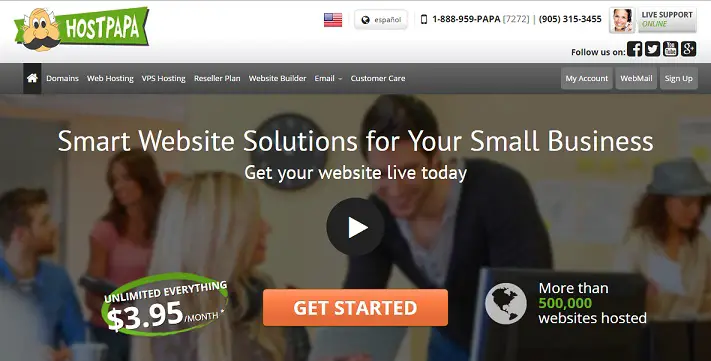 Details
 
Founded
2006
Server Location
Toronto, Canada
Services

Shared Web Hosting
VPS Hosting
Reseller Hosting
Website Builder
WordPress Hosting
Coppermine Hosting
Drupal Hosting
Joomla Hosting
Cloud Linux Hosting
AbanteCart Hosting

Unlimited Website
Yes With Business and Business Pro Packages
Unlimited Storage and Bandwidth
Available
Domain Hosting
Yes
Linux Hosting
Yes
Windows Hosting
No
WordPress
Optimized
Joomla
Optimized
Drupal
Optimized
Magento
Optimized
PHP Hosting
Optimized
e-Commerce Hosting
Optimized
Email Hosting
Unlimited Email Accounts Available on Business and Business Pro Plan
SSL Support
GlobalSign SSL Starting At $19.99/Yr
Dedicated IP
Yes
Free Site Migration
Yes
Free Domain
Yes
Domain Privacy Protected
Yes
Money Back Guarantee
30 Days
24/7 Support

Live Telephone
Live Chat
Email Support
Fax

Control Panel
Linux Hosting cPanel Version 64.0.29
One-Click Installation
Softaculous
Website Builder
HostPapa Drag and Drop Website Builder
Automated Backup
Yes
Content Delivery Network (CDN)
Cloudflare
Security Features

Server Firewall
Intrusion Detection
Brute Force Detection
DDoS Protection
Phishing Protection
Raid Redundancy
FTPS

Payment Methods

Visa
MasterCard
PayPal
Visa Debit
American Express
Maestro
Soli
Visa Electron
Delta

Endurance International Group Network (EIG)
No
Social Profile
HostPapa Reviews on Discounted Hosting Plan and Domain Services
The HostPapa shared web hosting plans are divided into three categories; the first plan is for the starters (small blog or businesses), the second plan is business, and the last plan is the business pro. You can take up any plan that suits your business need.
Web hosting services include unlimited disk spaces on cloud devices, good uptime performance, and fast internet connectivity speeds are provided to the clients. Moreover, 24-hour customer support services are included in each package. At the time of writing this review, HostPapa offers a great deal of only $3.95 per month for both Starter and Business hosting plan.
HostPapa Reviews on VPS Hosting Plan
The virtual private server hosting is offered by several web hosts, but the HostPapa excels in VPS hosting. The HostPapa VPS plan is made available for Linux users. These hosting plans include unlimited hosting accounts and unlimited FTP accounts. Moreover, the fully managed VPS is also offered in the plan.
The Linux VPS-Plus plan starts at $19.99 for the first month, where a regular monthly renewal fee of $49.99 will be charged afterwards. As what Linux VPS plans offer 4, 8 and 12 Cores CPU power in the package. The extreme plan starts at $249.99 for the first month along with 12 core CPU, 24GB memory, and 1TB storage.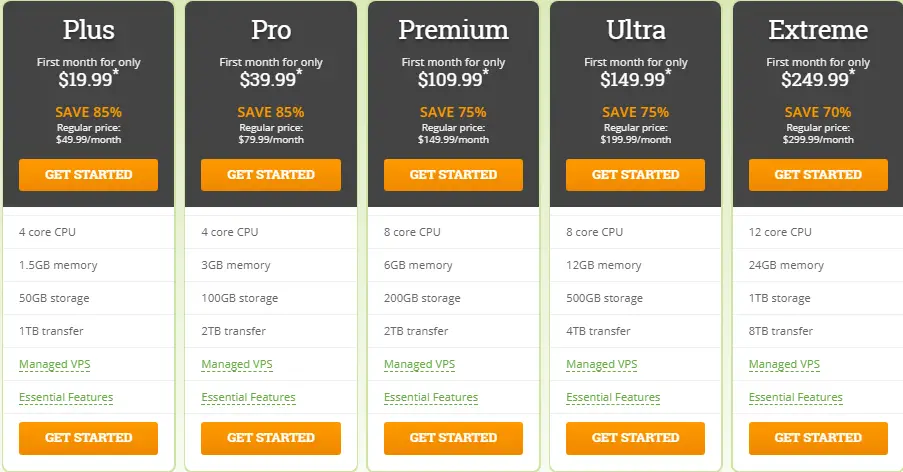 HostPapa Reviews on Reseller Hosting Plan
There are various reseller plans that are offered by the HostPapa. HostPapa reseller features are offered in bronze, silver, gold, platinum and titanium categories. The business owners can select any category, which better suits their business needs and financial budget.
All plans are guaranteed with 99.9% uptime and fast internet connectivity. Unlimited domains and control panels (cPanel) are also offered.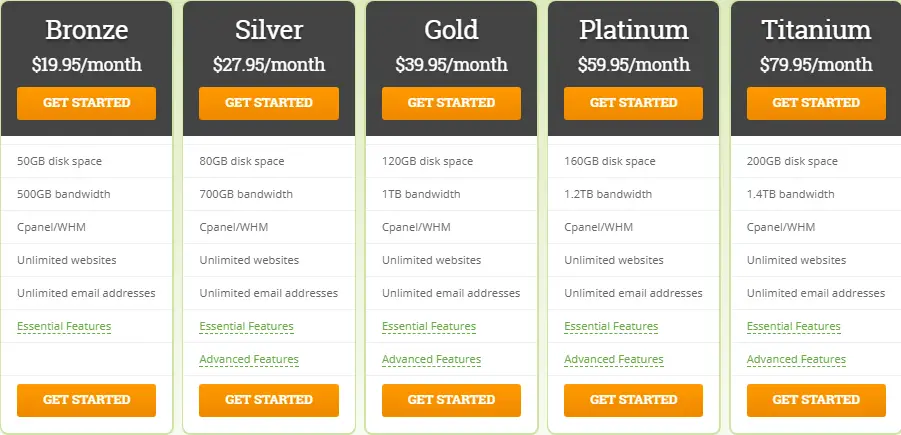 HostPapa Reviews on Ecommerce Hosting Plan
E-commerce has been made easy with the help of HostPapa Ecommerce plan. You can turn any website into an awesome online store. The monthly fee makes your budget more flexible and simpler. To keep the visitors on your website safe, a high band level security is provided.
The best of all the features is the PayPal integration which makes payment easier and safer. The HostPapa Ecommerce plan pricing is affordable for both small and big online store owners. You might want to check the HostPapa Ecommerce hosting plan below.
HostPapa Reviews on Domain Services
The HostPapa domains are available for the universal users and entrepreneurs. American domain addresses and social domains are also available. All the domains have a decent pricing. The HostPapa services are determined to help you to get the best and cheapest domain. You are free to select the domain name by yourself. The price to grab your dream domains is quite affordable.
HostPapa Billing
The HostPapa billing is quite easy, you just have to enter the username and password to review the invoice for which you have billed. After entering the billing site, you can review the invoices by clicking on "my billing". These billings are not only available on the site but can also be downloaded in PDF format.
HostPapa Reviews on WordPress Hosting
WordPress is an online open source website creation tool. By utilizing this tool you can easily create your own website. WordPress is widely used by the webmasters in managing the blogs and various websites. HostPapa WordPress tool is very useful for the clients.
The customer support services at HostPapa will help you to learn and create your own website quickly. The HostPapa offers a bundle of series to help the clients in learning how to make their WordPress website. They show you how to set up and install WordPress, how to change the general themes and appearance of your website.
Moreover, they help you in learning on how to create static and dynamic pages for your websites. Creating an attractive photo gallery on your website can be of immense advantage. The HostPapa helps you to learn about creating an attractive photo gallery.
They also teach the process of embedding documents, videos, pictures, and various links on your website. Besides, the HostPapa platform is optimized for many Content Management System (CMS). WordPress is the most popular CMS, it is a must for HostPapa to get WordPress optimized on their platform.
The WordPress performance on HostPapa server is impressive. In short, HostPapa WordPress optimized platform can be of great advantage for your WordPress website.
HostPapa Reviews on Email Hosting
HostPapa Offers email service for every type of business. Whether it's a small scale business or a multinational firm, email service is provided to every business owner without any discrimination. HostPapa email services impart professionalism to your emailing system and make it more effective and efficient. You can create unlimited email accounts with their business and business pro plan.
HostPapa Basic and Advanced Email Hosting
Through HostPapa hosting, you can get email accounts for your own domain names. Instead of using the names like Yahoo, Hotmail, Gmail, etc., you will be able to create an email of your own company name. You can use any email program and auto email synchronization is provided on all of your devices.
You might look at the HostPapa email plan comparison below for more information about the basic email plan and advanced email plan. The advanced email plans offered by HostPapa are very beneficial. They provide a 5 GB cloud storage space that is very useful in storing data.
The unlimited IMAP connections can help you to access your email account anywhere. You can send large attachments up to 35MB by utilizing the advanced HostPapa email settings.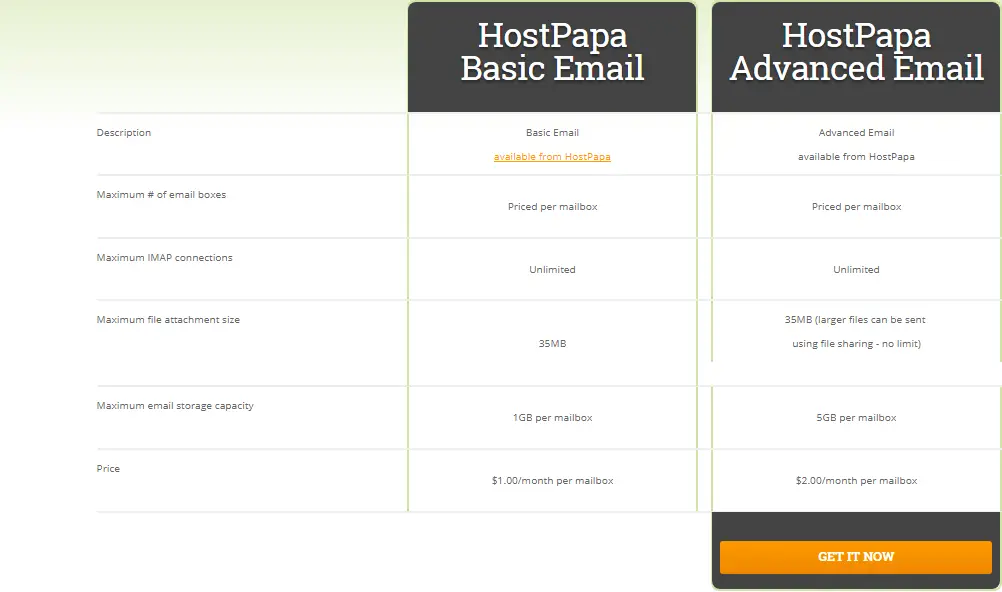 Google Apps for Work
The HostPapa offers various features including Google apps for work. They provide a professional Gmail for your business, a full office collaborations, and productivity suit is provided to the business owners. You can easily work anywhere, from any device. Real-time services are provided for document reading.
The basic Google apps package starts at $5.99 per month, which is limited to 30GB of storage per user. If you need more storage, the advanced Google apps with unlimited storage and vault plan might suit you.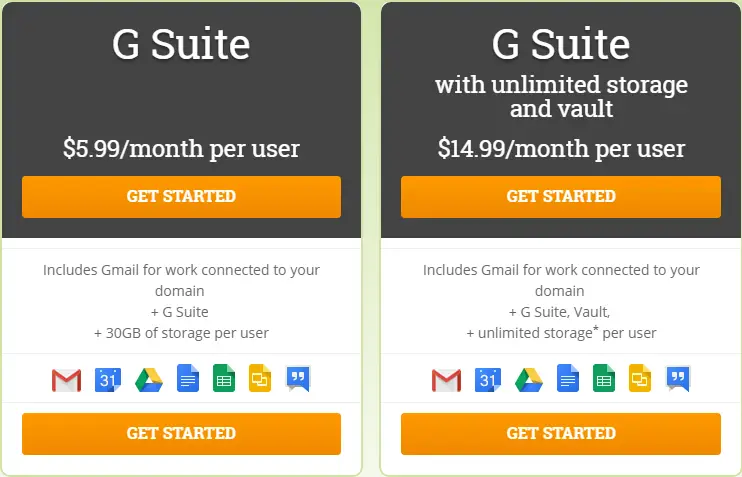 Microsoft Office 365
Microsoft Office is a handy software that you can take anywhere with yourself. The HostPapa offers to upgrade the current version of your Microsoft Office. In addition to it, you can get the Microsoft account on any device and take your office anywhere with you. Your files and documents are kept safe and secure with HostPapa.

All the email plans offered are fully safe and secure. Customer support is provided for each plan so that the client's problems can be solved at the earliest stage.
HostPapa Reviews on Customer Support and Help
Customer support is one of the essential parts of the web hosting services. Nearly all the web hosting agencies and companies provide customer support to its customers. The customer support is very helpful for the clients. It helps them learn about HostPapa hosting platform and avail all the useful tips.
HostPapa web hosting services include various hosting packages. They provide different upgrades to your hosting plans that you can utilize in order to attain better services. Their VPS services often require continuous customer support. HostPapa customer service always tries to help the clients to resolve the issues as soon as possible.
HostPapa support is available 24 hours a day, 7 days a week and 365 days a year. The strong and effective support helps the customers to avail the services anywhere, at any place, at any time. They also provide a weekly or monthly report of the company's working status.
These stats are very useful for the users to check if there are lags or from where they have led. HostPapa customer supports are available via Live Chat, support ticket, and knowledge base.
#Trial 1 Professional Live Chat Support
Whenever you visit the website of HostPapa, a pop up message appears from their customer support representative. It is their best feature with respect to live chat support. I want to test the customer support service of HostPapa that's why I contact their live chat support.
I got the reply from their support representative in just 17.26 seconds. Bram M assisted me in resolving my queries. He responded me quite fast and his tone was polite throughout the conversation. I must say HostPapa offers great customer services to all people no matter whether you are their customer or not.
On the basis of my experience, I rated Bram M as good.
Here is my full conversation with Bram M:
Bram M: Hello, how may I help you?
Mike Lee: Hi, my name is Mike Lee and I have few questions about the HostPapa hosting services.
Bram M: please go ahead Mike
Mike Lee: Does HostPapa support Linux Hosting? If yes then through which cPanel?
Bram M: Yes, all is run through Linux Hosting and one moment on cPanel version.
Bram M: cpanel version 64.0.29
Mike Lee: Alright. Does HostPapa support Windows Hosting?
Bram M: Hostpapa does not support Windows Hosting.
Mike Lee: Okay. Is the hosting plans are optimized for Magneto and PHP hosting?
Bram M: Yes, optimized for Magento and PHP hosting.
Mike Lee: Great. May I know about the server locations of HostPapa?
Bram M: Servers are located in Toronto, Canada.
Mike Lee: What about US?
Bram M: None in the US.
Mike Lee: Is HostPapa is a part of Endurance International Group(EIG)?
Bram M: I will need to verify.
Mike Lee: Okay, I will wait.
Bram M: Be right with you, sorry about the wait.
Mike Lee: It is okay.
Bram M: We are not part of the Endurance International Group(EIG).
Mike Lee: Okay. Thank you for your time 🙂
Bram M: 🙂 very welcome Mike.
Featured Services of HostPapa Website Builder, cPanel, SSL, SSH, DNS, FTP and  Others
HostPapa DNS
HostPapa offers you to set aside the domain name server of your own choice. For more information on DNS, please refer tutorial repoint your domain to HostPapa DNS and change HostPapa DNS setting.
HostPapa SSL
The secure socket layer provided by the HostPapa is compatible with 99% of the internet browsers. HostPapa SSL provides you with a safe and secure connection to the internet. Moreover, automated connection provides you with higher security. The SSL Single plan starts at $19.99 per year.
HostPapa FTP
FTP stands for file transfer protocol. HostPapa FTP allows you to transfer bigger files easily. Through FTP software like FileZilla or CyberDuck, users can easily edit and transfer files on HostPapa server. Please check How to Use and Configure HostPapa FTP for more information on configuring HostPapa FTP.
HostPapa Control Panel
The HostPapa control panel helps you to manage your website files and databases easily. HostPapa cPanel is a great tool to manage your website files, databases, email account, domain, and subdomain. The HostPapa cPanel included in the hosting package makes the life of webmaster easier.
HostPapa Website Builder
The HostPapa website builder is one of the best tools to build your website. HostPapa website builder tools allow you to make your website through JavaScript, HTML codes, and CSS. No matter you are a beginner or advanced webmaster, HostPapa website builder can help you in building a website easily.
The Starter website builder plan is included free in any web hosting plan but limited to 3 pages which seem to be insufficient. However, if you need more, you may consider upgrading to Unlimited, Premium or Enterprise plan.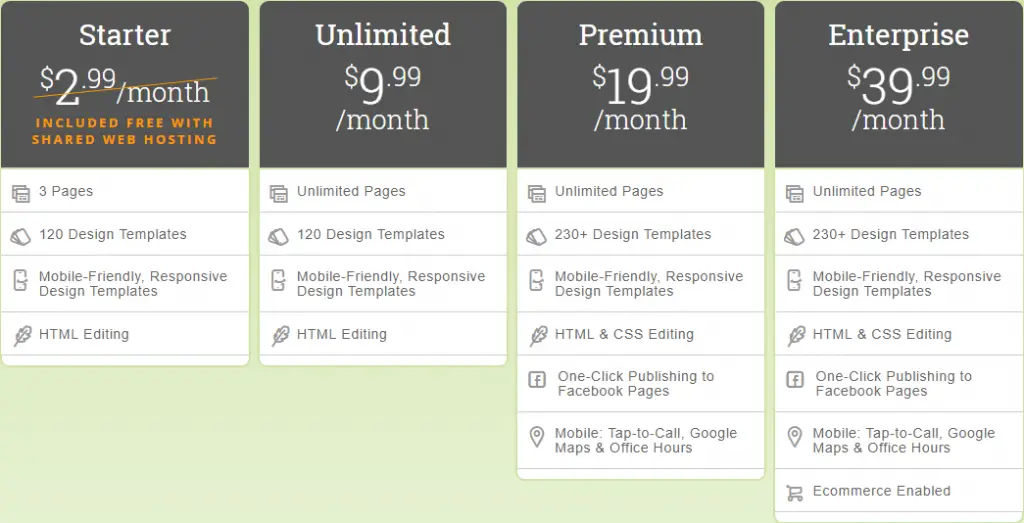 HostPapa Automated Website Backup and HostPapa CloudFlare
The automated website backup is a unique feature that is offered by the HostPapa. This is very helpful in backing up all the data that is available on your website. Every webmaster should always backup their website files and databases, and this will be very useful in case any disaster happens on your website or server.
With backup data and files, you can get your website back to online easily. Distributed denial-of-service of DDoS always attack website hosted on the server without DDoS protection. Without DDoS protection, website server is naked and cannot differentiate harmful visitors from the good one.
HostPapa uses CloudFlare DDoS Protection. CloudFlare DDoS protected websites have a great ability to fight with spams and other attacks.
HostPapa SiteLock
HostPapa SiteLock features help you to secure your website and keeps the data safe. The security provided by SiteLock is very powerful where normal threats can be blocked right away. Adding SiteLock to hosting package will cost $2.99 per month, which is considered quite affordable for the online business webmaster.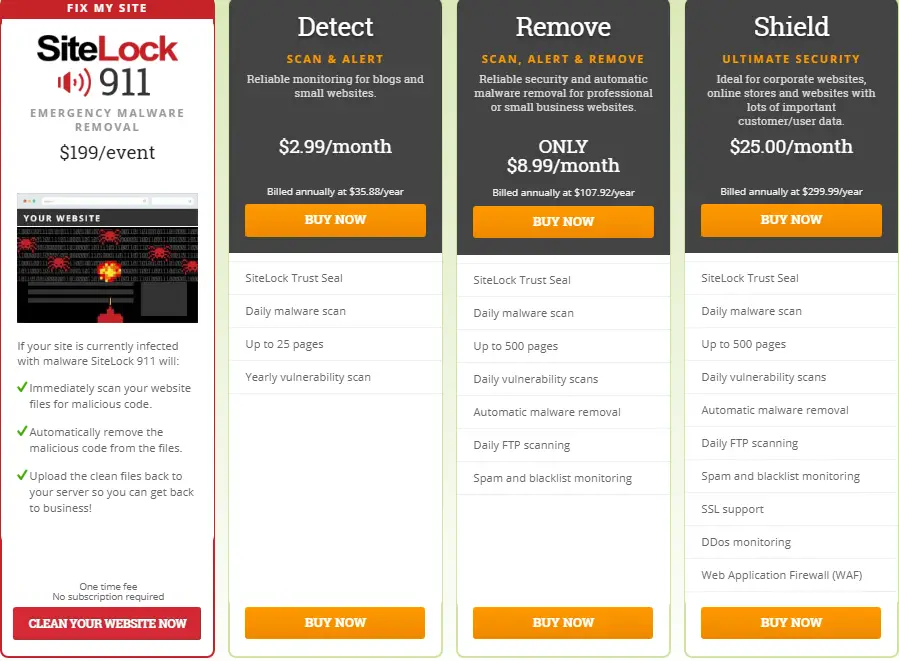 HostPapa Reviews on Uptime and Status
Uptime Stats
HostPapa claims an uptime of 99.9%, where a faster and reliable internet connectivity is also provided. Through other HostPapa reviews and my own records, I can see that HostPapa maintains a good uptime performance and many customers are also happy with it. You can rely on the HostPapa uptime and HostPapa speed in order to maintain a smooth working condition.
Uptime Stats – Target: 99.9%
June 2017 – 99.99%
May 2017 – 98.25%
April 2017 – 100%
March 2017 – 100%
February 2017 – 99.85%
January 2017 – 99.99%
December 2016 – 100%
November 2016 – 99.99%
October 2016 – 99.60%
September 2016 – 100%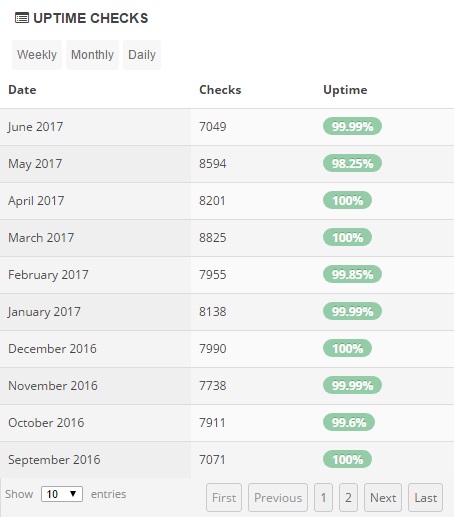 HostPapa guarantees to offer 99.90% uptime to all of their clients. I decided to verify their claim that's why I monitored their uptime stats from September 2016 to June 2017. I have also shared the image of their uptime performance and it can be seen that HostPapa achieved their claimed target in 7 out of 10 months.
The uptime of HostPapa was below 99.90% in only 3 months, which shows that the company not only claims but also fulfills them. 99.77% is the average uptime performance of HostPapa for these 10 months.
Note: Bookmark this website if you want to keep in touch with the latest uptime stats.
Server Response Speed Test
Speed is one of the most crucial factors when deciding to choose a hosting company. I have also tested the server response speed of HostPapa in order to verify their claim for providing superfast server speed. I pinged my HostPapa hosted site from different locations.
No doubt, they provide fast server response speed as it can be seen in the image given below. Overall rating of HostPapa server response speed comes out to be A. The company has also made investments in SSD for providing accelerated performance.

Good and Bad of HostPapa
Good
Unlimited Bandwidths are provided with each plan. These are very useful while utilizing the internet.
The Ecommerce features have made it easier to establish online stores and eShops.
There are plenty of apps that can help you to enhance your website. These apps and various tools are available at low prices.
Free domain registration
Free website migration
Excellent customer support
Good uptime performance
Bad
The low price of VPS hosting is only available for the first month, where the renewal fee afterwards is much higher.
Summary of HostPapa
In short, the HostPapa services are one of the best web hosting services that you can avail in your business. They provide an efficient and effective customer support that helps the clients at the earliest stage. As a conclusion, HostPapa is good and please consider to give it a try.
Compare HostPapa With Our Top Ranked Web Hosts!
SiteGround vs HostGator vs HostPapa

HostPapa

SiteGround

HostGator
Rating

Rated 4.5 stars

Rated 4.5 stars

Rated 4.5 stars

Price

$2.95/month

$3.95/month

$3.95/month

Criteria