Editor Rating

Rated 4 stars

Excellent
---
Reviewed by:

Published on:

Last modified:
---
DISCLOSURE: This post may contain affiliate links, meaning when you click the links and make a purchase, we receive a commission.

Our Top Ranked #1 Web Host
Note: This website ReviewPlan.com is hosted on A2 Hosting
Latest Uptime Stats (Real Records) - 99.973% (Last 24 Months)
Server Response Speed Test Scored A+: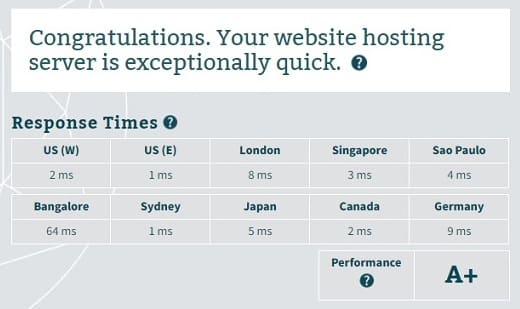 What is Hostwinds?
Hostwinds stands out like an oasis in the desert. Of the numerous hosting services providers in the business in this day, Hostwinds is one of the few companies who offer enterprise grade web hosting services at a price that is affordable for small businesses.
The company touts itself to be the only company providing "unlimited business hosting" and its most affordable plans start from USD 4.50 per month. The company owns two data centers in the United States and its hosting plans come with dedicated disaster recovery options.
Clients can also choose to strategically store their data geographically for load balancing purposes. With high security and biometric access control, Hostwinds operates highly secure data centers and your sensitive business data is protected.
Do its hosting plans live up to the expectations set by the company's operations?
Read the review to find out.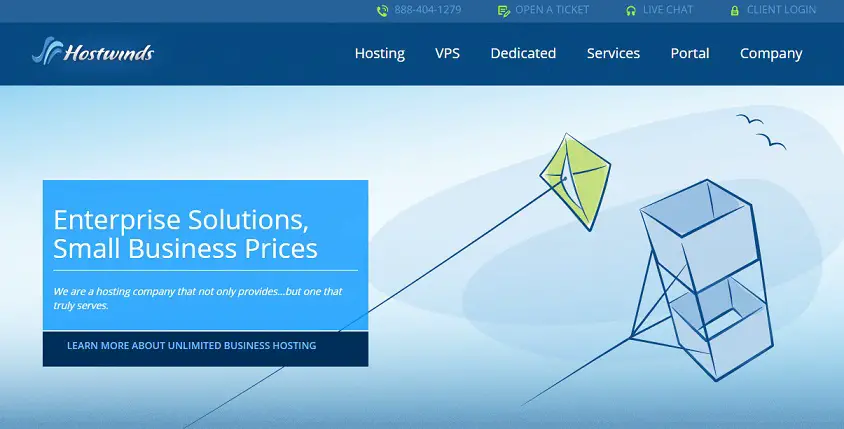 Hostwinds Reviews on Hosting Plans and Services
Hostwinds operates some of best value for money hosting plans for small businesses and professionals. The shared hosting plans offer unlimited resources at affordable prices.
Their Basic plan costs USD 4.50 per month and comes with unlimited disk space, unlimited bandwidth, support for one domain, and one free dedicated IP address.
At the highest end, the Ultimate plan offers unlimited bandwidth, unlimited storage space, support for an unlimited number of domains, and one free dedicated IP address for USD 6.50 per month.
Users should keep in mind though that as with other hosting service providers in the business, "unlimited" here does not really mean "unlimited". Resources cost money, and your hosting plan offers unlimited resources only in the sense that services will be throttled down to barely usable levels after certain usage thresholds are crossed.
Hostwinds Reviews on Business Hosting
Hostwinds is particularly dedicated to business users, the company offers dedicated business web hosting plans as well. The Basic plan starts at USD 5 per month and their offerings go up to the Ultimate plan for USD 10 per month.
These plans are identical to the company's other shared hosting plans, except the resources are prioritized a bit more towards subscribers of the Business hosting plan.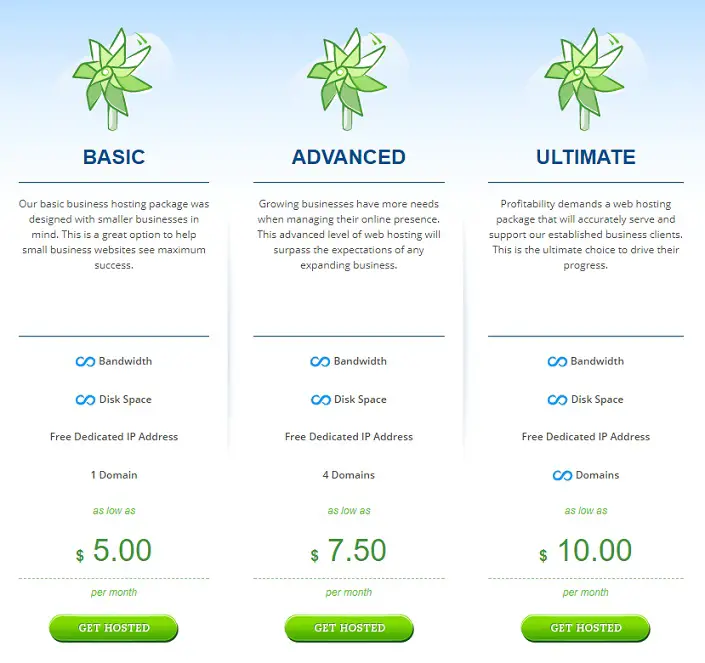 Hostwinds Reviews on VPS Hosting
For more resource intensive and traffic heavy applications, Hostwinds also offers Virtual Private Server or VPS plans. The company's uses advanced virtualization technology based on KVM to offer precise resource allocations as per your requirements.
With advanced sandboxing and access to high-performance components, Hostwinds VPS plans are guaranteed to offer the good web hosting performance for the money. All of Hostwinds servers are backed up by multiple layers of redundancies that protect your precious data against catastrophic failure of hardware systems.
All data is backed up nightly so you can always restore your data if corruption does occur. Hostwinds VPS plans also come with an unprecedented 100% network uptime service level agreement which should be enough to assure any users in doubt about the strength of Hostwinds' network infrastructure.
Tier 1 VPS plan costs USD 7.50 per month and comes with 0.5 CPU core, 1 GB of guaranteed RAM, 25 GB of storage space, and unlimited unmetered bandwidth at a 100 Mbps transfer speed.
On the expensive end, the Tier 10 VPS plan costs USD 88.50 per month and comes with 5 CPU cores, 12 GB of guaranteed RAM memory, 300 GB of data storage, and unlimited unmetered bandwidth at 1000 Mbps transfer speed.
With an unparalleled level of service and resource allocation, Hostwinds is good for small businesses as well as the corporate and enterprise clients.
Hostwinds Reviews on Dedicated Hosting
Hostwinds also offers dedicated hosting plans for the most intensive hosting requirements. With tailor made plans for every client, the company offers perfect hosting plans for business users.
You can choose from a wide range of Intel CPUs with a single as well as multi core options, memory allocations, and data storage technologies with both enterprise grade SATA hard drives as well as high-performance SSD systems.
Dedicated hosting plans from Hostwinds start from USD 100 per month and increase depending on your specifications and configurations.

Domain Services
Hostwinds being a business focused service provider aims to be a one stop shop for all the hosting related needs its clients may have. As such, in addition to providing web hosting services, the company also offers a host of domain related services. Hostwinds offers domain registration services as well as SSL certification for high-security data transfer with state of the art 256-bit encryption and PCI compliance.
Hostwinds Reviews on WordPress Hosting
WordPress is the most popular content management system or CMS by a fair margin over its nearest competitors. While most commonly thought of as a platform for hosting bloggers, WordPress is a very powerful backend serving tool that can be used for hosting even the most demanding enterprise grade web initiatives.
Therefore, as any responsible hosting services provider should, Hostwinds ensures maximum compatibility with WordPress on all its platforms. You can migrate your existing WordPress site onto Hostwinds' servers with very little hassle or build a new one from scratch for maximum performance.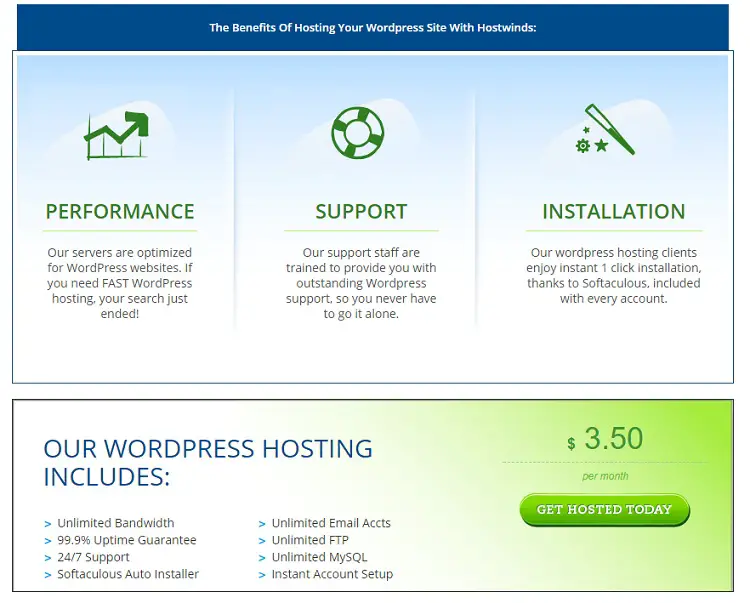 Hostwinds Reviews on Support and Customer Service
Hostwinds being an enterprise focused service provider has invested heavily in its technical support department so that its clients can receive the help and customer service they are used to. To contact customer service, you can use IM, email, or regular telephone 24 hours a day, 365 days a year.
Hostwinds Reviews on Uptime Performance and Server Status
Hostwinds has a very strong server uptime status. With its high-speed data centres backed up with multiple layers of redundancies, server down time has been minimised. You are assured complete and total reliability with Hostwinds web hosting.
Good and Bad of Hostwinds
Good
Superb performance
Great reliability
Wide range of plans to suit every need
Business oriented plans for enterprise users
Great customer service
Bad
Mixed reviews about the service
Summary of Hostwinds
Hostwinds offers great service and delivers. For customers who need great hosting service for their internet property, Hostwinds web hosting can be a good partner.
Compare Hostwinds With Our Top Ranked Web Hosts!
SiteGround vs HostGator vs Hostwinds

SiteGround

HostGator

Hostwinds
Rating

Rated 4.5 stars

Rated 4.5 stars

Rated 4 stars

Price

$3.95/month

$3.95/month

$3.50/month

Criteria