Editor Rating

Rated 4.5 stars

Outstanding
---
Reviewed by:

Published on:

Last modified:
---
DISCLOSURE: This post may contain affiliate links, meaning when you click the links and make a purchase, we receive a commission.
Our Top Ranked #1 Web Host

Ideal for WordPress, Joomla, Drupal and eCommerce
What is InterServer Hosting?
Each and every website, no matter whether it is a blog or business site, is hosted or stored by a web hosting company. It is mainly because this storage space and computers needed are often quite expensive to have in your business premise.
It is, therefore, more economical to lease or own a portion of this space. Some web hosting companies are therefore available to offer this service.
InterServer Hosting Services
InterServer is one of such web hosting companies. The company was founded by two high school friends who were very passionate about web technology, and opened the company's doors to web clients in the year 1999. This company is in business for past 17 years.
During those early years, InterServer Inc. bought and owned just one domain name and one reseller account for virtual hosting. Over the years, it has grown and now it owns two data centers in Secaucus, New Jersey, and offers services ranging from dedicated servers, virtual hosting, colocation, cloud VPS and quick servers.
A quick check on-line will show just how many InterServer reviews have been made for InterServer web hosting services.


Details
 
Founded
1999
Server Location

Secaucus, NJ
Los Angeles, CA

Services

Linux Hosting
Windows Hosting
Colocation Domain Hosting
Cloud Hosting
VPS Hosting
Dedicated Hosting
Reseller Hosting
Dedicated WordPress Hosting

Unlimited Website
Available With Selected Hosting Plans like Standard Web Hosting $5 Per Month
Unlimited Storage and Bandwidth
Available With All Three Plans like Standard Web Hosting, Managed WordPress and ASP.NET Web Hosting
Domain Hosting
Yes
Linux Hosting
Yes
Windows Hosting
Yes
WordPress
Optimized
Joomla
Optimized
Drupal
Optimized
Magento
Optimized
PHP Hosting
Optimized
e-Commerce Hosting
Optimized
Email Hosting
Unlimited Account Available With Any Shared Hosting Plan
SSL Support

Free Let's Encrypt SSL
Paid SSL Available

Dedicated IP
Yes
Free Site Migration
Yes
Free Domain
No
Domain Privacy Protected
Yes
Money Back Guarantee
30 Days
24/7 Support
Selected Methods Only


Ticket
Live Chat
Telephone
Fax
Email
Forum

Control Panel

Linux Hosting (cPanel)
Windows Hosting (Plesk)

One-Click Installation
Softaculous
Website Builder
No
Automated Backup

Full cPanel Backups
Plesk Control Panel Backup

Content Delivery Network (CDN)
Cloudflare
Security Features

cPhulk protection
CSF firewall
Mod Security protection
Virus Scanner

Payment Methods

Visa
MasterCard
American Express
PayPal
Money Order
Wire Transfers
Discover

Endurance International Group Network (EIG)
No

Social Profile
InterServer Reviews on Hosting Plans and Domain Service
So what hosting plans are offered by InterServer that can benefit you? Have a look at the hosting plans below.
With the shared hosting plan, you can choose from three plans, which are standard, Windows and Managed WordPress plans. The Standard plan goes for $5 per month and offers unlimited data transfers, storage space, and FTP accounts. Free SSL certificate is also available.
You also get unlimited sub-domains, parked domains and install scripts such as Joomla, Drupal, SMF, and Magento. Email features such as spam filtering, SSL Encryption, and outgoing SMTP are also provided. WordPress features such as automatic updates, Multi-Plug in support and weekly backups are also provided.
The Windows plan also goes for $5 a month and has features that are similar to the Standard plan, only that it does not support features such as Cloud Linux OS, AbanteCart, WHMCS and PHP-Fusion. 25 domains and 10 parked domains are also provided with this package.
Windows plan does not support development features such as Ruby, Pearl 5.10 and SSH Access, which the Standard plan supports. This plan does not include free SSL certificate.
The WordPress plan goes for $8 per month and supports much fewer features as compared to the other two plans. Its key features include support for one domain and one parked domain, support for WordPress installation, support for numerous email features such as Blackberry, Windows and Android, and some WordPress features such as daily and weekly backups, hacked WordPress clean ups, daily virus scan, and atomic mod security.
InterServer Reviews on VPS Hosting Plan
The virtual private server is offered on both Linux and Windows cloud VPS. You get to choose between the number of CPU cores, memory, storage capacities and the transfer rates. The minimum is one CPU core, with 1024 MB of memory, 25GB storage, and 1TB of transfer.
For this, the Linux cloud plan goes for $6 per month while the Windows cloud VPS goes for $10 per month. Features included in these plans are the high performance offered with the storage. The speed provided is said to be 20 times faster as compared to the standard disk drives for SATA.
It also features servers with support for multiple languages, backups, snapshots and an easy-to-use control panel.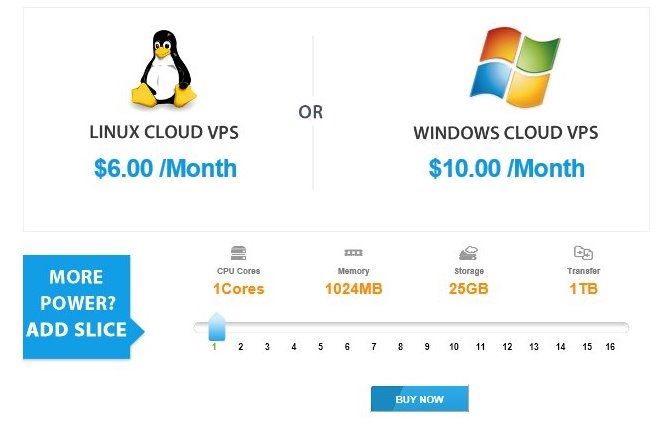 InterServer Reviews on Managed Dedicated Hosting Plans
This plan starts at $39 per month and is hosted at the two data centers owned by the company. Being dedicated means that you will not share the server with anyone. Features included in this plan are the 10 TB of file transfers, 1GB or 100MB port, uptime monitoring for up to 24 hours, free set-up and server provisioning for up to 4 hours.

InterServer Reviews on Reseller Hosting Plans
Five reseller hosting plans are offered by InterServer that range in price, with the first plan, RS ONE going for $19.95 and the fifth plan, RS FIVE going for $69.95. Features include allotment of a given disk space, monthly bandwidth, client management, unlimited domains and cone click scripts.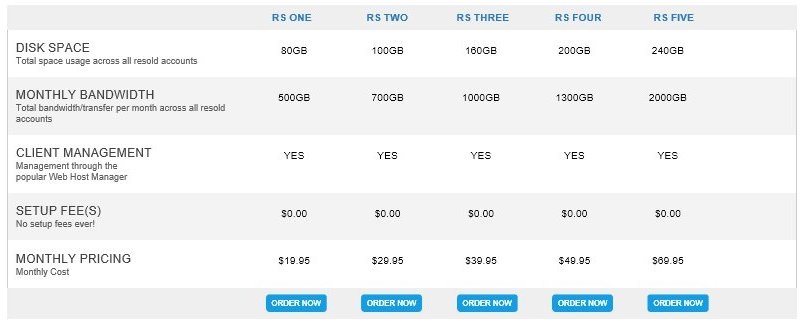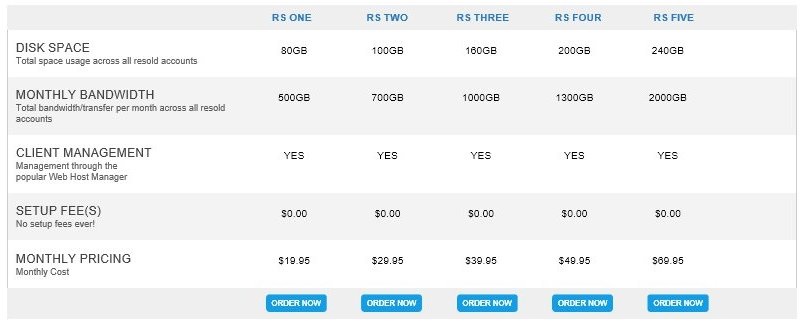 InterServer Reviews on Domain Service
These services are however provided together with the other plans, which you can easily counter check with the plans and whether the selected plan has some domain support given in one of its features.
InterServer Co-location Service
Co-location is important especially if you are an individual or a small business and need bandwidth speed that is both fast and affordable for your business. This service will cost you more as compared to web hosting but you will also get more bandwidth. It costs less for the same amount of bandwidth.
InterServer offers colocation services along with several benefits, including a prime rooftop access, generator and UPS backups, access to the center 24/7 as well as other features such as excellent customer service that is available 24/7.
The pricing range will differ substantially, with the minimum pay for a single server going for $125 per month and an entirely closed cabinet going for $1200 per month.
InterServer Reviews on WordPress Hosting
As mentioned earlier in some of the plans offered by InterServer, WordPress features in the shared hosting plans. It offers an optimized plan for WordPress that offers unlimited bandwidth and space, unlimited email accounts, on click install clips as well as all day and night customer support. This goes for $8 per month. Well, considering this and the features offered for WordPress, is it a good deal? In terms of the pricing, which sometimes comes with discounts and the customer support provided, this is definitely a good deal for WordPress.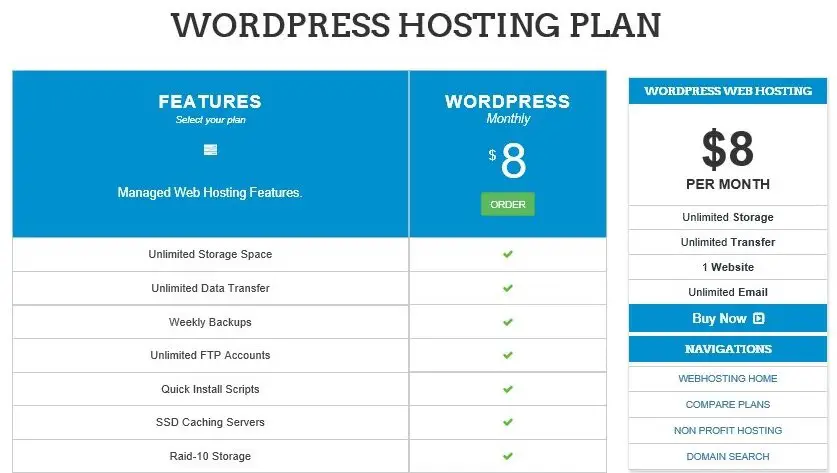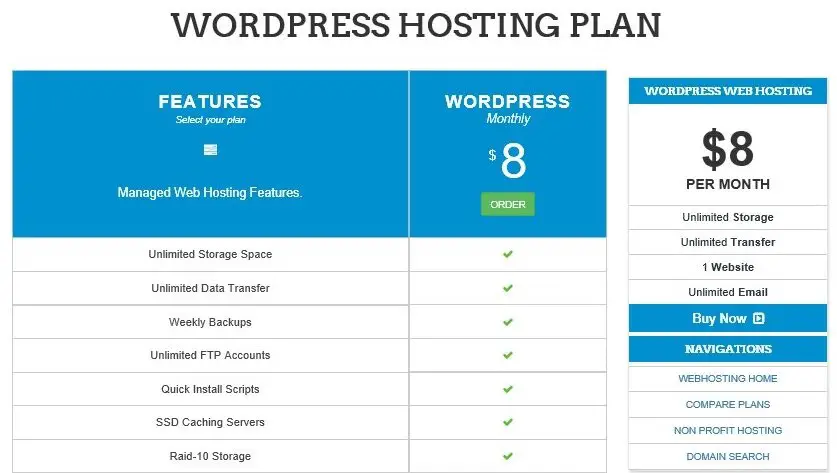 InterServer Reviews on Support and Customer Service
To most of the web hosting clients who have subscribed to using web hosting services, customer service is one of the most important factors to consider in finding the right company to work with. You will definitely need the help of customer support if anything goes wrong with the server. InterServer offers support to their clients in the form of live chats, tips for some of the most commonly asked questions regarding their services as well as the use of tickets, which customers can use to lodge a complaint or make any inquiries. A look at most of the InterServer reviews on customer service shows that they are doing a good job in taking care of the needs of their clients. There is also the availability of the InterServer community forum where members can ask other members for help as well as post any updates they have on the web hosting company. Besides InterServer, another web hosting company that is doing a good job on their customer support is SiteGround.
#Trial 1 Professional Live Chat Support
I contacted Live Chat support of Interserver to ask few queries. Overall I have found their support quite professional and helpful. My chat experience with them went good and I am satisfied with their response. The best thing about them is that we can contact their customer support representative 24/7 if we are facing any problem or we want to clarify any question.
Their live chat support was quick and I received their first answer within 38.78 seconds. I talked with one of their well-informed support personnel Pallavi R. She answered all my queries in detail and in a polite manner. I rated Pallavi R 10 for her good behavior and fast response.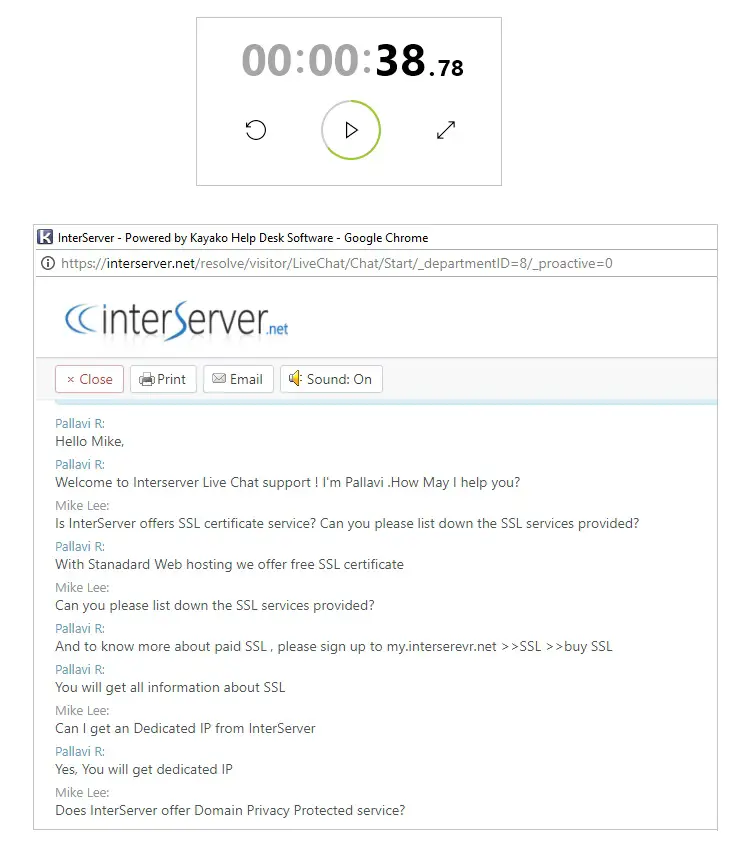 Here is the full conversation:
Pallavi R: Hello Mike,
Pallavi R: Welcome to Interserver Live Chat support! I'm Pallavi. How May I help you?
Mike Lee: Is InterServer offers SSL certificate service? Can you please list down the SSL services provided?
Pallavi R: With Standard Web hosting we offer free SSL certificate.
Mike Lee: Can you please list down the SSL services provided?
Pallavi R: And to know more about paid SSL, please sign up to my.interserevr.net >>SSL >>buy SSL
Pallavi R: You will get all information about SSL.
Mike Lee: Can I get a Dedicated IP from InterServer?
Pallavi R: Yes, you will get dedicated IP.
Mike Lee: Does InterServer offer Domain Privacy Protected service?
Pallavi R: Yes, We offer Domain Privacy Protected service.
Mike Lee: Any Website Builder tool offered?
Pallavi R: You can add domain privacy at my.interserver.net > Domains > view domains > Manage > who is privacy You will be invoiced now for $5 and $5 every 12 Month(s) as your Domains is invoiced.
Mike Lee: Alright.
Pallavi R: You can select cPanel /Webuzo /Direct admin control panel to manage your hosting. You can use WordPress site builder.
Mike Lee: Will InterServer back up my website automatically?
Pallavi R: We need to schedule Cron job for it
Pallavi R: If you are using any control panel then its very much easy to schedule back for daily /monthly /weekly basis
Mike Lee: Means you offer backup?
Pallavi R: Yes.
Mike Lee: What are the security features that InterServer offers?
Pallavi R: We offer back of entire server (VPS) too,
Pallavi R: "Our servers are well secured with multiple levels of security solutions in place. All shared servers are on cPanel/WHM, which comes by default with cPhulk protection, top of which we have CSF firewall installed & configured. Mod Security protection is configured with latest rules in place to help avoid injections. We have scanners like clamscan, maldet etc. installed on server end, and a Virus Scanner is made available for the customers via their cPanel. All server side installations are updated to latest versions."
Mike Lee: Is InterServer part of Endurance International Group(EIG)?
Pallavi R: InterServer is not part of Endurance International Group(EIG)
Mike Lee: Any One-Click installation service for Content Management System like WordPress, Joomla, and Drupal?
Pallavi R: Yes, We have
Mike Lee: ok thank you very much for your help
InterServer Reviews on Uptime Performance and Server Status
Uptime Stats
In May 2017, InterServer achieved an Uptime performance of 99.98%. What does this mean? It simply means that the site is almost always up and running. This is something that is superb if your website is hosted by InterServer. Your site will always be reachable if you use their services.
At the present time, it is up and working well. It has been reported to be down over a few months ago, in February of this year, as well as in January. But this has been for very short periods of time, not more than four minutes at most. This will lead us to think of the speed offered at InterServer, given that the downtime is quite low.
A critical look at the statistics shows that InterServer is one of the fastest web hosting companies around the world. It has been tested from different locations and showed impressive speeds for both uploading and downloading files from its servers. 

Uptime Stats – Target: 99.90%
June 2017 – 100%
May 2017 – 99.98%
April 2017 – 100%
March 2017 – 99.93%
February 2017 – 99.88%
January 2017 – 99.55%
December 2016 – 99.96%
November 2016 – 99.80%
October 2016 – 100%
September 2016 – 99.90%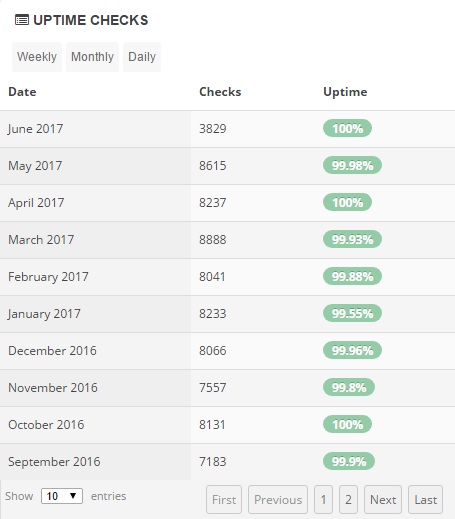 I monitoring one of the websites hosted on InterServer and its uptime performance is given above. I have recorded its uptime performance on monthly basis. I am using industry standard of 99.90% as the target because any specific uptime guarantee is not provided by InterServer. It is clear from the above uptime stats that InterServer always tries to achieve the target. Overall its performance is quite good. You will not be disappointed if you decide to buy their services. I must say the uptime performance of InterServer is outstanding and up to the mark.
Note: I will update InterServer uptime stats on regular basis. Keep in touch with this website to get the latest update.
Server Response Speed Test
Same like the uptime performance, the speed of InterServer is extraordinary. Speed is the most crucial thing when you are selecting the hosting plan. A slow server speed will definitely affect your site and your visitors will also face the problem. You can change WordPress theme for optimizing your site. Another way to optimize the site is by using compressed images (.jpg or .png).
I have tested the server response speed of InterServer by pinging my site from eight different countries. InterServer scored A+ in June 2017 as you can see in the given below image. Cloudflare CDN is also provided by this server as it helps in improving the speed of the website.

Good and Bad of InterServer Web Hosting Services
Well, after carefully considering the above details on the packages, pricing, customer support, speed and overall performance of servers, I have drawn the following:
Good
Pricing is mentioned upfront when you click on the type of plan you wish to use. This prepares you well in advance if you are willing to use their services. I find this to be much better as compared to the checkout options provided by other web hosting companies.
The easy-to-use control panel greatly lessens the work of having to sit and try to understand how to use its interface.
The features supported by most of the hosting plans are excellent. The Standard, as well as the Windows plans, have great features.
Their customer service is great. They talk to you nicely and solve your problem within the shortest time possible.
The uptime just speaks for itself. I cannot stress the importance of not losing visitors to your site due to down time caused by your web hosting company. The fact that only a few cases of downtime are reported in some months, which shows just how dedicated these people are at providing the best services.
Bad
Well, I highly doubt that there's any company out there that is 100% perfect. InterServer is also one of them. Some of the things that are disappointing include:
The unlimited offers may sound great, but they often actually have limits. This is not to say that they lie about unlimited, but that you should know for a fact that no web hosting company can offer space and other services without limits.
Setting up the VPS hosting as well as other cloud servers require that you know a little about tech. Otherwise, you will have a hard time knowing what to do.
Summary of InterServer
Looking overall at InterServer reviews available online as well as what I have deducted from the features, services and customer support; I can say that this is a great web hosting company to try out. I know it can be difficult moving your site from one host to another, but the benefits InterServer has to offer far outweigh the downsides.
If you are looking for a web hosting company, then I recommend you try this out. It might work for you or might not, but it is worth trying. Some websites have been moved out of the web hosting company while others have been moving in. This means, it works for some and not for others.
It will highly depend on whether your needs are being met, as well as whether your clients are happy with the speed with which they can reach your site. All in all, it is worth checking out the various plans, as well as what other people have to say about them.
You might decide to save a few dollars by going with other web hosting companies and experience problems that give you much heavier losses compared to what you would have paid for having your site hosted in a great web hosting company.
Compare InterServer With Our Top Ranked Web Hosts ! InterServer vs SiteGround vs HostGator

SiteGround

HostGator

InterServer
Rating

Rated 4.5 stars

Rated 4.5 stars

Rated 4.5 stars

Price

$3.95/month

$3.95/month

$5/month

Criteria