Editor Rating

Rated 4 stars

Excellent
---
Reviewed by:

Published on:

Last modified:
---
DISCLOSURE: This post may contain affiliate links, meaning when you click the links and make a purchase, we receive a commission.
Our Top Ranked #1 Web Host

Ideal for WordPress, Joomla, Drupal and eCommerce
What is iPage Web Hosting?
iPage has been around for more than 15 years, offering some very good web hosting deals. It provides a decent combination of simple pricing strategies as well as some very exciting offers such as unlimited storage, a large amount of available bandwidth, unlimited email accounts, domains, etc.
It is aimed towards businesses but is also suitable for all kinds of hosting needs. iPage is managed by the Endurance International Group or EIG. They have been in the internet business for more than 15 years and have an unmatched inventory of over 2 million registered domain names.
Therefore, it is safe to assume that iPage will have some exciting plans, which we will explore in this iPage review.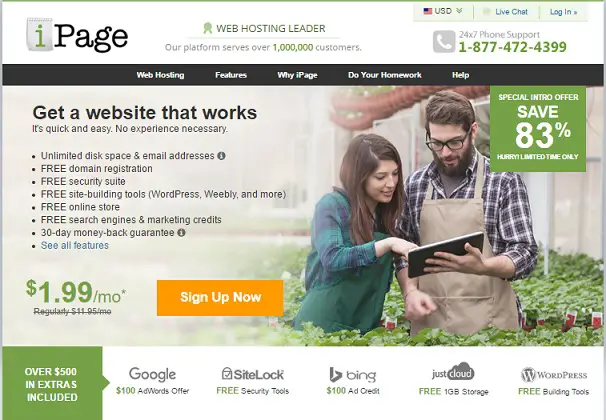 Details
 
Founded
1998
Server Location
Boston, USA
Services

Web Hosting
VPS Hosting
Dedicated Hosting
WordPress Hosting
Websites
Marketing
Resellers
Email
E-Commerce

Unlimited Website
Available With Go Plan
Unlimited Storage and Bandwidth
Available With Go Plan
Domain Hosting
Yes
Linux Hosting
Yes
Windows Hosting
No
WordPress
Optimized
Joomla
Optimized
Drupal
Optimized
Magento
Optimized
PHP Hosting
Optimized
e-Commerce Hosting
Optimized
Email Hosting
Advanced Email Solution Is Provided On All Email Plans Including

Email
Calendar
Contacts
Task Management
Spam and Virus Protection
Secure Webmail Access
24/7 Support

SSL Support
Paid SSL Available Starting at $31.99/yr
Dedicated IP
Dedicated IP Is Only Available In VPS Hosting
Free Site Migration
No, Paid Site Migration Is Available
Free Domain
Yes
Domain Privacy Protected
Available For $9.99/yr
Money Back Guarantee
30 Days
24/7 Support
Selected Methods Only


Ticket
Live Chat
Telephone
Email

Control Panel
vDeck Control Panel
One-Click Installation
MOJO Marketplace
Website Builder
Yes
Automated Backup
Available For Two Plans


Basic Starting At $1.14/mo
Pro Starting At $2.09/mo

Content Delivery Network (CDN)
SiteLock TrueSpeed CDN
Security Features

SiteLock Security
Malware Protection
SSL

Payment Methods
Endurance International Group Network (EIG)
Yes

Social Profile
iPage Reviews on Hosting Plans and Features
iPage hosting plan is not suitable for advanced customers or those with very demanding needs. This automatically excludes applications requiring intense customization. iPage shared hosting is suitable for small businesses that need very limited features, both in terms of hosting and web page administration.
However, its services are definitely in line with its pricing strategy. If you need greater services or functionality, you will need to pay up accordingly.
iPage offers unlimited hosting plans on its shared hosting packages, subject to the standard caveats. It also offers shared hosting packages as well as plans for some more complicated avenues. The shared hosting plan starts at only $1.99 per month, which is a great deal for small businesses.


iPage Reviews on VPS Hosting Plan
iPage supports VPS or Virtual Private Server hosting plans for people who do not want to upgrade to dedicated hosting plans. The VPS hosting plan is customizable and fully managed. It starts at $19.99 per month (First term only), free domain registration and free marketing credits are also included.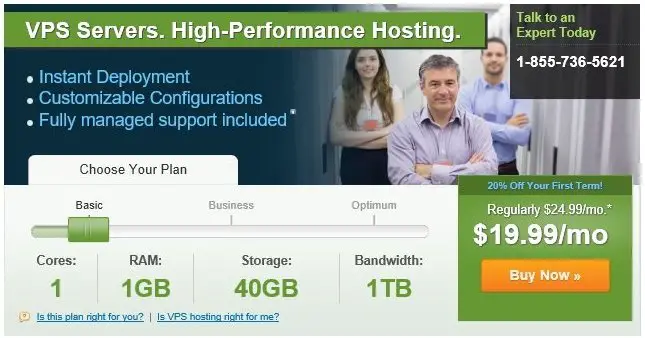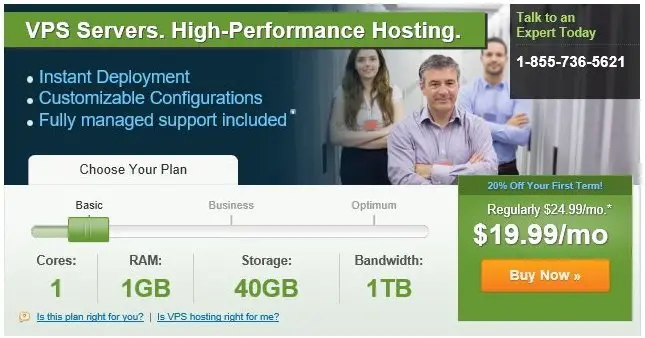 iPage Dedicated Hosting Plan
iPage dedicated hosting plans offer dedicated hosting solution. The iPage dedicated hosting is also customizable, with instant provisioning of resources. Users are able to select the dedicated hosting plan that best suits their needs. Besides, iPage is highly supportive on their dedicated hosting.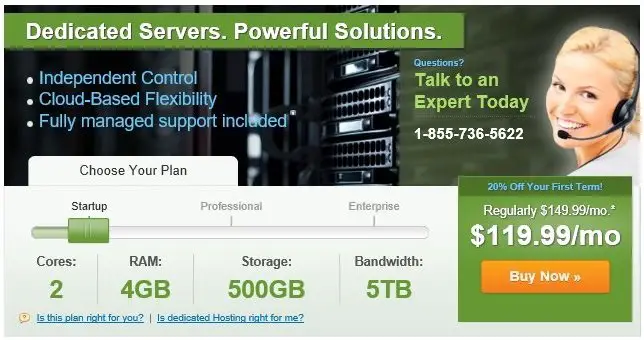 iPage Reseller Hosting Plan
iPage offers reseller programs for those who are interested in starting a web hosting business. Besides, it is also ideal for web designers and web developers who desire to offer their own hosting services for their clients.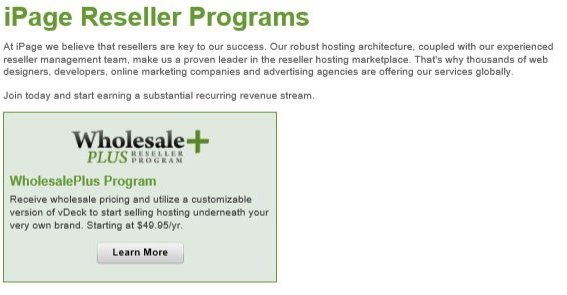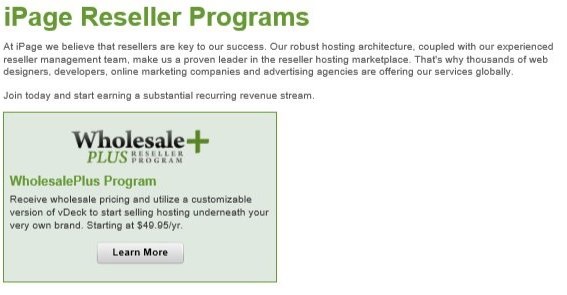 Features of iPage
You can transfer domains from other hosts at introductory rates. iPage also offers a fair number of free templates for your website. iPage has a well-detailed 30-days refunds and cancellations policy that takes care of any pricing concerns. Note that unlimited services are almost certainly never meant literally.
For a budget-oriented service like iPage, these terms are simply for marketing purpose and carry significant caveats. Unlimited usage and unlimited domains sound great until you realize that it is allowed only as long as you do not pass the default limits for CPU or memory usage.
Although iPage shared hosting is not designed for demanding applications or advanced users, it is still a safe bet for most of its customers. Keep this thing in mind before you design your website so that you may not include any elements that require great disk activity or client side processing.
iPage Reviews on WordPress Hosting Plan
iPage offers two packages for WordPress integration that are suited to particular needs. You get access to a library of curated themes, and the backend comes with a variety of pre-installed plugins that makes development very easy and predictable.
The control panel has been custom designed to make the interface and dashboard easy-to-use.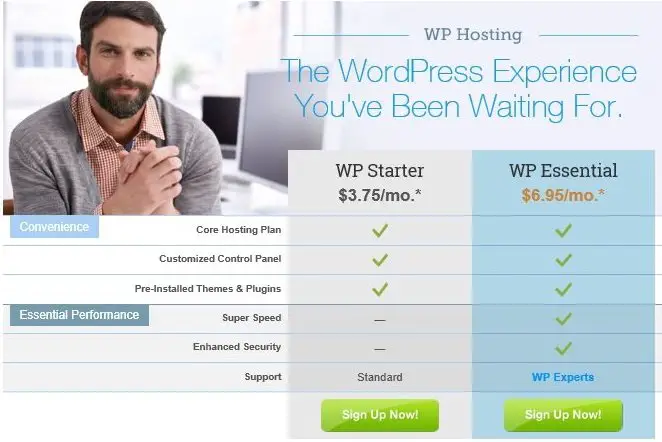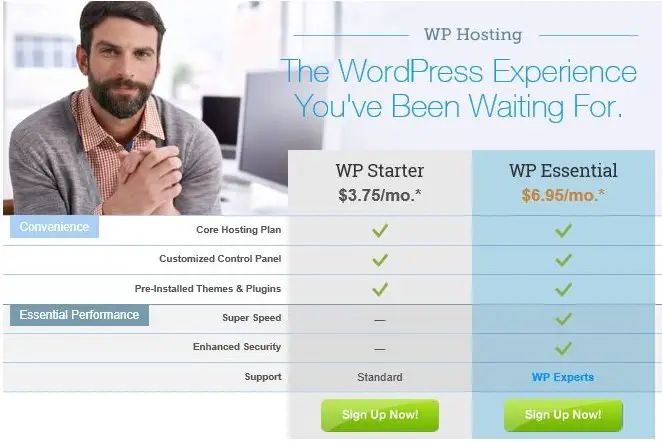 iPage WordPress hosting performance is mediocre at best. You can import existing WordPress pages, but if you run into errors, then iPage's custom error messages are almost useless. Also, the lack of a centralized and unified page for access to all site elements makes you switch control pages and dashboards frequently.
This is a significant inconvenience but keep in mind that iPage is a budget offering and they obviously have cut corners in their in-house development team. It would be unwise to expect advanced and premium hosting service from iPage. Given its dirt cheap pricing, these little software quirks can be forgiven.
However, the unhelpful error messages must be changed as soon as possible since they make troubleshooting a tough process. You need to verify the cause of the error manually or indirectly and fix it yourself. This is the price you pay for cheap hosting services. 
For its premium packages, iPage offers relaxed restrictions on CPU usage or bandwidth limits as well as security enhancements. The premium package also has customer support, specifically dedicated to WordPress issues for greater peace of mind.
iPage Reviews on Email Hosting
iPage offers an unlimited number of email mailboxes with its hosting plans. The process of setting up your email login is fairly straightforward, but each account must be created individually. iPage's email hosting services also offer built-in protection from malware and decent spam filters, but there are no comprehensive settings that can be tweaked to change the filter behaviors as per your liking.
You are stuck with the settings that iPage deems proper on filters, which can cause you to miss important messages that might have triggered a false positive. iPage offers add-on services like a more customizable spam filter or greater storage space for your mailboxes.
These add-ons are paid so that you can gauge your requirements before pulling the trigger on a particular package. iPage offers pre-customized email packages targeted to personal users, business owners as well as enterprise customers. While its mobile and business packages support the OX Mail web client, the Enterprise package gets support for MS Exchange 2010. 
If your needs are centered on email, you might choose to opt for a paid email upgrade. However, iPage is not a suitable platform to build a full-featured corporate or enterprise site on, even if they purport to be. Their services are simply not up to stuff in this regard.
iPage is a good choice only at the budget end of the spectrum with relatively small needs.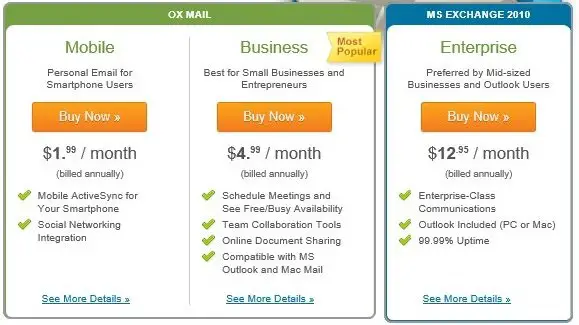 iPage Reviews on Support and Customer Service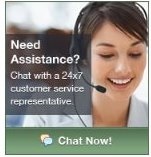 Like most budget hosting service providers, customer service is not a high point for iPage from the feedbacks of most users. However, from my own experience with them, they performed well. It offers 24×7 support over the telephone as well as web chat over IM. 
Some claim that most of the support staff are not technically proficient enough to solve technical problems in a hurry, and it takes them time to come up with solutions. While incompetent customer service is a bad thing for any business, keep in mind that iPage offers some of the cheapest hosting plans.
This is where the benefits of paying for a more premium hosting service are most evident. It is obvious that in dealing with help requests and customer complaints is where iPage has cut corners. If you are looking for the web hosting company that provides excellent customer support, then SiteGround might be a good choice for you.
#Trial 1 Professional Live Chat Support
For testing the customer support service of iPage, I contacted their Live Chat Support. I asked a few questions from their customer representative Anupam S. He responded me immediately in just 47.56 seconds and overall his tone was polite.
As mentioned above, their support personnel was very helpful in responding queries. I found his answers satisfactory. iPage works under EIG network like many other web hosting companies. No doubt, their customer support representatives are knowledgeable and they try to solve the queries of clients as quickly as possible. Based on my experience, I rated Anupam S. 9 out of 10.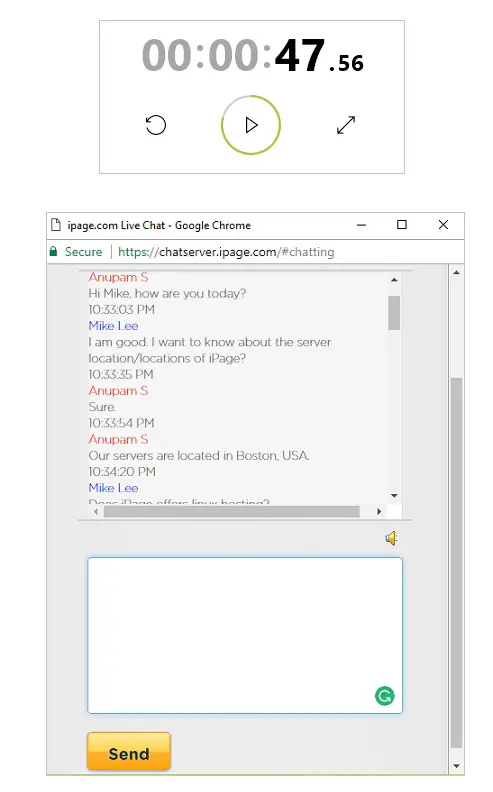 My full conversation with iPage's customer support is given below:
Anupam S: Hi Mike, how are you today?
Mike Lee: I am good. I want to know about the server location/locations of iPage?
Anupam S: Sure.
Anupam S: Our servers are located in Boston, USA.
Mike Lee: Does iPage offers Linux hosting?
Anupam S: Yes, only Linux hosting.
Mike Lee: What Control Panel does iPage provides for the Windows hosting?
Anupam S: iPage only hosted on Linux platform, no Windows.
Mike Lee: May I know about the Control Panel that iPage provides for the Linux hosting?
Anupam S: vDeck control panel, please see video ipage.com/about/cp_tour.bml
Mike Lee: Okay. Free site migration is available with this hosting?
Anupam S: Unfortunately, no.
Anupam S: Site migration is done by our Professional team and its paid service.
Mike Lee: Alright.
Mike Lee: What platform is used by iPage to support One-Click installation?
Anupam S: We offer MOJO Marketplace interface with hosting and under same, you can do the One-Click installation.
Mike Lee: What about Softaculous, QuickInstall or other platforms?
Anupam S: All you do under MOJO Marketplace.
Mike Lee: Noted.
Mike Lee: What payment methods are available with iPage?
Anupam S: Check, Credit card, and PayPal.
Mike Lee: That's great. Thank you so much.
Anupam S: You're welcome and it was my pleasure to assist you.
Anupam S: If you are satisfied with this support interaction, please click on the 'Rate and Exit' button to rate this chat experience.
Featured Service of iPage Control Panel, SSL, SSH, FTP, DNS and Website Builder
iPage is the jack of all trades, but a master of none. While it offers a broad range of services and supports a variety of third-party applications, its pricing options are terribly incompetent. Many features are obviously half baked and could do with refinement.
However, it is still a pretty good deal considering the prices iPage charges for a typical plan.
iPage Control Panel
iPage does not have a centralized control panel for accessing all the varied functionality. You need to access the individual settings from their individual service pages. This is a big inconvenience as it requires you to switch and jump from page to page continuously. 
iPage uses the cPanel interface to access advanced service settings and customizability. However, it is using vDeck for all of its shared hosting accounts. Its custom interfaces and error notifications are not terribly well done. Messages were often unhelpful, and interface design was shoddy.
The custom designed elements on most iPage features do not have very intuitive or usable interfaces. However, they do offer decent value for the prices they charge.
iPage SSL, SSH, FTP and DNS
iPage offers some very feature-rich services despite being a budget oriented company. It offers SSL encryption for enhanced security as well as SSH. FTP is supported for facilitating easy file transfers. iPage has DNS services on custom name servers that offer some degree of reliability to normal day-to-day operations of the service.
iPage Website Builder
iPage is oriented towards small businesses that do not necessarily want to get involved with the details of web development. Small businesses also might not have the resources to hire a professional web developer or UI developer to design their site.
To that end, iPage has two built-in website builder applications so that customers can design their own website with relative ease. iPage offers Weebly for fast web development, supporting intuitive drag and drop features and a variety of professional themes.
The Weebly website builder is also e-commerce ready out of the box, making it easy to set up an online store without much hassle. iPage offers advanced paid packages on Weebly, but the basic service is bundled free of cost with its hosting packages.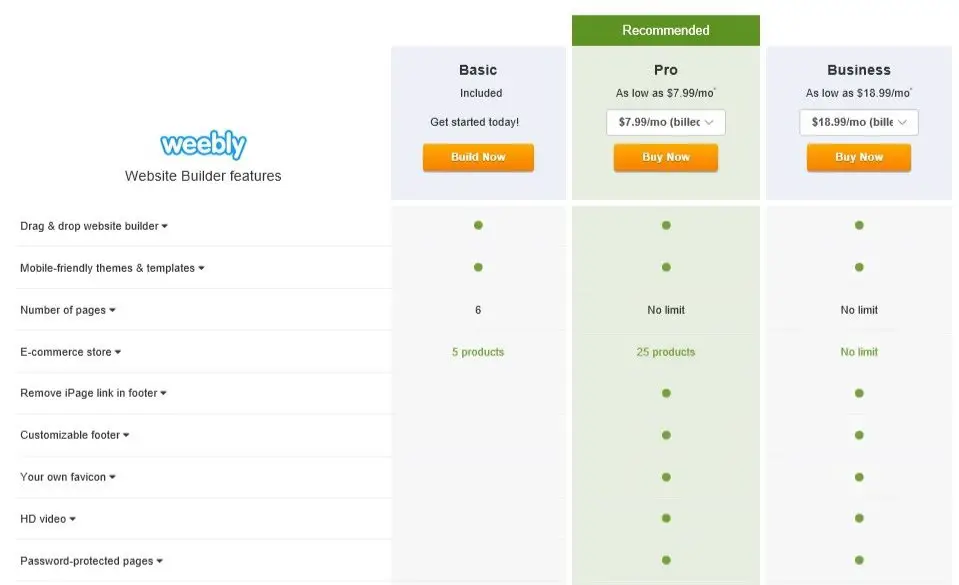 iPage also features the goMobi website builder for customers who want to design dedicated mobile pages. Many clients opt to go for separate pages for mobile users instead of implementing resource intensive responsive design themes.
goMobi allows them to quickly develop lightweight and dedicated mobile websites that offer faster load times and easier navigation on mobile devices.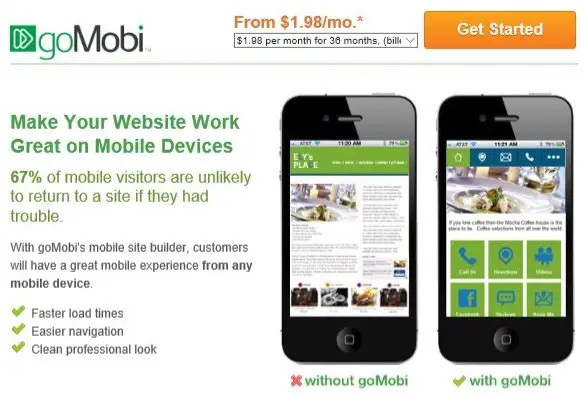 iPage Reviews on Uptime Performance and Server Status
Uptime Stats
Continuous server performance is where iPage punches a fair bit of its class. Performance and response speed was quite better than average and totally unlike what you would expect from a budget hosting service. iPage has a very good server uptime record, surpassing many premium service providers.
Server downtime is minimal and fixed quite fast. iPage has a large number of customers and still manages to post impressive performance. To be fair, its usage limits are quite restrictive and that might be a big reason why iPage can offer such consistent performance metrics in spite of being such a budget-oriented brand.

Uptime Stats – Target: 99.90%
June 2017 – 99.95%
May 2017 – 99.86%
April 2017 – 99.99%
March 2017 – 99.85%
February 2017 – 99.96%
January 2017 – 99.38%
December 2016 – 99.49%
November 2016 – 99.82%
October 2016 – 100%
September 2016 – 99.15%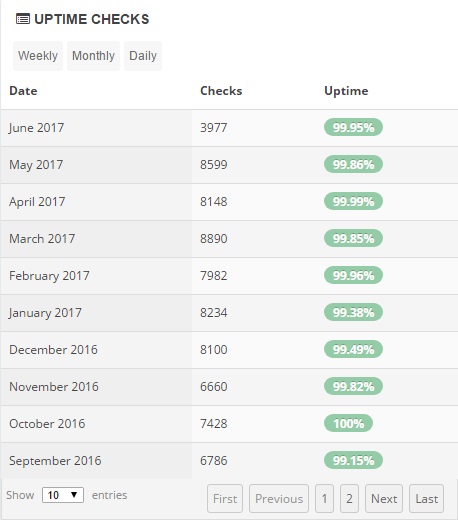 I am monitoring a website performance on the iPage server and its uptime stats are given above. iPage does not offer any uptime guarantee that is why I have used the industry standard target of 99.90%.
It can be observed that iPage did not accomplish this target most of the time, but sometimes it has performed well. Although, iPage did not reach 99.90% target, but its uptime performance is good. The average uptime performance of iPage comes out to be 99.75% that is quite good.
Note: Keep visiting our website to get regular updates about iPage uptime stats.
Server Response Test Speed
As a whole, the server response speed of iPage is excellent. Speed is the most important thing when you want to choose the hosting company. If the speed of your site is not good, then your site visitors may become aggressive that will ultimately affect your business.
Do consider your website requirements at the time of selecting a hosting plan. I have tested the server response speed of iPage by pinging my website from 8 diverse locations and overall its performance is A+. iPage provides SiteLock TrueSpeed CDN that is helpful in boosting the speed of site.


Good and Bad of iPage
Good
Offers some of the cheapest hosting plans on the market
30-days money back guarantee with full refund of all hosting fees
Simple pricing structure and ease of ordering
Offers an abundance of features and third-party application support
Bad
Introductory pricing on a variety of services can be extremely deceptive
Unfocused control panel and lackluster customer support services
Summary of iPage
iPage offers a fair bit of value for your money. Its rates are extremely low and are well suited for all those people who are just starting out on a web venture. For customers with low requirements, iPage offers a compelling package. However, its low price does make its presence felt when you consider that iPage does not excel in any single area and offers decidedly mediocre services across the board.
Its customer support performance is acceptable from my own experience. Usage restrictions are extremely tight, and its custom designed software is shoddy and unfocused. iPage also has a deceptive pricing strategy that offers incredibly cheap rates for the first few billing cycles before automatically switching to regular prices without warning.
Regular prices are several times higher than the introductory prices, so be warned. Overall, iPage offers a reasonably featured-rich package. While none of the features are particularly well implemented, it does provide an opportunity to get acquainted with the nuances and processes of web hosting for new users. iPage offers a compelling deal as long as that introductory pricing lasts.
Compare iPage With Our Top Ranked Web Hosts!
SiteGround vs HostGator vs iPage

SiteGround

HostGator

iPage
Rating

Rated 4.5 stars

Rated 4.5 stars

Rated 4 stars

Price

$3.95/month

$3.95/month

$1.99/month

Criteria