Editor Rating

Rated 3.5 stars

Very Good
---
Reviewed by:

Published on:

Last modified:
---
DISCLOSURE: This post may contain affiliate links, meaning when you click the links and make a purchase, we receive a commission.
Our Top Ranked #1 Web Host

Latest Uptime Stats (Real Records) - 99.98% (Last 12 Months)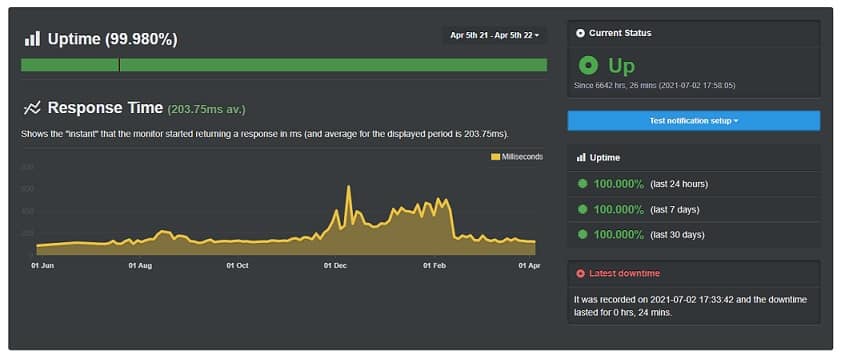 What is JustHost Web Hosting?
JustHost is a web hosting firm owned by UK-based entrepreneur Chris Philips that was founded in the year 2008. The founder of this firm has decided to develop a web hosting platform that can provide unique features on a budget. He is also a founder of other famous brands Dot5Hosting. In the beginning, customers faced troubles with the services.
However, Chris Philips listened to these complaints and tried to solve these problems. The year 2010 was the peak sales period for JustHost. The service's performance had substantially declined as the number of customers increased drastically. By this time, JustHost had brought fantastic packages, hosting plans and functional features for the customers.
This JustHost reviews will give you an insight on the JustHost recent performance.
Details
Founded
2008
Server Location
Utah, U.S.
Services

Web Hosting
Reseller Hosting
VPS Hosting
Dedicated Hosting
SSL Certicificates
WordPress Hosting

Unlimited Website
Available with Web Hosting (Prime and Pro Plan)
Unlimited Storage and Bandwidth

Unlimited Bandwidth with all Shared Hosting Plan
Unlimited Storage with Plus, Prime and Pro Shared Hosting Plan

Domain Hosting
Yes
Linux Hosting
Yes
Windows Hosting
No
WordPress
Optimized
Joomla
Optimized
Drupal
Optimized
Magento
Optimized
PHP Hosting
Optimized
e-Commerce Hosting
Optimized
Email Hosting
Yes
SSL Support

Free SSL Secure Certificate Available with Pro Shared Hosting Plan
SSL Certificates Available at $49.99/Yr
Positive SSL
Comodo SSL
Wildcard SSL

Dedicated IP

Available with Pro Shared Hosting Plan
$5.99/mo Per IP

Free Site Migration
No
Free Domain

Yes, Available for One Year
$15.99 Per Domain Per Year

Domain Privacy Protected

Available with Prime and Pro Shared Hosting Plan
Domain Privacy Price Starts at $11.88/Yr Per Domain

Money Back Guarantee
30 Days
24/7 Support

Live Chat
Help Desk
Ticket Support
Email

Control Panel
cPanel
One-Click Installation
MOJO Marketplace
Website Builder
Weebly Site Builder
Automated Backup

Daily, Weekly and Monthly
Site Backup Available at $35.88/Yr

Content Delivery Network (CDN)
CloudFlare CDN
Security Features

SSL Certificates
SiteLock Price Starting at $23.88/Yr Per Domain
Dedicated IPs

Payment Methods

Visa
MasterCard
Discover
American Express
PayPal

Endurance International Group Network (EIG)
Yes
Social Profile
N.A.
JustHost Reviews on Hosting Plans and Domain Services
JustHost offers various types of hosting plans. These plans are shared, VPS, dedicated and reseller hosting solution. Have a look at the hosting plans offered.
The packages are the key considerations for many customers while choosing the web hosting firm. There are Basic ($3.95/month), Plus ($6.95/month) and Prime ($6.95/month) hosting plans. All plans come with unmetered bandwidth and one free domain included.
JustHost Reviews on VPS Hosting Plan
The JustHost VPS (Virtual Private Server) service is divided into four categories: Standard, Enhance, Premium, and Ultimate. The monthly charges are $19.99, $29.99, $44.99 and $59.99 respectively. Please take note this price is only applicable for the first month of service. For Standard and Enhanced VPS plan, dual core CPU is included.
Premium and Ultimate VPS plan offer more powerful server and higher bandwidth per month.
JustHost Reviews on Dedicated Hosting Plan
The JustHost dedicated server is provided with quick provisioning and designed with cloud technology. The first month of standard JustHost dedicated plan cost $79.99, the renewal fees afterward is $149.99 per month.
JustHost Reviews on Reseller Hosting Plan
The JustHost reseller plan allows users to start their own web hosting business. The user can make sales directly from their customer. JustHost offers a variety of reseller products which can be configured based on their needs.
JustHost Reviews on Domain Services
JustHost domain transfer service enables other users to transfer their third-party hosted domain to JustHost. JustHost domain transfer service isn't time-consuming and works efficiently. The company keeps all the online data of customers confidential and makes JustHost domain transfer possible with full privacy.
Customers can host unlimited domains through JustHost account and manage it via cPanel.
JustHost Reviews on WordPress Hosting
WordPress optimized hosting is preferred by many WordPress webmasters. JustHost offers WordPress hosting that is with full functionality on a small budget. It comes with instant setup, domain name registration, domain hosting, 24/7 technical support, unlimited data transfer, unlimited email accounts and many other amazing features.
The introductory offer is $3.95 per month. The installation of WordPress scripts is easier via 'One-Click Installs' on MOJO Marketplace. The JustHost WordPress hosting plan is a good choice for a newbie. The major benefit of this hosting plan is that their monthly rates are affordable.
JustHost Reviews on Email Hosting
The JustHost email services are based on wide range of features and tools. A user can host his own email accounts through JustHost. JustHost allows users to use cPanel in managing email accounts. The JustHost email service can be accessed through different applications i.e. Outlook and Mac Mail.
The JustHost mail is available for all the leading mobile operating systems i.e. Android and iOS. It is also available for Windows, Linux, and Mac OS. JustHost also provides spam filter software SpamAssassin to their customer in order to eliminate spam emails. JustHost spam filter automatically and blocks all spam emails, and it really works to remove incoming spam messages.
JustHost Reviews on Support and Customer Services
Many JustHost reviews have different opinions on their customer support performance. They provide 24/7 Live Chat and telephone support to answer customer's queries. I tested their live chat support and found the following conclusions:
Live chat is entertained in short time if only you are "lucky" enough
A few minutes or longer waiting time is expected for each live chat support
Some customer support staff are not well trained and takes a long time to get you the answer
#Trial 1 Outstanding Live Chat Support
For testing the statement of JustHost that they are providing fast and professional customer services to their all clients and non-clients, I conducted a live chat support with one of their personnel whose name was Vincente. He replied to me in 48.56 seconds.
Throughout our conversation, he replied my all questions but a bit late. I am satisfied because I got answers to my all questions. Overall live support representative was good so I gave him 4 stars for providing me good services.
My full conversation with JustHost customer support is given below:
Mike Lee: Hi, my name is Mike Lee and I have few questions about the JustHost hosting services.
Mike Lee: Is JustHost Hosting provides free SSL service? How about paid SSL solutions?
Vincente: Hello and thank you for contacting the Sales Team. Please note, I am on multiple chats at one time, I apologize for any delay in my answers.
Mike Lee: Alright Vincente.
Vincente: JustHost does have SSL's, we have 1 Positive SSL and 1 Comodo SSL and a two WildCard SSLs.
Mike Lee: May I know they are free or paid?
Vincente: Paid.
Mike Lee: Can you please tell me the cost?
Vincente: $49.99 or $79.99 depending on which hosting package you choose.
Mike Lee: How about Domain Privacy Protected Service? 
Vincente: Well, depending on the package will determine what features you get free. For example, with the Prime and Pro plan, you get Domain Privacy for free.
Vincente: With the Pro, you get 1 Positive SSL for free.
Mike Lee: Is there any Free Site Migration Service?
Vincente: Unfortunately no.
Mike Lee: Is JustHost Hosting offers Dedicated IP solution?
Vincente: Yes we do, there's a free Dedicated IP Address on the Pro plan.
Mike Lee: What about paid solution?
Vincente: $5.99 for each month if you purchase the hosting. So if you do 12 months = $71.88. It'd be more cost efficient to go for the Pro.
Mike Lee: Yes it is. How many data centers JustHost Hosting has? What locations are these data centers/servers located?
Vincente: One massive location in Utah, U.S.
Mike Lee: Is JustHost supports Windows Hosting?
Vincente: We do not unfortunately but our friends at HostGator do.
Mike Lee: What type of control panel being used in Linux hosting plan?
Vincente: cPanel.
Mike Lee: What platform is the JustHost hosting using to support One-Click installation? Softaculous?
Vincente: Softaculous is not preinstalled but you can install it
Mike Lee: Alright. Any Website Builder tool offered?
Vincente: We have about 80 different tools to choose from Weebly, Drupal, Joomla, WordPress. It's all a matter of preference.
Mike Lee: Can you please tell me the name of that website tool?
Vincente: As I said it's a matter of preference, a lot of people like WordPress but if you're new to website building then Weebly might be the best way to go because it's easier and it's a drag and drop tool.
Mike Lee: What are the security features that JustHost offers?
Vincente: SiteLock, CDN's help and we have two of them, SSL certificates, Dedicated IP Addresses.
Mike Lee: Sound good. Is JustHost Hosting is a part of Endurance International Group(EIG)?
Vincente: Yes, JustHost is owned by EIG.
Mike Lee: Alright, thank you for your time.
Mike Lee: Have a good day 🙂
Vincente: Same to you.
Featured Services of JustHost Control Panel, SSL, and Website Builder
JustHost cPanel
JustHost implement cPanel as the control panel. This is definitely a plus as many users are more familiar with cPanel rather than any "customized" control panel. cPanel allows the users to manage their files and databases easily. Have a look at JustHost cPanel below or visit JustHost cPanel Demo.
JustHost SSL
The Secured Socket Layer encryption is another key consideration of many webmasters. The secured surfing and browsing through JustHost SSL make visitors feel more secure when visiting your website. SSL is even more important for E-Commerce website as it will gain buyer's confidence when dealing with your online store.
For more information, please read JustHost SSL Information.
JustHost Website Builder
JustHost implemented Weebly as their website builder. Inexperienced webmasters can build their website easily with the "Drag and Drop" feature. Besides, JustHost provides many unique website builder templates to their clients. Kindly read How to use JustHost Weebly website builder if you are interested in using Weebly to build your site.
JustHost Reviews on Uptime and Server Status
Uptime Stats
The JustHost server down issue happens from time to time previously. We have seen major improvement in their uptime performance recently. The JustHost server loading speed is also impressive.
Long time ago, many users don't consider it as an ideal web hosting service option just because of their unstable uptime performance. However, based on my own records, they performed well this year.
JustHost hosted websites might encounter server loading speed reduction if their websites are hosted on the overselling server. The information about server outages is provided in the form of alerts. The alerts affecting all servers and general systems alerts are shown on JustHost status page. All information regarding current server status can be checked on this page.
Uptime Stats – Target: 99.90%
August 2017 – 100%
July 2017 – 99.91%
June 2017 – 99.90%
May 2017 – 99.99%
April 2017 – 99.98%
March 2017 – 99.97%
February 2017 – 100%
January 2017 – 100%
December 2016 – 99.99%
November 2016 – 99.81%
Just Host committed to providing a fast and speedy uptime to all of their clients but didn't claim any uptime guarantee. So, I decided to test their uptime performance by choosing the industry standard of 99.90%.
I gathered the uptime stats of the last 10 months including August 2017.  I was surprised after checking the uptime stats performance of JustHost as this company achieved the target in 9 months out of 10. Only 1 month it failed to achieve the target.
Uptime stats performance of Just Host is outstanding and I also attached the image of uptime stats of this company, which will help all those clients who are still in the confusion to buy JustHost hosting service.
Note: I update the uptime stats of JustHost regularly, do bookmark this page if you are interested in checking their uptime performance again.
Server Response Test Speed
When anyone of you is in search of choosing any hosting for your own site, the first thing that knocks in your mind is server speed because if your website server speed is not fast, then visitors will face the problem and they will leave your website.
So, for all those who want to know about the JustHost server speed, I tested the server response speed of one of the website hosted by this company. I tested the server speed of the website through different localities and I was amazed to get an outstanding response from them. Just Host speed comes with a prodigious rating of A+ and I attached the image of server speed as well.

Good and Bad of JustHost
Good
A wide variety of tools and features are offered
Unlimited number of domains
Many different levels of hosting plans are available to meet customer requirements
Uptime performance has been improved
Bad
Short 30 days money-back guarantee period
Customer support might experience delay
Summary of JustHost
JustHost is one of the web hosting service providers that have been operating for a long time. JustHost charges nominal rates for each of their hosting plans. The drawbacks are unstable customer support and previous bad records. These are two important factors that might stop webmasters from choosing JustHost.
As a conclusion, the overall performance of JustHost has been improved and we will continue monitoring the service of this company.
Compare JustHost With Our Top Ranked Web Hosts!
SiteGround vs HostGator vs JustHost

SiteGround

HostGator

JustHost
Rating

Rated 4.5 stars

Rated 4.5 stars

Rated 3.5 stars

Price

$3.95/month

$3.95/month

$3.95/month

Criteria