Editor Rating

Rated 4.5 stars

Outstanding
---
Reviewed by:

Published on:

Last modified:
---
DISCLOSURE: This post may contain affiliate links, meaning when you click the links and make a purchase, we receive a commission.
Our Top Ranked #1 Web Host

Ideal for WordPress, Joomla, Drupal and eCommerce
What is Liquid Web Hosting?
There are some web hosting companies out there that seek to host most websites that are coming up, or that are already developed. Since so many web hosting companies exist today, some tactics would have to be employed for clients to flock in any of these competitors.
Such tactics often revolve around the kind of services offered as well as the customer service of any particular web hosting company.
Please take note Liquid Web is not a shared hosting provider. They do not offer any sort of "unlimited" plans. The only limits you have are the resources of the server configuration you choose.
Liquid Web Hosting Service
Among these many web hosting companies is Liquid Web hosting, which was founded in 1997 with the passion for giving its web hosting client's consistently available customer service as well as a responsive support system. This is what made it stand out from the rest during its early years.
Over the years, Liquid Web has grown and now it includes dedicated and VPS servers, as well as a couple of add-on services. The company is so well known for its customer support such that, when you check Liquid Web reviews, it gets a high ranking in customer support.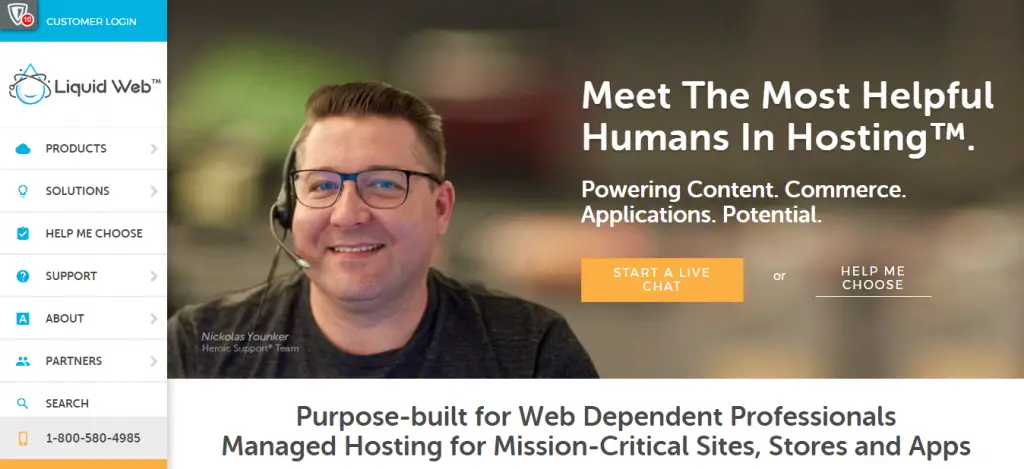 Details
 
Founded
1997
Server Location

Lansing Michigan
Phoenix Arizona
Amsterdam

Services

Dedicated Servers
Cloud VPS Hosting
Cloud Dedicated Servers
Managed Private Cloud
Managed WordPress
Advanced Hosting Solutions
Hosting Add-Ons
Cloud Sites
Ecommerce
Enterprise Hosting
Reseller
PCI Compliance

Unlimited Website
Available with Managed Cloud VPS
Unlimited Storage and Bandwidth
Limited Storage and Bandwidth Available with All Hosting Plans
Domain Hosting
No
Linux Hosting
Yes
Windows Hosting
Yes
WordPress
Optimized
Joomla
Optimized
Drupal
Optimized
Magento
Optimized
PHP Hosting
Yes
e-Commerce Hosting
Yes
Email Hosting
Yes, Except WordPress and Cloud Sites Plan
SSL Support

Free SSL via Let's Encrypt Through cPanel
Standard Globalsign SSL Available at $50/Yr
Wildcard SSL Available at $150/Yr
Organization SSL Available at $210/Yr
Organization SSL + Wildcard Available at $570/Yr
Extended Validation SSL Available at $540/Yr

Dedicated IP

One Dedicated IP Available with VPS and Dedicated Servers
Additional IP Available at $1/mo

Free Site Migration
Free cPanel to cPanel Migration
Free Domain

No
Paid Domain Available at $15/Yr Through Enom.com

Domain Privacy Protected
No
Money Back Guarantee
Refund for the Unused Time Left in Invoice (VPS and Cloud Server Only)
24/7 Support

Telephone
Live Chat
Knowledgeable Base

Control Panel

Linux Servers Uses Both Plesk and cPanel
Windows Servers (Plesk Only)

One-Click Installation
Yes Through Softaculous
Website Builder
No
Automated Backup
Both Free and Paid Backups Are Available
Content Delivery Network (CDN)

Cloudflare
Akamai CDN Available Price Starting at $100/mo

Security Features

SSL Secure
Mail Secure Available at $1 Per Domain
Server Secure Plus Available Both Free and Paid
Security and Compliance Scanning Starts at $50/mo
Nessus Vulnerability Scanner Available at $10/mo

Payment Methods

PayPal
VISA
MasterCard
American Express
Discover

Endurance International Group Network (EIG)
No
Social Profile
Liquid Web Reviews on Hosting Plans and Services
Let's take a look at what is on offer with Liquid Web hosting services. They offer VPS hosting, cloud, dedicated and reseller solution.
Liquid Web Reviews on VPS Hosting Plan
Liquid Web VPS hosting is designed to help clients get the best in control that comes with dedicated servers as well as the affordability of features that come with The Storm platform. It has been modeled around the size of RAM, where a 2GB RAM goes at a price of $59 per month and includes a 40 GB SSD of disk space, two core processor and 10 TB of transfer.
The RAM size increase by 4GB, 8GB and more, with the prices going higher and more features added to support each plan.

Liquid Web Reviews on Dedicated Hosting Plan
With Liquid Web dedicated hosting plan, you get to enjoy secure server hardening as well as proactive sonar monitoring. This hosting plan is available with Windows or Linux operating systems and is offered on either the dual or single processor dedicated servers. The plans are bundled in few different categories, starting from the single processor plan which goes for $199 going all the way to more advanced plan which costs $859.
Every Liquid Web dedicated server comes with a DDoS attack protection, enhanced security, built-in back-ups as well as CloudFlare CDN.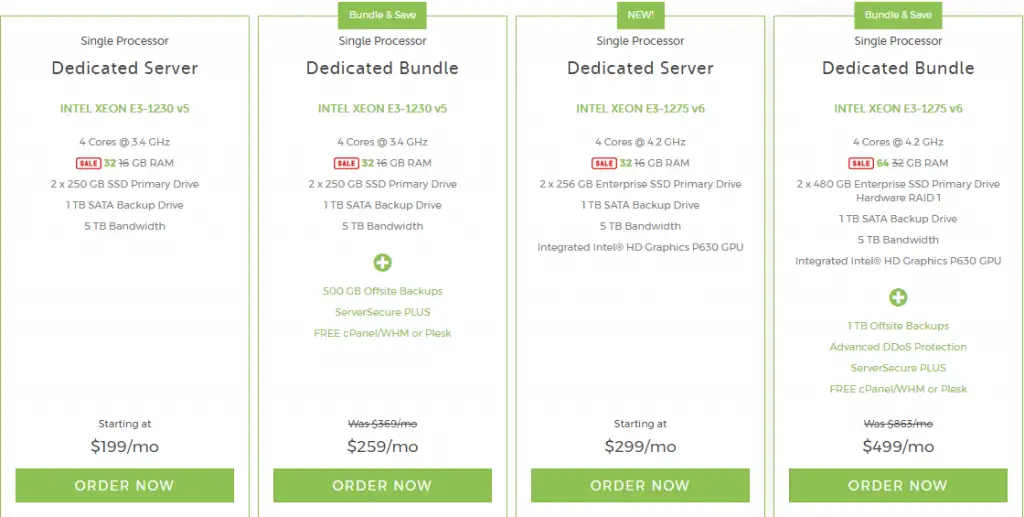 Liquid Web Reviews on Private Cloud Hosting
Liquid Web cloud hosting plan is offered under the Storm Private Cloud platform that provides you control over your data, making it look like you have your own private data center. This control includes creating, moving and deleting of any number of instances of a virtual record. You can also create a public and private cloud right from this platform.
Pricing can be done on either a daily or monthly basis. Some of the features included in this plan are the move instances, resource granular control as well as the capability of creating a network of private server clouds.
Liquid Web Reviews on Reseller Hosting Plan
Liquid Web reseller hosting made possible with the Michigan and Arizona data centers, where dedicated servers are on offer for resellers. The company prides itself in its capabilities to offer stellar performance for these Liquid Web reseller servers through the provision of their backbone superb customer service which, as they state, is unparalleled in the industry.
The reseller thus gets both support and management with this plan, making it possible for him to make significant profits. The features that come with this plan thus include their Heroic support service, Sonar monitoring that alerts you of any threats, billing, and e-commerce access made easy as well as free migrations.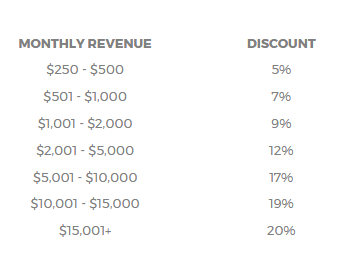 Liquid Web on Domain Related Questions
Liquid Web does not offer Domain registration services. You will need to purchase a domain at third-party domain registrar like GoDaddy and point it to LiquidWeb server. When you check on-line, you will find a domain name help service where you are informed on how to handle the Liquid Web DNS.
Liquid Web SSL Certificate
By now all website owners know the importance of having an SSL certificate. It protects your site's visitors from harmful exposure of their details, such as usernames and passwords, as well as important credit card details. With the SSL certificate, you can encrypt data and thus rest assured that no third parties will gain access to it.
Liquid Web provides highly trained technicians who are available to help you choose the most suitable SSL certificate as well as set it up for you. Global Sign is the primary provider of this service at Liquid Web.
Liquid Web CDN
Content Distribution Network or Content Delivery Network (CDN) is a way of serving up your site's content to visitors with the added benefit of having high availability with optimized performances. Let us make this concept easy to understand.
When you have a site hosted in one of the web hosting companies, it most often resides at one of their data centers. Thus, when users click on your site, they are often directed to this location. If you only have one server and many visitors, your site will become overloaded with high traffic, thus causing it to slow down.
However, with CDN, this problem is made minimal. This is because of the servers being spread all across the world, making it possible for users who are far away from your host's data center to locate your site in a place that is in close proximity to them. Thus, if your site is hosted in London, and a user in Germany wants to access it, he will be redirected to Berlin, and not London.
Liquid Web provides this service through its Amakai CDN that is available in over 120 countries and is served by about 216,000 servers. If you go to the internet and check on Amakai stats, you will see that it is the best of the best in terms of CDN. Features of this plan include optimized loading times, less bandwidth usage, full analytics with visitor reports as well as improved scaling. Besides, Liquid Web also supports CloudFlare CDN.

Liquid Web Reviews on WordPress Hosting
There is a question that most WordPress users will ask. Is WordPress supported on Liquid Web? Yes, WordPress is supported in Liquid Web through the managed hosting plan. Here you will find plans ranging from the most basic Personal plan that goes for $119 per month to the most sophisticated agency plan that cost $289 per month.
These plans are supported by the company's Heroic support; the sites are protected by a custom firewall (CFS) and clients are promised maximum speed, given that Liquid Web owns its servers as well as data centers. Looking at most of the Liquid Web reviews online; I can say that it is a great web hosting company to try out.
Liquid Web Reviews on Email Hosting
Liquid Web offers email hosting services to both individuals and businesses. Through its Heroic Support team, security of your emails is kept airtight. We all know how messy emails can be, especially when you start receiving tons of Spam emails or when clients reject or block you from sending them messages.
Some of the webmail hosting services offered by Liquid Web include Windows Mail, Linux mail as well as exchange servers. These services run in POP, dedicated SMTP, and IMAP. Instructions on how to set up email clients are available on their knowledge base, which is mostly done through the email settings.
You will thus need to have your email login details at hand when doing this.


Liquid Web Reviews on Support and Customer Service
Liquid Web has received a lot of positive reviews with regards to its customer service. This is not surprising given that its primary selling point was and still is great 24/7 customer support. In fact, its support system is called the "Heroic Support." With Heroic support, you get to chat live, call anytime and send emails through help desk tickets.
A look at some of the Liquid Web reviews shows that their customer support ranks highly, gaining a good repute among many of its users.

#Trial 1 Professional Live Chat Support
Liquid Web Hosting Company claims to provide a heroic support to their all customers, which includes non-customers as well. So I decided to check the live chat support of Liquid Web and contacted them via their live chat facility.
Scott was the representative who assisted me all the time and communicated in a polite and well-behaved manner throughout the conversation. I got my first answer in just 01.38 seconds which was quite fast. Overall it was really a good conversation with him. I got all the answers from him and rated the support 9/10.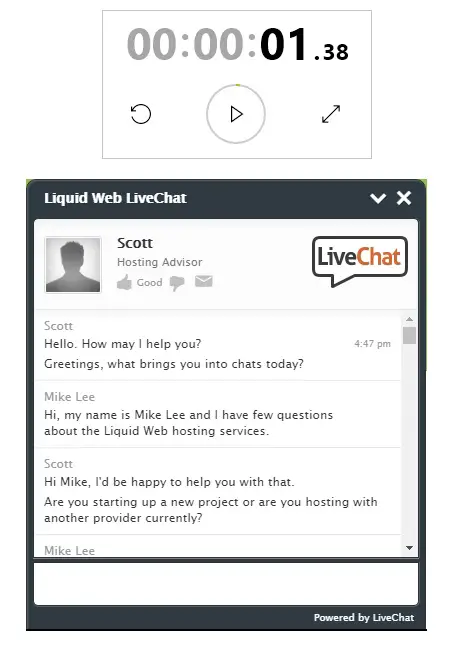 Here is the full conversation:
Scott: Hello. How may I help you?
Scott: Greetings, what brings you into chats today?
Mike Lee: Hi, my name is Mike Lee and I have few questions about the Liquid Web hosting services.
Scott: Hi Mike, I'd be happy to help you with that.
Scott: Are you starting up a new project or are you hosting with another provider currently?
Mike Lee: New project. Is Liquid Web Hosting offers Dedicated IP solution?
Scott: Yes we do. All of our VPS and dedicated servers will include a single dedicated IP address by default. Additional IP's are $1/mon each.
Scott: Are you going to need a Windows or Linux based solution?
Mike Lee: Well, I will go with Linux. Is Liquid Web Hosting provides free SSL service? How about paid SSL solutions?
Scott: https://www.liquidwe…ons/security/#ssl-certificates
Scott: Great, if that is the case then we can setup free SSL's via Let's Encrypt through cPanel.
Scott: Additionally, we offer paid SSL's through GlobalSign as well.
Scott: That link will outline the various SSL's we offer and the pricing associated with them.
Mike Lee: How about Domain Privacy Protected Service? 
Scott: If you purchase domains through us, unfortunately, we do not offer domain privacy. You can always purchase a domain anywhere that does and host it on our servers.enom.com
Mike Lee: Is there any Free Site Migration Service?
Scott: Are you currently operating on a cPanel?
Mike Lee: Yes.
Scott: Perfect, because we offer free cPanel to cPanel migrations.
Mike Lee: Is there any hosting plan that supports email hosting?
Scott: Yes there is. Any of our VPS or dedicated servers are emails capable for no additional charge.
Scott: The plans that do not currently support email are our Managed WordPress and Cloud Sites plan.
Mike Lee: Is free domain included in the hosting plans? Or any domain coupon available at third party purchase?
Scott: No there is not.
Scott: Standard domain registrations are typically $15 per year through Enom although that does depend on the specific domain.
Scott: Keep in mind you aren't required to register the domains through us, we simply offer it as a service for convenience. You are more than welcome to register domains through another registrar and host them on a server with us.
Mike Lee: What type of control panels being used in both Linux and Windows hosting plan?
Scott: We offer Plesk and cPanel as an option with Linux servers. For Windows servers, we have Plesk as an option.
Mike Lee: How many data centers Liquid Web Hosting has? What locations are these data centers/servers located?
Scott: We have three data centers in Lansing Michigan, one in Phoenix Arizona, and one in Amsterdam.
Scott: https://www.liquidweb.com/about-us/data-centers/
Mike Lee: Is Liquid Web Hosting is a part of Endurance International Group (EIG)?
Scott: No, we are not. We are not affiliated with them in any way.
Mike Lee: Any Website Builder tool offered?
Scott: We do not offer any directly through us but you are more than welcome to install any 3rd party website builder you want on the server.
Mike Lee: What platform is the Liquid Web hosting using to support One-Click installation? Softaculous?
Scott: Yes, Softaculous is included with all of our fully managed servers.
Mike Lee: That's good. Is there any Money Back Guarantee for the hosting service?
Scott: Our VPS and cloud dedicated servers are prorated down to the day. If you cancel early we can refund you for the unused time left in your invoice.
Scott: Our traditional dedicated servers are not pro-rated. The reason for this is that we need to build each traditional dedicated server by hand to match each order.
Mike Lee: Noted. Will Liquid Web back up my website automatically? Or I have to pay any charges?
Scott: It would be possible to set up local cPanel backups without charge. Those would be stored on the server and could be FTP'ed to an off site location if you want.
Scott: Additionally, we do offer more robust, full server backups for an additional fee.
Scott: The cost will depend on the type of server you have and how much backup space you require.
Scott: You can view more information on our backup options in the link below. https://www.liquidwe…ducts/add-ons/storage-backups/
Mike Lee: Sure, what are the security features that Liquid Web offers?
Scott: You can read more about our additional security options in the link below. https://www.liquidwe…com/products/add-ons/security/
Mike Lee: Any shared hosting plan that supports unlimited website?
Scott: No, we do not have any shared hosting plans.
Scott: Our entry level plan is a 2GB VPS.
Mike Lee: Is there any hosting plan that supports unlimited websites?
Scott: Our VPS and dedicated servers have no hard limits on the number of domains you can host. You would only be limited by the resources of the server.
Mike Lee: Are space and bandwidth unlimited on Liquid Web hosting plans?
Scott: No. The disk space will depend on what plan or drive configuration you choose in the server.
Scott: We offer free incoming bandwidth with all of our servers. Outbound bandwidth is billed. We offer at least 5TB of bandwidth with our servers per month.
Scott: We are not a shared hosting provider Mike. We do not offer any sort of "unlimited" plans. The only limits you have are the resources of the server configuration you choose.
Mike Lee: Okay Scott 🙂
Mike Lee: It is really a nice talking with you and thank you for answering my all queries.
Scott: It was a pleasure speaking with you as well!
Scott: Are there any further questions I can assist you with?
Mike Lee: Not yet. Have a good day!
Scott: You as well!
Liquid Web Reviews on Uptime Performance and Server Status
Uptime Stats
Liquid Web is perhaps one of the web hosting companies that guarantees 100% uptime on its servers. Well, is this guarantee real? I would say no one is perfect, but they are doing quite well. For one, Liquid web does not use the ordinary hard disks for data storage. Instead, it uses SSD (solid state disks) that are highly reliable and can send data much faster.
Most of the Liquid Web reviews are very positive on the uptime, with very little complaints given for the downtime. When it comes to speed, the use of the CDN to deliver content put this company way ahead of many other web hosting companies. You are thus assured that your pages will load in short time.

Uptime Stats – Target: 100%
August 2017 – 99.97%
July 2017 – 99.95%
June 2017 – 100%
May 2017 – 99.98%
April 2017 – 100%
March 2017 – 99.94%
February 2017 – 99.96%
January 2017 – 100%
December 2016 – 99.86%
November 2016 – 100%
Liquid Web hosting company always guarantees to provide 100% uptime to their all clients who are using their services. I checked their uptime stats performance of last 10 months including August 2017. I was excited after seeing the result as they performed really well.
The Liquid Web uptime stats performance was satisfactory as shown in image but they didn't achieve the 100% uptime target as guaranteed by them. The overall average of their uptime stats is 99.966%, which is quite good.
Note: For latest and complete performance of Liquid Web uptime stats, visitors can bookmark this page for further reference.
Server Response Speed Test
Server speed really plays a significant role when it comes to buying hosting from any web hosting company. Same is the case with Liquid Web as the majority of new customers are confused whether to host their website with this company. I decided to solve the problem of all those who have so many questions in their mind regarding the server speed.
I pinged one of the sites which is hosted on Liquid Web and checked its server response speed through 8 diverse localities for testing the speed. The server response speed of Liquid Web was found to be good as shown in the image. Liquid Web comes out with a rating of A which is great for running a website.

Good and Bad of Liquid Web
Good
All plans are secured using SSL certificate.
WordPress sites do not have a monthly limit on the number of site visitors. Your site can thus have as many visitors as possible.
Excellent uptime performance
Solid State Disks, which are installed on all servers, makes it faster to retrieve data from your site. Hence your clients will be happy with the quick load time.
The customer support is great, with quick responses, helpful and knowledgeable team
You can easily migrate your site, at no extra charge.
Bad
The entry fee is very high.
There's no scriptable FTP method.
Complaints on new support team staff were not well prepared to handle some of the client queries.
No domain registration service
Summary of Liquid Web
A look at the services offered by Liquid Web shows that the company is offering features that will likely attract most people to it. Their key points are the CDN servers which assure speedy data retrieval, and the Heroic support. These two, coupled with other features such as uptime, security, and support for WordPress puts this company in a very high spot among the many web hosting companies out there.
The control panel that comes with most of the plans is user-friendly, making it possible for you to locate easily what you want, as well as make life much simpler for you. A big plus for Liquid Web is perhaps, also the email capabilities supported. This is especially crucial for organizations as well as WordPress sites.
In conclusion, I would highly recommend you to try and use Liquid Web for your web hosting needs. There are many positive reviews on this company, and their customers are continually recommending it to other people. One of the largest web hosting forum – Web Hosting Talk also hosted under the Liquid Web. This goes to show that they are pleased with the services offered.
Compare Liquid Web With Our Top Ranked Web Hosts!
SiteGround vs HostGator vs Liquid Web

SiteGround

HostGator

Liquid Web
Rating

Rated 4.5 stars

Rated 4.5 stars

Rated 4.5 stars

Price

$3.95/month

$3.95/month

$59/month

Criteria