Editor Rating

Rated 2.5 stars

OK
---
Reviewed by:

Published on:

Last modified:
---
Our Top Ranked #1 Web Host

Note: This website ReviewPlan.com is hosted on SiteGround
Latest Uptime Stats (Real Records):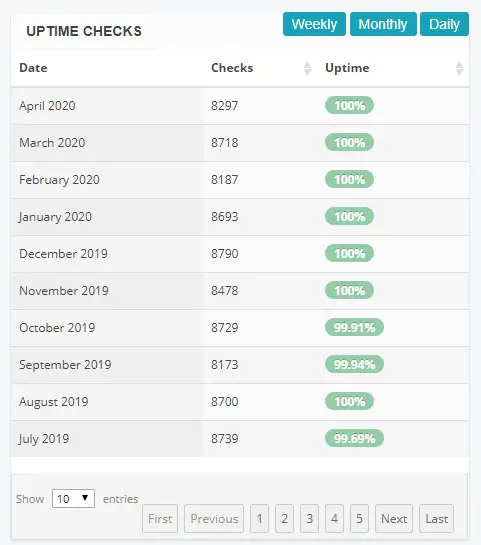 Server Response Speed Test Scored A+: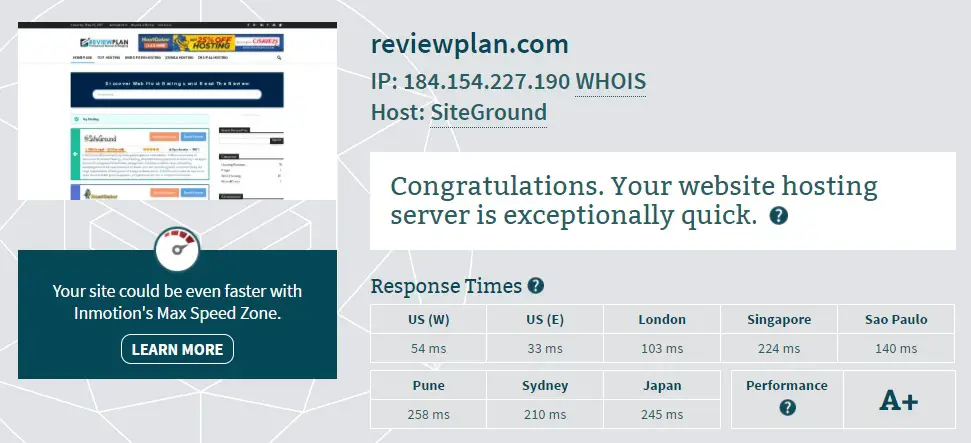 What is Lypha Hosting?
Lypha is the sort of company that is utterly unconcerned with appearances because it doesn't need to. Not in the least. The immense customer reputation and goodwill the company has built up over the course of more than 10 years allows it to coast comfortably without needing to divert resources from more important and more substantial needs. Lypha provides both shared and dedicated hosting plans for customers spanning the entire budgetary spectrum.
Reseller focused plans are also available. Because the company is built on solid foundations of high-performance hardware and infrastructure, you can expect great service from Lypha at all price points.
From high performance hosting to quality customer service, Lypha aims to provide the best hosting experience and by extension, the only hosting experience you will ever need. So does it pass muster? Read on for the full review.
Lypha Reviews on Hosting Plans and Services
Lypha's shared hosting plans are built on top of the cutting edge Goldbox NG platform. This provides many significant advantages over conventional platforms, which includes highly improved reliability and greater performance out of the same hardware infrastructure.
Security is also built right into the platform with a multi-layer hardware-based firewall to protect against malware and other malicious software. By increasing interconnect points and sandboxing crucial hardware junctions, Goldbox NG ensures that even if one hardware component fails or stops working optimally, by automatically implementing interstitial adjustments, catastrophic failure does not occur and the site is served successfully.
Lypha offers two tiers for its shared hosting plans. The Simple tier costs USD 3.95 per month and comes with 150 GB of storage space on hard drives in RAID, 1500 GB of transfer bandwidth on high-quality tier-1 bandwidth, up to 30 MySQL databases, and up to 1000 email accounts. The Economy one costs USD 6.95 per month and removes any usage limits. There is also a money back guarantee for your peace of mind.
Because Lypha operates all its hosting plans on very high-performance hardware, unless you draw a lot of traffic, performance remains really good, uncharacteristically so for a shared hosting platform. Security is enhanced by using 128 bit SSL encryption and firewalls and antispam systems ensure that your communication remains relevant and secure.
The industry standard cPanel interface is also used as the default control panel hosting management system. Even e-commerce platform osCommerce is built right into the hosting platform, making it easier than ever to build an e-commerce venture.
Lypha Reviews on Reseller Hosting Plan
The Reseller plans are also extremely competitive with the rest that is out there. MResell #1 plan costs USD 19.95 per month and comes with 6 GB of storage space using hard drives in RAID, 1 TB of transfer bandwidth per month, and included WebHost Manager Interface. The MResell #3 plan costs USD 39.95 per month and offers unlimited resources for your money.
There is also a USD 15 setup fee that is waived off if you purchase hosting for durations more than 6 months. The feature set remains the same as of shared hosting plans for individual customers. You also get a 1 click installation service that can automatically install over a 100 PHP or CGI scripts as well as popular CMS platforms like WordPress and Joomla.
By using over 20 network connectivity providers offering tier 1 bandwidth, reliability is enhanced and with the considerable performance benefits using the company's route science technology.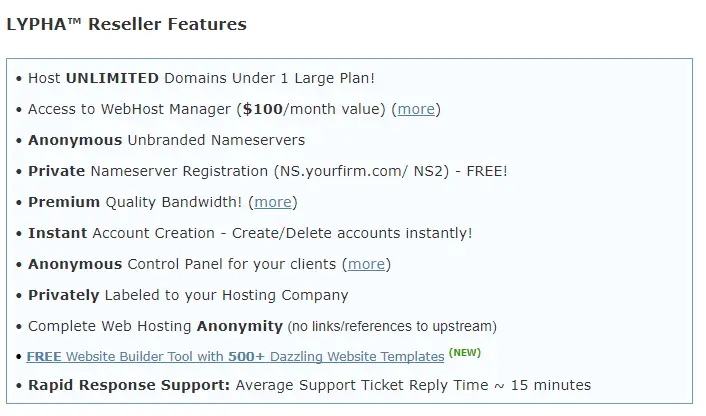 Lypha makes a fairly competitive bid for customer attention and has been, by and large, successful. Its shared hosting plans are quite affordable, as are its reseller oriented plans. And best of all, performance is great. By using quality hardware and branded server components and network infrastructure hardware, Lypha ensures that no bottlenecks or reliability issues are ever introduced into the workflow.
Additionally, the company operates multiple connections with great redundancy to major internet backbones; this enables both load balancing and performance improvements in addition to improving reliability since a loss of internet connectivity is most likely to result from a bandwidth reseller fault and not in the core backbone system itself.
In total 20 internet service providers distribute the load of Lypha hosting within them, which prevents overcrowding as well as enables very high performance.
Lypha Reviews on WordPress Hosting

Lypha hosting plans feature a one-click installation tool that can automatically install and configure a diverse number of scripts and web applications, including CMS platforms like WordPress, Joomla, Drupal, etc.
Additionally, extensive support for WordPress as well as other CMS is available. All plugins and extensions are guaranteed to work and be fully compatible with Lypha systems. However, there is no dedicated WordPress plan to speak of.
This might be disheartening for beginner users who were looking for a hosting plan tailor-made for the WordPress platform. But you should keep in mind that a so-called WordPress plan is nothing but a typical shared hosting plan with preinstalled WordPress and a number of freebies such as themes and templates threw in.
Those are obtainable over the internet pretty easily and you do not need to pay the additional premium for a branded WordPress plan when simply doing a bit of due diligence gets you all the way there.
Lypha Reviews on Support and Customer Service
Lypha maintains a non-outsourced customer support system ever since its inception. The company also maintains skilled technicians and engineers to address any technical support queries you might have. There is plenty of documentation and guidelines on the website if you are looking to diagnose the issue yourself as well.
Lypha Reviews on Uptime Performance and Server Status
Thanks to the extremely reliable and high-performance network hardware used by Lypha, the server uptime record is quite remarkable. With over 99.9% server uptime, very little downtime or speed reductions, Lypha is genuinely a reliable web host.
Good and Bad of Lypha
Good
Good hosting portfolio
Great reseller focused plans
In-house customer service and technical support
Extremely reliable hardware and infrastructure
High-performance plans even on shared hosting
Bad
Expensive than the competition
No dedicated hosting plans
Summary of Lypha
Lypha is a medium choice for high-performance budget hosting. If you have greater needs, however, you will need to look elsewhere because Lypha does not provide cloud hosting or dedicated server hosting plans… yet.
Compare Lypha With Our Top Ranked Web Hosts!
SiteGround vs HostGator vs Lypha

SiteGround

HostGator

Lypha
Rating

Rated 5 stars

Rated 4.5 stars

Rated 2.5 stars

Price

$3.95/month

$3.95/month

$3.95/month

Criteria