Editor Rating

Rated 4 stars

Excellent
---
Reviewed by:

Published on:

Last modified:
---
DISCLOSURE: This post may contain affiliate links, meaning when you click the links and make a purchase, we receive a commission.
Our Top Ranked #1 Web Host

Ideal for WordPress, Joomla, Drupal and eCommerce
Overview of Nestify
Nestify claims to provide professional Business WordPress Hosting to their clients all over the world and as per the customer reports go, they aren't really bragging. They provide hosting platforms to the top business entities of the world and also corporate powerhouses and so far they haven't failed to deliver top performances.
So, what makes Nestify Hosting so efficient?
What have they been doing so correctly and accurately?
Let's find out.
Details
 
Founded
2002
Server Location
To be updated
Services

Linux VPS Hosting
Dedicated WordPress Hosting
Dedicated Magento Hosting
Other CMS hosting

Unlimited Website
No
Unlimited Storage and Bandwidth
Only Available With The "Custom" Plan
Domain Hosting
No
Linux Hosting
Yes
Windows Hosting
No
WordPress
Optimized
Joomla
Yes
Drupal
Yes
Magento
Optimized
PHP Hosting
Optimized
e-Commerce Hosting
Optimized
Email Hosting
Limited Email Account
SSL Support

Free Let's Encrypt SSL
Advanced SSL Available

Dedicated IP
Yes
Free Site Migration
Yes
Free Domain
No
Domain Privacy Protected
No
Money Back Guarantee
30 Days
24/7 Support
Selected Methods Only

Control Panel
One-Click Installation
Website Builder
No
Automated Backup
Content Delivery Network (CDN)
Security Features

SSL
Smart Firewall
Malware Blocking

Payment Methods

Visa
MasterCard
American Express
PayPal (Annual Subscription)

Endurance International Group Network (EIG)
No
Social Profile
Nestify Reviews on Hosting Packages
WordPress hosting achieves a new level of performance under the services of Nestify. Their stuff is technically superior to the contemporary hosting companies currently active in the market. The services they offer are categorized into three basic plans on the basis of the average visitors associated with that website.
The starter pack comes with a monthly rate of $7.99 which will work fine for around 10,000 monthly visitors. The pack will offer 5 GB of storage space and it is devoid of any staging.
The personal pack comes for in exchange of $19.99 per month and it is sufficient to accommodate around 75,000 visitors every month. With 10 GB storage space and one-click staging process, this pack finds the most number of takers.
The professional pack is for the big corporate houses and the hotshot companies availing hosting services from Nestify. It offers 40 GB of SSD storage which works just fine or over 150,000 visitors per month. This is also accompanied with a one-click staging plan. All this comes with a monthly rate of $49.99.
Nestify Has The Good Combination To Achieve The Desired Results
The modern apps available on the web require an appropriate hosting platform to extradite full potential out of them and that is where Nestify Hosting offers the perfect solutions. They have built the platform from scratch and have included all the vital aspects that assure top performances from the web apps.
You can easily create a new website by just selecting the CMS you would like to use for your website. Enter your domain name and select what would you like to deploy and Nestify will take care for you.
For example, if you are using WordPress, kindly select WordPress and click the "Deploy."
You will receive a confirmation email from the Nestify when your site is active. This normally would not take more than a minute. Now you can login to the Nestify dashboard and manage your website.

Below is the dashboard of Nestify for you to manage your website. It shows the disk usage condition and you can easily find out the available and used spaces. Unlike most web host using cPanel, Nestify has its own customized dashboard.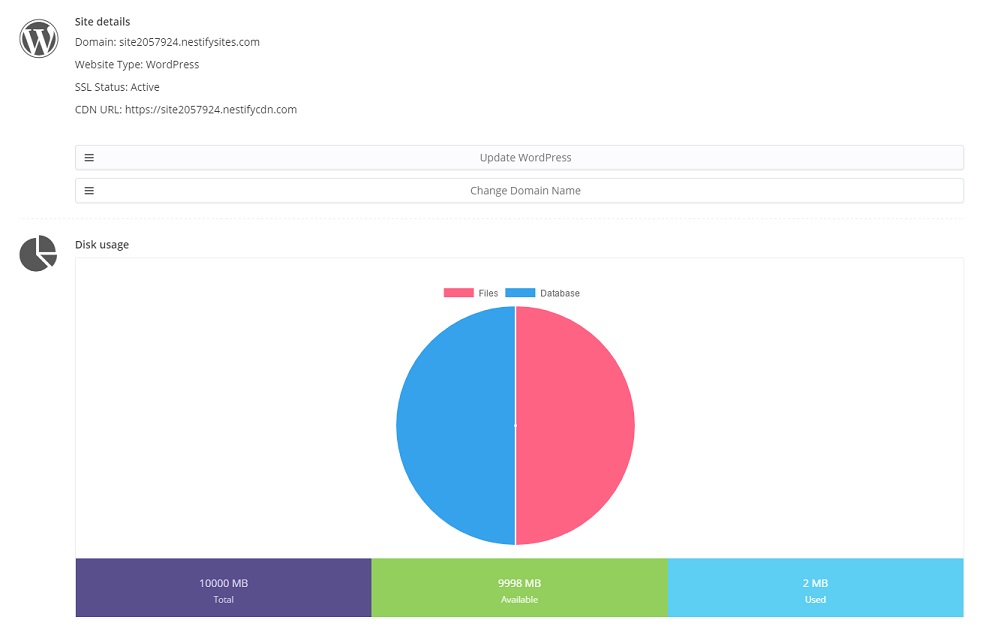 The great hosting experience which the clients of Nestify get is a result of the perfect blend of Caching, web, database and CDMN components that the company has achieved and they gladly boast off it. Besides these amazing results, there are also a few other aspects of their hosting service that makes them such a desirable Business hosting company in the market.
Environment Staging With One Click
It just goes on to show how much Nestify emphasizes user-friendly environment and works on developing it to the core. Staging environments can also be created with just one click.
By clicking on that button a new website is automatically set up on the nestifyapp.com domain and all the databases along with the files are copied from the website. Moreover, the URLs inside the database are also updated so that the clients face no problem at all.
Advanced Security For Your Websites
Speed is the first thing that you will require from your hosting service provider but not at the cost of security. Security is by far the most indispensable aspect required from a business hosting provider. Nestify Hosting seems to acknowledge that and hence provide competent security features ingrained at every level of their hosting stack.
On top of that, they follow the best practices involving DevOps as well as a very stern patch schedule. This enables them to block any kind of compromised browsers, top threats, bad bots as well as DDoS attacks.
Easy Updates
The Nestify console is equipped with a one-click update feature which allows users to update their WordPress to the latest version by a single click. By just clicking the "Update WordPress" below, your WordPress site will be automatically updated.

Nestify Backup and Restoration
Nestify allows you to schedule automated backups and will keep your current backups. The security of this console is top notch yet if anyone feels that his website has been compromised then he can restore it back to the clean state with simply by one click. These easy to use mandatory features are another reason to choose Nestify for your hosting solutions.
Faster Loading
Once you have hosted your websites with Nestify, your website will experience one of the fastest loading experiences ever. The average loading time for websites hosted by Nestify does decrease significantly and if you are thinking they achieve this by making few alterations with the code then you are mistaken.
Nestify allows you to choose the optimization level. There are options which allow you to increase your web page loading speed. You can minify the CSS, defer the execution of JavaScript in HTML until page load complete, turn large files into a cacheable file, and so on.
Your code remains exactly the same but your website loads faster that the average industry based loading time. The perfect balance between fast processing speed, caching and CDN offloading leads to the decreased loading time.
The hosting platform provided by Nestify optimizes these parameters apply and automatically on the basis of traffic patterns. Besides, you are able to manage and control the cache easily.
Mobile Devices Prefer Faster Websites
No visitor likes to visit a page that is slow, period. And speed gains a whole new requirement when it comes to mobile devices. Consumers using mobile devices to surf the Internet demand astronomical browsing speed and as a fact, more than 50 percent of the daily consumer traffic originates from these demanding mobile devices.
These mobile consumers do not have the time to wait for your website to load. This is where having a fast website helps. It automatically ensures that the majority of the visitors of your website are retained and hence the engagement is also improved.
Nestify provides faster mobile device delivery by optimizing the hosted websites. It also supports low bandwidth without having to change any code. Routine measurements using third party tools leads to the improved level of performance of their stacks.
Nestify FTP and SSH
If you are familiar with the cPanel and there is no problem for you to visit the file manager and manage your website files. With Nestify, file management is a bit different.
You will need a FTP software like FileZilla or CyberDuck to access your website files. Besides, you can also choose to access the console by using remote access to SSH. Nestify provides you the FTP and SSH details so that you can access your website files easily.
Nestify Database Management
Database management of Nestify is easier with the help of their user friendly dashboard. You can always access your database details and Nestify allows you to change the password of the database if you want.
Besides, they also provide an interface for you to launch the phpMyAdmin. For many users like me, accessing the database and checking the database data is essential and Nestify simplified this for their users.
Addons and Upgrade
If your current hosting plan does not sufficient to support your website hosting requirements, Nestify offers you the addons and upgrade option.
In the case of traffic spike or high server resources needed, you can always upgrade your plan. However, if you do not wish to upgrade your hosting plan immediately, Nestify can still handle additional visitors up to three times with no additional cost.
If you need more disk spaces or email storage, it is available as an addon. Hence, there are no worries as Nestify has the options that suit your needs.
Nestify Reviews on Customer Support
Nestify provides two types of support methods to their clients. The most common one is through the Live Chat and another method is via the email. I could not find any knowledge base where users are able to search the answer by their own. Overall, based on my own experience, I would say the Nestify support is quite good.
#Trial 1 Good Live Chat Response
I had some questions in mind and launched the Nestify live chat support to look for the answer. Although the live chat support was online, and I got their response fast, but I did not get the answer that I was looking for immediately. Instead, I was instructed to enter my email and another support will answer my questions via the email. Anyway, this is how their support works and I just hope I could really "chat" with their support in the future.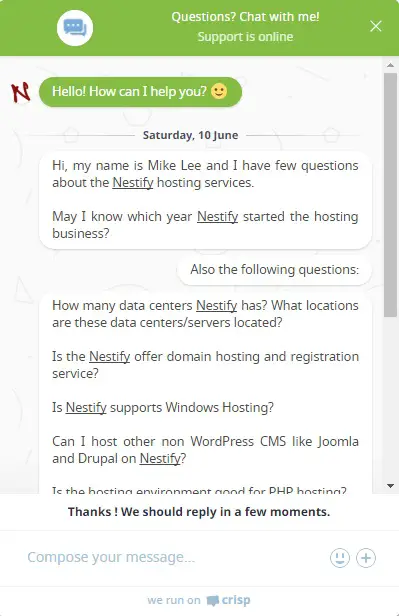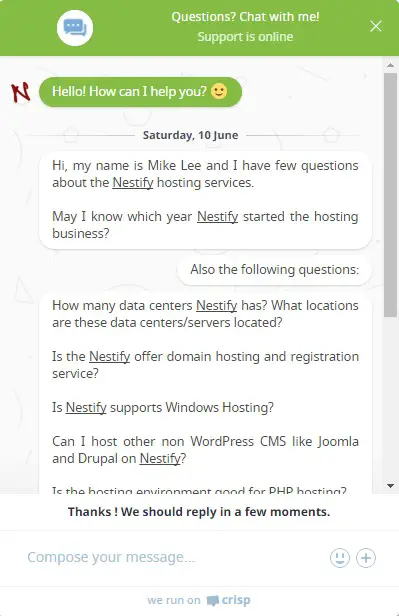 I submitted my questions to them and got their prompt response via the email. Here are the questions and the answers they provided.
Q: Are the Nestify offer domain hosting and registration service?
A: No, we don't provide domain registration service.
Q: Is Nestify supports Windows Hosting?
A: No, Windows hosting is not supported.
Q: Can I host other non-WordPress CMS like Joomla and Drupal on Nestify?
A: Yes, you can host any othe CMS on Nestify
Q: Is the hosting environment good for PHP hosting?
A:  Yes, you can host PHP 5 and PHP7 applications on Nestify.
Q: How Nestify handle email hosting? Any plan supports unlimited email accounts?
A: No. All plans support a maximum of 50 email accounts.
Q: Other than the free Let's Encrypt SSL, any other type of SSL provided?
A: Yes, we support different SSL certificates if you don't wish to use Letsencrypt.
Q: Can I get a Dedicated IP from Nestify?
A: Yes. you can get dedicated IP from Nestify.
Q: What payment methods does Nestify accept?
A: We accept all major credit and debit cards. Paypal is supported for annual payments.
Q: Is Nestify part of Endurance International Group(EIG)?
A: No. We are an independent hosting provider.
Q: Can I pay monthly?
A: Yes. You can pay monthly for all plans.
Nestify Reviews on Uptime and Server Status
Uptime Stats
Overall, from the reviews available online, I would say the uptime performance of Nestify is reliable. I am monitoring the Nestify uptime performance but not enough data to publish the stats at this moment. I will collect and publish the data soon.
Note: I will update this Nestify uptime stats soon, do bookmark this page if you are interested in checking their uptime performance.
Server Response Speed Test
A test was conducted using a website hosted on Nestify to check the server response speed of Nestify. It scored A+ in June 2017 and I would say the server response performance of Nestify was quite impressive. The site was pinged from the eight different locations below and as you can see, it performed really well in some countries like United States, United Kingdom, and Sydney.

Good and Bad of Nestify
Good
Efficient WordPress Hosting plans which delivers high performance.
Very reliable in terms of consistency.
The prices of the vast range of plans are all very reasonable and quite affordable.
Customized user-friendly control panel
Bad
Does not provide domain registration service
No unlimited email accounts offer provided
The Final Word
Please take note you will need to register your domain name with another domain registrar like GoDaddy and point it to the Nestify server if you wish to use their service. Nestify does not provide domain registration service at the moment.
Overall, I would say Nestify provides reliable services and the services they provide are excellent and leave very little to complain about. It will be a good choice for WordPress hosting and other CMSs hosting.
Compare Nestify With Our Top Ranked Web Hosts!
SiteGround vs HostGator vs Nestify

SiteGround

HostGator

Nestify
Rating

Rated 4.5 stars

Rated 4.5 stars

Rated 4 stars

Price

$3.95/month

$3.95/month

$7.99/month

Criteria