Editor Rating

Rated 3 stars

Good
---
Reviewed by:

Published on:

Last modified:
---
What is PowWeb Hosting?
PowWeb is a web hosting company, in operation since 1999. It was acquired by the services behemoth Endurance International Group or EIG in 2006 who own, among many other web hosting companies. The company is well known for its "One Plan, One Price" system.
PowWeb has always been known for offering hosting plans on the cheap, and new management hasn't changed that. This PowWeb review will find out how well are its services.
PowWeb Reviews on Hosting Plans and Domain Service
PowWeb has some strong hosting technologies to back you up in all your hosting needs. Server systems work on RAID and load balancing technology to offer the combination of speed and redundancy. The highly customized control panel ensures deep and granular control over all aspects of your website. PowWeb also supports DNS management, subdomain registration and custom error pages.
PowWeb offers only one shared hosting plan. Built on a solid platform with custom password protection and unlimited FTP access, shared hosting on PowWeb was a good experience. However, recently the quality of their service seems to be declined.
With multiple backend technologies like phpBB, osCommerce and Gallery 2, PowWeb makes a compelling case for itself as a full-featured budget brand. Also supported by PowWeb are PHP 4, PHP 5, Zend Optimiser, Perl 5, Sendmail, CGI-BIN, SSI, .htaccess, Cronjobs, Flash, Shockwave, MIDI, and much more.
Multiple marketing oriented tools are included to help generate positive transaction and drive more traffic to your website. The USD100 Google AdWords bonus, USD100 Bing Ad credits, and a free Yellow Pages listing are included.

It is a bit misleading to say the PowWeb monthly hosting price is $3.88. This can only be true if you select the two years or three years plan. Many new customers prefer the one-year subscription to test their service. In that case, it will cost $4.18 per month.
PowWeb Reviews on Reseller Hosting Plan
For web designers and developers, PowWeb also offers customized reseller packages with a dedicated management and support team to help business partners. PowWeb boasts of thousands of business partners in web designers and development studios around the world. The hosting services are also e-commerce ready, with ShopSite Starter Shopping Cart, OsCommerce Shopping Cart, and SSL services.
PowWeb Reviews on Domain Service
PowWeb also offers simple and convenient domain transfer services. If you have an existing website and want to migrate it to PowWeb servers, the process is simple and straightforward. The technical support team does all the heavy lifting for you, including reconfiguring all technical and network parameters for optimal performance.
PowWeb Reviews on Email Hosting
PowWeb also supports email hosting through Microsoft Exchange for enterprise level data security and reliability. For enterprise and corporate clients, having reliable and secure email capabilities is essential for the smooth and coordinated operation, and PowWeb has some customized packages to do that. The PowWeb Exchange Basic email hosting plan costs $38.85 per quarter.
PowWeb SSL
All PowWeb servers are secured by the latest online security and cryptographic technologies. Using SSL certification ensures that data remains secure and safe throughout the transaction. HTTPS support is also included with SSL certification services.
PowWeb Website Builder
PowWeb also features a drag and drop website builder to take all the work out of designing a website. Now even beginners and people unfamiliar with web development can build a very attractive website in just a few minutes. With a vast number of professional themes, Weebly, PowWeb's chosen WYSIWYG web editor performs admirably and allows you to build your own custom website by yourself for free.
PowWeb Reviews on WordPress Hosting
WordPress hosting services are robust by all measures. PowWeb offers two tiers of WordPress services: Starter and Essential. The company includes a wide variety of curated themes and offers multiple preinstalled plugins to ensure that WordPress integration is as seamless as possible. With a custom designed control panel interface, it is very easy for even non-technical personnel to operate the website and having total control over all services. There is also a dedicated technical support team staffed with WordPress experts to handle all technical queries and resolve any issues related to WordPress.
PowWeb Reviews on Support and Customer Service
PowWeb offers 24×7 customer support and technical help over the email and Live Chat. I have shared my personal experience with their Live Chat support in this PowWeb review. Whatever issues you run into, technical or otherwise, the talented support staff is there to help you resolve your problem to your absolute satisfaction. From billing issues to technical problems like DNS mismatch, the customer support is impeccable.
There is also extensive online documentation for people who are willing to do the work themselves or are simply interested in understanding how the system works at PowWeb. However, in case you do decide to contact customer service, the experience will be extremely good due to the high quality and training that goes into them. There is also a very active forum for the PowWeb community to discuss anything.
Trial #1 Excellent Live Chat Support from PowWeb
There are mixed reviews regarding their support. Some say their support is good and other people seem do not agree with this statement. So, I decided to test their support by myself. At the same time, I was hoping their support can clear my doubts. After activating the PowWeb Live Chat, I was informed that my waiting time was expected to be 5 minutes. It's acceptable for me as long as the waiting time does not exceed 10 minutes.

After 1 minute and 4.51 seconds, I got their reply. It was faster than expected. I knew they have provided email hosting services partnered with Microsoft Exchange. However, I was not sure whether I could have my own email account with them without subscribing the email Exchange plan. I asked them questions regarding the email hosting and I was satisfied with the answers provided. Users can setup unlimited email accounts with their hosting account. Besides, webmail client software like RoundCube and SquirrelMail are also provided. Overall, I was impressed by the quality of the support provided. It was a good experience with PowWeb support.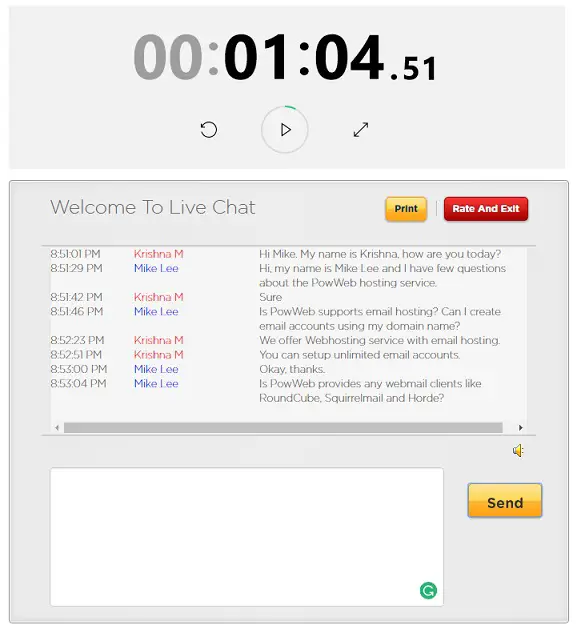 PowWeb Reviews on Uptime Performance and Server Status
PowWeb has an average server uptime record. It has maintained this status for a long time. For a budget hosting service provider, providing such uptime performance is expected. PowWeb is reported to have some downtimes and normally they will try to get their server up as soon as possible. You should not expect too much from PowWeb as it is just a budget hosting service provider.
Good and Bad of PowWeb
Good
Budget oriented packages
Decent customer support
Wide variety of supported services for the price
Bad
Many bad reviews across the web
Some technical performance is subpar
Do not provide VPS or dedicated hosting solution
Only suitable for small website
Summary of PowWeb
PowWeb is a web hosting service provider on a budget if you choose the longer subscription terms. They certainly deliver a lot of services at a very low price, which makes it good for personal websites. However, for enterprise use or any other serious business oriented purpose, PowWeb fails to live up to the mark. Subpar performance is a let-down, but it might be a good place to start if you are just beginning to get into web development or administration.
Compare PowWeb With Our Top Ranked Web Hosts!
SiteGround vs HostGator vs PowWeb

SiteGround

HostGator

PowWeb
Rating

Rated 5 stars

Rated 4.5 stars

Rated 3 stars

Price

$3.95/month

$3.95/month

$4.18/month

Criteria