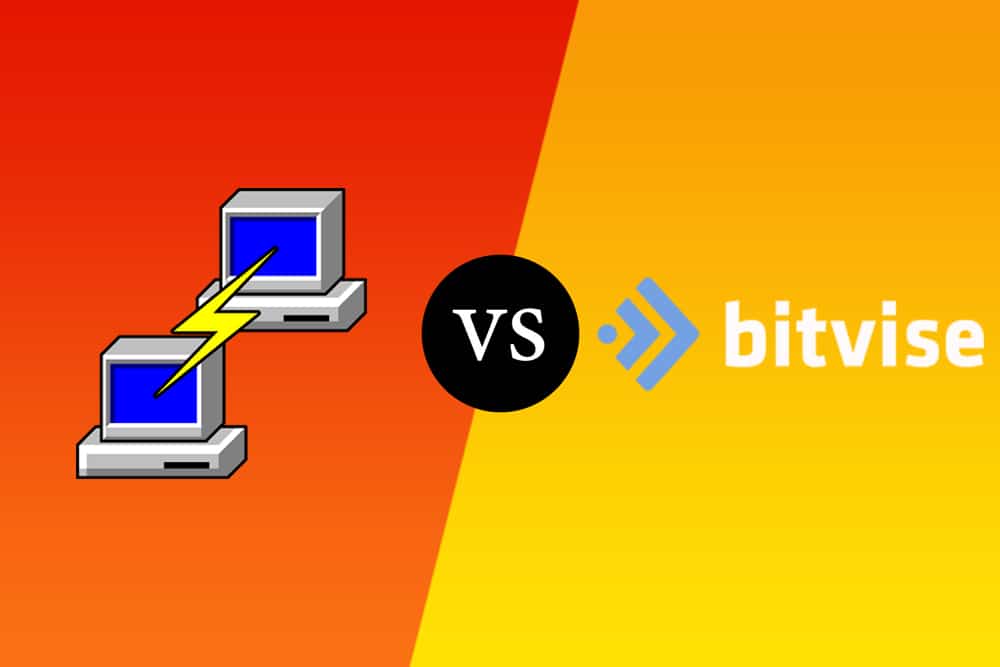 DISCLOSURE: This post may contain affiliate links, meaning when you click the links and make a purchase, we receive a commission.
As technology advances, we are constantly creating new ways to communicate and cooperate with one another. The remote-work boom during Covid created the necessary environment for computer-sharing software to thrive. PuTTY and Bitvise are two such softwares that specialize in sharing remote access between two computers.
While both software are considered great in their fields, users often question which one of the two they should choose. That's exactly why we've prepared this in-depth guide, comparing both, PuTTY and Bitvise, on different factors to deduce which tool thrives where.
What Do PuTTY And Bitvise Do?
Both these software are used for computer sharing between multiple devices. Computer sharing is a process in which you can achieve remote connectivity across different computers and send and receive the data at the same time on both or multiple machines. It's very handy when it comes to jobs like file transfer or remote work.
The major advantage these softwares provide over regular methods of computer sharing is the provision of SSH protocols. SSH applications are based on a client-server architecture, connecting an SSH client instance with an SSH server. This means they are able to allow a secure shared-connection between faraway computers with minimum security breaches.
PuTTY is the older of the two, as it was released in 1999 and has since become an industry standard for terminal emulation software. It's a free and open-source software meaning the internal security connections have been thoroughly scanned and approved of over the decades.
On the other hand, Bitvise is a relatively newer software but still provides a sleek and comfortable experience for all users.
PuTTY vs Bitvise
While both of them may initially sound like they serve the same purpose, once you look into their features and implementation, you will begin to notice many key differences that set them apart. Below we will be comparing them on the basis of their interfaces, features, performance, platforms, and pricing.
PuTTY, as mentioned earlier, is a very old and established software. That means the interface for it was also inspired by older design models with less emphasis on the user experience. The interface features some simple property-style windows and a simple terminal interface for all your interactivity needs. However, this can feel fairly unintuitive, especially to inexperienced users.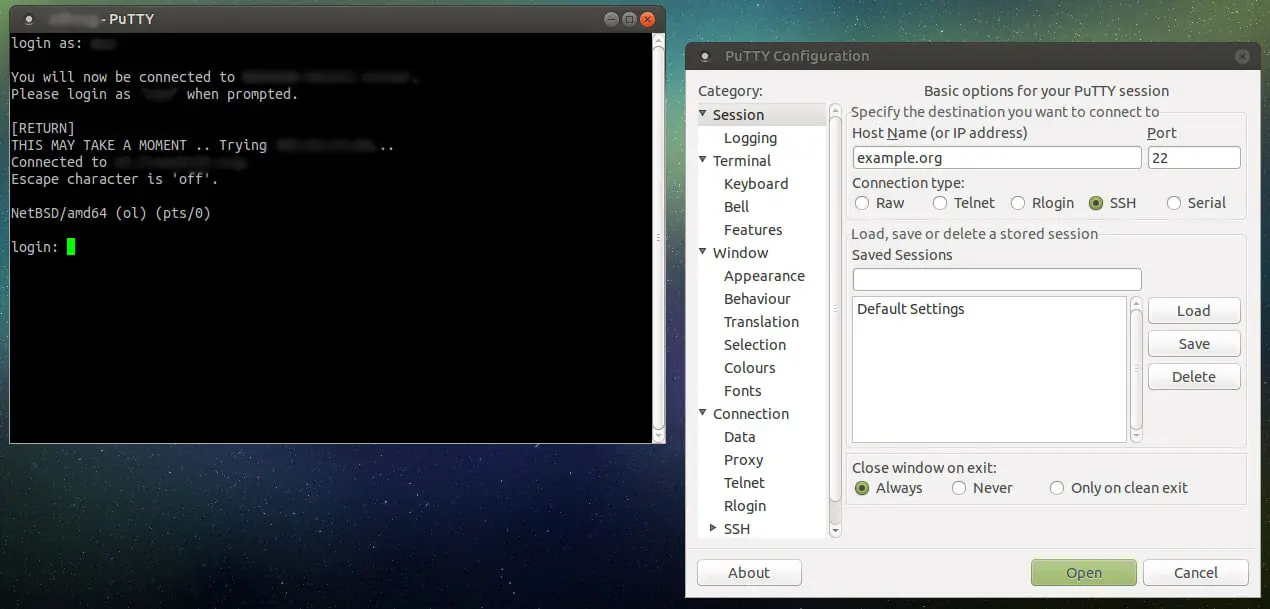 Bitvise, on the other hand, has a very friendly GUI layout for its application that feels right at home for most usages. The application is perfect for small-scale corporate use or individual usage since it comes along with various guides, support, and FAQs that allow users to become accustomed to the already simplified interface quickly.
PuTTY, despite many updates as recent as 2020, has an old-school design and feels unintuitive to new users. Furthermore, the wide variety of options it provides regarding reliable file transfer can be overwhelming for those unfamiliar with these protocols and what they do. These protocols include SCP, SSH, Telnet, login, and raw socket connections.
Bitvise SSH Server is designed for Windows, so that makes it easy to install and configure. In a regular Windows environment, it will work immediately upon installation with no configuring required.
Plus, Bitvise also includes state-of-the-art terminal emulation and graphical as well as command-line SFTP support. This will make it much easier to keep track of the application and its procedures.
PuTTY has some very handy functions of its own such as the ability to be run on any Windows computer, even without admin rights. Naturally, the previously mentioned file transfer methods also play a big role in the amount of customization and flexibility it provides.
Also, the fact that the application is open source means users can tinker with the source code for a very custom experience that meets their needs. However, in terms of overall features, Bitvise can be said to have the upper hand in this department due to the software being newer to the market and being updated to meet all the latest requirements.
Bitvise's features include being able to save passwords and sessions, organizing sessions, auto-saving, split-screen view, saving/loading profiles, a built-in SFTP window, and many new features considered standard in the industry by now.
PuTTY is a very lightweight and easy-to-transfer software. In fact, the software is light enough that you can run it after a simple download without even having to install it.
It has earned the trust of a great number of users over a long period by being reliable and offering useful features and helpful support. Needless to say, the performance has been optimized over two decades, and it will not disappoint you.
Bitvise, although being a heavier applicating than PuTTy, is still quite fast and efficient. It provides fast rendering of SSH windows, and connections are formed fairly quickly as well. The features are also well optimized, especially for the improved and paid version of the software.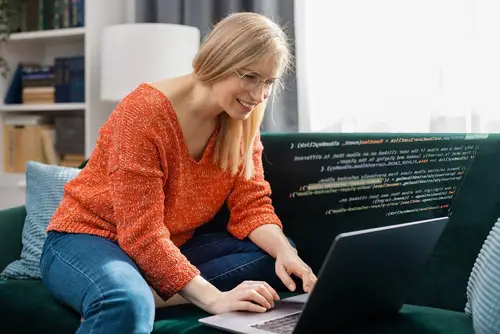 PuTTY is completely open source and free at all levels of usage, meaning nobody will be charged for any software usage. Bitvise, on the other hand, has a free client version along with a paid version that is suitable for professional organizations who want to use the software to host a server.
With that said, there is a 30-day free trial period to test premium Bitvise out before you decide to purchase it. We've listed the price plan for the SSH server version of Bitvise below:
| License type | Price |
| --- | --- |
| Per installation | $99.95 |
| 25-Installation License | $2,000 |
| Site License | $10,000 |
| Area License | $15,000 |
| Worldwide Internal Use License | $25,000 |
| Unlimited Project License | $25,000 |
| Large Worldwide Internal and External Use License | $40,000 |
| Full Source License | $55,000 |
Verdict
Now that we have compared the two softwares on various parameters, we will summarize them into an easy to understand table. As mentioned earlier and from the results for people who prioritize small and customizable applications, PuTTY is the more reliable option. However, if you prefer a more modern and prettier-looking application, then Bitvise is your go-to option.
| Category | PuTTY | Bitvise |
| --- | --- | --- |
| Interface | Simple and Old Design | Updated Modern Graphic User Interface |
| Ease of Use | Requires a certain degree of computer knowledge | Requires very basic computer operating skills |
| Features | Has customizable but basic and reliable features | Comes loaded with all sorts of features |
| Performance | Very lightweight and customizable performance | Decent and reliable performance |
| Pricing | Free and Open Source | Free for clients but must be paid for corporate usage |
Conclusion
While both the software are pretty handy when it comes to computer sharing, PuTTY takes an edge over Bitvise by being more customizable and open source. With that said, there's no harm in going for Bitvise if you aren't too tech-savvy or prefer a software with a modern GUI.