Editor Rating

Rated 3.5 stars

Very Good
---
Reviewed by:

Published on:

Last modified:
---
DISCLOSURE: This post may contain affiliate links, meaning when you click the links and make a purchase, we receive a commission.
Our Top Ranked #1 Web Host

Ideal for WordPress, Joomla, Drupal and eCommerce
What is ServInt Hosting?
ServInt is one of the largest white label hosting brands in the United States. The company has been in continuous operation for more than 10 years, no small feat in an industry that undergoes paradigm shifts every 5 years. The internet is an unpredictable domain to build your business around, and only the best survive in this cutthroat competition.
ServInt aims its products at a business crowd, no doubt about that. If you want inexpensive shared hosting plans, read no further; ServInt is not the place for you. There are plenty of budget web hosting service providers who deliver inexpensive hosting solutions at rates affordable for individual users. However, for users who want the very best in performance and reliability with their web venture, ServInt offers a pretty compelling choice. Let's get this review started.
ServInt Reviews on Hosting Plans and Services
ServInt Reviews on Cloud VPS Hosting
ServInt's hosting portfolio begins with cloud hosting plans and virtual private servers. That's right. The company aims these plans to the low to mid-range business use spectrum where a dedicated server solution would be overkill and way too expensive. VPS hosting plans offer the performance of dedicated hardware resources while retaining the scalability that small agile businesses often need.
The ability to boost resource allocation at the click of a button cannot be overestimated when you need to keep your site online through various load situations. For users who have not yet matured in their site traffic, the ability to estimate oncoming high traffic periods and scale server resources accordingly is key to optimising cost and performance. VPS hosting plans are perfect for such applications.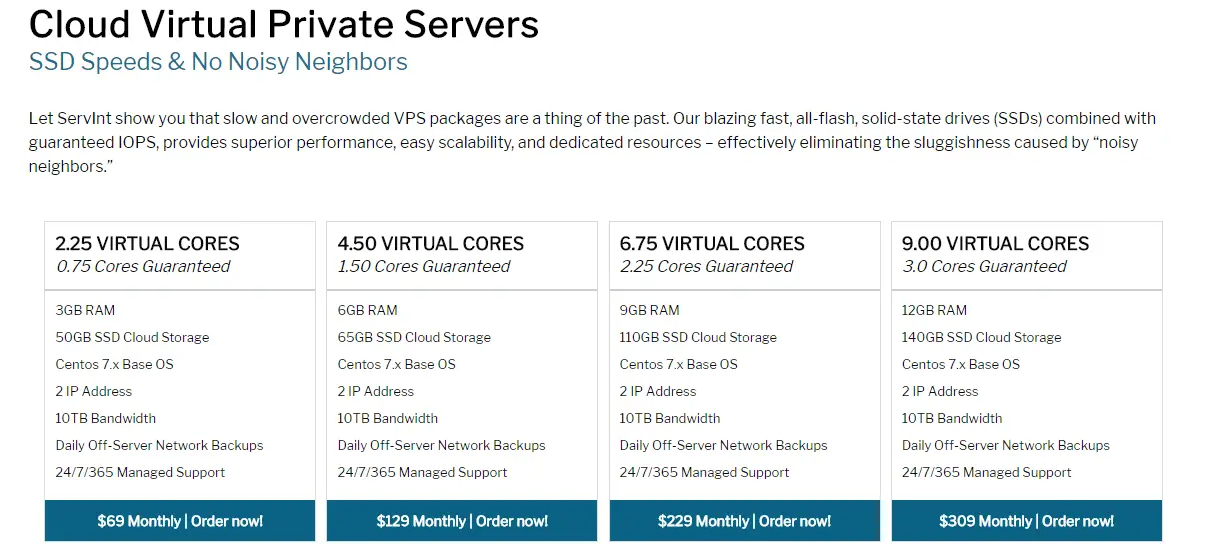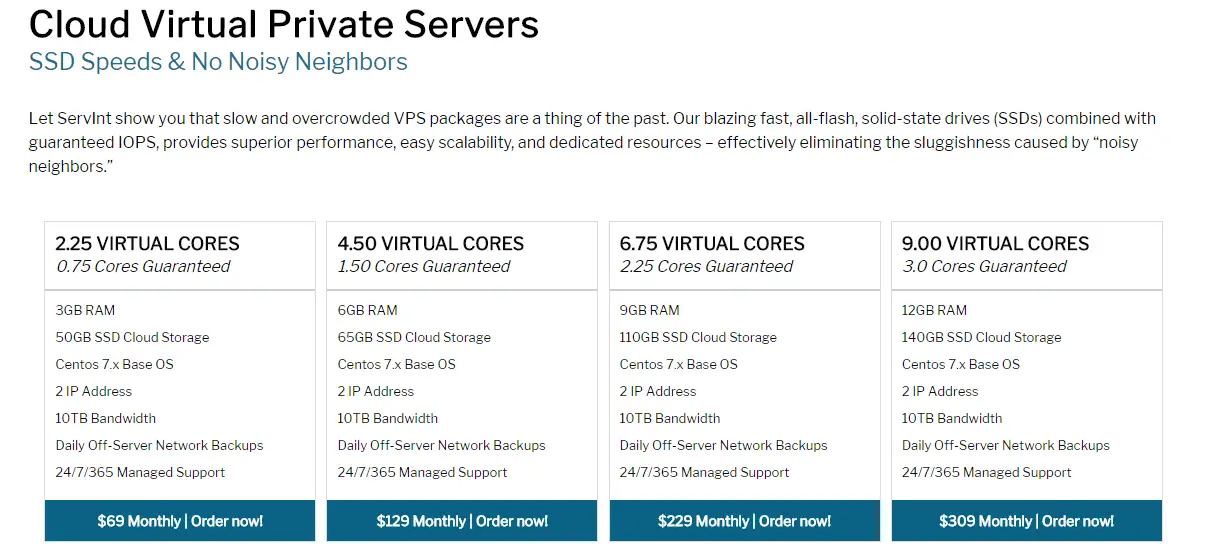 ServInt Reviews on VPS Hosting
ServInt was one of the first hosting service providers to roll out VPS hosting plans in 2004. It, therefore, makes sense to say that the company is supposed to deliver the best in class hosting solutions when it comes to VPS hosting.
If you need even more performance, all SSD plans from ServInt are there to fulfil your needs. All flash-based storage means there remain no performance bottlenecks as was the case with spinning hard drives. Solid state technology is not only faster but only more reliable with no moving parts and high resistance to catastrophic data loss or hardware failure compared to spinning hard drives.
ServInt Reviews on Dedicated Hosting
If you feel that VPS hosting is not up to snuff for your particular hosting needs, you can choose to go with some of the high performance dedicated server solutions from ServInt. These Flex dedicated servers combine the best parts of a cloud-based hosting platform with the high performance that you come to expect from a single tenant dedicated hardware solution.
Thanks to the company's proprietary SimpleScale virtualisation technology, you can downgrade and upgrade your resource allocations without having to reboot. The line also features hot-swappable storage drives with RAID 1 and RAID 10 technology for improved performance and data reliability.
All enterprise-grade hardware solutions are provided with Dell and SuperMicro. ServInt also promises guaranteed server upgradation within minutes if your needs outgrow your resource allocations.
Apart from offering industry standard hosting services, ServInt also provides dedicated solutions such as its Jelastic PaaS solution that allows elastic scaling and cloud deployment of dedicated applications without any change to the underlying codebase or proprietary APIs, Managed Migration that allows businesses to seamlessly transfer their hosting from one host to ServInt with minimal service interruption, and CDN services courtesy of CloudFlare.
ServInt Reviews on WordPress Hosting


ServInt does not provide affordable or budget-friendly hosting solutions. Therefore, it should come as no surprise that the company does not offer any form of cheap WordPress hosting plans. You can definitely run WordPress based solutions on the company's platforms, but do not expect anything cheap from ServInt.
ServInt Reviews on Support and Customer Service
ServInt knows that the weakest link in a business is always customer support. The company has invested heavily in improving customer service and technical support, which allows it to retain customers over long periods of time. Issues are dealt with in a timely fashion and to full satisfaction. Wait times are almost non-existent and technical support is some of the best in the category.
ServInt Reviews on Uptime Performance and Server Status
ServInt operates world-class data centres backed up by multiple layers of redundancy. Server uptime status is maintained at higher than industry average rates with almost no downtime or speed decreases. This is exactly what you should expect from a company of ServInt's calibre.
Good and Bad of ServInt
Good
High-performance plans for demanding users
Value for money services
High reliability and server uptime
Innovative technology for targeted solutions
Excellent customer service
Bad
No budget plans
VPS plans might be too pricey for small businesses
Summary of ServInt
ServInt is the company for the people who know exactly what they need. However, even for small to medium business, ServInt offers a compelling choice when it comes to high performance, value for money hosting solutions.
Compare ServInt With Our Top Ranked Web Hosts!
SiteGround vs HostGator vs ServInt

HostGator

SiteGround

ServInt
Rating

Rated 4.5 stars

Rated 4.5 stars

Rated 3.5 stars

Price

$3.95/month

$3.95/month

$39/month

Criteria