Editor Rating

Rated 4 stars

Excellent
---
Reviewed by:

Published on:

Last modified:
---
Our Top Ranked #1 Web Host

Note: This website ReviewPlan.com is hosted on SiteGround
Latest Uptime Stats (Real Records):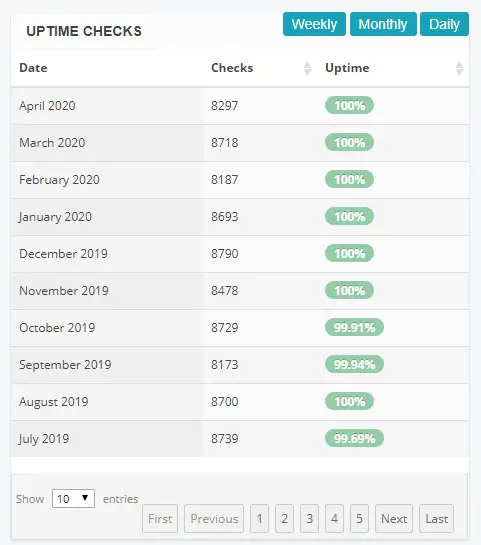 Server Response Speed Test Scored A+: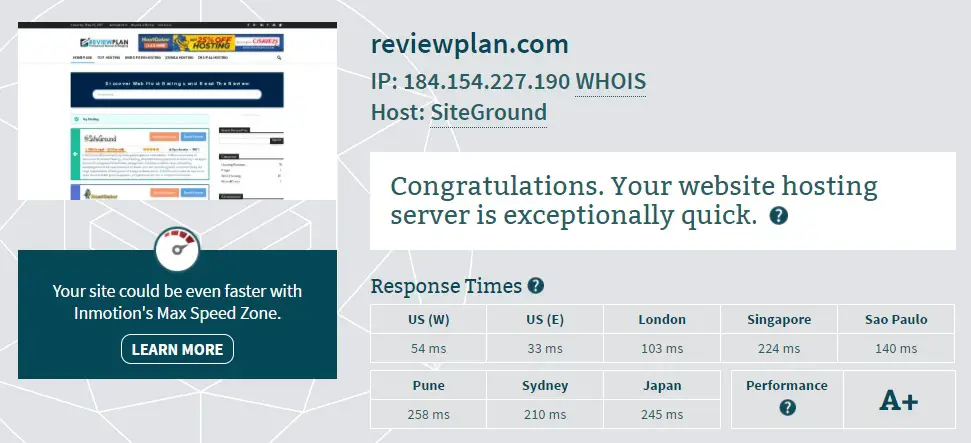 What is Stablehost?
Stablehost aims to provide high-quality web hosting services at an affordable price point. Now, this is easier said than done; there are a number of budget web hosts and most of them offer services that barely qualify to be called "web hosting". A good web host needs to offer decent performance and stability; no use having a super-fast website if it is inaccessible half the time.
Stablehost aims to change the public perception of what a budget web hosting company can deliver by running a super lean team of just 10 people and shaving off all unnecessary "value added" services and offering high quality hosting services and just that.
The company believes that offering barebones but high-quality service at a price that is accessible to a large number of people is a good business motive, and we are inclined to agree.
So how does Stablehost fare? Does it deliver on its promises to be the best web hosting company in business? Or does it lack the mettle to back up its tall claims? Read the full review to find out.
Stablehost Reviews on Hosting Plans and Services
Stablehost has a pricing structure that is quite confusing at first glance. For individuals and beginners, the company offers two plans: the "Starter" plan costs USD 4.95 per month for one domain and the "Pro" plan costs USD 8.95 for an unlimited number of domains.
Both plans come with unlimited resources such as storage space and transfer bandwidth and a built-in drag and drop based website building tool that allows even novice users to build a very attractive website without having to write a line of code or do tedious server side arrangements.
All servers are powered by SSD based storage, eliminating any performance bottlenecks. However, they also specify a 2 GB memory ceiling, one processing core, and various upper limits on other resources like active processes and MySQL connections. Keep in mind that these are shared hosting plans where dedicated server resources are of little to know the value.
All data is stored on high-speed SSDs rather than spinning hard drives, which enhanced overall performance. These plans also come with "unlimited" bandwidth and a website building tool. Control interfaces are provided by the industry standard cPanel software and the LiteSpeed PHP caching module enhances server performance. These plans are also strictly shared hosting, making the budget hosting plans on offer a total mess.
One important caveat to notice here is that "unlimited" resources are really a misnomer; once you cross a certain usage threshold, you will find that your services are significantly throttled, often to the point of being unusable. Stablehost is not alone in this regard; this is standard practice in the web hosting business so we cannot hold it against the company.
Stablehost also offers an additional shared hosting plan advertised for "Enterprise" customers at USD 29.95 per month that comes with unlimited resources as well as DDoS protection, spam filters, priority customer support, double the CPU resources than those on other non-enterprise shared hosting plans, and a service level agreement guaranteeing 99.99% server uptime.
Stablehost Reviews on VPS Hosting Plan
If you are looking for something more substantial than shared hosting, you can take a look at VPS hosting plans from Stablehost. Plans start at USD 9.95 per month for 1024 MB of memory, 1 processing core, 40 GB of storage space, and 2 TB of transfer bandwidth.
The plan goes all the way up to USD 119.95 per month for 16384 MB of RAM, 8 processing cores, 300 GB of storage space, and 16 TB of transfer bandwidth.
All VPS plans run on a 1000 Mbit network infrastructure and premium Supermicro hardware. Storage is configured in RAID 10 and full virtualization technology by VZ guarantees proper resource allocation and overselling. VPS plans are also guaranteed 99.9% uptime guarantee and come with full management services for an additional cost.
Stablehost Reviews on Reseller Hosting Plan
Stablehost also offers reseller hosting plans starting at USD 9.95 per month for up to 10 separate clients and 10 GB of storage space and go up to USD 29.95 for up to 100 clients and 40 GB of storage space.
Reseller hosting plans are not the company's forte and are not a good deal by any means. Stablehost is just not able to offer the quality of services and resources necessary for a quality reseller hosting plan. We recommend you look elsewhere if you are interested in reseller hosting plans.
Stablehost Reviews on WordPress Hosting
Stablehost does not explicitly mention any specific WordPress hosting plans. However, we have no reason to believe that the company does not support WordPress. WordPress is one of the most popular CMSs in use today and powers a vast number of websites, including some of the biggest ones.
It would be foolhardy for a hosting company to not support WordPress on its platform, which is why we think that any WordPress based website will run perfectly on the Stablehost platform without any additional tweaking.
Stablehost Reviews on Support and Customer Service
This is where having fewer people on your team really hurts the company most. Customer service just cannot compete with some of the other hosting service providers. It is certainly not bad, but we have become used to a much better level of service.
Stablehost Reviews on Uptime Performance and Server Status
Stablehost actually mentions a server downtime of 4.36 minutes per month for its plans that come backed up by the 99.99% SLA. This makes it a fairly reliable web host with decent speeds and uptime guarantees.
Good and Bad of Stablehost
Good
Budget plans
Wide variety of plans
Good performance
VPS plans available
Priority support for enterprise plans
Bad
Confusing plan structure
Middling customer service
Summary of Stablehost
Stablehost offers decent services for the money and is a great place to start if you are just starting out with your own website or trying to learn the ropes at web development. For anything more serious than this or if you have a business to run, you can consider them or choose a better alternative.
Compare Stablehost With Our Top Ranked Web Hosts!
SiteGround vs HostGator vs Stablehost

SiteGround

HostGator

Stablehost
Rating

Rated 5 stars

Rated 4.5 stars

Rated 4 stars

Price

$3.95/month

$3.95/month

$4.95/month

Criteria