Editor Rating

Rated 4.5 stars

Outstanding
---
Reviewed by:

Published on:

Last modified:
---
What is Webhost.uk.net Hosting?
Operating since 2011, Webhost.uk.net has distinguished itself in a crowded business arena by offering feature packed products at competitive rates. The inclusion of award winning customer service makes Webhost.uk.net a much sweeter deal.
Offering flexible web hosting plans on a choice of different operating systems, Webhost.uk.net provides customized hosting plans for any budget. With the feature-packed products at extremely low rates, does the company have what it takes to make a mark where it really matters? Read this Webhost.uk.net review to find out.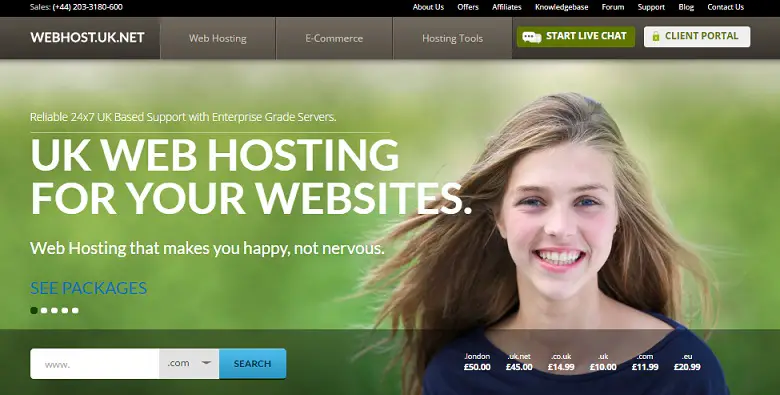 Webhost.uk.net Reviews on Hosting Plans and Services
Webhost.uk.net provides shared hosting packages on both Linux and Windows platforms. Besides, it also offers VPS, Dedicated, and reseller hosting solution. I would talk about their Shared and VPS hosting in this review.
With the cPanel control panel, it is extremely easy for novices and advanced users to utilize the site's potential fully. Webhost.uk.net provides different hosting plans for different requirements, simplifying pricing and preventing misallocation of available resources. Webhost.uk.net also offers preconfigured plans to best suit the intention of the customer. The Linux Shared hosting plan starts at £14.99 per year, with 500 MB disk space and 5GB bandwidth included.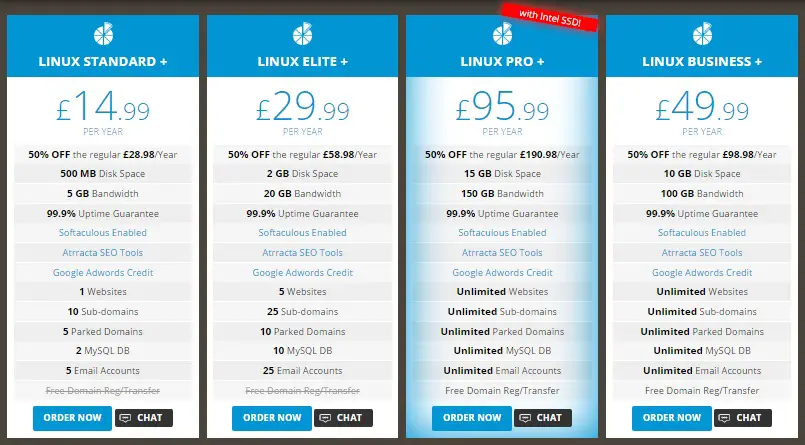 Windows hosting is available from Webhost.uk.net with the full array of Microsoft web services, making it perfect for legacy or enterprise applications. An SSD plan is available for users who prioritize speed and performance. With a wide number of plans available to suit any budget, Webhost.uk.net definitely provides its customers with extensive choice and flexibility.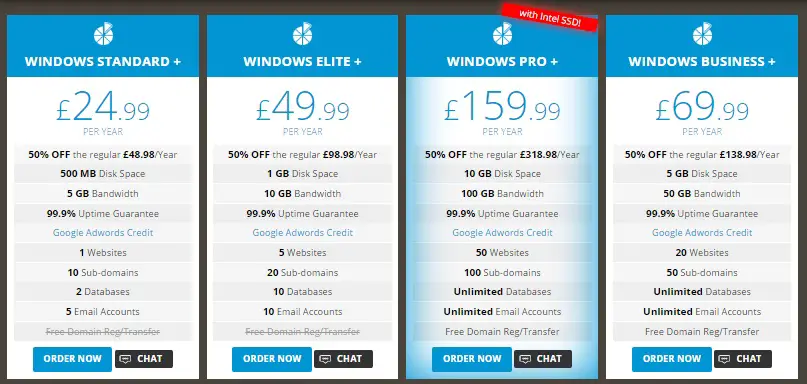 Webhost.uk.net Reviews on VPS Hosting Plan
Webhost.uk.net offers virtual private server or VPS services, allowing unparalleled versatility in hosting web content. You can host all manner of web applications on a virtual server system that might not be possible with traditional shared web hosting. VPS plans by Webhost.uk.net have backed up a service level agreement for a guaranteed uptime of 99.9%.
VPS plans give customers access to some of the most powerful hardware, comprising servers with up to 4 core CPUs, 4 GB of RAM, Citrix XenServer Cloud Virtualisation technology and your choice of Linux or Windows operating system. Control panels based on WHM, cPanel or Plesk ensure easy administration and operation. Storage duties are fulfilled by solid state drives in RAID 10 for enhanced performance as well as redundancy. RAID 10 ensures that your precious data is always backed up and in real time. The VPS plans are fully managed with outside resources dedicated to tailoring the plan to your exact needs, including performing setup, configuration, optimizing software parameters, automatic security updates and installing patches to fix issues.
Webhost.uk.net Reviews on Domain Service, SSL and Control Panel
Webhost.uk.net also provides domain registration and related services for a wide number of domains, suited to any application. You can find a lot of uncommon domain extensions on the cheap with Webhost.uk.net.
Additionally, the company also offers SSL certification to ensure that data transmission to and from your website is secured by encryption. Choose from a wide variety of SSL certification levels and vendors depending upon the intended use of your website. Single root SSL certification is available for as low as £32 per year. You can also choose to purchase malware protection plans from reputed vendors for a fraction of the cost.
For Linux shared hosting, Webhost.uk.net provides cPanel to its users. Many web hosts also choose cPanel as the control panel as it is very powerful and popular. With cPanel, you can manage the files, databases, email, subdomains and many other features easily.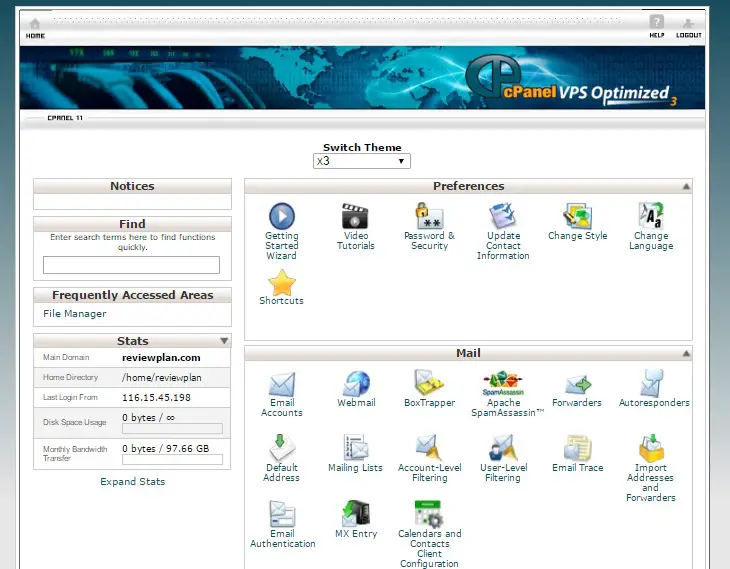 Webhost.uk.net Reviews on WordPress Hosting
WordPress is undoubtedly the market leader when it comes to content management systems on the web. Needless to say, Webhost.uk.net offers a fully featured plan for dedicated WordPress. The WordPress plan costs £5 per month and offers 5 GB of storage space, 50 GB of bandwidth per month, 5 included domains, an unlimited number of email accounts, subdomains, and databases. The Webhost.uk.net WordPress hosting is powered by SSD server, which I have confirmed with them. Webhost.uk.net provides cPanel so that new users can utilize the website to the fullest extent. The plans come with guarantees for both 99.9% uptime and a 30-day money back.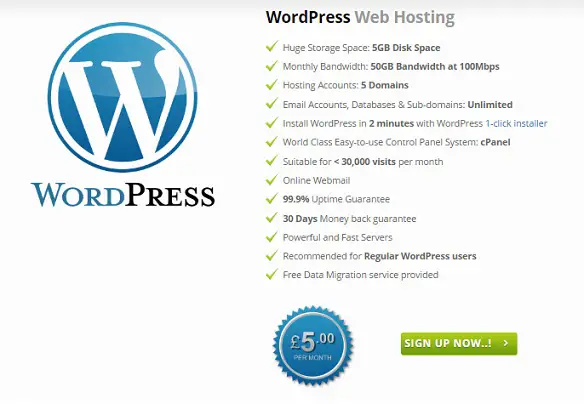 Webhost.uk.net supports Softaculous to automatically install scripts and offer one-click install features on WordPress plans. This makes it easy for users who are unfamiliar with web hosting or those who are still beginners. One click installation allows them to get their WordPress site up and running while they are still learning the tricks to the trade. If you have a pre-existing WordPress website, Webhost.uk.net also can help to migrate it to their own servers free of cost.
Webhost.uk.net Reviews on Support and Customer Services
Webhost.uk.net offers award winning customer service ever since its inception. Customer service and technical support are available 24×7 throughout the year without any interruptions. The technical support staff is well trained and is equipped to handle technical queries with ease. Whenever you run into any problem with website hosting or service installation, you only need to contact the Webhost.uk.net customer support. Whether it is a billing issue that you need to be resolved or a technical situation, you can rely on the highly trained and expert customer support at Webhost.uk.net for their guidance and support. Below is my personal experience with their customer support from the sales department.
Trial#1 Excellent Live Chat Support from Webhost.uk.net
I have contacted them through the Live Chat. The amazing part was I got their reply after only 16.09 seconds. Overall I was happy and satisfied with Webhost.uk.net support.The support staff was friendly and professional. Below shows our full conversation:
Mike Lee: Hi, my name is Mike Lee and I have few questions about the Webhost.uk.net hosting service. How is Webhost.uk.net WordPress hosting plan differ with the normal Linux hosting plan?
Rachel Davies: Hello Mike Lee, my name is Rachel Davies, how may I help you? Well, it is our special WordPress package , which is hosted on our SSD server. That's why is more expensive than our basic Linux hosting package.
Mike Lee: What kind of technology being used in the Webhost.uk.net WordPress hosting plan to make it optimized for WordPress hosting?
Rachel Davies: Well, WordPress is normal scripts and we've installed all necessary thing on our server.
Mike Lee: Is that means the only difference between WordPress Hosting Plan and Normal Shared Linux hosting is the SSD?
Rachel Davies: Yes ,You're correct. We do offer one-click installer with all our shared hosting package. You may start from any Linux shared hosting package. As per your requirement (like disk space, bandwidth and email account), you may upgrade your account at any time.
Mike Lee: Okay, thanks for the answer. How many data centers Webhost.uk.net has? What locations are these data centers/servers located?
Rachel Davies: All our servers are physically located in BlueSquare data group, a data center in the United Kingdom.
Mike Lee: Do you have any official uptime record for Webhost.uk.net?
Rachel Davies: We've our internal monitoring system. We guarantee 99.9% uptime.
Mike Lee: That's great. Is Webhost.uk.net provides any webmail clients like RoundCube, Squirrelmail, and Horde?
Rachel Davies: Yes. We do offer cPanel control panel with WordPress hosting from which you can access your webmail through RoundCube, Squirrelmail, and Horde email client.
Mike Lee: Is the Webhost.uk.net server DDoS protected? If yes, what kind of DDoS protection being implemented?
Rachel Davies: Yes, it is protected. Our servers are monitored 24x7x365 days. We've installed the necessary firewall on our server.
Mike Lee: Is the DDoS protection powered by any third-party service provider?
Rachel Davies: No. We've in-house separate monitoring team.
Mike Lee: Okay, thank you so much for your support!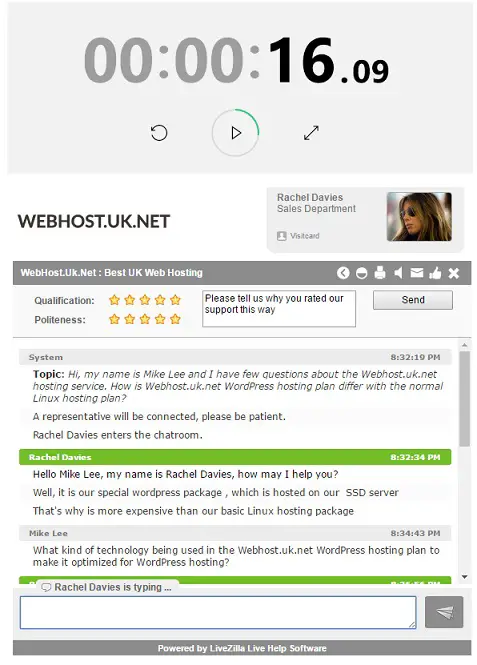 Webhost.uk.net Reviews on Uptime Performance and Server Status
Webhost.uk.net offers a service level agreement (SLA) guaranteeing 99.9% server uptime. SLA is an indicator of the confidence the company has in its ability to provide continuous and uninterrupted services. Webhost.uk.net is well equipped to handle site traffic. Since its founding in 2011, the company has had only few server outages of downtime. Performance speed is always at usual levels and downtime is practically rare. Webhost.uk.net certainly offers good server reliability status among its competitors.
Good and Bad of Webhost.uk.net
Good
Award winning customer service
Cheap shared hosting plans
Offer both Linux and Windows hosting
Wide number of hosting plans to choose from
Strong VPS services on a budget
Service level agreement
Tight WordPress integration
Bad
Bandwidth is limited on cheap shared hosting
Summary of Webhost.uk.net
Webhost.uk.net offers a great alternative to many "me too" competitors in the web hosting business. It offers a wide selection of plans to suit every budget and need. It has excellent customer service that will help you choose the plan best suited to your intended application.
Award-winning customer service is another feature in the company's cap. Webhost.uk.net has provided reliable services ever since its inception and it can back up its claims with a service level agreement guaranteeing 99.9% uptime. All this ensures that Webhost.uk.net definitely gets a recommendation from me, especially for budget-minded users. For first-time website owners, Webhost.uk.net is a great choice, especially given the extensive customization options and the focus on usability and user friendliness.
Compare Webhost.uk.net With Our Top Ranked Web Hosts!
SiteGround vs HostGator vs Webhost.uk.net

SiteGround

HostGator

Webhost.uk.net
Rating

Rated 5 stars

Rated 4.5 stars

Rated 4.5 stars

Price

$3.95/month

$3.95/month

£14.99/year

Criteria